Cabin crew recruitment can seem a bit of a minefield for candidates, with lengthy application processes and the feeling of 'jumping through hoops' in order to gain that elusive job. Here we take a look behind the scenes at recruitment for cabin crew.
Applicant tracking system
The applicant tracking system, or ATS, is the first stage of the selection process. The program immediately removes applicants who either do not meet the minimum requirements or where keywords in the job description are not included. Make sure that the minimum requirements are exactly met. For example, if the minimum height is 160cm, and you put 158cm, then the program will remove you. If the job description states, 'must have three years customer service experience,' then if those words are not in the application, it won't accept it.
The unwritten rules
Airlines have very specific requirements for cabin crew recruits, and some of these are not actually even known to candidates. For example, although it is a mostly unwritten rule in the Middle East, most candidates over the age of 30 will be rejected, and sometimes only female candidates will be accepted. This can change on a daily basis, so on an assessment day, the recruiter may be looking for a certain language speaker, a female between the age of 22 and 26, from a particular country. It depends on what the airline requires at the time.
Finding the right airline can be very tricky for cabin crew. Photo: Etihad Airways
30-second scan
If a real person does get to see your CV, they don't get much time to read it due to the sheer number of applications. The 30-second scan is generally used to pick out keywords from the CV to check that the basic requirements are met. The photo has to be appropriate for the cabin crew role.
What are recruiters looking for?
The recruiters are usually ex-cabin crew or human resources specialists. Ex-cabin crew are good at picking out candidates and seeing their capabilities and potential. They will be looking at timekeeping, personal appearance, posture, and how people interact with each other.
Monitoring
There are points during an assessment day when nothing seems to be happening, and the recruiters are separate from the candidates. Be aware that, all the time, candidates are being monitored by the recruitment team. Be sure to network, smile, show good body language, and have a positive attitude. The candidate that you walked by and didn't smile at or speak to could just be a recruiter.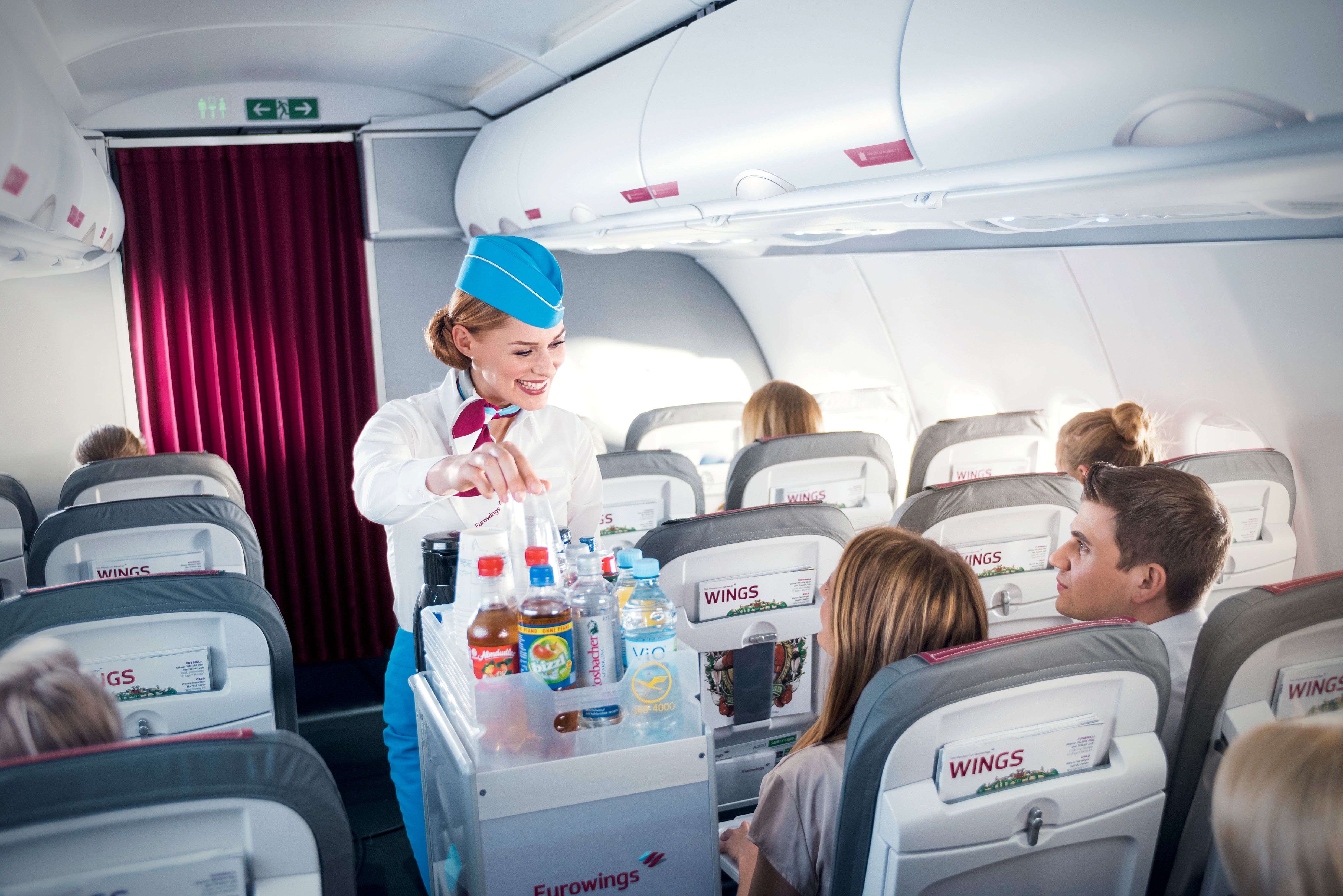 The qualities for cabin crew are so specific, that recruiters are often ex cabin crew. Photo: Eurowings
Group task
This task can be daunting as it's specially devised to see the qualities of cabin crew, such as teamwork, communication and leadership. The key is to not take over, don't put anyone else down, don't be too quiet, encourage others and, of course, get the task done.
Final interview
The final interview is key to selling yourself as airline cabin crew. The recruiters are looking for professionalism and passion for the job. They want to see that the candidate really knows what the job entails and has researched the airline.
Wrong airline?
Sometimes, it can be the case that some cabin crew will never be the 'right fit' for an airline, no matter how much experience they have or how well-suited they think they are to the job. Airline recruitment is so specific that there is often no perfect match.
Every application or assessment day should be treated as a learning experience. The worst thing a candidate can do is to pick their dream airline and just chase that, and end up being disappointed. It normally takes quite a few attempts with different airlines to find the right airline 'fit'.