With the post-Covid recovery in full swing throughout Asia, AirAsia and AirAsia X are expanding and adding flights to their schedules. This week the two carriers announced new or resumed services, with AirAsia increasing flights to Hong Kong and AirAsia X resuming flights to Jeddah in Saudi Arabia.
AirAsia X resumes services to Jeddah
On Wednesday, AirAsia X flight D7700 departed Malaysia's Kuala Lumpur International Airport (KUL) at 05:37 on a nine-hour flight to Saudi Arabia. It was the first time an AirAsia X aircraft had flown the route since March 2020, which is now scheduled for six services weekly, not operating on Friday. The twelve-year-old Airbus A330-300, MSN 1126 and registration 9M-XXF, landed at Jeddah King Abdulaziz International Airport at 09:33 after a 4,394 miles (7,071 kilometers) journey.
It took around two hours to turn around the A330 before it left Jeddah on flight D7701 at 11:39 and arrived back in Kuala Lumpur at 01:28 the following day. The aircraft is easily spotted as it carries the colorful 10 Xcitng Years livery. Around an hour after landing, the plane was headed out on a return trip to Perth, Australia.
Flightradar24.com"" data-modal-id="single-image-modal" data-modal-container-id="single-image-modal-container" data-img-caption="""">
The route has been a big success for AirAsia X (AAX) due to the substantial pilgrim traffic from Malaysia to Saudi Arabia. Kuala Lumpur is also a convenient hub for pilgrims from nearby Indonesia and the Southeast Asia region. In the other direction, Saudi Arabian travelers can also connect to more than 130 AirAsia destinations via KUL. AAX CEO Benyamin Ismail said the airline is extremely pleased to return to Jeddah, a gateway to the holy cities of Madinah and Makkah for Muslims.
"With the resumption of six-weekly flights, we are so blessed the airline is back providing affordable travel for our guests and pilgrims in Malaysia and the region to perform the holy pilgrimage of the hajj and umrah."
More AirAsia flights to Hong Kong
N509FZ via Wikimedia."" data-modal-id="single-image-modal" data-modal-container-id="single-image-modal-container" data-img-caption="""">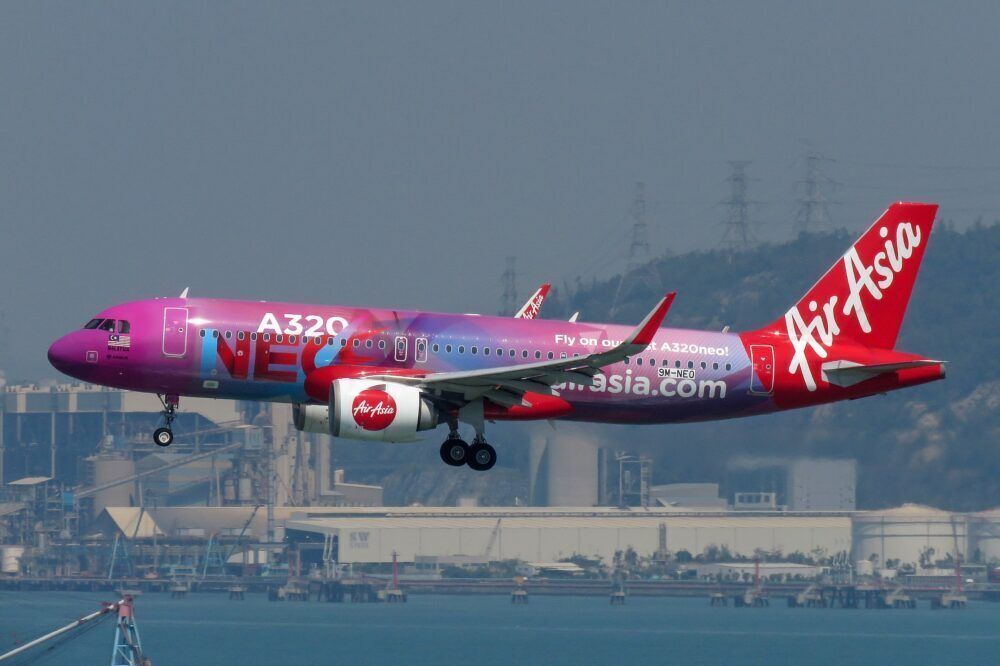 This week AirAsia announced it was increasing flights from Thailand, Malaysia and the Philippines to Hong Kong. Starting on December 15th, services between Bangkok's Don Mueang International Airport (DMK) and Hong Kong International Airport (HKG) will increase to four times weekly. The flights will operate on Monday, Wednesday, Friday and Sunday, with an 11:35 departure from DMK to arrive in HKG at 15:15. The return flight FD501 leaves Hong Kong at 16:15 and lands in Bangkok at 18:15.
From Kula Lumpur, the frequency will go to three-times weekly on Monday, Wednesday and Sunday, effective from December 5th. On Monday and Wednesday, flight AK138 departs KUL at 07:15 and arrives in Hong Kong at 11:15, whereas the Sunday service operates 40 minutes later. From December 5th, the Manila flight will run on Tuesday, Friday and Sunday, departing Ninoy Aquino International Airport (MNL) at 08:35 to arrive in HKG at 10:55. The return flight departs at 11:45 and is back in Manila at 14:00.
Almost as soon as travel restrictions disappear, airlines in Asia have got their services happening or have added extra flights.
Will this be how China opens, or is it too big for such a sudden jolt to a still fragile system?
IATA/ICAO Code:

AK/AXM

Airline Type:

Low-Cost Carrier

Year Founded:

1993

CEO:

Riad Asmat

Country:

Malaysia