At its annual general meeting earlier today, Australian domestic and regional airline Rex affirmed an after-tax loss of AU$46 million ($31.11 million). The loss was for the 2022 financial year, covering the period from July 2021 to June 2022 (FY22).
In its presentation to shareholders, Rex attributed the loss to the following:
Lingering effects of COVID-19.
Suspension of domestic services and reduced frequency on regional New South Wales routes for the majority of 1HFY22 [July-December 2021].
High fuel cost (increasing 70% during the FY, peaking at a near-record high of AU$174 [$118] per barrel).
Some intense rivalry with Qantas
Adding some competitive spice to the results, Rex said today that losses in its regional Saab operations were due to 'predatory actions' by Qantas. Yesterday, the Australian Financial Review reported that Rex Deputy Chairman John Sharpe accused Qantas of 'gouging' customers. It quoted Sharpe as saying:
"You could literally buy one of our business class airfares for half the price of an economy seat on some Qantas flights – and we're on exactly the same planes. We operate a 737-800NG to and from Melbourne. It's the same plane, the same route and I would say the in-cabin product is as good as theirs."
"I don't think Virgin is gouging people but with Qantas and their prices it would appear that they are gouging."
No love is lost between these rivals, with animosity flowing equally between the two airlines. However, it is questionable why an airline reporting a multi-million dollar loss would bitterly attack a competitor the day before it presents to shareholders and the general public. Particularly in the same week that Qantas forecasted an AU$1.35 to AU$1.45 billion ($910.1 to $977.5 million) profit for the six months ending December 31st, 2022.
Rhetoric aside, Rex has started the 2023 financial year well, making an unaudited profit before tax of about AU$2 million ($1.35 million) on its September domestic jet operations. This is the second consecutive month that the mainline domestic operations have recorded a profit, with Sharpe saying flights are around 85% full. He also noted that Rex has a different philosophy to Qantas and Virgin [Australia], saying, "Our approach is you build loyal customers and the profits will come."
In terms of guidance for shareholders, Rex said:
"The world economic environment remains bleak with high inflation, interest rate, and fuel prices giving rise to the possibility of recession. Nevertheless, the Rex Board is cautiously optimistic that the Rex Group will be overall profitable in FY23 due to the positive developments cited."
Domestic Jets are a big success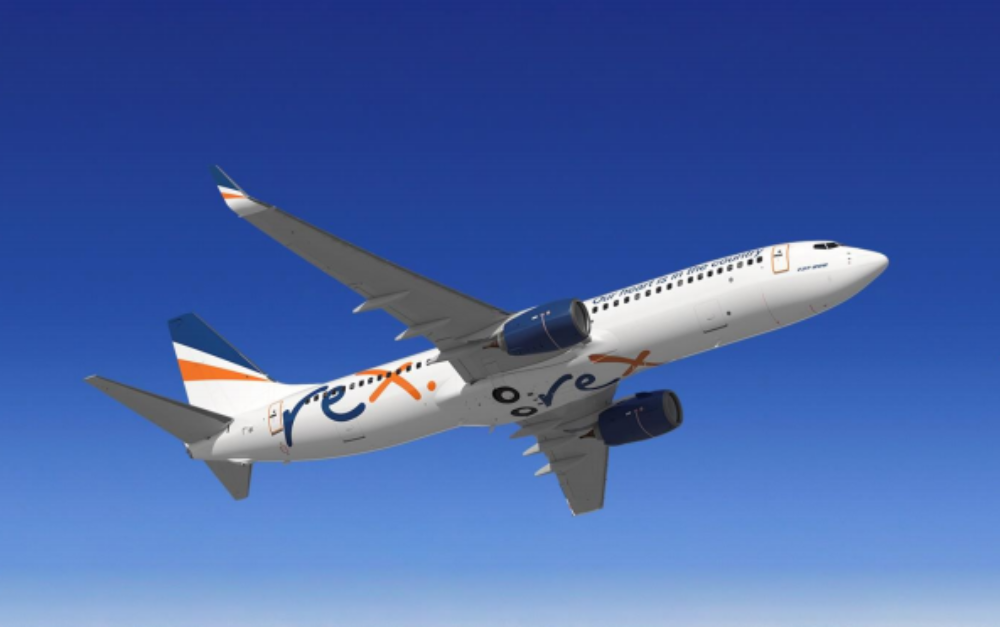 Photo: Rex
Domestic passengers have risen significantly since June, growing by 60%, 34%, 77% and 82% in the first four months of FY23, respectively. It is easy to see why the jet operations have turned profitable, with revenue growth in the same months of 84%, 47%, 137% and 156% compared to June. Rex plans to add two more Boeing 737-800s in the first six months of next year, which will expand the jet fleet to nine.
Rex expects the regional Saab operations will return to monthly profitability by Q3 of FY2023. These routes run across the country with a fleet of 61 Saab 340s, and overall, Rex operates to 58 destinations.
Besides its Rex airline operations, the group includes wholly-owned subsidiaries Pel-Air Aviation, the Australian Airline Pilot Academy and Australian Aerospace Propellor Maintenance. It is also a 50% shareholder in National Jet Express, a Fly-In-Fly-Out charter and freight operator. The independent airline is set for a busy holiday season and looks set for a run of profitable months ahead, particularly if it can find those two 737s soon.
Have you flown with Rex? Please share your experiences with the airline in the comments section.
Source: Australian Financial Review