Today marks 18 years since Lion Air flight 538 crashed after landing near Surakarta, Indonesia. The service was making an intermediate stopover as part of a multi-leg domestic flight whose final destination should have been Surabaya. However, difficult winds and a wet runway meant its journey ended abruptly and tragically.
The flight and aircraft involved
Lion Air flight 538 was a scheduled domestic flight that originated at Soekarno–Hatta International Airport (CGK). This facility serves the Indonesian capital city of Jakarta, and remains a key hub for Lion Air today. The first stop on flight 538's route was Surakarta's Adisumarmo International (SOC), which is also a Lion Air hub.
Following its stopover there, the service was scheduled to continue onwards to its final destination of Juanda International Airport (SUB), a Lion Air hub that serves Surabaya. Today, the carrier flies to both Surakarta and Surabaya from its Jakarta base, but no longer connects these two Indonesian airports with a direct flight.
According to the Aviation Safety Network, the aircraft operating Lion Air flight 538 on November 30th, 2004 was a McDonnell Douglas MD-82 which bore the registration PK-LMN. Data from ATDB.aero shows that this rear-engined twinjet was almost 20 years old at the time, having entered service with Aeroméxico in December 1984.
M Radzi Desa via Wikimedia Commons"" data-modal-id="single-image-modal" data-modal-container-id="single-image-modal-container" data-img-caption="""">
Unable to stop
The flight was well-loaded and took off from Jakarta that evening with 156 passengers and seven crew members onboard, making for a total occupancy rate of 163 people. While much of its flight to Surakarta was uneventful, the crew were informed that stormy conditions would befall their dusk arrival there.
Despite the challenging weather, with the Bureau of Aircraft Accidents Archives reporting a cloud ceiling of 1,500 feet, the flight initially made a smooth landing on Surakarta's 2,600-meter-long runway 26. However, owing to the stormy conditions, there was standing water on the runway, which was said to be 3 mm deep.
This meant that the aircraft's braking action was compromised, as the standing water caused it to aquaplane. The braking was further hindered by the fact that wrongly-positioned power levers had prompted the spoilers to be retracted, despite having initially deployed as planned. As such, although the crew activated the thrust reversers, they could not stop the MD-82 from overshooting the runway.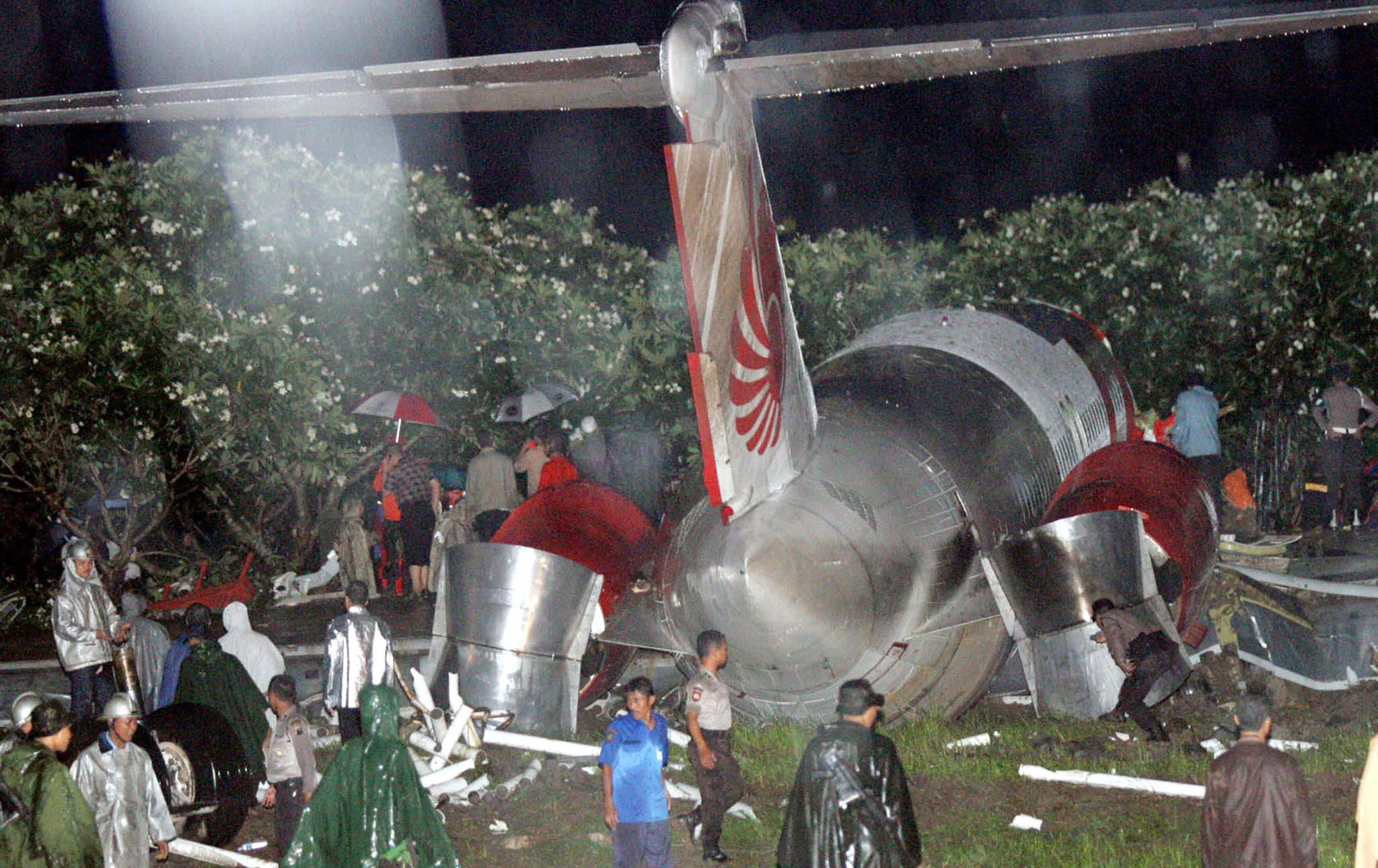 Photo: Getty Images
Tragic consequences
The overrun caused the aircraft to lose its landing gear, and it ultimately crashed through the fence of a nearby cemetery at around 18:15 local time. The impact sadly resulted in the deaths of 23 passengers and the flight's two pilots. Of the 138 survivors, varying figures between 70 and 109 are reported as having been injured.
A preliminary investigation into the accident was published in 2005 and confirmed that standing water and the inadvertent retraction of the spoilers had been among the factors that prevented the jet from stopping. However, it also highlighted the fact that the MD-82 landed with a 13-knot (24 km/h) tailwind and that one of the reversers was faulty, resulting in various recommendations to Lion Air.
Sources: ATDB.aero, Aviation Safety Network, BAAA