The 2022 Airbus Summit has gathered a range of experts and industry leaders to focus on net-zero aviation. Airbus said the summit would showcase the tangible progress and achievements of the aerospace sector on its pathway to a more sustainable future for aviation.
Yesterday, at the end of Day 1, Airbus published information on three of the sessions. These covered its partnership with ArianeGroup on hydrogen technology, a hydrogen-powered engine and the availability of green hydrogen at airports. Here are some snippets from what was discussed at the summit.
1. Partnership with ArianeGroup
ArianeGroup, a joint venture equally owned by Airbus and Safran, has joined forces with Airbus to build the first liquid hydrogen refueling facility. The refueling facility will be built at the home of Airbus production, Toulouse Blagnac Airport (TLS), and the partners say it will be operational by 2025. ArianeGroup, a leader in space propulsion technologies, will design, produce and support the system's operation. The initial need for the Toulouse facility is to fuel the Airbus ZEROe demonstrator during the aircraft's ground and flight test campaign, which is also due to happen in mid-2025.
Ariane launch vehicles have been propelled by hydrogen for more than 40 years, bringing a wealth of expertise and real-world experience to the project. It is already using its skills in storing, testing and using liquid hydrogen in a range of industry sectors across Europe looking for clean energy sources. Airbus chief technology officer Sabine Klauke said that many of the technologies needed for zero-emission aircraft are already available and that all the new technologies need to "mature in parallel."
2. Airbus hydrogen-powered fuel cell engine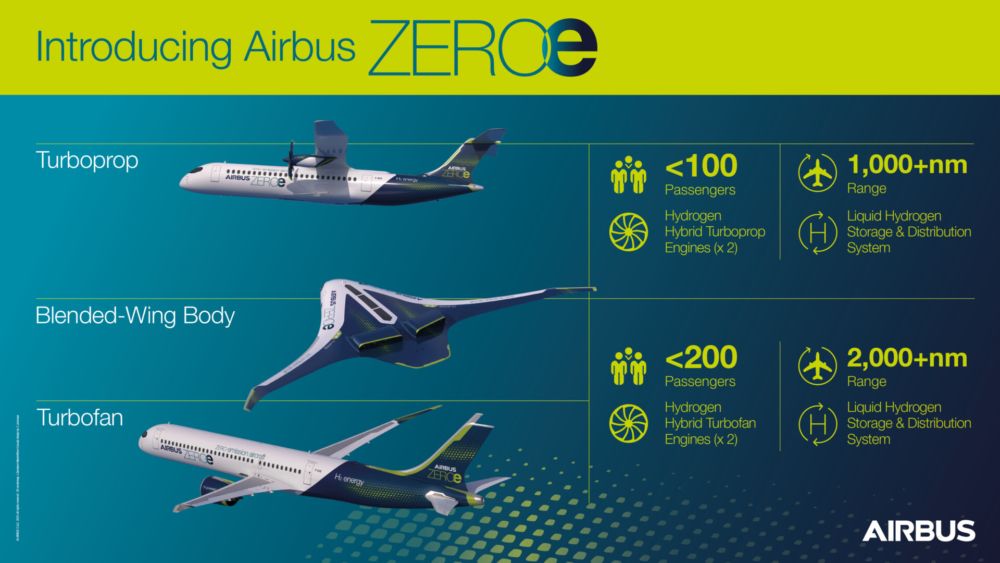 Image: Airbus
Not previously known as an engine maker, Airbus is developing a hydrogen-powered fuel cell engine as a potential solution for its ZEROe aircraft. It plans to commence ground and flight testing of the fuel cell engine architecture onboard its ZEROe demonstrator by mid-2025. The OEM is modifying the A380 MSN1 flight test aircraft for new hydrogen technologies to carry liquid hydrogen tanks and the required distribution systems.
At this early stage, Airbus said that fuel cell engines may be able to power a 100-passenger aircraft with a range of approximately 1,000 nautical miles (1,850 kilometers). Hydrogen can be used in two ways to power an aircraft: via hydrogen combustion in a gas turbine or by using fuel cells to convert hydrogen into electricity to power a propellor engine. Airbus adds that a hydrogen gas turbine can also be coupled with fuel cells instead of batteries in a hybrid-electric architecture. An engine powered by hydrogen fuel cells produces zero NOx emissions or contrails.
3. Green hydrogen at airports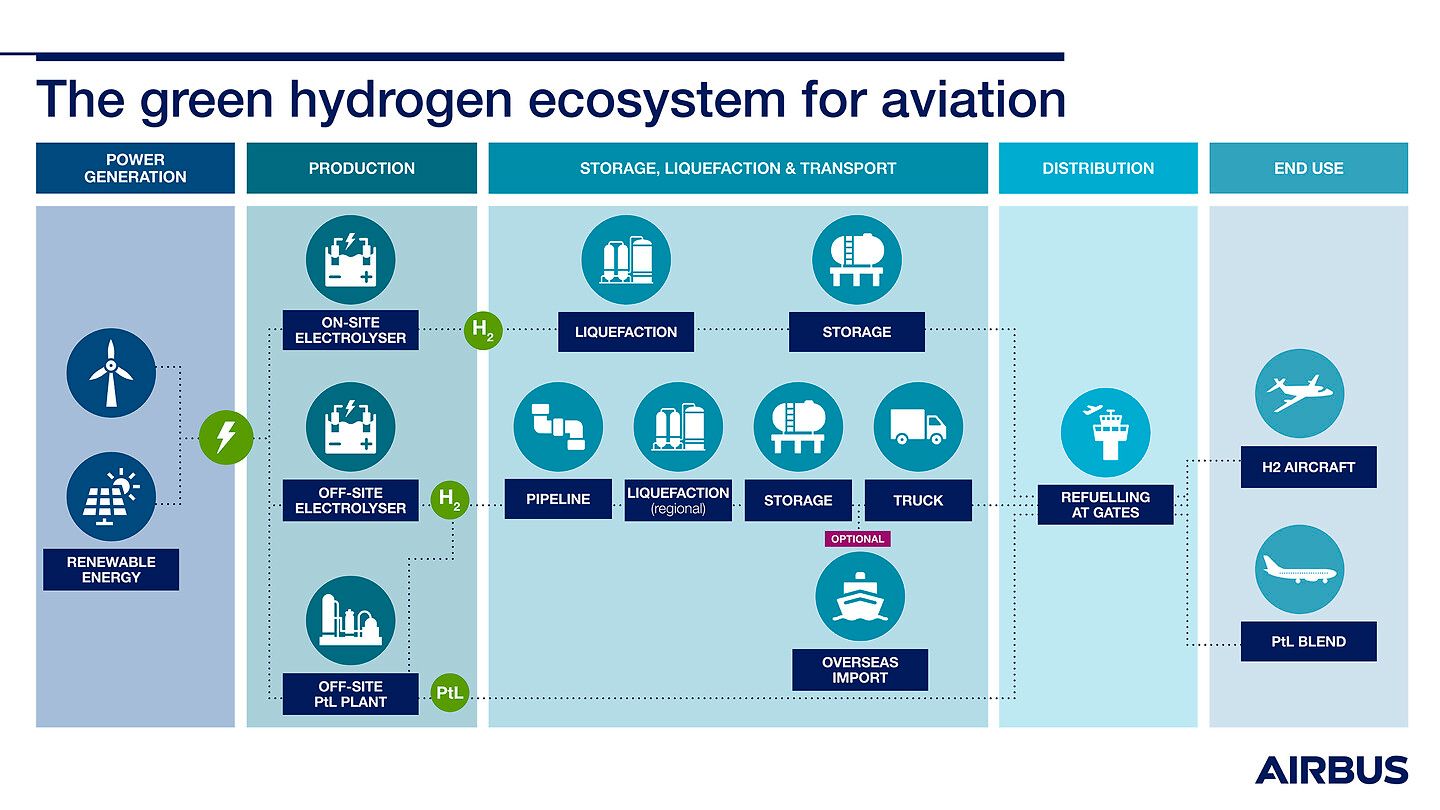 Photo: Airbus
Airbus is in partnership with HyPort, a leader in green hydrogen development, on a low-carbon hydrogen production and distribution station for airports. The station, also at Toulouse Blagnac, is completed and in the final stages of testing the production, storage and distribution systems. It will have the capacity to produce 400kg of hydrogen daily, which is enough to power around 50 ground transport vehicles. Airbus said it would enter service early next year to decarbonize all airport-associated ground transport.
The learnings will build a blueprint for expanding hydrogen production and use at airports. This will include detailing requirements for safety, regulatory compliance, the financial investments needed and gaining the social license for the widespread use of hydrogen at airports.
In 2020, Airbus launched its Hydrogen Hubs at Airports program, which helps airports identify what infrastructure they will need for future hydrogen aircraft. Since then, it has signed partnerships with various airport authorities, airlines and energy providers in Europe, Asia-Pacifc and North America.
Airbus is certainly showing the way and putting its money where its plans are, and more announcements will emerge from today's proceedings. Progress is happening in zero-emission aviation, and it is heartening to see a major aircraft OEM putting its energies into the effort.
Please let us know what you think of Airbus's work on hydrogen.
Stock Code:

AIR

Date Founded:

1970-12-18

CEO:

Guillaume Faury

Headquarters Location:

Toulouse, France

Key Product Lines:

Airbus A220, Airbus A320, Airbus A330, Airbus A340, Airbus A350, Airbus A380

Business Type:

Planemaker