Following a successful first four months of domestic operations, Indian low-cost carrier Akasa Air has revealed plans to begin international flying in the second half of 2023. In a recent interview, when asked when Akasa Air can expect to begin international services, the airline's founder and CEO, Vinay Dube, responded,
"The second half of 2023. Our 20th aircraft will be delivered by April of next year. It will take us a little while after that to make plans and preparations and get our 21st aircraft, and so we have set towards the end of 2023 that we intend on flying internationally."
Akasa Air began operations on August 7th, achieving a 0.9% market share in its first month of flying. Since then, it has been steadily finding its way in India's crowded domestic market. The airline now flies to 10 destinations nationwide, primarily from its hubs at Bengaluru (BLR) and Mumbai (BOM).
Continued domestic growth
Akasa Air will be adding its 11th network point on December 25th, when it begins connecting the northern city of Lucknow (LKO) with both Bengaluru and Mumbai. Flights will operate in a W pattern from its Bengaluru base. Four days later, it will also begin flights from Bengaluru to Kochi (COK).
The airline's three newest routes will operate daily to the following schedule:
Flight QP1360 – departs Bengaluru at 07:40, arrives in Lucknow at 10:15
Flight QP1122 – departs Lucknow at 11:00, arrives in Mumbai at 13:05
Flight QP1123 – departs Mumbai at 13:50, arrives in Lucknow at 15:50
Flight QP1361 – departs Lucknow at 16:30, arrives in Bengaluru at 19:05
Flight QP1368 – departs Bengaluru at 20:00, arrives in Kochi at 21:05
Flight QP1369 – departs Kochi at 21:45, arrives in Bengaluru at 22:45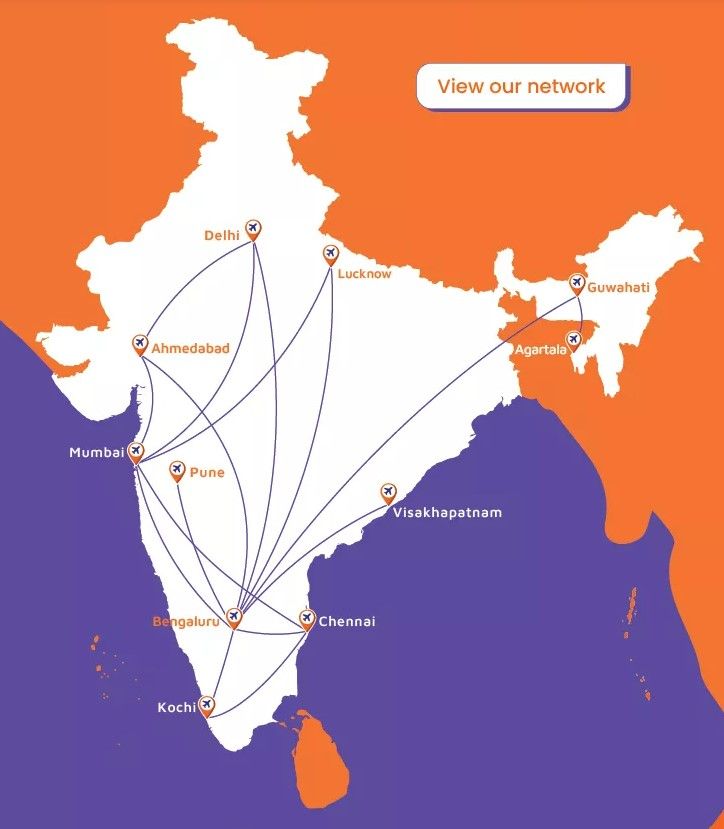 Photo: Akasa Air
The route to international flying
India's Ministry of Civil Aviation stipulates that airlines must have at least 20 aircraft in their fleet before they are able to begin flying international routes. Akasa Air currently boasts a fleet of 9 Boeing 737 MAX 8 aircraft, each seating 189 passengers. This figure is expected to rise substantially over the coming months – the airline is awaiting delivery of a further 63 aircraft.
If it continues to receive one aircraft every two weeks, Akasa Air should have 20 aircraft in its fleet by April 2023. Only then will the airline be able to begin international flying.
bfi_watch_ca350 via Wikimedia Commons"" data-modal-id="single-image-modal" data-modal-container-id="single-image-modal-container" data-img-caption="""">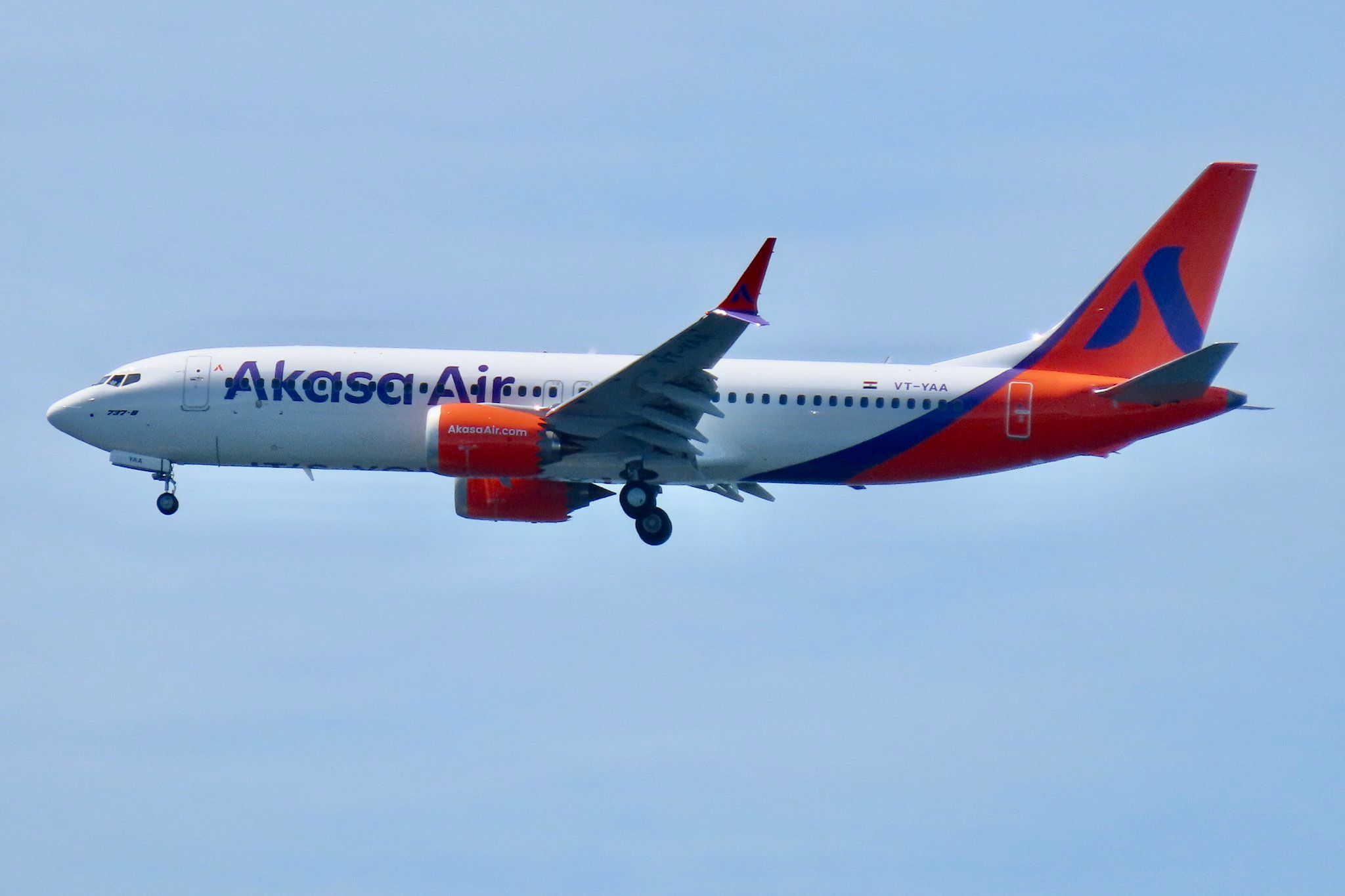 International opportunities
Despite the busy domestic market, there is still plenty of potential growth for airlines in India – earlier this year, Airbus predicted that over 2,000 additional aircraft will be needed by airlines in India over the next 20 years. International services are expected to play a significant role in future expansion.
When it comes to international flying, Akasa Air may, unsurprisingly, start by sticking to tried and tested routes connecting India to cities in the Middle East. Over time, the airline may then build up its international network elsewhere – the India to China market, for example, has considerable opportunity for growth, particularly if China re-opens its borders as planned in 2023.
If we look at fellow low-cost carrier IndiGo's international network, it focuses heavily on the Middle East. However, the carrier's 26 international destinations also include major cities in South East Asia, such as Bangkok (BKK), Singapore (SIN), and Ho Chi Minh City (SGN), and in the opposite direction, IndiGo currently flies as far west as Istanbul (IST).
Have you flown on Akasa Air since it began operating in August? Which international routes do you think the airline may launch next year? Share your thoughts and experiences by commenting below.