Air Greenland is a curious carrier, in the sense that its fleet consists of widebody jetliners and twin-engine turboprops, but, size-wise, nothing in between. However, this may be set to change in the coming years, as the airline is considering re-entering the world of narrowbody jetliner operations thanks to airport expansions.
Growing the territory's airports and network
The narrowbodies in question would reportedly be Airbus A320 family twinjets, with forthcoming airport expansions in Greenland enabling this. After all, ch-aviation.com notes that the facilities serving Nuuk, and Ilulissat are in the process of being expanded. These are the largest and third-largest cities in Greenland.
Furthermore, a new airport, set for completion by 2025, is being built near Qaqortoq. Despite being Greenland's fourth-largest city, Qaqortoq has previously only been served by a heliport. All in all, these expansions would see the airports supplement the capacity provided by Kangerlussuaq. Being an ex-military base, this facility is already large enough to handle jetliners, and sees widebody service to Copenhagen.
However, its remote location means that many passengers have to connect onwards to Greenland's larger cities. As such, the growth of these facilities could help to unlock international flights from multiple airports within the territory. An advantage of these would be the elimination of the need to connect in Kangerlussuaq.
Björn Strey via Flickr"" data-modal-id="single-image-modal" data-modal-container-id="single-image-modal-container" data-img-caption="""">
From Boeing to Airbus
The addition of jets from the Airbus A320 family would certainly fill a gap in Air Greenland's fleet. However, as seen in the photograph above, this wouldn't be the first time the carrier has operated a single-aisle twinjet. Indeed, ch-aviation notes that the carrier operated a Boeing 757-200 from April 1998 to November 2010. It was still known as Grønlandsfly at the start of this period, and didn't take on the anglicized name of Air Greenland until 2002, which also saw it acquire an A330.
It is worth noting that Air Greenland is yet to outline any concrete plans regarding the future acquisition of aircraft from the Airbus A320 family. However, in a recent statement to Aviation Week, the carrier's CEO, Jacob Nitter Sørensen, certainly indicated that his airline is at least considering such an expansion. He explains:
"We are, of course, looking into adding the A320 family to the fleet, it is something we are discussing. That is something to aim for, but no decision has been made yet."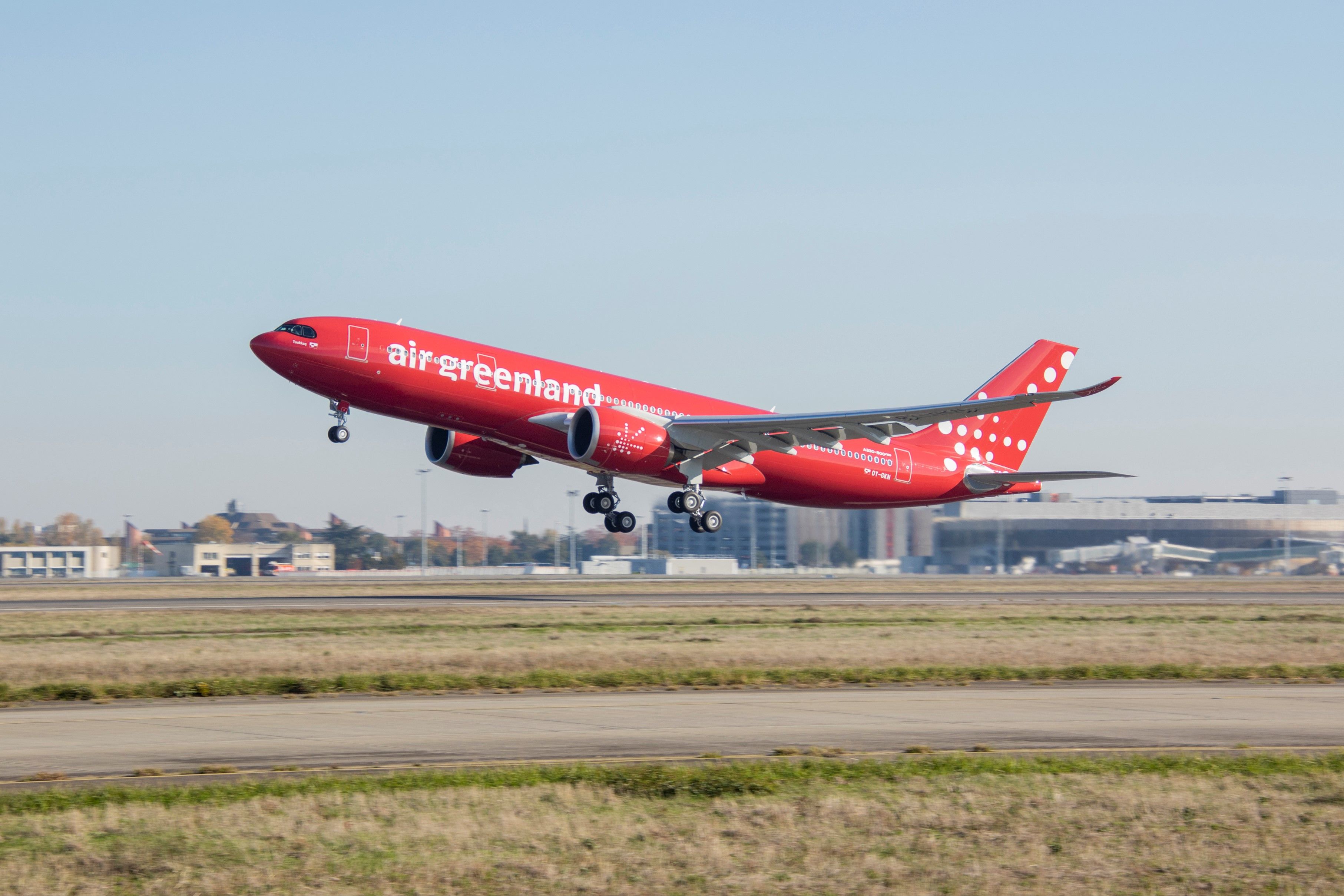 Photo: Airbus
Air Greenland's current fleet
Let's conclude by taking a look at the current makeup of Air Greenland's fleet. Data from ch-aviation shows that De Havilland Canada Dash 8 turboprops form the backbone of the carrier's operations, with one 26.6-year-old Dash 8-200 and six Dash 8Q-200s (25.3 years old on average) present. Slightly younger than these is OY-GRN, Air Greenland's sole Airbus A330-200 (24.3 years old).
However, as pictured above, perhaps the most notable aircraft that Air Grenland now has at its disposal is its brand-new Airbus A330neo. This next-generation widebody is a rare example of the A330-800 model, and Simple Flying reported on its delivery just last week. Registered as OY-GKN, this 305-seat twinjet will gradually take over from the A330-200 on the Copenhagen route in the coming months.
What do you make of the fact that Air Greenland is considering adding A320 family aircraft to its fleet? Have you ever flown with the carrier? Let us know your thoughts and experiences in the comments!
Sources: Aviation Week, ch-aviation.com