Seattle-Tacoma International Airport (SEA) hopes to put the work of talented artists on display as it moves forward with its concourse modernization plans. On Thursday, the airport's owner, Port of Seattle, said it seeks multiple artists or artist teams for four permanent art commissions.
The commissions will be showcased throughout a new, remodeled Concourse C on glass, panels, sculptures, and digitally through a screen. The airport is explicitly looking for art that will reflect the diverse culture and environment of the Pacific Northwest.
Sharing art and culture
Port of Seattle Commissioner Fred Felleman spoke about the importance of the airport's new project and the opportunity it gives to artists in the region.
"We're very proud to be able to showcase the rich cultural tapestry of Northwest artists to visitors from around the world. The new opportunities for Indigenous artists and local glass artists will not only expand our welcome mat at SEA but will also provide needed economic stimulus and career opportunities for members of our renowned art community." – Fred Felleman, Port of Seattle Commissioner
The announcement of the new collaboration comes as SEA has been working hard planning to expand Concourse C.
Photo: Joe Kunzler | Simple Flying
A tall Concourse C
From the ground up, officials hope the talent of artists will bring the concourse's interior to life and make the area more spacious.
"Concourse C is going to have a big facelift," said Port of Seattle Senior Art Program Manager Tommy Gregory. "It's going to go from a very low ceiling to four stories.
The airport plans to have artwork on all levels of the concourse, which will require tremendous work and creativity.
"We have a pretty significant amount of opportunities, starting on the ground level with some free standing artwork," Gregory said.
Three visual artists or artist teams will be commissioned to each create five panels that will sit in front of an LED light box and frame the front of 15 tables that will be located on the stairs for passengers to use, according to the airport.
The panels will be located at the Grand Stairs at C, which the airport calls the centerpiece of the C Concourse expansion. The stairs are designed to create an environment similar to a public market with an open amphitheater feel and a stage for live music. Restaurants and retail locations will be nearby at the top of the stairs.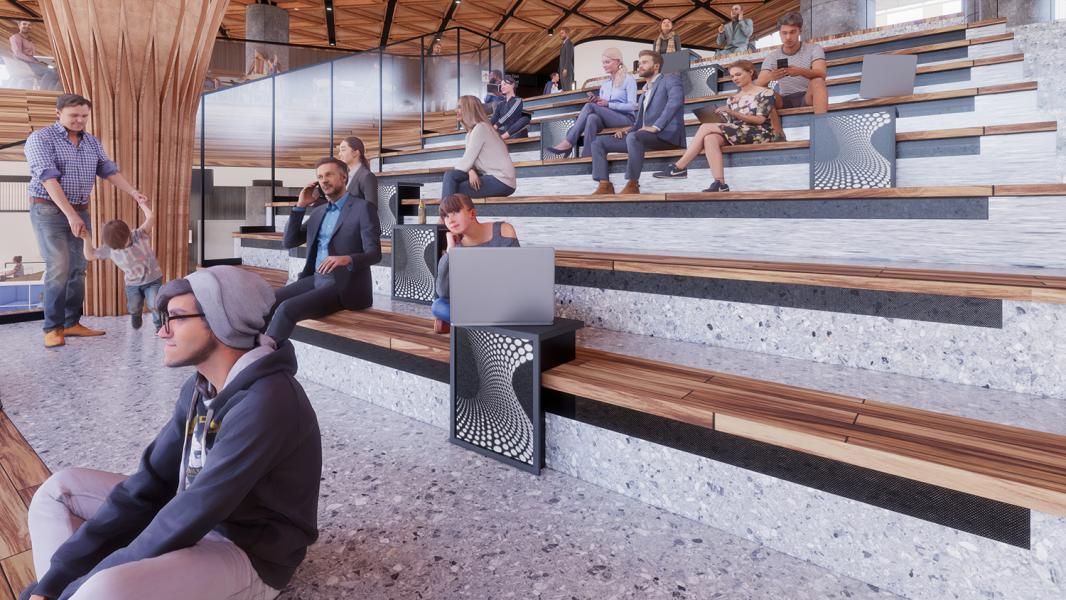 Photo: Port of Seattle (Rendering credit: Miller Hull/Woods Bagot)
"We're also commissioning some of our first, full length video artwork, so we have five opportunities out to be on a major screen within this Concourse C modification project," Gregory noted. There's something for every medium and every artist of all backgrounds and all professional kind of levels."
The planned 36-foot-wide video screen will be the first and last art element that guests will see as they enter or exit the expanded Concourse. It will be 11 feet high and will turn a corner, extending another 8 feet and 11 inches and allowing for the possibility of 3D digital art design, according to the airport.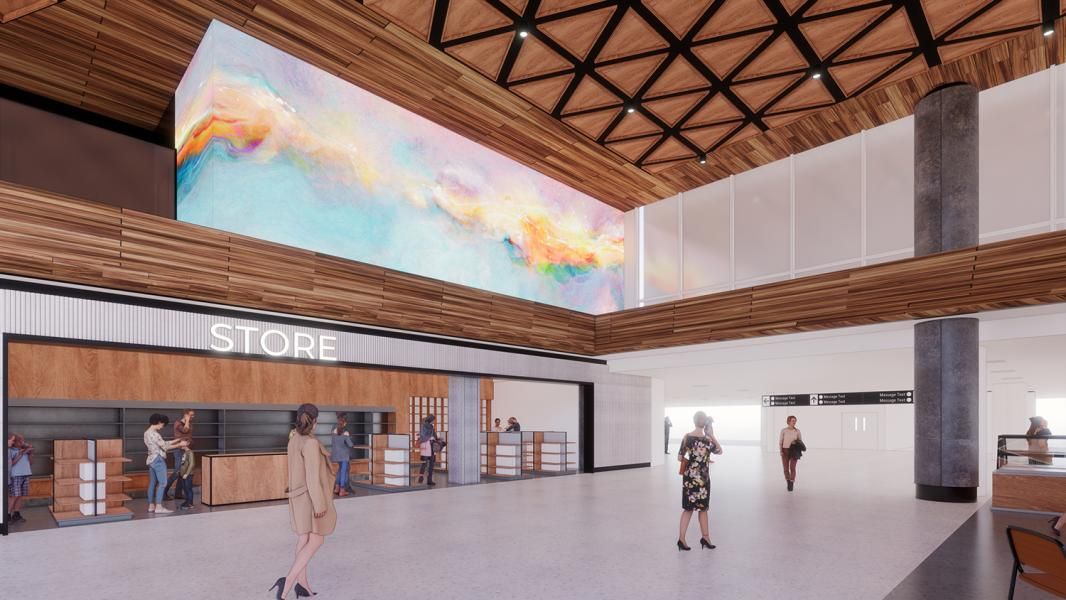 Photo: Port of Seattle (Rendering credit: Miller Hull/Woods Bagot)
Artist incentive
SEA is also looking to reward some artists for their submissions if they get accepted to appear in the concourse overhaul. The other two commissions include a wall near the restrooms and a sculpture on the lookout deck.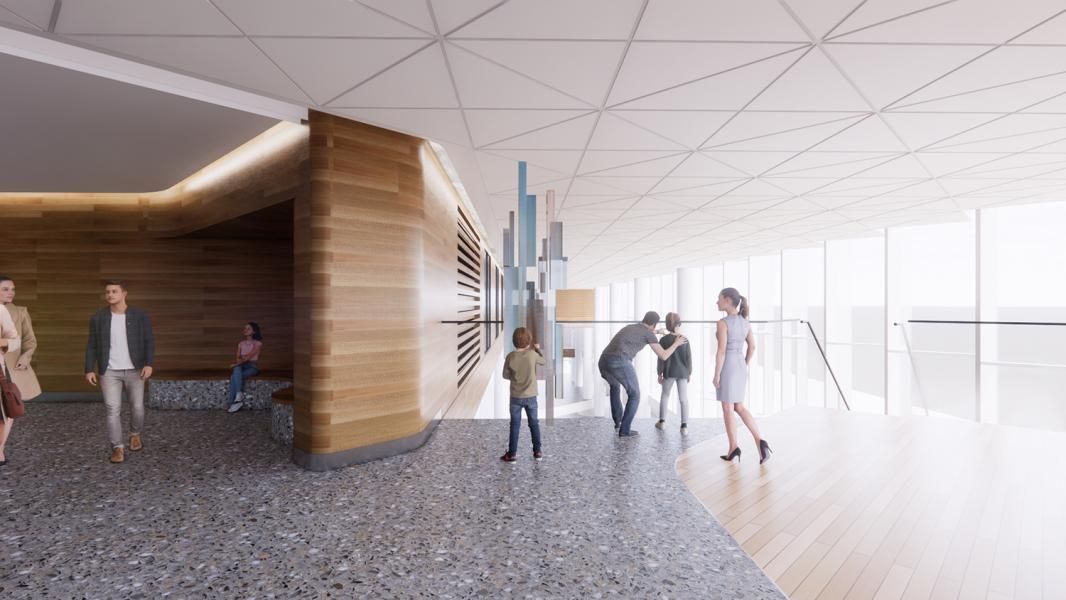 Photo: Port of Seattle (Rendering credit: Miller Hull/Woods Bagot)
The selected artist or team for those commissions will be offered a residency at Pilchuck Glass School and the Museum of Glass next summer. All four commission projects are open for bid until December 27th.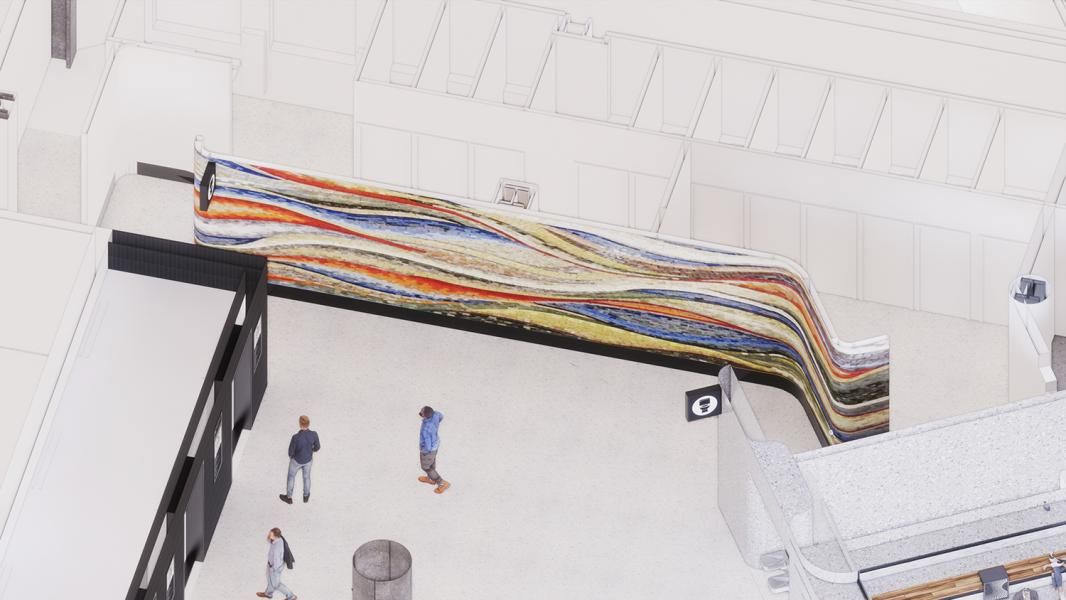 Photo: Port of Seattle (Rendering credit: Miller Hull/Woods Bagot)
The airport also said the expansion design creates an intuitive journey, a sense of calm, and climate consciousness. The building will be enlarged to 226,530 square feet, up from 81,000 square feet, to contribute to a more capacious ambiance.
Additionally, the project will include new amenities such as prayer and meditation rooms and an Alaska Airlines lounge. The concourse is expected to be completed in 2027.
Source: Port of Seattle