Depending on how often you travel, being a member of multiple airline loyalty programs can make it challenging to redeem any hard-earned points and miles. Sometimes points can only be used for certain flights, and they are usually only applied to just part of the airfare. However, for today's flight review I was determined to finally put my Air France-KLM "Flying Blue" points to good use after accumulating them over the past four years. This is what prompted me to book a one-way flight from Vancouver to London via Seattle. This review will examine the long-haul portion of the journey: A Virgin Atlantic Boeing 787-9 service from Seattle to London in economy class.
The flight was overall quite pleasant, but had its fair share of issues and quirks. So, if you're interested in finding out more about the flight experience with this UK carrier, scroll further down to skip the booking and airport portions of the review.
Flight booking (reward points redemption)
As mentioned, this flight was booked using "Flying Blue" miles. The Flying Blue program is mainly used by Air France and KLM, but also Kenya Airways.and a few smaller airlines. Additionally, members of this program can earn miles by flying on eligible flights operated by SkyTeam member airlines.
In this situation, I redeemed 34,500 miles to fly one-way from Vancouver to London via Seattle. Taxes and surcharges paid in addition to the miles came to $156 Canadian dollars – which equates to about US$117 at the time of redemption.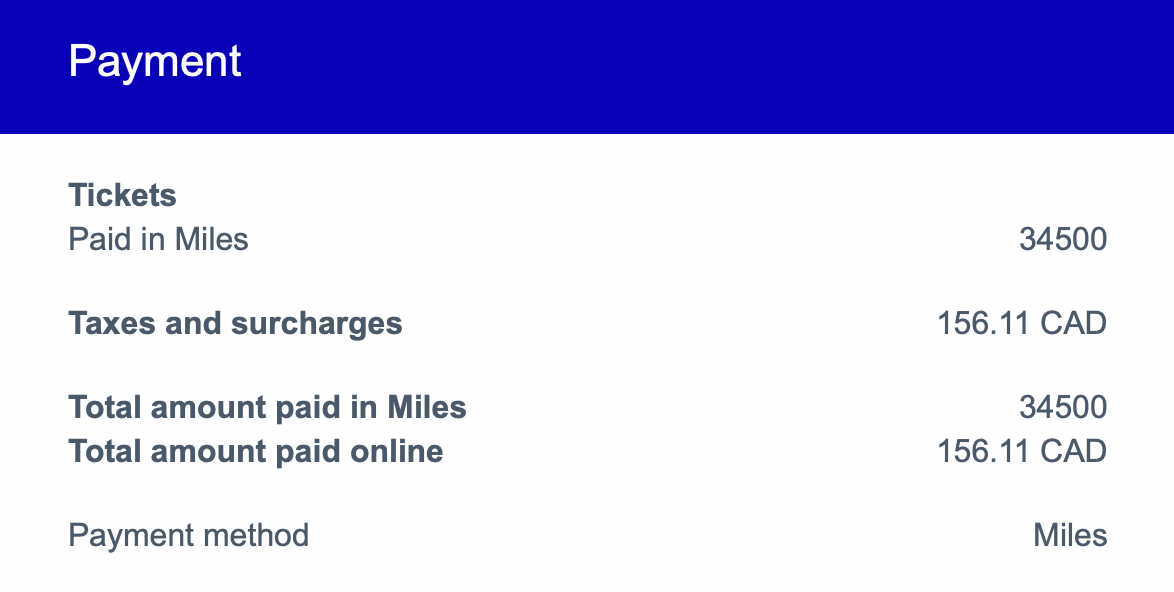 Photo: Flying Blue
This was actually my second attempt in redeeming miles for this particular trip. The first attempt saw the loyalty program deduct my points and issue a reservation booking code, but apparently, no actual eTicket was issued. This problem was only discovered after I noticed that one leg of the flight had completely disappeared!
Flying Blue customer service couldn't explain how the error happened, and so they ended up refunding my points and instructing me to book a flight all over again. It's extremely fortunate the error was picked up about two months prior to the flight, but if I hadn't, then it could have been a really messy situation at the airport on the day of departure!
Connecting through Seattle
Moving on to the day of the flight, I first flew from Vancouver with Delta Air Lines – or a Delta Connection service operated by SkyWest Airlines to be more precise. You can read the flight review for this particular leg by clicking here.
Unfortunately, I experienced some issues checking-in for this first flight. I had been issued a boarding pass, but after trying to upgrade my seat, I was faced with cryptic error messages that popped up afterwards. Clearly, Delta's reservation system was having some issues and even the gate agent at Vancouver International Airport was unable to solve the problem without contacting Delta herself. Check-in/gate agent-extraordinaire Sandy stayed on the phone with Delta Air Lines and even offered to put me on an earlier flight to Seattle since there was enough time!
The connection could have been a tight one, with a transfer time of only one hour. Of course, considering the fact that major Canadian airports have US Customs pre-clearance, immigration wouldn't be an issue transferring through Seattle. However, there was definitely some nervousness due to an unfamiliarity with Seattle Tacoma (Sea-Tac) airport and the fact that terminals were separated by shuttle train. Despite an unfamiliarity with Sea-Tac, it was nice that Virgin Atlantic had published a quick reference guide for connecting from a Delta flight to its VS106 service.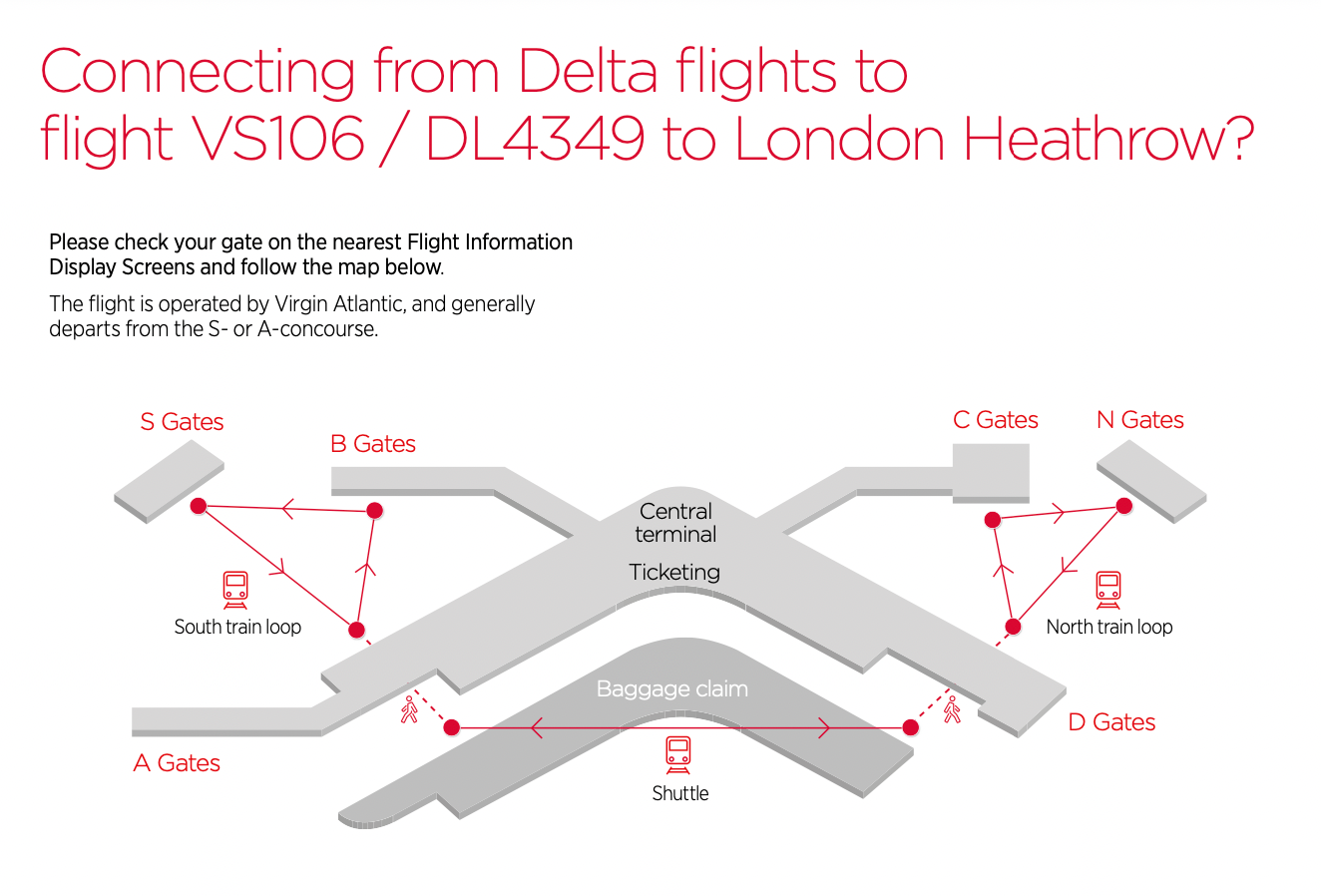 Photo: Virgin Atlantic
Getting off our Delta Connection Embraer E175 flight from Vancouver and transferring from Seattle's B Concourse to S Concourse was extremely smooth. This required walking to the end of the B concourse, descending down two escalators, and taking the people-mover to the S concourse.
The S gates exist at a satellite building away from the main terminal, and this relatively small facility appears to mainly serve long-haul intercontinental flights and can be covered on foot end-to-end in less than five minutes.
As far as this building is concerned, seating and charging stations were plentiful, while toilets and drinking fountain facilities were easily accessible. It should also be noted that connecting to the airport's WiFi was extremely easy – with no annoying steps for registration required.
Aircraft boarding and seating
Soon enough it was time to board the aircraft. The flight would be operated by an eight-year-old Boeing 787-9 registered G-VOOH, nicknamed "Miss Chief." Boarding was extremely fast, with gate agents being extremely friendly and enthusiastic with their announcements. Indeed, the speed of the boarding gave a strong indication of a less-than-full flight.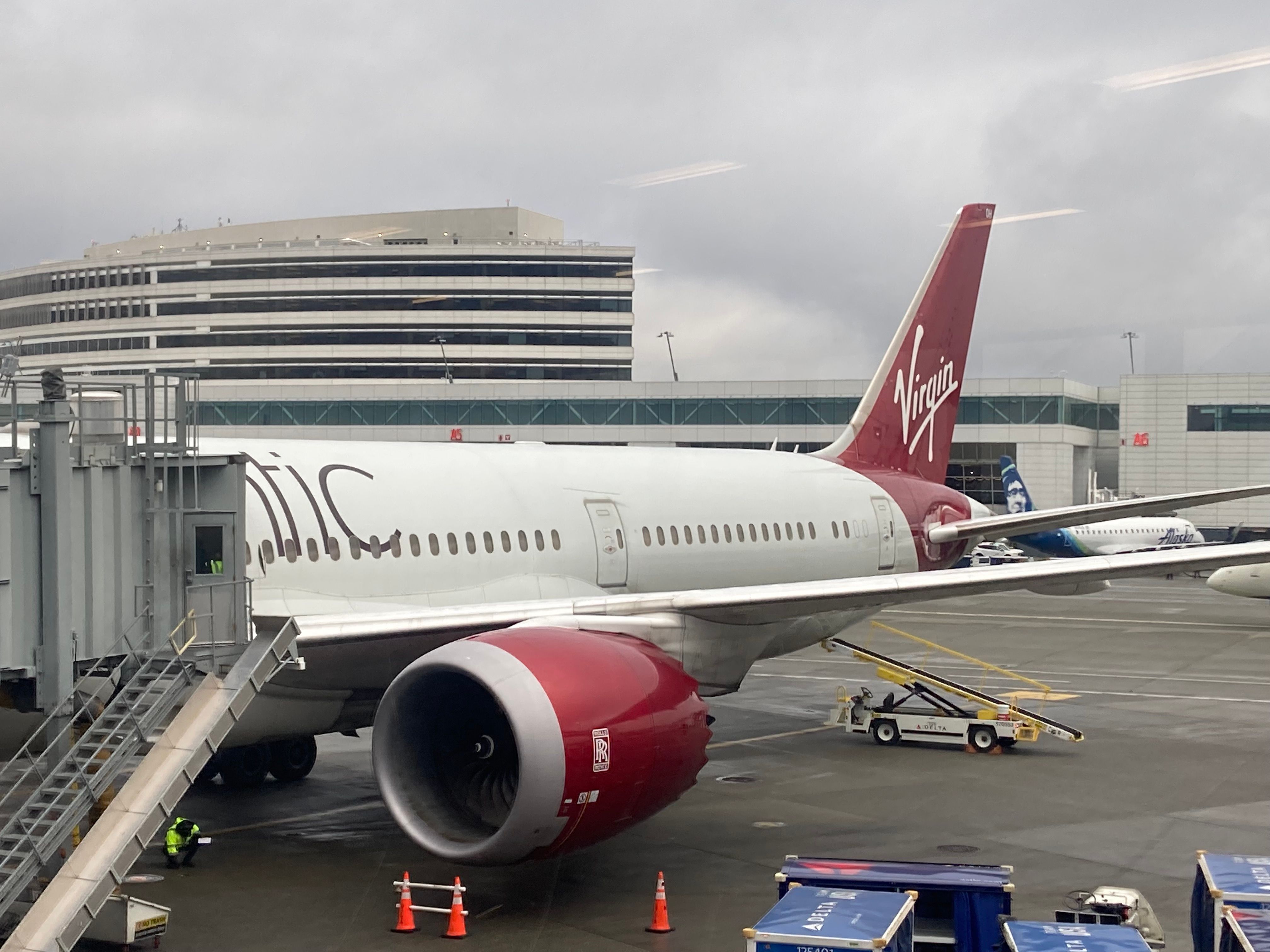 Photo: Chris Loh | Simple Flying
Stepping onboard, I headed back to row 63, and seat 63K. Apparently, I would be one of the few passengers seated in this section. Once boarding was complete, it's estimated that, at least in the rear economy section, that the load factor was around 40-50%. In fact, I had the row of three seats to myself, with only one person in the row in front, and no one assigned a seat in the row behind.
As a first-time traveler with Virgin Atlantic, it was interesting to me that the airline really leaned into its red theme and branding. Seats are a mix of bold red and a brownish-maroon color, while the 787's LEDs were most often configured to be a deep purple color. Getting seated, the seat pitch was more than enough to feel comfortable, with my height being nearly six feet (180cm). The vertically adjustable headrests are big and plush and have non-adjustable wings that jut out on each side. I found these to be a bit much – and would have preferred something a little simpler. For me, the size of the headrest forced my head to be more forward than was comfortable, and I would have preferred to tilt my head back a little.
Seat recline was decent and there was nothing too special about the tray table. Like many airlines these days, the seats come with a little metal nub for hanging coats and other articles of clothing. Finally, seats come with seat-back pockets complete with an emergency card, duty free shopping catalogue, and inflight magazine.
As I had experienced with other airlines, the IFE box was inconveniently placed under my seat. The one on this flight consumed about a fifth of the under-seat area at the window seat. This didn't seem to be an issue for the aisle seat, but at least in my cluster, the window and centre seats both had these boxes. While this would normally be less than ideal for someone wanting to keep their laptop bag close-by, the empty adjacent seats meant that there was plenty of room to store bags and stretch out!
Inflight entertainment system
The inflight entertainment system appeared to be fairly modern and responded quickly to touch. While the screens aren't the largest, they are bright and of good quality. These systems also come fitted with a USB-A port and a single-prong headphone jack. In my experience, many modern systems can tilt to compensate for seat recline, however the screens on this aircraft lacked this ability.
For the content held within the IFE, the choice of movies to television shows to games was extremely diverse. To my surprise, it was nice that passengers could provide feedback on whether they enjoyed a show or not – ultimately feeding into a calculated average-satisfaction score.
Unfortunately, the moving map feature, named the "SkyMap" wasn't functioning for the first portion of the flight. Unaware of when exactly it became functional, I did get a chance to check it out during the last 35 minutes of the flight. Another glitch that was discovered concerned a single album that I tried to listen to, as it was clearly not what it was labeled to be. But, other than me not being able to listen to some Billie Holiday, all other albums that were played in the IFE seemed to be correctly labeled.
There are two things that could be said about the USB port. The first is that it's quite interesting that this port is apparently not just for charging. Going through the IFE menu, it looks like there's an option for passengers to connect USB drives to play content on the inflight system. Unfortunately, without any USB drive in my possession, I was unable to test this feature.
The second point about this USB port is the fact that sometime after reaching cruising altitude, device charging seemed to stop. While on the ground and shortly after takeoff, charging appeared to work fine – until it didn't. To make sure it wasn't just my specific port or cable, I tested the neighboring IFE without any success. However, I was able to charge my phone using my power bank, indicating a functioning cable.
The one positive glitch: Free WiFi!
While the few non-functioning features of the IFE detracted from the inflight experience, there was a single glitch that was actually a great benefit to me and my fellow passengers: Free WiFi!
Connecting to the Virgin Atlantic network, the browser automatically opened to the airline's page. After clicking on connect, the expectation was that it would provide a page with different plans and steps to take payment. It looked like the system was trying to take passengers to another page that never actually loaded. Despite this, my social media and email notifications came flooding in, proving that I was indeed connected to the World Wide Web. I wasn't sure if this wonderful little glitch was the result of a specific operating system or device, but for the record, I was using an iPhone to connect and also managed to connect (for free) with my Apple Macbook.
To confirm that was indeed a glitch and not some promotion, I asked a flight attendant about it. The one that I approached confirmed that the service was supposed to require payment – and upon hearing the news, told me that I lucked out and to enjoy the glitch!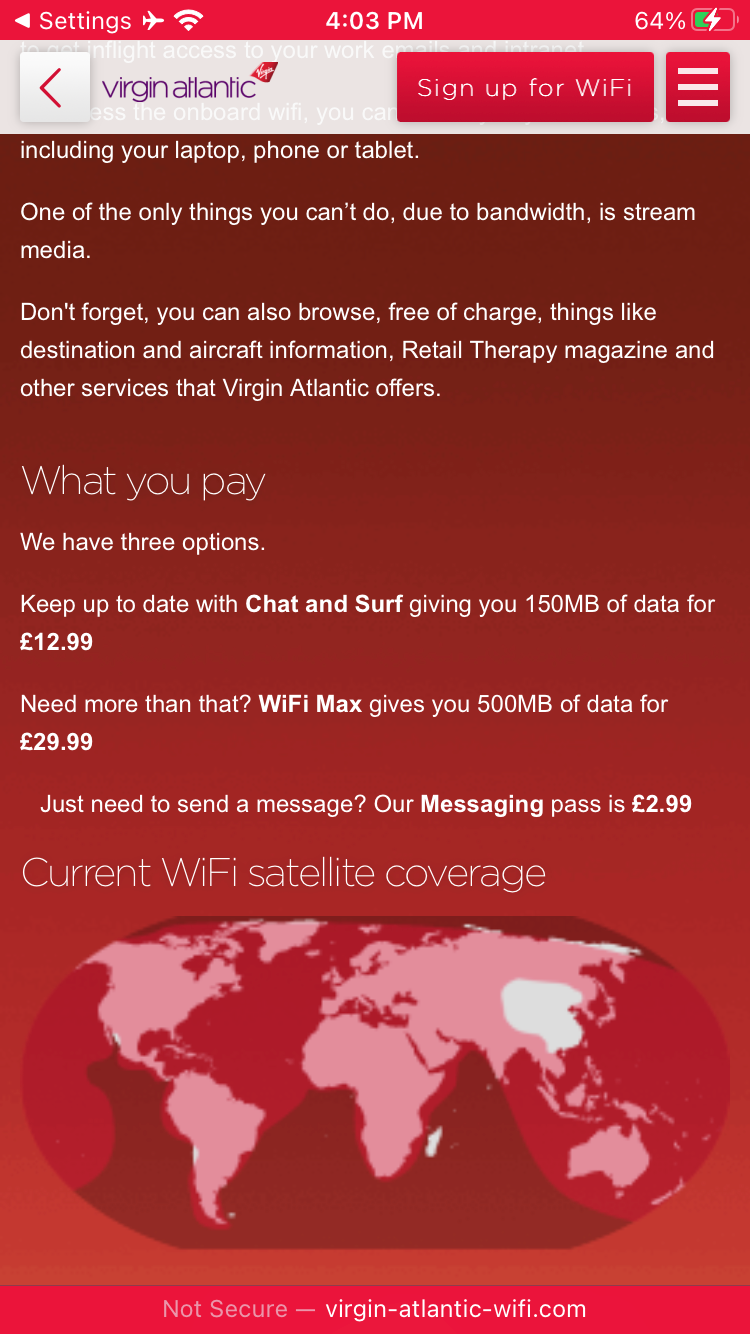 Photo: Chris Loh | Simple Flying
Meal and beverage service
The inflight service began with a small snack and beverage service 20 minutes after takeoff. This consisted of a package of pretzel snacks and a drink, with the main meal coming about an hour later.
Curious to see how the airline handled special requests, I pre-selected the "Asian Vegetarian" option as part of my booking. Having fallen asleep after reaching cruising altitude, I woke up to find my special meal in a box, sitting on the tray in front of me. As for the rest of the cabin, flight attendants at this point had just begun the general meal service – which consisted of a chicken option and a vegetarian pasta option.
As for my special pre-selected meal, it consisted of rice with steamed cauliflower with curry spices, okra, and green lentils. Adding a little more spice, two slices of jalapeño peppers were placed on top of the rice. Accompanying this hot meal was a bread roll and butter, while dessert was some kind of coconut-pudding-jelly dish topped with small bits of pineapple.
Everything was delicious although the hot meal came fairly bland. In this case, the lack of saltiness seemed to be intentional and was easily fixed with the packet of salt that came with the cutlery. A few hours after this, sometime during the middle of the flight, crews came through the cabin to offer water or orange juice.
Then, about 90 minutes before landing, passengers were served breakfast. Coming in small boxes, this consisted of a very thick and rich yogurt, a pastry (pain au chocolat to be precise), and a blueberry-granola cookie product. The yogurt was quite nice, and the granola-cookie product wasn't too bad either. However, having been refrigerated, the pastry was cold and stiff, which made it quite unpleasant to bite into.
The dilemma of a window seat photographer…
Another thing I wanted to mention was my selection of a window seat and the issues that came with it. Now, I quite enjoy taking photographs out the window and was excited to do the same for this trip. Thus there was a small dilemma for this flight: Knowing that it was a redeye flight over the arctic circle during the winter, there would have been a chance to capture the northern lights out of the left side of the window. Below is an example of a flight from Vancouver to Paris on an Air France Boeing 777.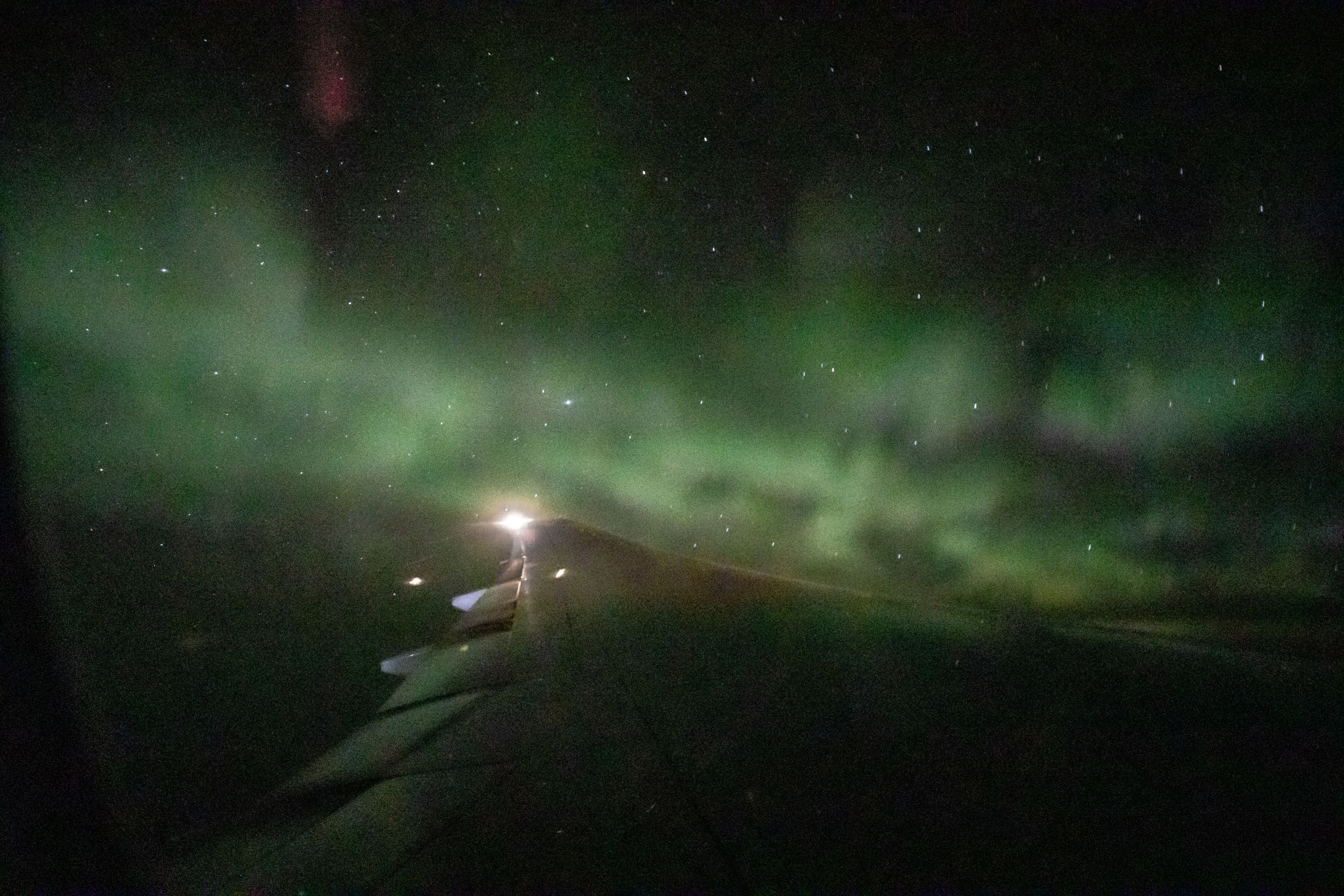 Photo: Chris Loh | Simple Flying
However, having had a few landings at Heathrow in the past, I knew our flight would come from the east and fly over Central London, offering a great view of the city out of the right side as the aircraft landed. So, having already successfully captured the northern lights twice now, I chose to try and get some aerial shots of central London this time. Embedded below is an example taken from a previous flight.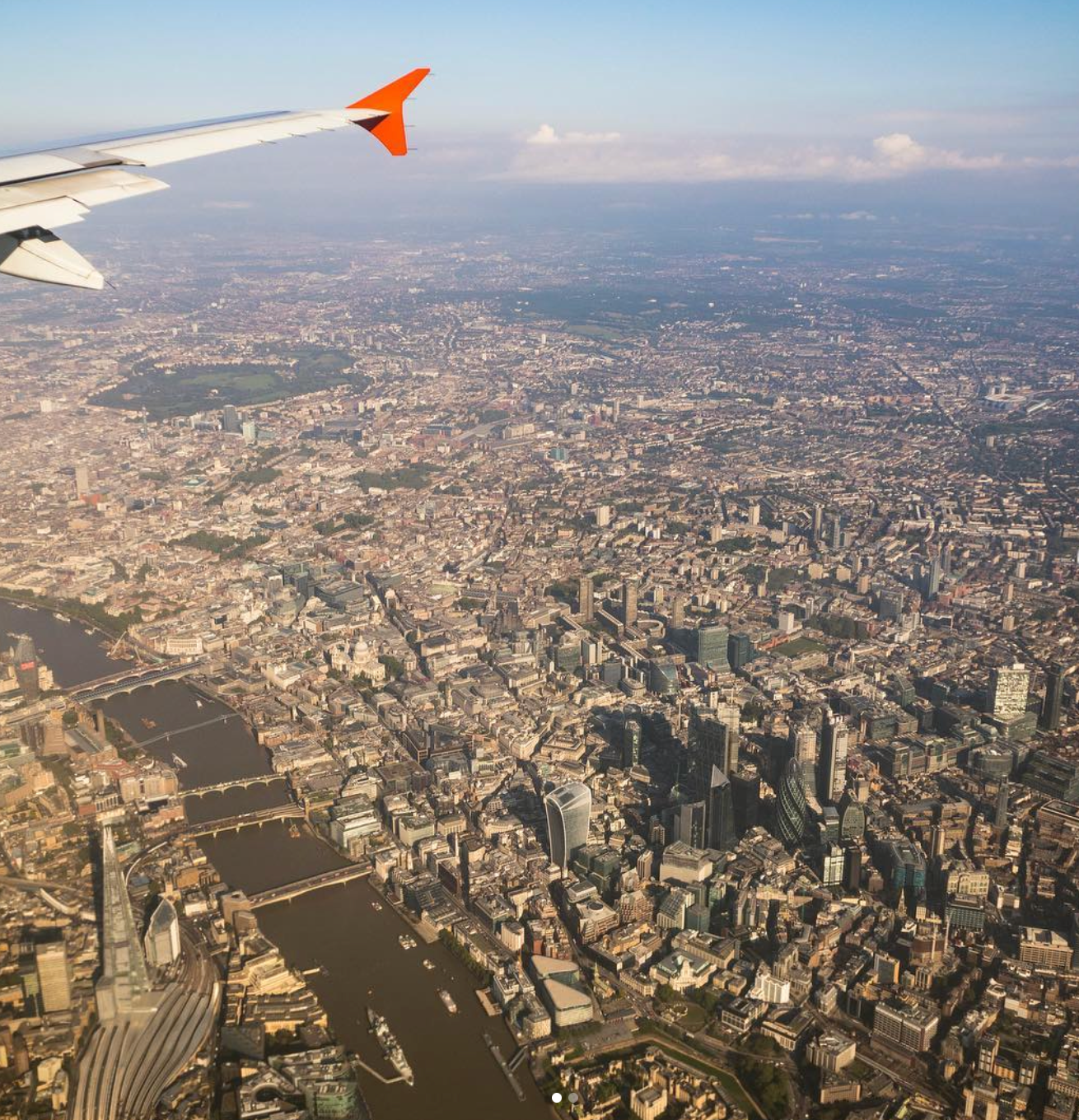 Photo: Chris Loh | Simple Flying
But unfortunately, neither of these options would turn out to be possible for a variety of reasons. As the cabin lights were dimmed for passengers to sleep, I noticed that the Dreamliner's windows were locked to be black overnight. This would have killed any chances of getting a good shot of aurora borealis in low-light conditions. And then over at my window on the right side, ice crystals had formed between the panes, severely obstructing any view. However, this wouldn't have mattered, since low cloud prevented any good view of Central London below.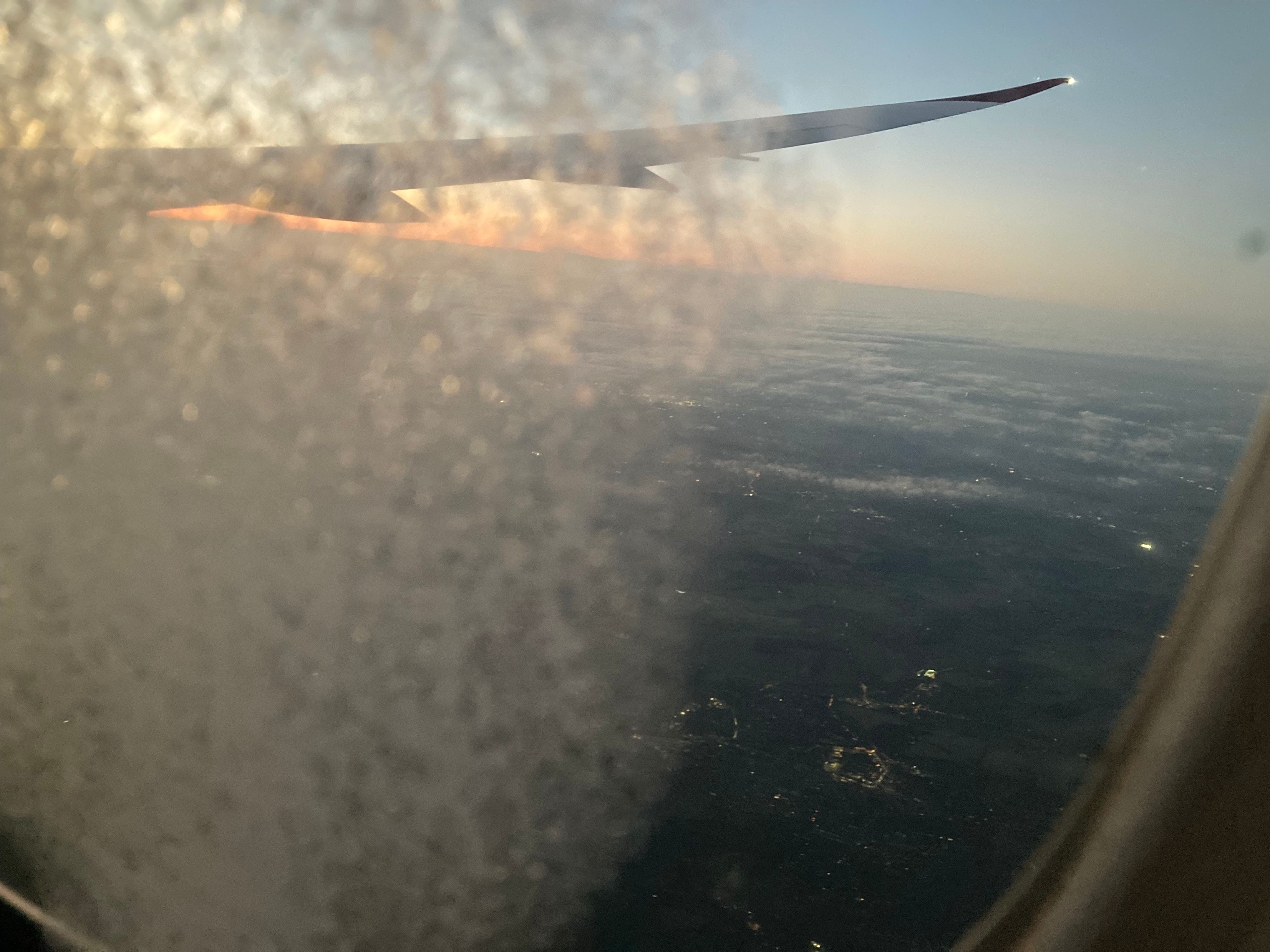 Photo: Chris Loh | Simple Flying
Final thoughts and conclusion
Wrapping up my review, I came into this flight really excited to fly with Virgin Atlantic and really wanted to like the flight. And, overall, the flight was fairly enjoyable. However, the number of glitches and issues certainly detracted from the experience – well, except for the glitch of free WiFi! Additionally, the headrest was a little bulkier than would have been preferred, and it might actually have been more comfortable without it.
Many of the glitches and issues I raised were overall quite minor and by no means ruined the experience. However, I feel it's necessary to bring up all of these details to provide a comprehensive flight review!
Looking back at the nine-hour flight, it's clear that the airline puts a good amount of energy into solid customer service and pleasant interactions. Flight attendants were warm, courteous and performed their jobs well. Indeed, I would wager to say that most passengers felt well-taken care of throughout their flight. This was certainly made easier by the light load factor of the service!
But that's it for my transatlantic economy class review with Virgin Atlantic! Have you flown with Virgin Atlantic before? Where did you go and on which aircraft? Share your own experience of flying with the airline by leaving a comment!
IATA/ICAO Code:

VS/VIR

Airline Type:

Full Service Carrier

Hub(s):

London Heathrow Airport

Year Founded:

1984

CEO:

Shai Weiss

Country:

United Kingdom