The inaugural flight touched down at approximately 16:26.
Italian carrier SkyAlps operated its first flight from Belgium's Antwerp International Airport on December 21st, inaugurating the airline's new seasonal flight service connecting Antwerp and Bolzano with a thrice-weekly frequency until mid-April. SkyAlps' entry into the lucrative market is just in time for winter sports enthusiasts looking to catch some snow on the Italian Alps.
An inaugural touch-down at Antwerp Airport
On December 21st, the SkyAlps flight was operated by Luxwing as BN 1963 departed from Bolzano Airport at approximately 14:37. Approximately two hours later, the inaugural flight made its first landing at Antwerp International Airport at 16:26.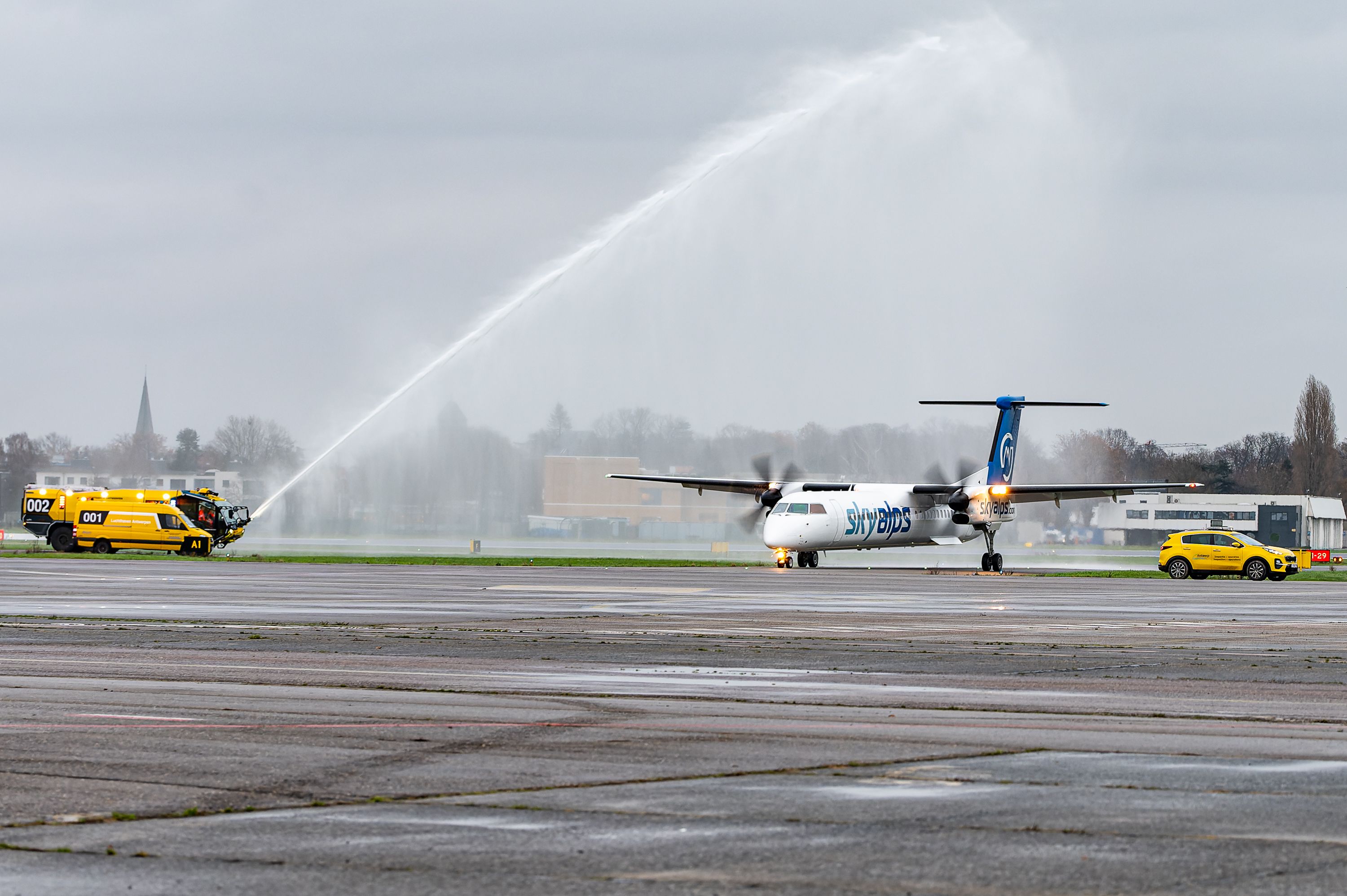 Photo: Jonas Evrad | SkyAlps
Flying the inaugural flight was a De Havilland Canada Dash 8-400 registered 9H-PET, and it was welcomed to the airport with a water salute from the airport fire brigade. In the terminal, arriving and departing passengers were warmly welcomed by Airport Commander Wim Verbist and SkyAlps Station Manager Stephen Marnef.
When commenting on the launch, Marnef highlighted,
"We are delighted to officially open our route from Antwerp to Bolzano today. In less than two hours, you can fly from Antwerp to Bolzano. That's five times faster than by car and therefore, more time to get on the slats."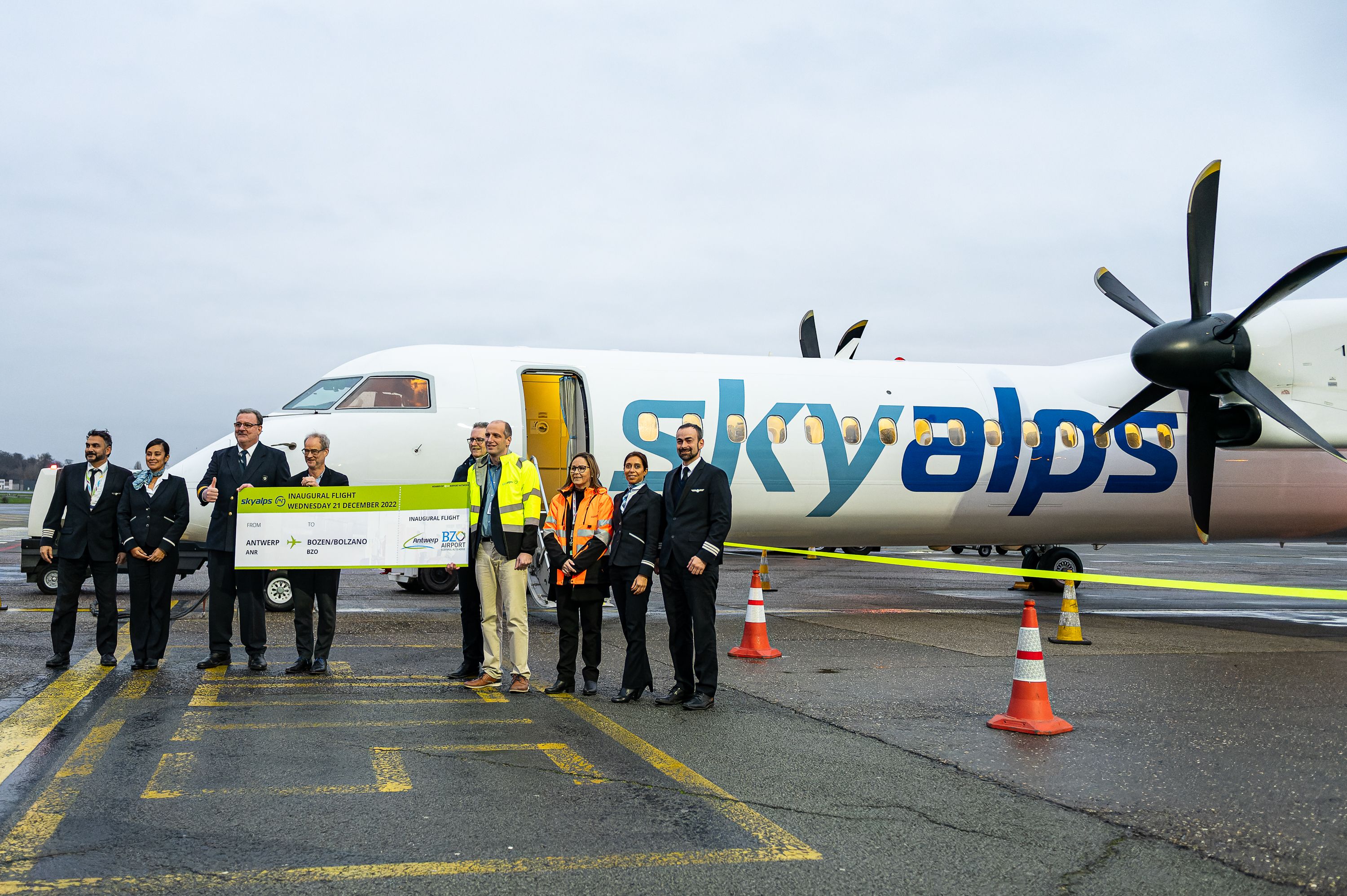 Photo: Jonas Evrard | SkyAlps
A two-way beneficial partnership
After all the celebratory events were completed, the first flight for Bolzano, BN 1964, departed at around 17:05. Onboard were approximately 40 enthusiastic passengers. Though it wasn't a full flight, the occupancy rate was still positive enough for the Italian carrier, and it's confident that the numbers will certainly increase in the coming weeks.
And besides an expected rise in occupancy rates, both SkyAlps and Antwerp International Airport are confident that this new service will aid the airport in welcoming increased number of passengers and achieve its goal of welcoming more than 310,000 passengers annually by 2025. Verbist emphasized this point by saying:
"We are grateful to SkyAlps for choosing and trusting our airport. There has been demand for flights from Antwerp to Italy for a long time now. The opening of this new route is therefore fantastic news for our airport and travellers."
Passengers hoping to catch a flight will be delighted to find out that SkyAlps will be operating the route on a thrice-weekly schedule every Wednesday, Saturday, and Sunday. Inbound flights to Antwerp are scheduled to depart at 14:15 before arriving at 16:15. And outbound flights out of Antwerp is expected to depart at 17:05 before arriving home at approximately 18:55.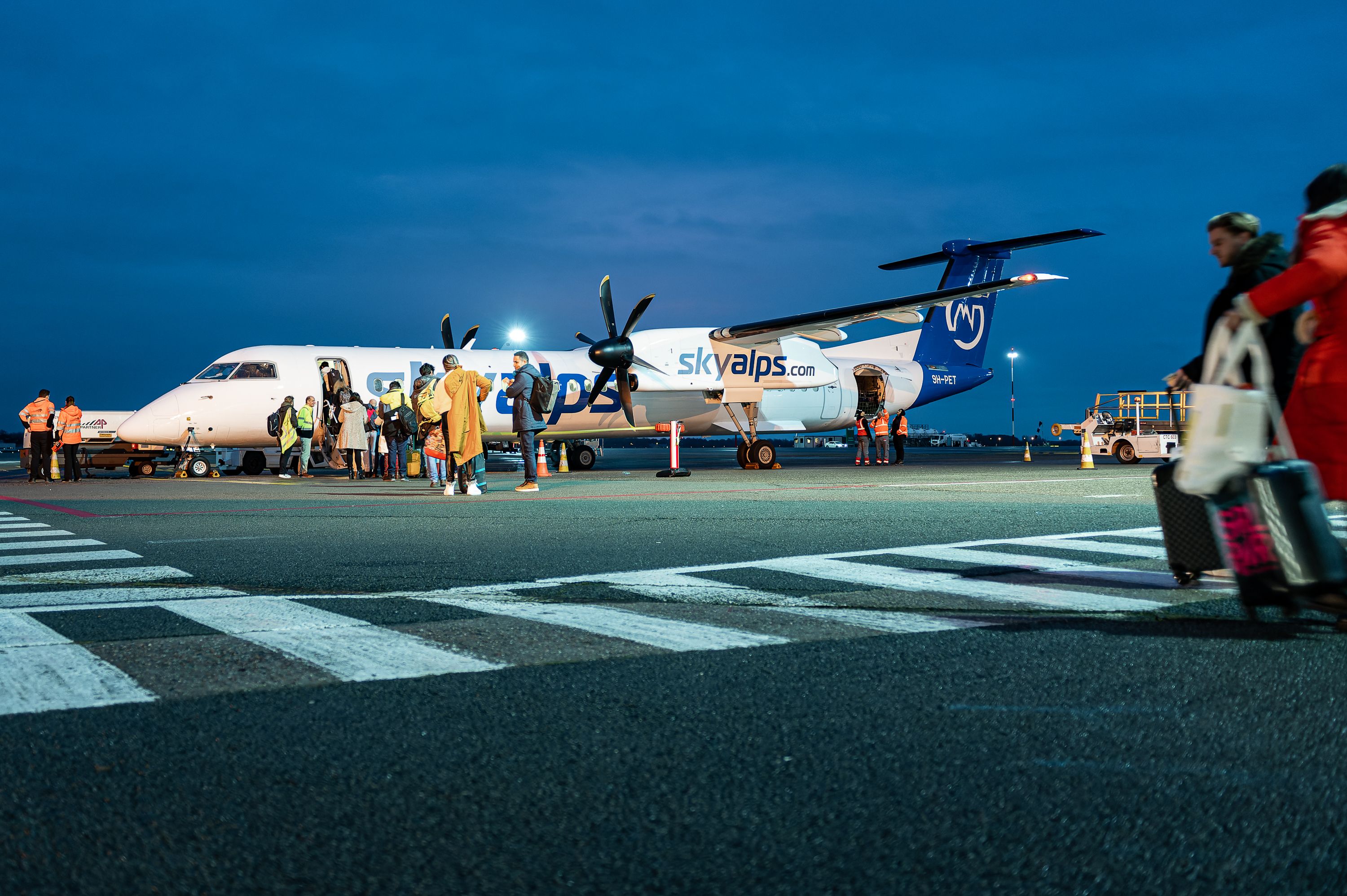 Photo: Jonas Evrard | SkyAlps
Looking forward to a new year
With its winter flight schedules going according to plan with successful route launches, SkyAlps is also simultaneously tidying up its summer 2023 flight schedules. A couple of notable seasonal routes is the launch of once weekly flight services between Bolzano and Dubronik in May, and the launch of twice weekly flight services between Bolzano and Kassel in the same month.
Passengers can also look forward to the resumption of flight services between Bolzano and Brač, which was launched earlier this summer. Unfortunately, the Palma de Mallorca and Zurich routes weren't as successful due to economic reasons, and will not be offered in the summer 2023 timetable. Nonetheless, 2023 is certainly going to be quite an exciting year for SkyAlps.