Recently, the U.S. Transportation Security Administration (TSA) reported about their top 10 catches of 2022. These catches range from a dissembled firearm hidden in peanut butter to a firearm concealed in a sling and even stranger things. These attempts to subvert airport security may appear laughable but are deadly serious – especially in the wake of 9/11 when nineteen terrorists hijacked four jetliners with small weapons.
Why airport security?
Before we discuss some of the incidents, a cursory review of why airport security and the TSA, in particular, are necessary seems appropriate. Before September 11th, 2001, airport security did not attempt to stop small knives being taken onto planes. They were already were doing what they could to stop firearms – especially after many hijacking efforts over the years. Some of those efforts – such as Kuwait Airways Flight 422 – were aided by firearms.
Top 10 catches
To attempt to educate the flying public as to why the TSA is necessary and what one cannot bring with them, the TSA decided to make this splashy YouTube of the top ten smuggling attempts. These included:
10 – Soiled money crutches – ELP airport
9 – Inert grenade – MKE airport
8 – A cattle prod in a guitar case – IAD airport
7 – Gun inside a PlayStation – ATL airport
6 – Drugs concealed in scrunchies – BOI airport
5 – Knife hidden in laptop – RIC airport
4 – Gun in an arm sling – ROC airport
3 – Peanut butter hiding a firearm – JFK airport
2 – Gun inside a raw chicken – FLL airport
1 – Fentanyl inside candy wrappers – LAX airport
We will cover some of the more significant incidents from this list and then explain how you can – safely and legally – take a firearm with you on your commercial flight. With that, please prepare to be taken inside the wild world of the TSA…
Cattle prods intercepted at Dulles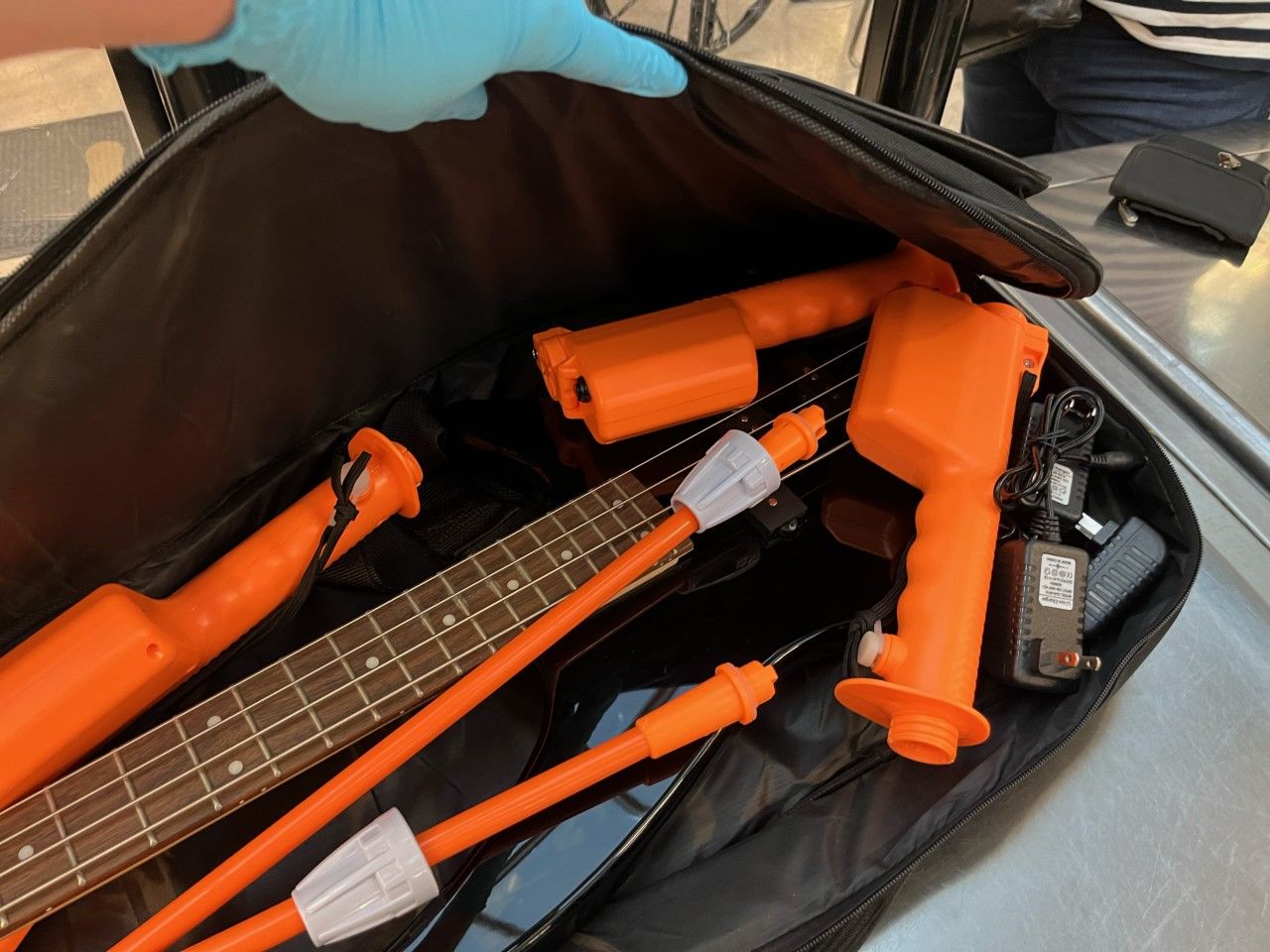 Photo: TSA
There were multiple attempts to smuggle cattle prods – electric devices intended to either herd cattle or as self-defense weapons – past Dulles International Airport (IAD) TSA agents. One cannot pack self-defense weapons into an aircraft cabin – especially with the rise in unruly passengers.
Fentanyl smuggling in candy at LAX
Photo: Los Angeles Sheriff's Department
Fentanyl, the same drug ravaging America's streets and addicting so many, was intercepted at Los Angeles International Airport. According to the Los Angeles County Sheriff's Department in an October 19 statement, over 12,000 fentanyl pills were intercepted.
Inert grenade intercepted
Yes, someone attempted to bring an inert grenade aboard a flight departing Green Bay-Austin Straubel International Airport (GRB). Although the item was inert, no chances could be taken.
Knife inside a laptop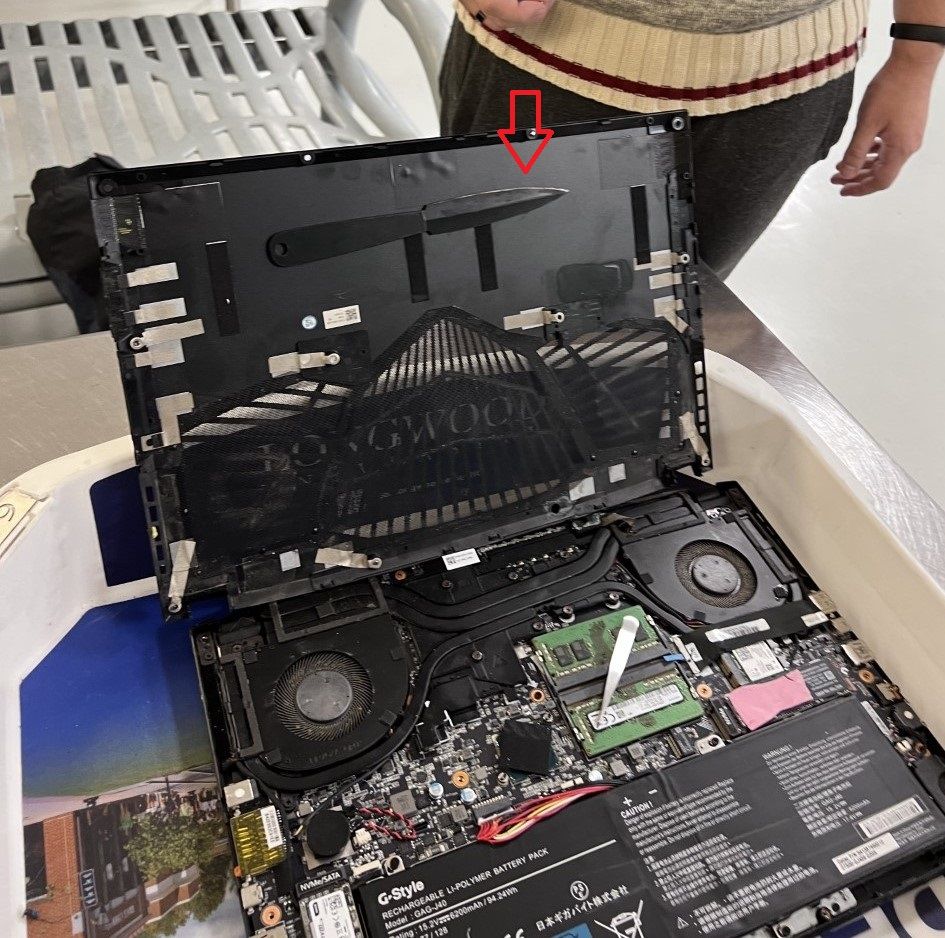 Photo: TSA
A passenger attempted to tuck a knife into their laptop in 2022, as per the above TSA photo. This attempt to subvert security was at Richmond International Airport (RIC) in Richmond, Virginia. According to a TSA statement, the knife was found via an x-ray in the initial screening, after which each item was screened until the laptop was dissembled and the knife was retrieved. The owner confessed to the sneak and faces serious fines for their actions.
As per a November 15 TSA statement by Robin "Chuck" Burke, TSA's Federal Security Director for the airport:
Detecting artfully concealed weapons points to the training and skill of our officers who are focused on their mission to ensure that prohibited items that could cause harm are not carried onto flights.
But this is sadly more common. As per below, a TSA Pacific tweet states, "All knives should travel in checked baggage."
The severity of knives onboard is clearly explained with a reminder there was recently an incident involving an unruly passenger using a sharp object on a JetBlue flight. In this incident, a male passenger held a straight-edged razor up against a female hostage's throat.
Firearm in a sling
TSA agents at Frederick Douglass – Greater Rochester International Airport (ROC) intercepted a firearm tucked inside a sling. TSA agents made an inspection and intercepted the firearm, which the suspect claimed to forget was "just inches from his hand."
Foul with chicken and guns
Incredibly, there was an attempt to sneak past Fort Lauderdale Airport-based TSA agents with a firearm tucked into a chicken. The chicken was raw, but that didn't stop TSA from discovering the bizarre concealment.
Regarding firearms and commercial flight
Although this matter was addressed recently, the severity of repeated attempts to bring firearms onto commercial aircraft are worth revisiting here. As per previous coverage and the above TSA YouTube, you can take your firearms with you on your commercial flight.
This is only if you put unloaded firearms in a locked, hard-sided case for check-in. At check-in, you need to professionally advise an airline check-in agent that you wish to check your luggage with firearms inside. After landing, you will be reunited with your firearms inside your luggage at baggage claim.
The same generally applies to other self-defense handheld weapons also: Checked luggage only, please.
What is your assessment of the situation? Please share with civility in the comments.