All over the world, more and more people are turning towards a plant-based way of eating as a means to support their health and the planet. For a vegan, eating well (or eating at all) while traveling used to entail numerous Tupperware containers and accompanying additional checks in security. Thankfully, those days are long gone (mostly), and airlines are responding to the growing number of passengers requesting special meals that exclude animal products. For this Veganuary, let's take a look at where you can find some animal-friendly meals while up in the air.
Veganism means the exclusion of all animal products from diet and clothing materials, often motivated by animal welfare. Today, many also embrace a plant-based diet in the interest of health benefits or lowering their personal carbon footprint. Veganuary is a charity that, every first month of the year since 2014, aims to support people trying out or transitioning to a plant-predominant diet. In 2022, more than 629,000 people from 228 countries and territories took part, breaking all previous records.
Photo: Vincenzo Pace | Simple Flying
Emirates
Emirates is consistently at the top of the pack when it comes to offering plant-based eaters an abundance of choices. We recently wrote a longer report on many of the types of 180 vegan dishes the Dubai-based carrier provides on its flights, but to list a few here, they include dishes such as Mediterranean vegetable ravioli, Arabic-styled roast capsicum with dried fruits and rice, Tofu jalfrezi, and much more.
Desserts include things like a zesty lemon tart with coconut cream and dark chocolate custard cake with fresh strawberries – very far from the standard and unimaginative fruit cup most airlines resort to for their vegan customers.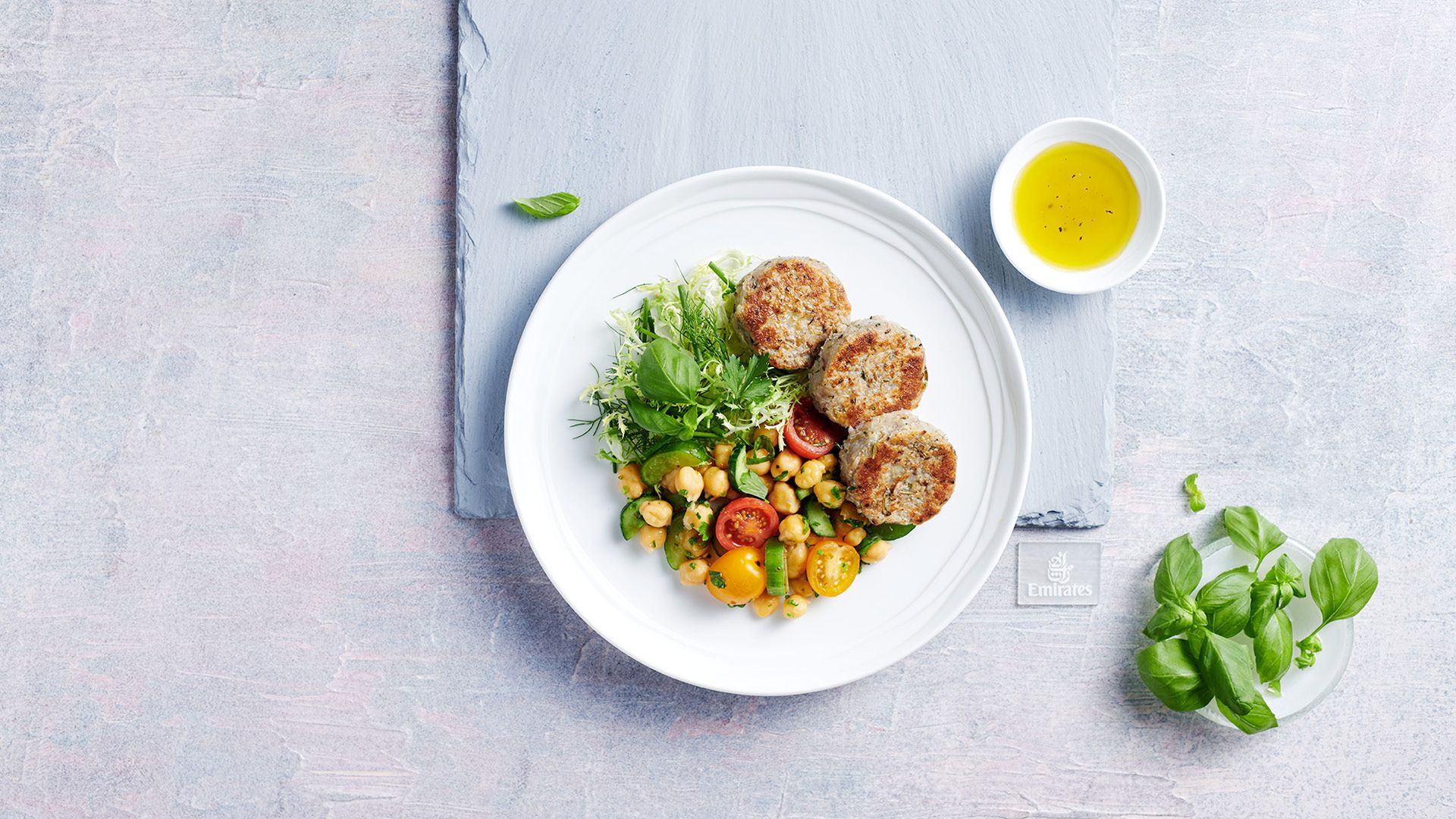 Photo: Emirates
China Airlines
December 2022 was a good month for Taiwan's traveling vegans, as China Airlines introduced new plant-based menus in all cabins for flights departing Taiwan. The airline's 'Clean & Green Plant-based Cuisine' menus were developed in partnership with the restaurant Yang Ming Spring, which has received the Michelin Green Star award for two consecutive years. The business class menu sounds particularly exciting.
The menu for the premium cabin features starters such as okra with black bean and sesame sauce and stone flowers with orange and apple sauce as well as main dishes like truffle risotto and vegan fish fillet with wholegrain mustard and 'Shou Wu' nourishing soup made from more than ten precious traditional herbs. Economy offerings do not sound too bad either, with dishes such as curry-stewed rice with king oyster mushrooms and braised plant-based meat with turmeric rise.
The airline said it is "setting trends on plant-based foods in the global airline industry by promoting low-carbon in-flight catering and zero waste."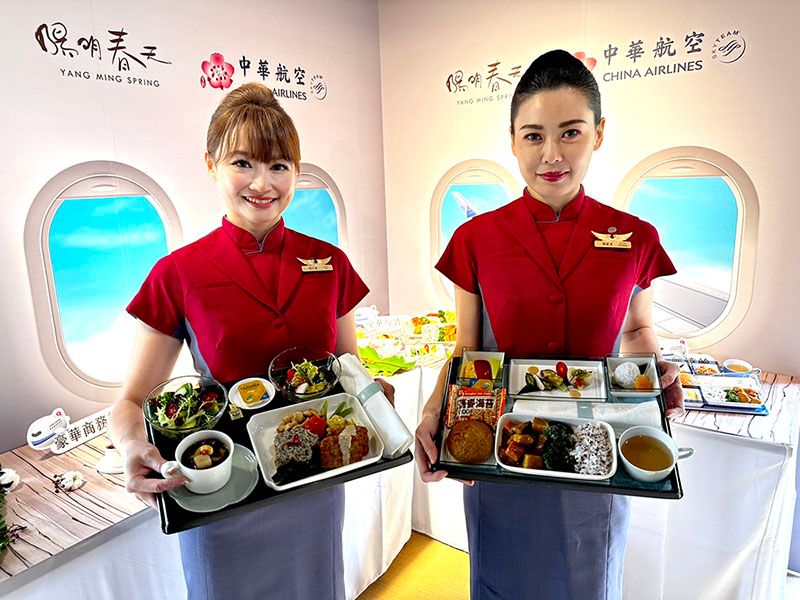 Photo: China Airlines
United Airlines
Whether highly processed meat substitutes are the epitome of healthy food choices may be debated, but they are an easy – and often very tasty and texturally satisfying – option when transitioning away from animal-based protein.
Last summer, United Airlines introduced an Impossible Meatball bowl and an Impossible Sausage breakfast option, becoming the first US carrier to do so nationwide. The breakfast sausage goes with an omelet, so it is not really a full vegan meal. However, the meatballs bowl comes with broccolini and is served on a bed of couscous and topped with an herb-infused tomato sauce.
Aaron McMillan, United Managing Director of Hospitality and Planning, commented at the time of the launch of the new dishes,
"We want our food offerings to evolve and change along with people's preferences – we're proud to work with Impossible Foods and think our customers are really going to love these new options. To many travelers, the quality of food choices at the airport and in the sky are a really important part of the customer experience, so we're invested in making sure our menu items exceed their expectations."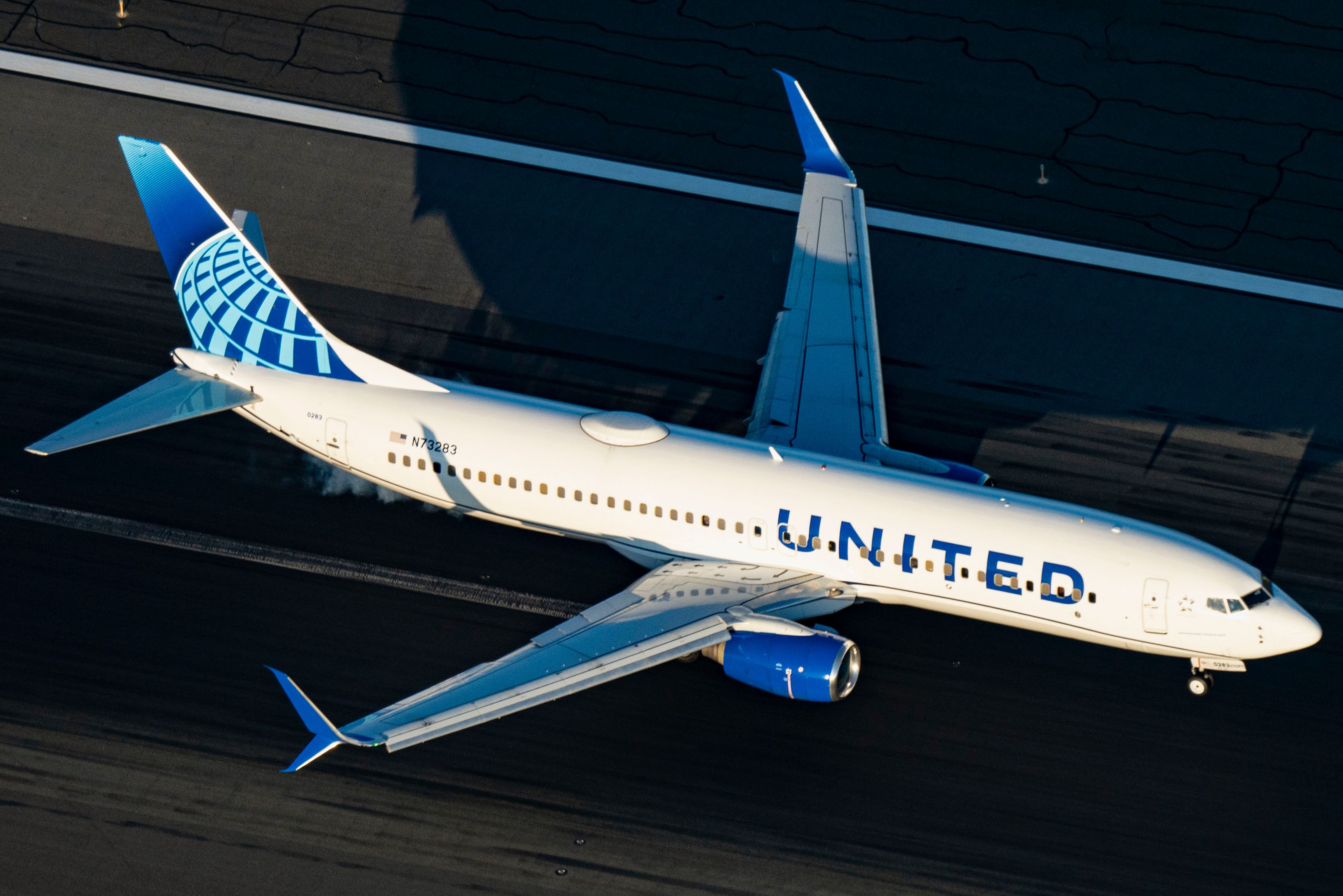 Photo: Vincenzo Pace | Simple Flying.
Delta Air Lines
Delta was actually ahead of United with the Impossible Burger on select flights back in March last year, along with plant-based lamb meatballs from Black Sheep Foods for a Greek-inspired dish served with spinach rice and feta (for some reason, airlines seem to need to add dairy to otherwise vegan meals).
Other flights saw the roll-out of fresh broccolini, roasted button mushrooms, grilled heirloom carrots, grilled red onions, and roasted cherry tomatoes, served with herb-scented Israeli couscous. Delta also added cauliflower cakes with pesto orzo, roasted tomatoes, and toasted hazelnuts. However, this comes with parmesan, so again, more vegetarian than vegan.
Kristen Manion Taylor, SVP for In-Flight Service, said,
"Not only are plant-based meats like Impossible Burger delicious to eat, but they're also often better for the environment, using far less land and water to produce. These new options are one part of Delta's broader mission to promote a wellness-focused travel journey."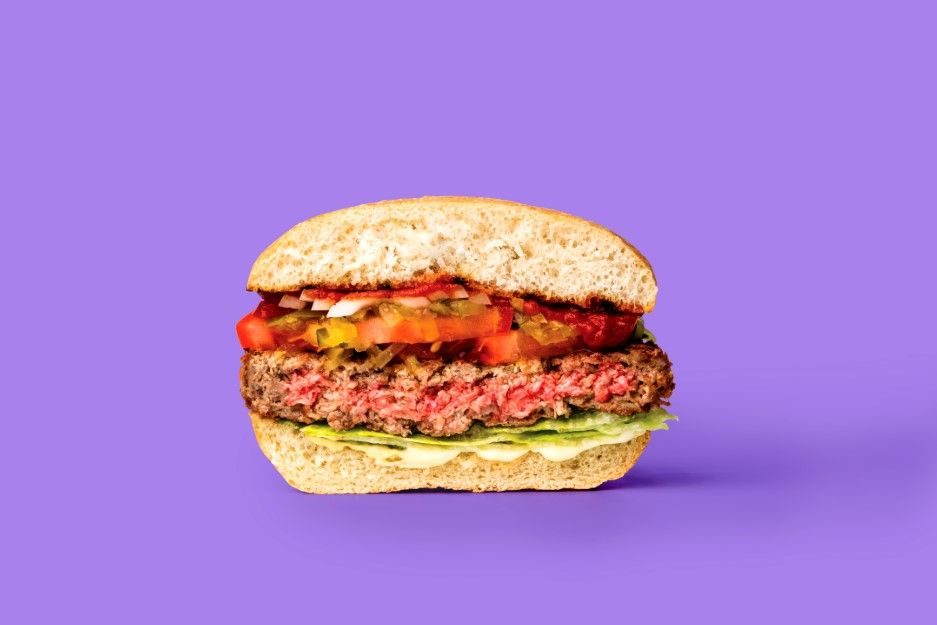 Photo: Delta Air Lines
Air Canada
Perhaps motivated by a bout of bad press in August last year, when a TikTok influencer shared her story of being served only a bottle of water over the course of a ten-hour flight as the airline had missed her special meal request (as reported by The Independent), Air Canada launched new regular vegan offerings in December 2022. If you are traveling in economy within North America or to the Caribbean, the new Air Canada Bistro menu features items such as spiced chickpea wraps, wild rice and farro salads, and chocolate chip blondies (aka, "not a fruit cup").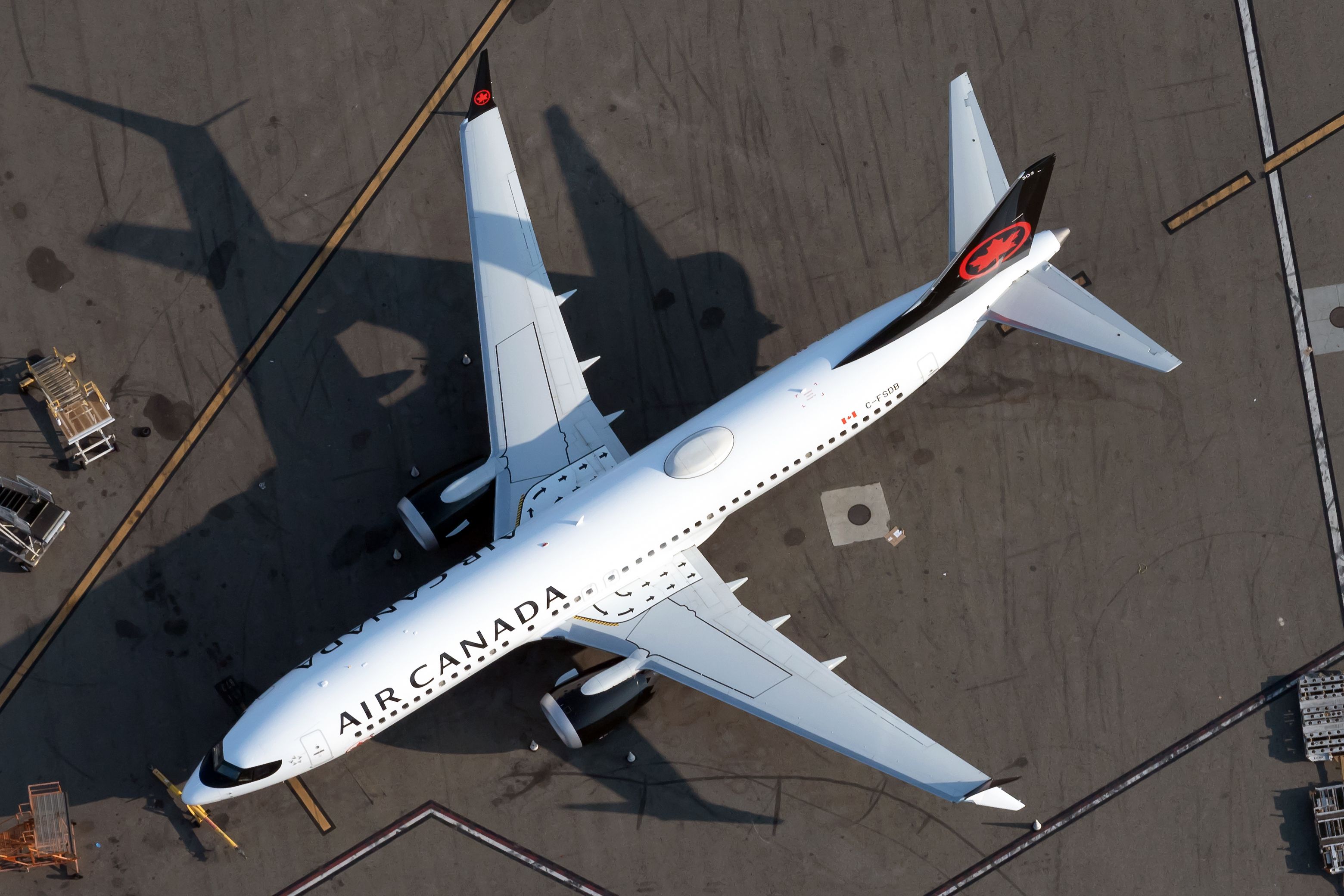 Photo: Vincenzo Pace | Simple Flying
Other honorable mentions
When it comes to meat substitutes, over in Europe, SWISS is leading the way offering the Beyond Meat burger on longer European flights. However, we hear it comes with Swiss cheese, which sort of defeats the whole 'vegan' purpose, but we will give the airline the benefit of the doubt and imagine you can request it without.
Meanwhile, there are other items on the airline's SWISS Saveurs menu, released in early 2022, including a bulgur salad with radishes and cherry tomatoes. And while that is exactly the type of meal that leaves vegans still hungry throughout the journey, it is great that it does exist.
All Nippon Airways also introduced new vegan options for its menu in the fall of 2022, partnering with acclaimed chef Hideki Takayama for two dishes served on flights out of Japan. These are a chickpea hamburger steak with vegetable curry served with rolled cabbage in couscous salad, mixed salad, rye roll, and assorted fruit, and vegetable pilaf lentils served with petit Paris bread roll and assorted fruit.
Meanwhile, compatriot Japan Airlines takes care of the protein elements in its plant-based meals with tofu and soy, offering tofu omelets and other plant-based items as it caters to an ever-growing vegan interest in its market.
When it comes to sweet things, we have to give an honorable mention to Lufthansa subsidiary Eurowings. In 2022, the low-cost carrier teamed up with German plant-based supermarket Veganz to offer vegan gummy bears (most gummy-like candies are made with gelatin as a rule, hence not vegetarian).
Alaska Airlines has also done a good job of adding vegan items to its menus lately, with a partnership with Evergreens, a Seattle-based fast-casual restaurant. The winter menu features a Tuscan kale, romaine lettuce, and shaved brussels sprouts salad. Obviously, many more airlines offer vegan meal options to pre-order on long-haul flights.
Have we missed any of your favorites? What has been your best/worst experience of traveling on a plant-based diet? Leave a comment below and share your story.
Source: The Independent