Continued insight on often-repeated pieces of pilot lingo.
Pilots use jargon specific to our industry. Some words are recognizable, while others are quirky and unique. Let's talk about three commonly used pilot words, their meanings, and their origins.
Roger
It seems that the word "roger" is part of most English-speaking people's vocabularies. "Roger" has associations with flying as well as naval navigation and beyond. I have heard a few slightly different accounts of where "roger" has its origins, but the general consensus is that the term originated from the phonetic alphabet.
"Roger" used to be the word that represented "R" in the alphabet. "Romeo" is currently used in the updated phonetic alphabet (which was adopted around the mid-1950s), and "roger" was the word used during the WWII era. Instead of saying "received" when queried to confirm that a radio transmission had been understood, aviators and sailors would say "roger" instead.
Why wouldn't radio operators just say "received" instead of roger? Your guess is as good as mine, but I would assume it's simply because "roger" sounds a bit cooler. "Wilco" is another example of this.

Photo: Supamotion/Shutterstock
Wilco
The term "wilco" stands in place of the more lengthy "will comply" and sounds a lot cooler as well. "Wilco" originated around the same time that two-way radio communications became prevalent—radios were invented just prior to 1900, but they were uncommon until the second World War.
Pilots use the term "wilco" as an abbreviated way of telling controllers they will execute the instruction given to them. You generally hear it in response to a follow-up request made by a controller.
For example, a pilot might be instructed to turn to a specific heading, which they will reply to with a verbatim read back as required. A controller might then instruct a pilot to "reduce to slowest practical speed, you're following traffic 3 miles ahead." A pilot could respond to this request with "wilco" since there was no specific speed assignment given, and thus no verbatim read back required.
Squawk
The term "squawk" is used by air traffic controllers as much as pilots. "Squawk" is the symbolic word used to indicate the function of the transponder. A squawk code is a four-digit assignment a controller gives a pilot to make their aircraft identifiable on a radar return. The term "squawk" originates from the second World War.
Early systems designed to monitor air traffic over the English Channel and European war theaters could not distinguish between friendly and enemy aircraft's primary radar returns. A fix to this problem was to install interrogation systems whereby ground-based facilities sent an encoded message to aircraft, and the onboard transponder answered the message with its discrete code.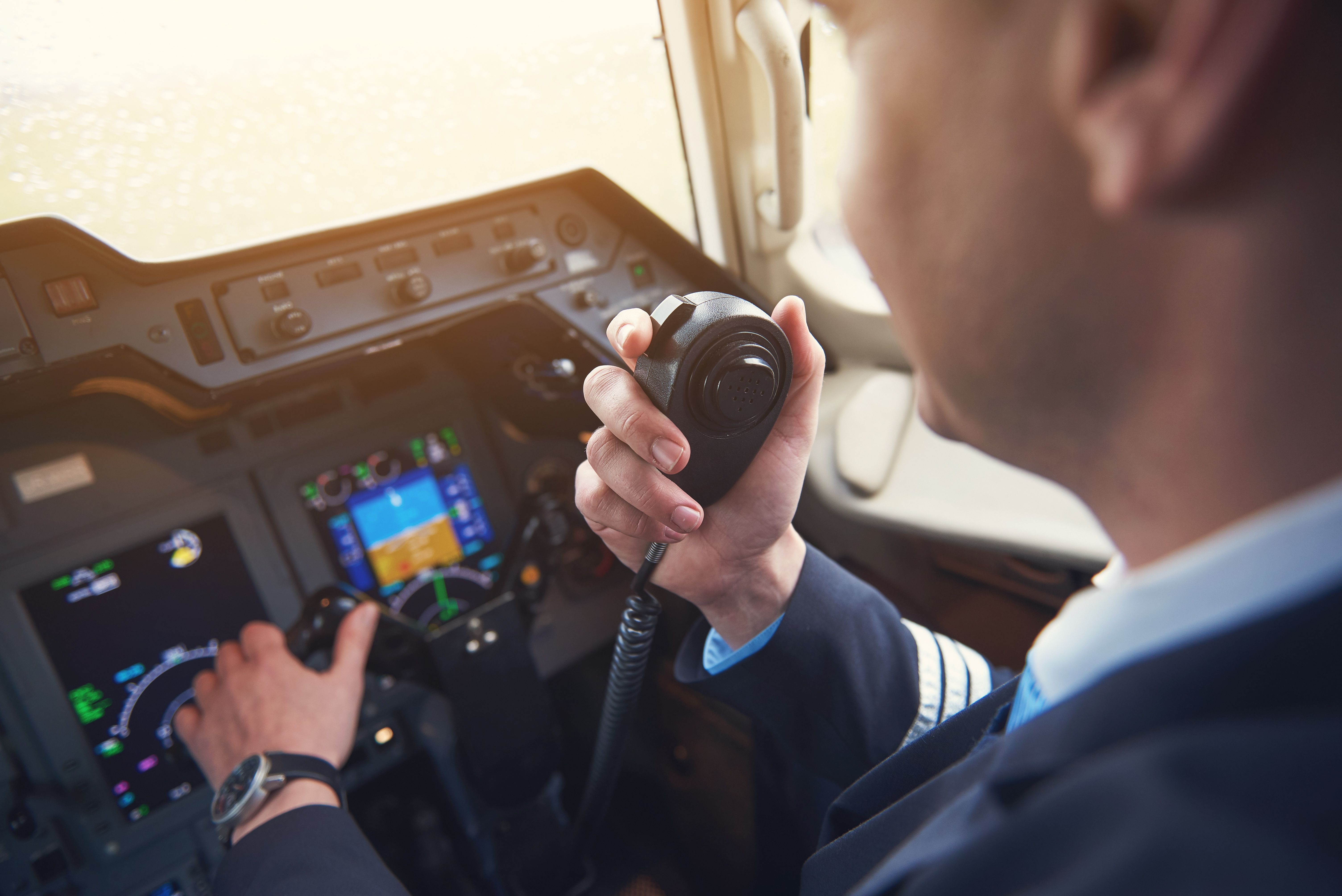 Photo: Olena Yakobchuk/Shutterstock
General aviation pilots use squawk codes in the same way airline pilots do. Whenever flying on an instrument flight plan, or when receiving flight following advisories from controllers, pilots of small aircraft must input a four-digit squawk code into their transponder to differentiate their aircraft from the other primary radar targets in the surrounding skies.
Transponders are sophisticated enough to work on the ground at most large airports, so airline pilots enter their assigned squawk codes into their transponder prior to pushing back from the gate. Squawk codes are comprised of four digits, each being between 0 and 7. I must admit—I am unsure which specific bird's squawking noise was on the minds of the engineers who developed early transponder technology. Perhaps it was geese, albatross, condors, or another bird well-known for its migratory abilities.
What other words do you associate with flying? This article was generated in large part by feedback from a previous piece about the same topic. Your suggestions might be the topic of another sequel.