In order to repay the governmental financial support it was offered during the pandemic, European airline group Air France-KLM is turning to sustainability-linked bonds. However, the so-called ESG (environmental, social, governance) bond market has become contentious, with analysts questioning whether it actually has any impact on mitigating the effects of climate change. But what's it all about, and what do sustainability-linked bonds (SLBs) mean for airlines?
One billion euros to support sustainability targets
The forthcoming issuing of the Air France-KLM SLBs was first reported by Bloomberg earlier this month, and the carrier itself confirmed it on Monday, January 9. The bonds have a total aggregate of €1 billion (approximately $1.072 billion), and it constitutes the first public sustainability-linked bond issuance in EUR in the airline sector.
The airline said in a statement that,
"This inaugural transaction links the Company's financial strategy with its environmental objectives and represents an additional milestone in Air France-KLM's ambition to achieve its decarbonization targets, as a leader for a more sustainable aviation industry."
Photo: Matheus Obst | Shutterstock
The state aid package Air France-KLM is repaying was provided to the airline group to help it weather the COVID-19 crisis. It consists of €4 billion of bank loans guaranteed by France, of which €500 million was returned in 2021, and a €3 billion French state loan. Air France-KLM says using the raised funds to reimburse this will,
"…smoothen Air France-KLM's debt redemption profile over the coming years and provide additional leeway for the Company to deliver on its sustainable transformation plan, including the renewal of its fleet."
Strict bond principles
Of course, companies, airlines or not, do not just get to say, "give us money, and we will put it (directly or indirectly) toward lowering carbon emissions," and then no one actually checks whether the funds go where they said they would.
There is a substantial amount of reviewing, accounting, and legal work involved. Carbon and other ESG accounting have become big business, and all the Big 4 accounting firms have copious amounts of work, although airlines are a fairly recent addition.
Air France-KLM enlisted Moody's to make certain all was above the green board and received the qualification of "Significant contribution to Sustainability."
Price to pay if targets not met for SLBs and green bonds
When it comes to green finance, the terminology may, at first, feel a little confusing. According to the World Economic Forum, sustainability-linked bonds, such as the ones issued by Air France-KLM, are a borrowing instrument where financial and structural characteristics are based on whether the issuer achieves sustainability or ESG metrics within a given timeframe. In case this is not achieved, there are penalties in the form of higher interest paid to investors.
The funds raised from what is called "green bonds," on the other hand, need to go toward a specific environmental-related goal. According to Santander, legal documents for green bonds must state clear environmental objectives, including climate change mitigation, biodiversity conservation, and pollution prevention and control. They must also specify if the funds are for financing or refinancing.
ANA kicks off the trend in 2018
The first green bonds were issued in 2007 by the European Investment Bank (EIB). Meanwhile, the first airline globally to issue green bonds was All Nippon Airways (ANA) in October 2018, to the amount of 10 billion yen (approximately $78.2 million in today's currency).
The money raised from investors was earmarked for a new training center with high environmental performance statistics. ANA also stated it would keep investing in new technology and more fuel-efficient aircraft, specifically the Boeing 787 and Airbus A320neo/A321neo.
In December 2019, Abu Dhabi's Etihad was announced as the first carrier to fund a project with a commercial loan based on the United Nations Sustainable Development Goals (UNSDGs). The airline received €100 million ($108.5 million in today's currency) to fund a number of initiatives, including the expansion of an "eco-residence" cabin crew apartment complex.
In February 2020, JetBlue Airways became the first airline to agree on a sustainability-linked loan for the carrier to align its strategic initiatives with its ESG performance goals and objectives. The process linked to the $550 million facility also placed the airline's suppliers and their sustainability practices under the microscope.
As JetBlue's former Chief Sustainability Officer Sophia Mendelsohn said in an interview with the Washington Post,
"A company not prepared to evaluate every aspect of their business through an ESG lens should feel pressure from investors."
In June 2021, Korean Air floated green bonds in order to finance the purchase of Boeing 787 Dreamliner aircraft. In July the same year, British Airways issued sustainability-linked bonds to the value of Mexico's Viva Aerobus issued sustainability-linked bonds to the value of one billion pesos ($51 million) to support its interim target of reducing carbon intensity by 35% by 2029.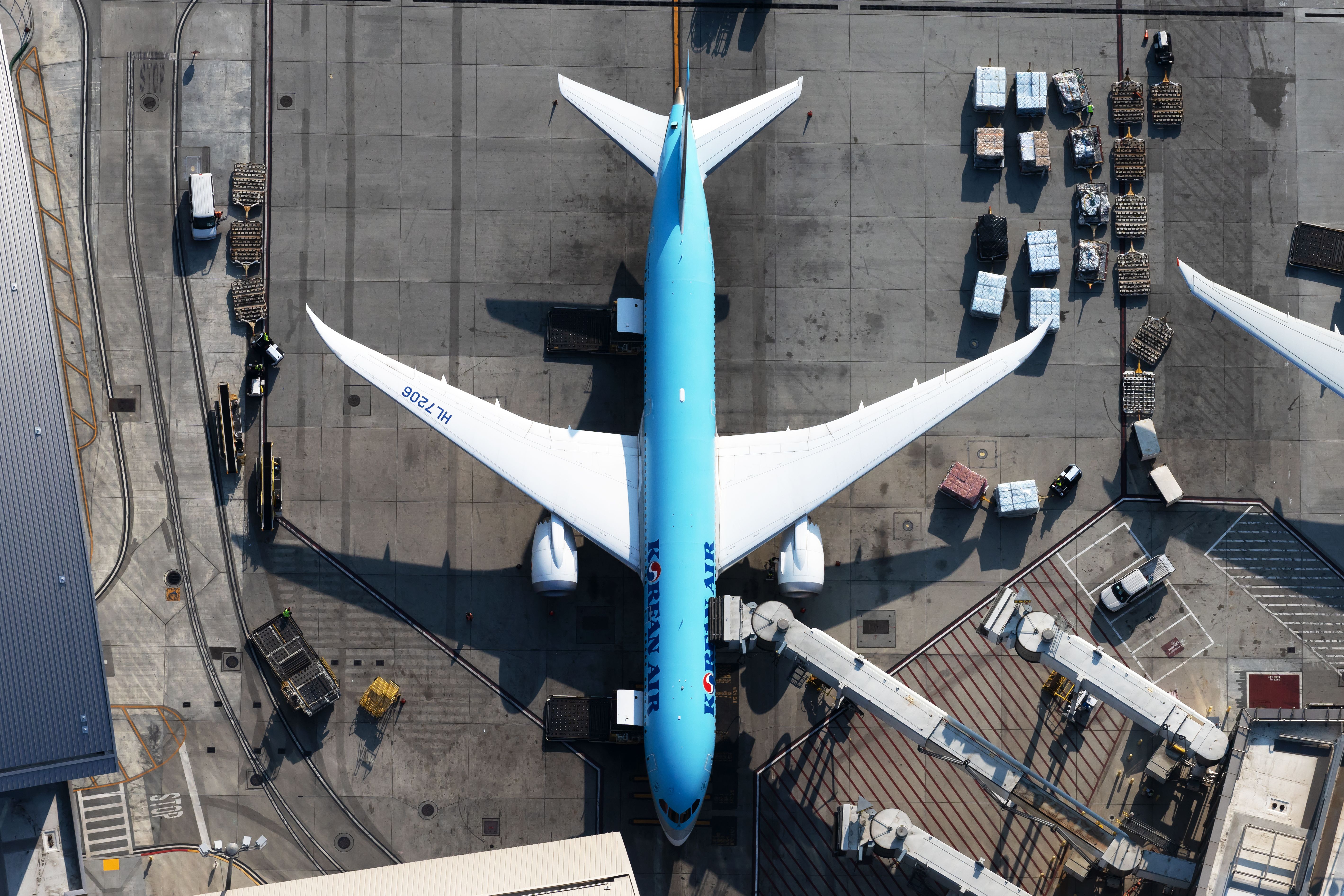 Photo: Vincenzo Pace I Simple Flying
Support in transitioning
Meanwhile, there is also something called transition bonds. These enable the issuance of debt that would not likely satisfy green financing requirements. The funds acquired through such bonds are intended to fund the transition (hence the name) of a company towards more sustainable practices. In February 2022, Japan Airlines (JAL) became the first airline in the world to issue transition bonds. The airline said in a statement it would,
"…make full use of the net proceeds of the Bonds to advance the transition to carbon-free operations in its air transport business and to redouble its efforts to ultimately achieve decarbonization."
Much of the investments would go towards a fleet upgrade to newer and more fuel-efficient aircraft, such as the Boeing 787 and the Airbus A350. Some would also go toward "refinancing existing investments," which is intended to free up sums to support transitioning toward lower-carbon operations.
What do you make of the role of sustainable finance for airlines? Leave a comment below and share your thoughts.
Source: Bloomberg, Santander, World Economic Forum, WSJ
IATA/ICAO Code:

AF/AFR

Airline Type:

Full Service Carrier

Hub(s):

Paris Charles De Gaulle Airport

Year Founded:

1933

Alliance:

SkyTeam

Airline Group:

Air France-KLM

CEO:

Anne Rigail

Country:

France