While the use of a 50% SAF blend has become much more common over the past few years, could 100% SAF eventually become the new normal?
Emirates has completed a ground test with one of its Boeing 777-300ERs burning 100% sustainable aviation fuel (SAF). The test is meant to demonstrate that the aircraft's GE90 engines are capable of safely and effectively burning this fuel type without complication.
How it happened
In a statement released on January 23rd, Emirates announced the successful completion of ground engine testing for one of its GE90 engines on a Boeing 777-300ER burning 100% SAF. With an estimated 80% reduction in overall carbon emissions over the fuel's life cycle, the results of the test opens up more possibilities for SAF usage across the industry.
Taking place at its Engineering Centre in Dubai, Emirates notes that the stationary operating testing began by first running the aircraft's Honeywell 331-500 auxiliary power unit (APU) on 100% SAF. Put under full load with SAF, the APU was used to start the 777's GE90 engines. The airline states that the left engine was "exercised through its full power range, utilizing the same settings that will be used for the experimental flight," and included "idle, 'take-off' and 'climb settings' at full flight profile durations, running at maximum speed and intensity."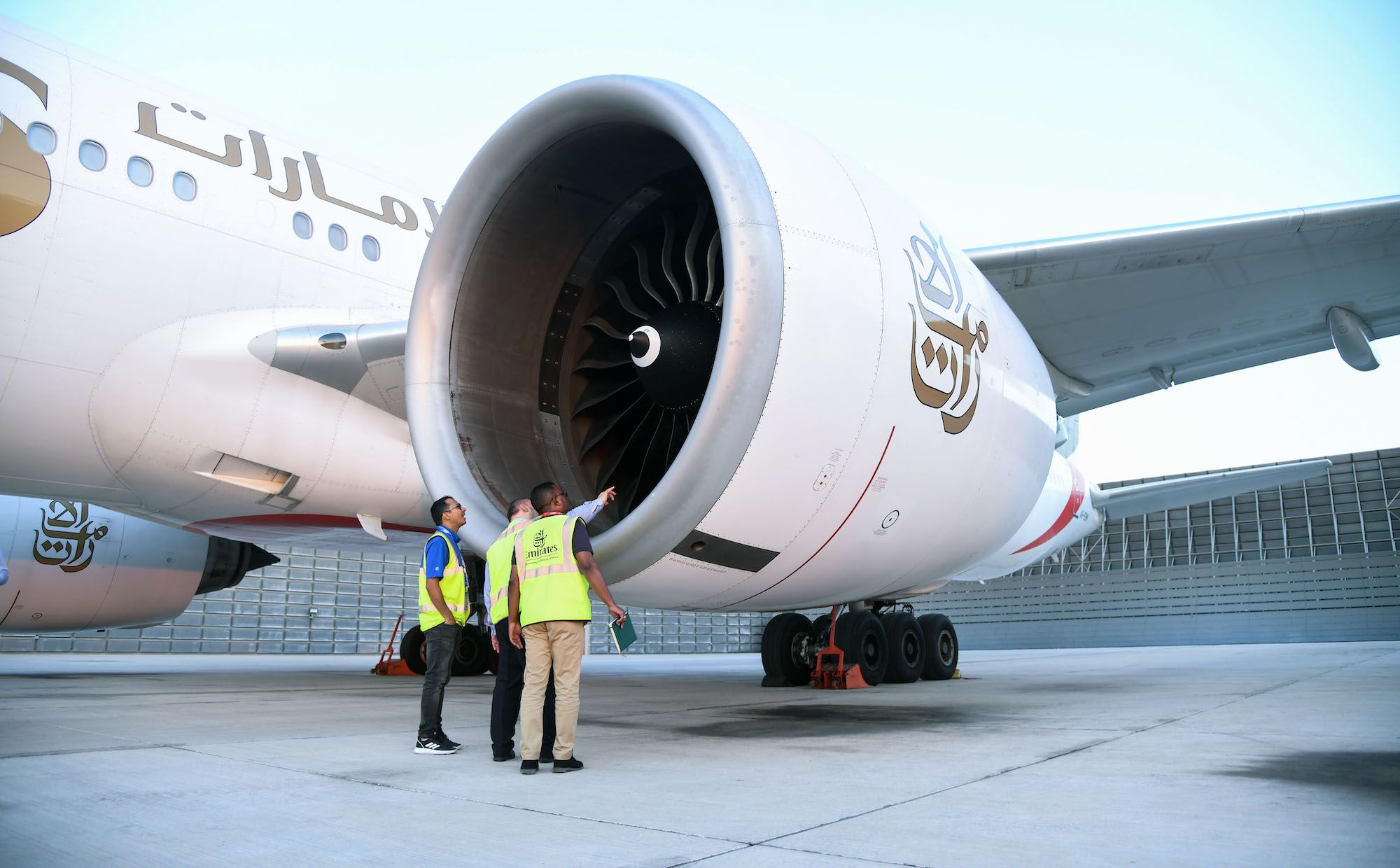 Photo: Emirates
What's next?
With engine data being downloaded for review, comparison, and analysis, this successful ground test will pave the way for experimental flight using 100% SAF in one engine.
Emirates appears to be moving quickly with this, as this experimental flight is set to take off this week. Just as on the ground, in-air tests will help the airline and its partners to better analyze and understand the behavior of the fuel system while burning 100% SAF. This data will be compared to information recorded from the aircraft's other engine, which will be burning conventional jet fuel.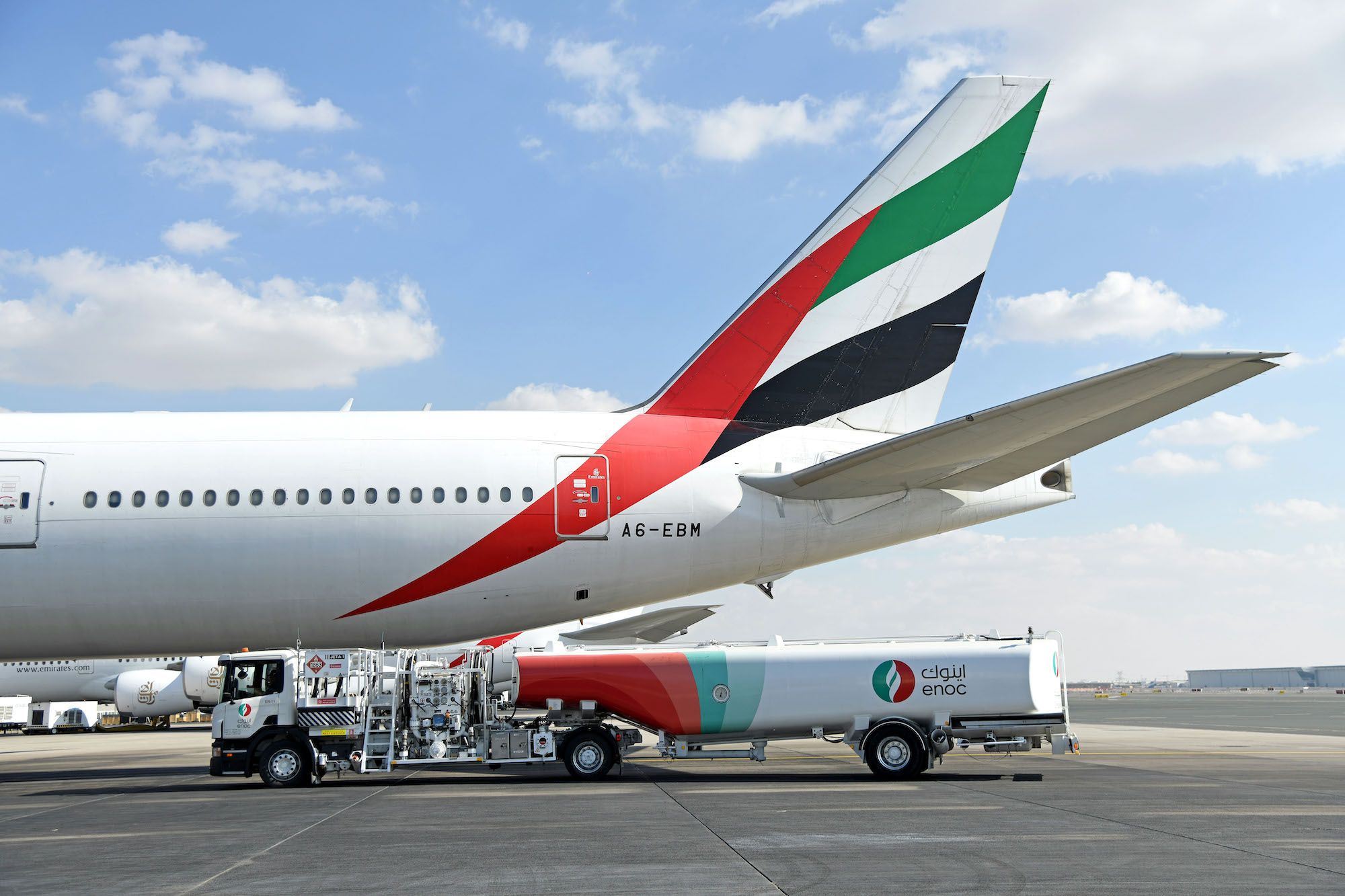 Photo: Emirates
Emirates is serious about SAF
Since its first flight powered by SAF blended with jet fuel took place in 2017, Emirates appears to be continuing its commitment to support the use and development of sustainable aviation.
Indeed, at the 2021 Dubai Airshow, the firm signed a Memorandum of Understanding with GE Aerospace and Boeing to develop a program for conducting a test flight using 100% SAF on an Emirates 777-300ER powered by GE90 engines.
In recent times, Emirates has been partnering with a number of firms, including GE Aerospace, Boeing, Honeywell, Neste, and Virent on SAF fuel blend testing. Each firm has its respective role to play, but Emirates appears to be at the end of the chain – using the test fuel in a practical, real-world scenario.
Tests using 100% SAF have been numerous even in just the past few months:
With so much activity taking place, it looks like 100% SAF blends are on track to become commonplace for commercial flights in the next few years.
What do you think of this development? When do you think we'll be seeing aircraft flying on 100% SAF in both engines? Let us know by leaving a comment.
IATA/ICAO Code:

EK/UAE

Airline Type:

Full Service Carrier

Hub(s):

Dubai International Airport

Year Founded:

1985

CEO:

Ahmed bin Saeed Al Maktoum

Country:

United Arab Emirates