Whether you're arriving in Denver for the first time or looking for some help on the best ways to get to the airport for your trip, our guide has everything you need to know.
Getting to and from Denver Airport
While many people prefer to drive to the airport for their flight, you don't have to have a vehicle to get to and from DEN. There are plenty of options for driving and parking, but you could also consider the cheaper and more environmentally friendly options of buses and trains.
Traveling by car
Denver Airport has multiple parking lots on site, with parking fees ranging from $168 a day for the closest to just $8 a day for a further away car park with a free shuttle. The cheapest option is the 61st and Pena pre-pay car park, located off-airport on the A Line. The fee is $7 a day, but you need to factor in your $10.50 A Line fare too – for longer stays, it works out, but for shorter stays, the shuttle car park is a better option.
Photo: Denver International Airport
Various private operators also provide shuttle parking options. The shuttles for these pick up at level 5 Island 3, East side between doors 507-513 and West side Island 3 between doors 504-510.
If you want to rent a vehicle on arrival in DEN, there are plenty of options. Big names like Alamo, Avis, Hertz, and Sixt all have hubs at the airport. As an alternative, Denver Airport has partnered with Turo and Avail for car sharing, which can sometimes work out cheaper and give you access to more 'interesting' rides.
Traveling by rideshare
Both Lyft and Uber serve Denver Airport, with specified drop-off and pick-up locations. For drop off, you'll be deposited at Level 5, adjacent to departures. Arriving at the airport, you can book and find your rideshare at Level 5, Island 5, near baggage claim.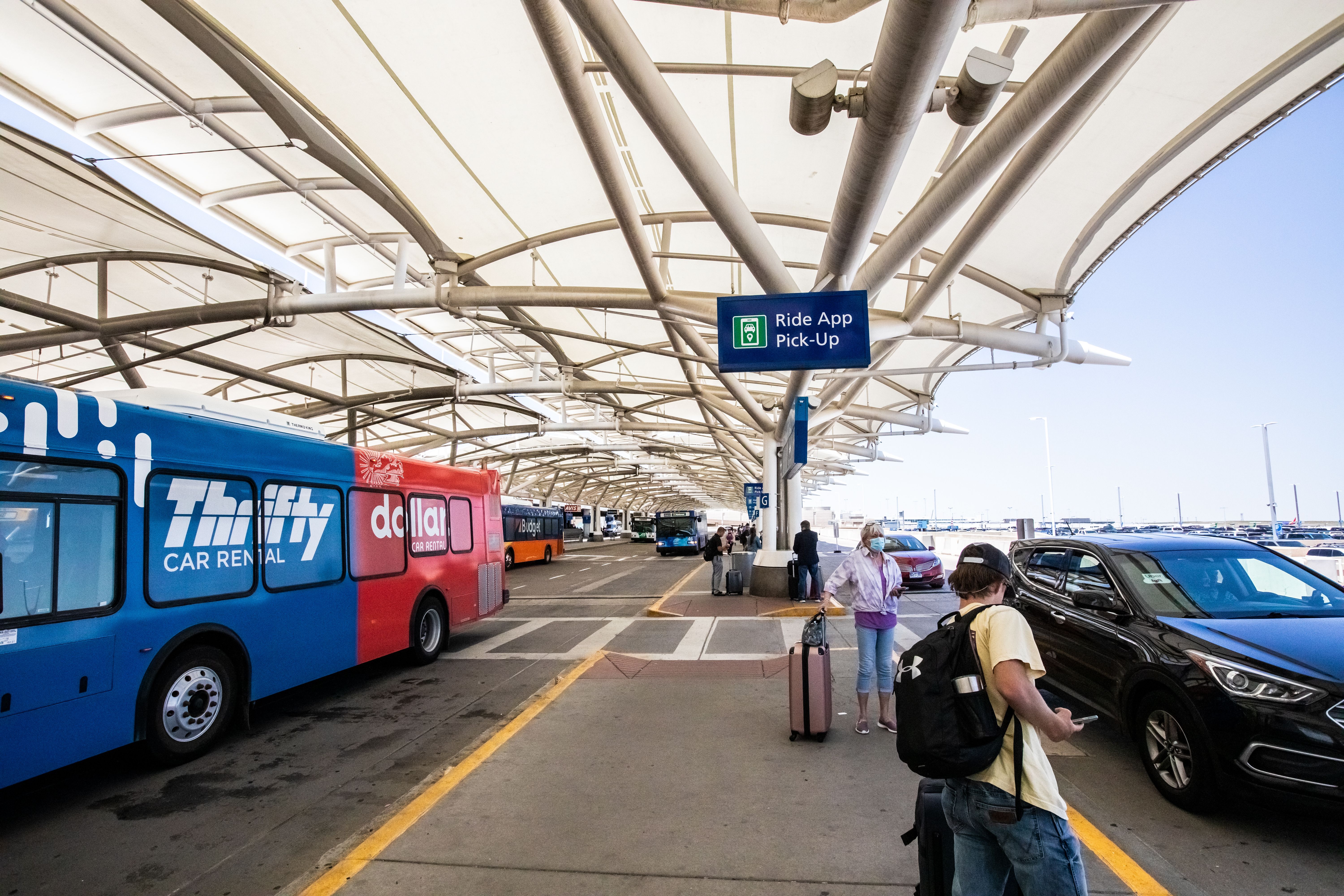 Photo: Denver International Airport
Traveling by rail
Transportation between the downtown area of Denver and the airport was made easier in 2016 with the opening of the new A Line railway service. The journey takes around 37 minutes and is a flat rate of $10.50 from any station along the line to the airport. A ticket also allows unlimited rides on the A Line in one day, giving travelers an easy way to explore several districts from the airport, should they so wish.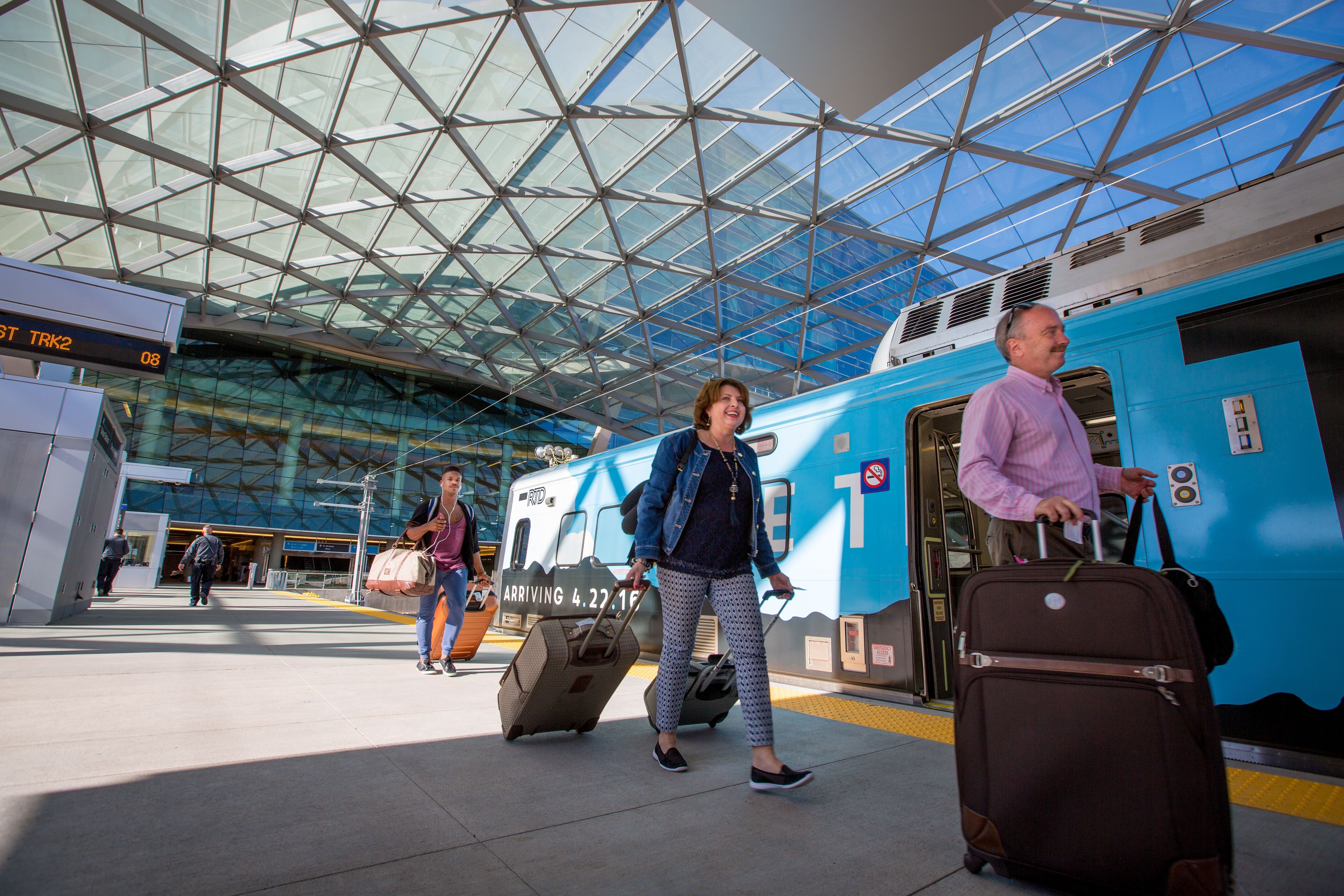 Photo: Denver International Airport
Traveling by public bus
Two public bus companies serve Denver Airport – the Regional Transportation District (RTD) and the Bustang service. RTD operates almost 24 hours, and connects multiple routes from the DEN Transit Center, including 104L, 169L, 145X, AB1, AT, and ATA.
All RTD buses are wheelchair accessible, and drivers will generally help you load and unload your luggage. Fares start from $3.30, or a whole-day pass can be purchased for $10.50. Catch the RTD on Level 1, accessible from the south end of Jeppesen Terminal, using the escalator or elevator to get to ground level.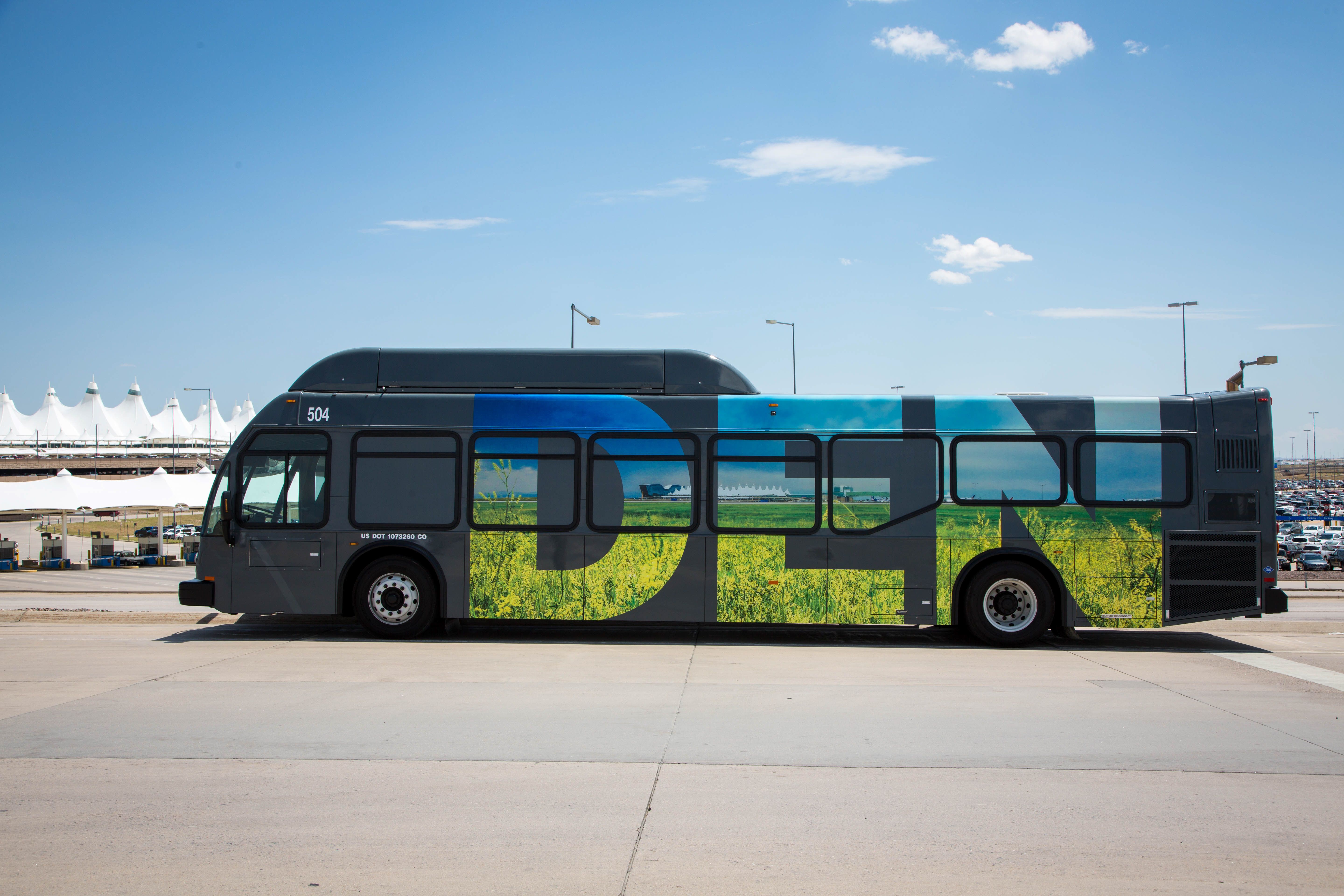 Photo: Denver International Airport
The Bustang busses are run by the Colorado Department of Transportation and cover a wider area of the state. To connect with these, passengers need to take the A Line train to Union Station, where they will find busses to Colorado Springs, Fort Collins, Vail, Glenwood Springs, and more. These long-distance busses are well equipped, with restrooms, WiFi, reclining seats, and power outlets.
Traveling by charter bus
Several charter bus companies provide a pre-arranged service connecting several locations within Colorado and even out to neighboring states. The charter busses depart from Jeppesen Terminal on Level 5 but must be pre-booked. Visit the Denver Airport website for further information.
Getting around Denver Airport
Denver International Airport is the largest airport in the US by land area. It really is a massive airport, and with millions of passengers transiting through the buildings each year, navigating the airport can be a challenge in itself.
Despite its imposing size, DEN is actually very easy to navigate, but it's a good idea to leave yourself plenty of time in case of queues or misdirections once you're there. Here's what you need to know to get around Denver easily.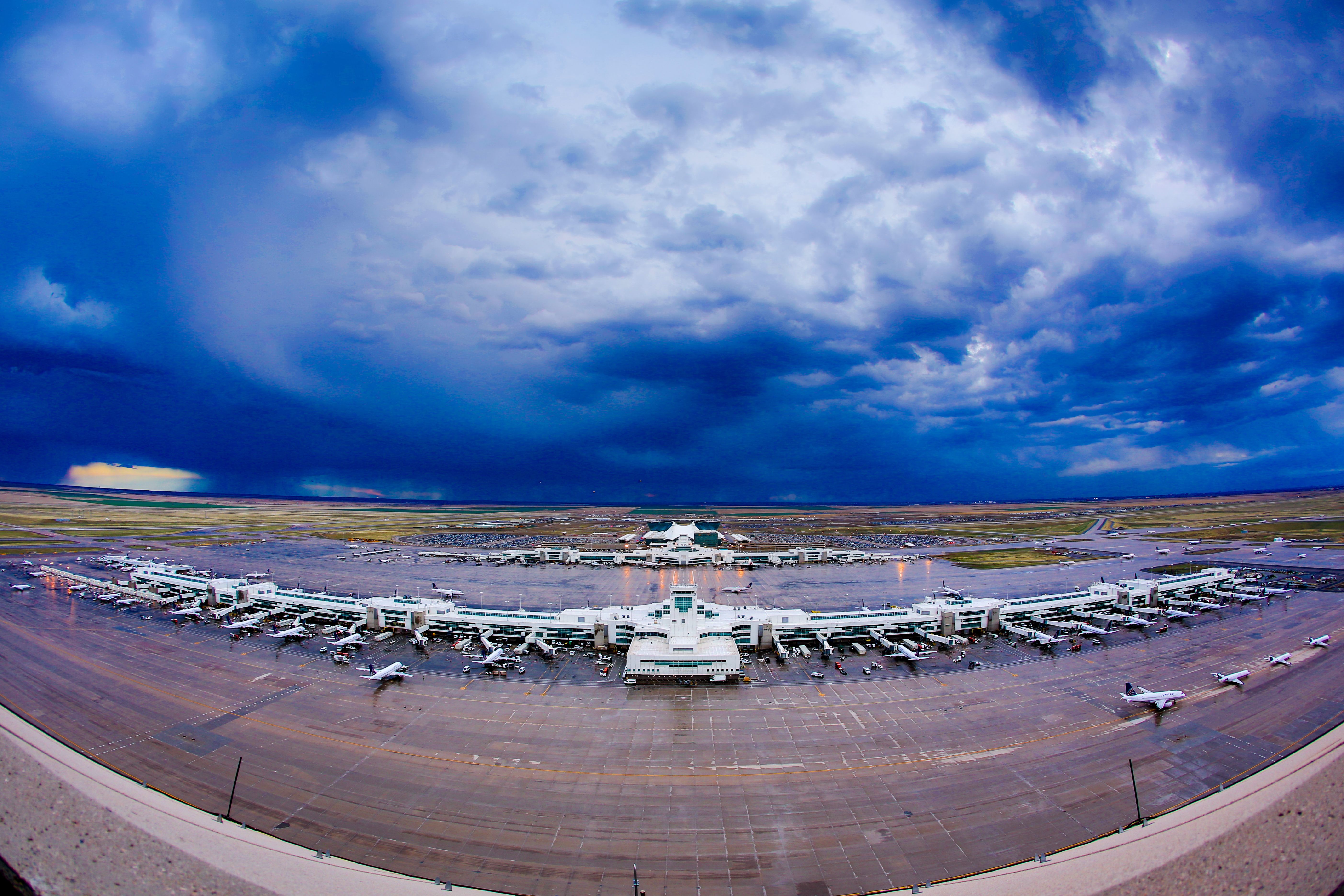 Photo: Denver International Airport
Six levels
Denver Airport is made up of the Jeppesen Terminal, with Concourses A, B, and C laid out from it. There are six floors, and each one is used for different purposes.
Level 6 is mainly for passenger drop-off, but you'll also find check-in facilities here, as well as a food court. There is a pedestrian bridge access to Concourse A.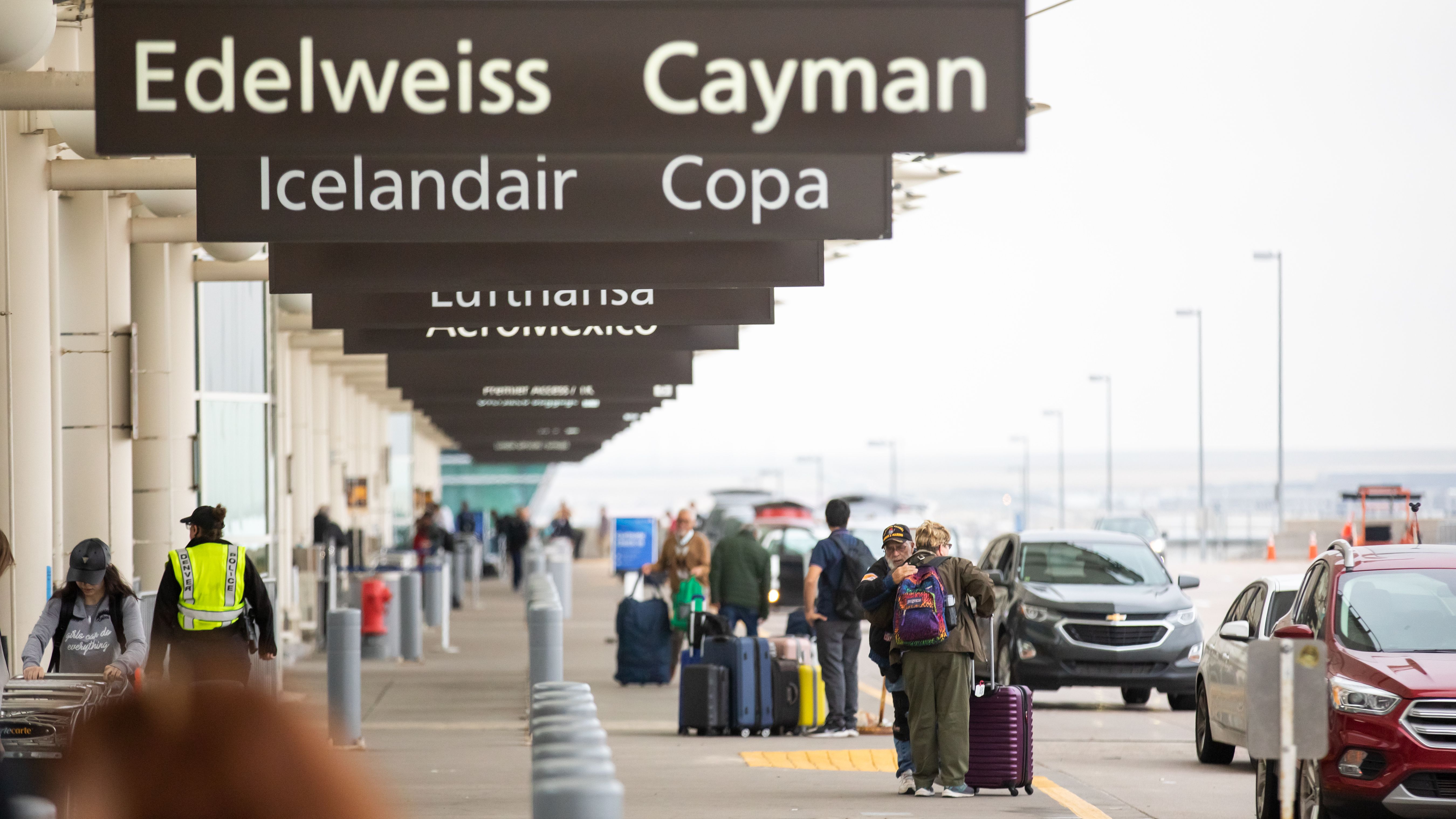 Photo: Denver International Airport
Level 5 is where you'll find baggage claim, as well as shops, restaurants, and the south and north security checkpoints.
Finally, level 4 is where you can be picked up or find your shuttle back to the car park. Levels 1 through 3 are mainly for parking garages.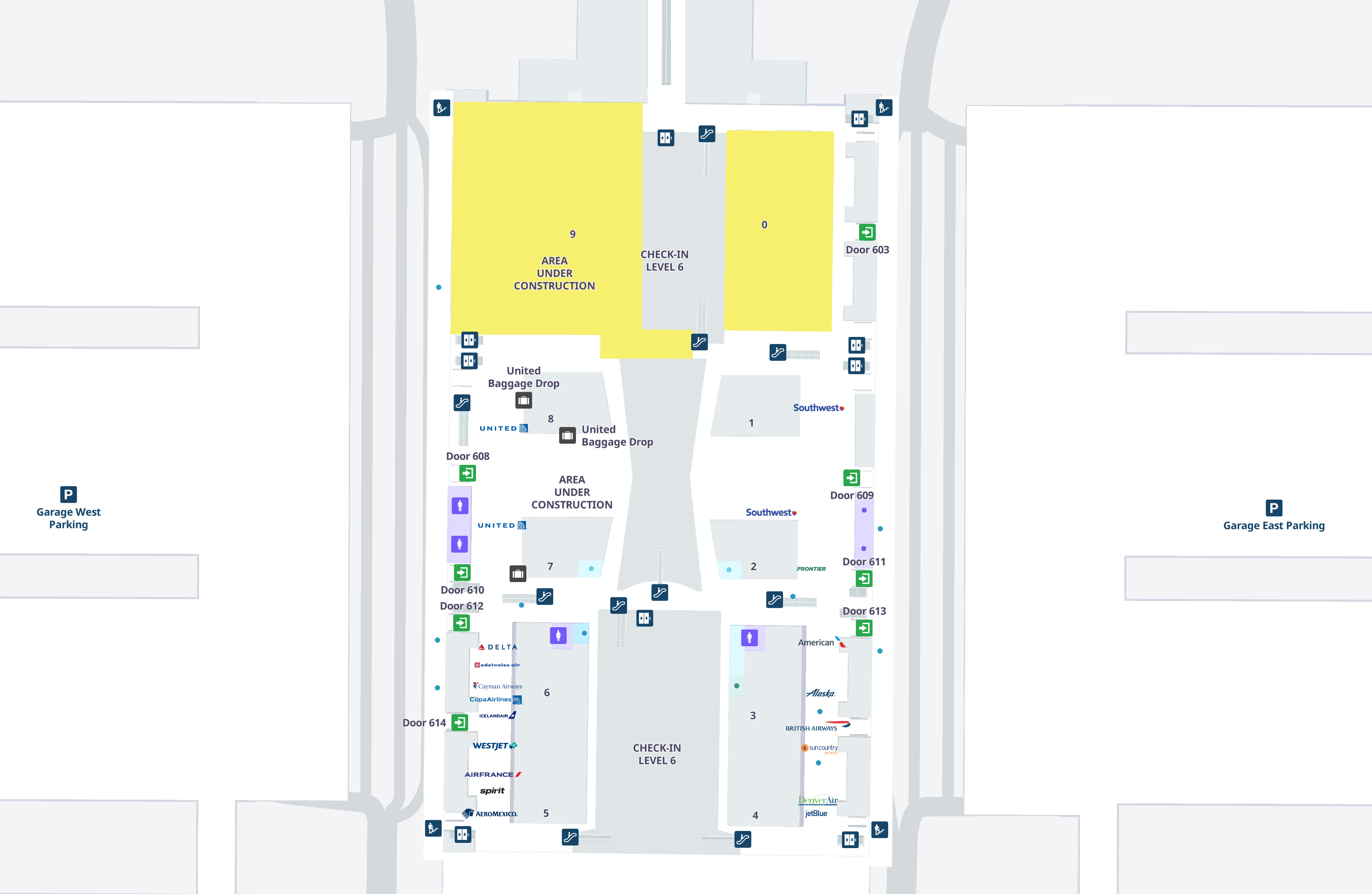 Photo: Denver International Airport
The Jeppesen Terminal is the main building where you will arrive and depart from the airport. It is split into Terminal West and Terminal East, and all the TSA screening is done here. When the weather is nice, the outdoor plaza here opens up a park with mini golf and lawn games. In the cold season, there is often a pop-up ice rink.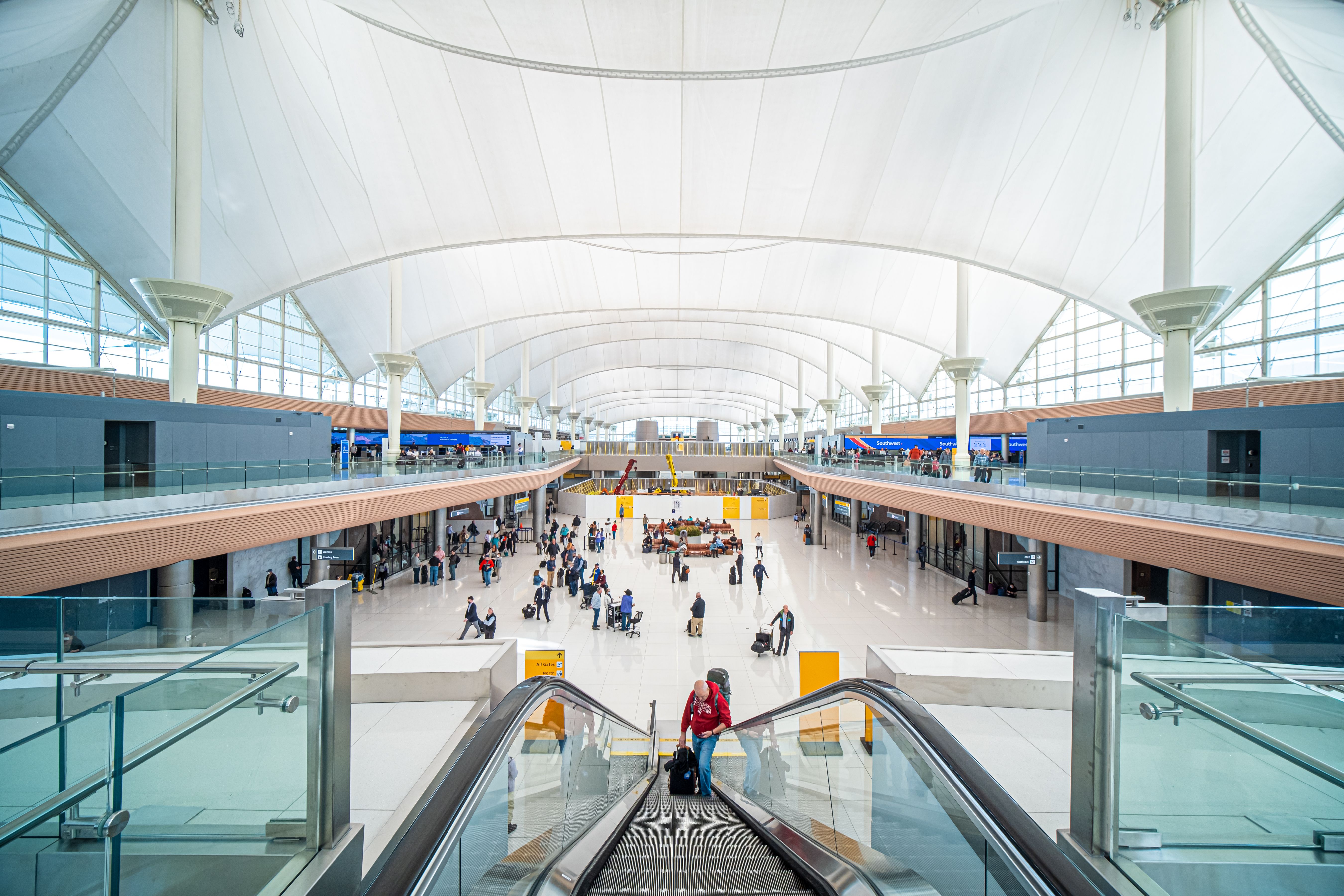 Photo: Denver International Airport
Denver is undertaking some extensive upgrades to the Jeppesen Terminal – read about the Great Hall project here.
Concourses are where you'll find the gates for your flights. Concourse A, mainly for international flights, houses 39 gates numbered between A26 and A88.

Photo: Denver International Airport
There are various lounges on this concourse, including American's Admirals Club and a Delta Sky Club. If you have time, spend a moment on the pedestrian walkway connecting the Jeppesen Terminal to Concourse A, as you'll get some fantastic views of the airplanes moving about on the apron.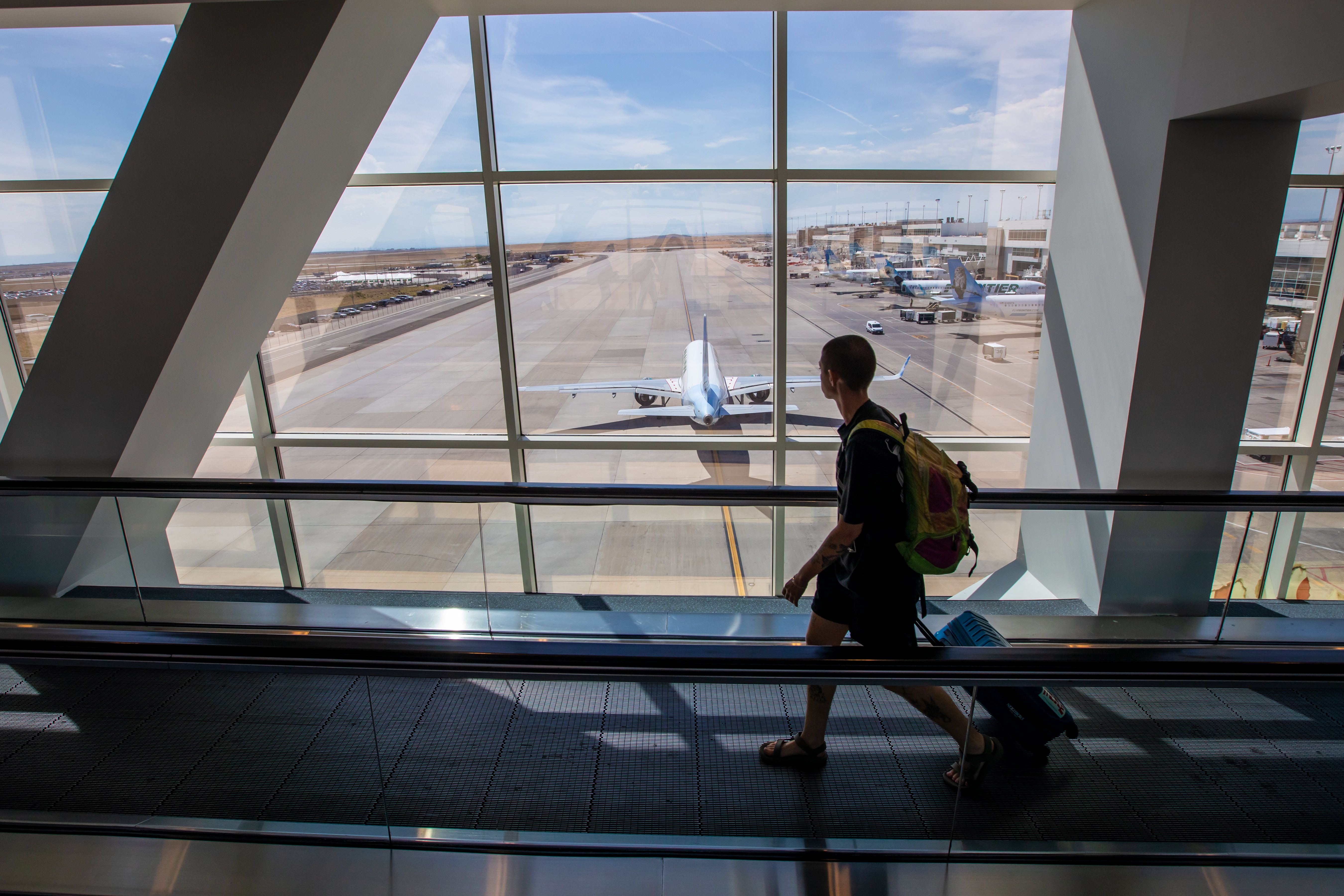 Photo: Denver International Airport

Photo: Denver International Airport
Concourse B is the home of United Airlines and has two Club lounges at either end, as well as various shops and restaurants. Be aware you can only access Concourses B and C via the Automatic Guideway Transit System (AGTS). Concourse B is the longest at Denver, and is a whole 3,300 feet (1 km) long, so if you need to stretch your legs, walking the length of the concourse will be good exercise.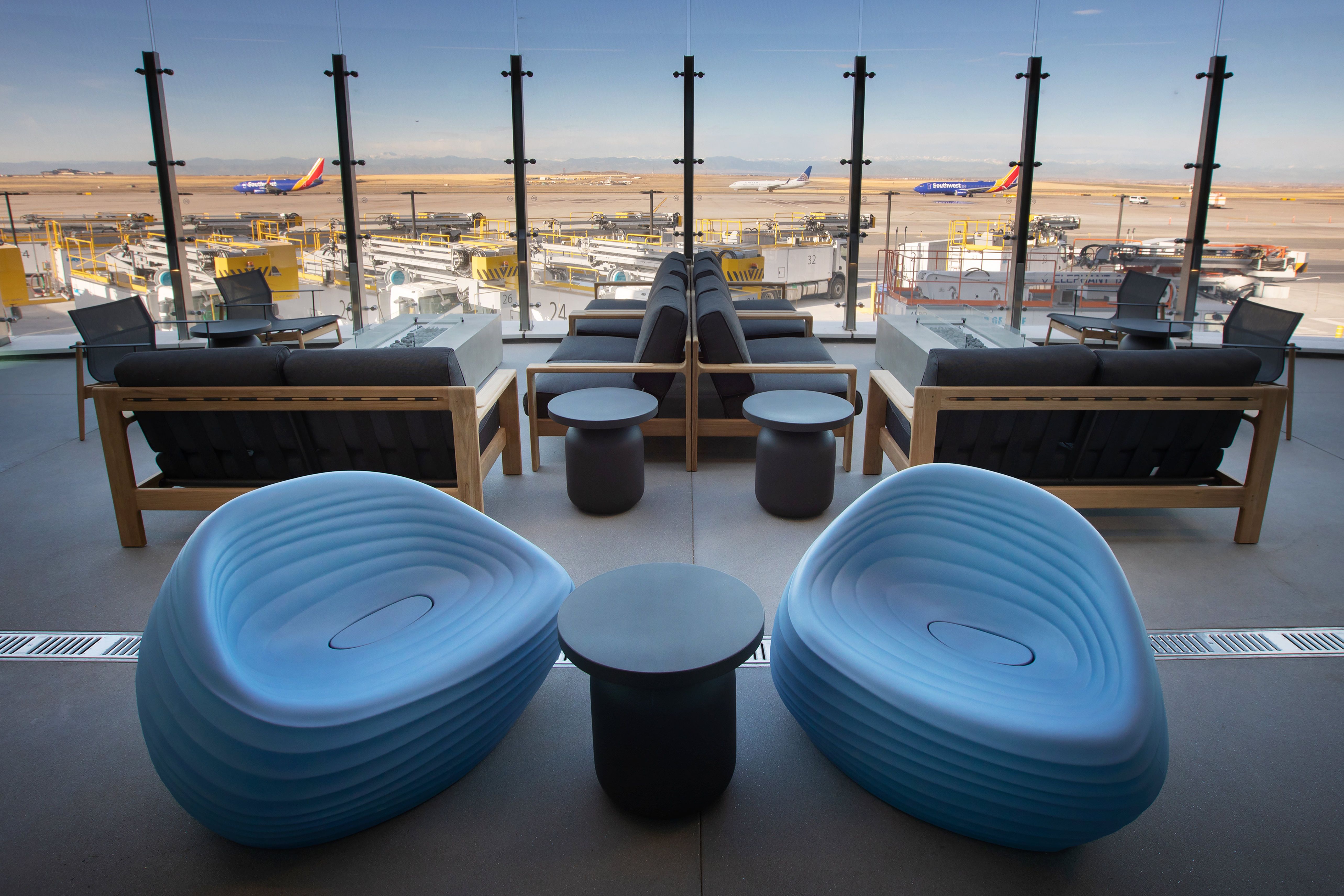 Photo: Denver International Airport
Concourse C is home to a newly opened Centurion Lounge, which is a nice place to pass time before flights. You can also get some stunning views of the Rockies, particularly from gates C23 and C24. You'll find gates C28 to C50 here.

Photo: Denver International Airport
Getting between terminals
The AGTS is an underground train system that connects Jeppesen with Concourse C, and stops at Concourses A and B in between. Concourse A is easily walkable from the main terminal, but there is no access to Concourses B and C other than the train. Thankfully, it's free!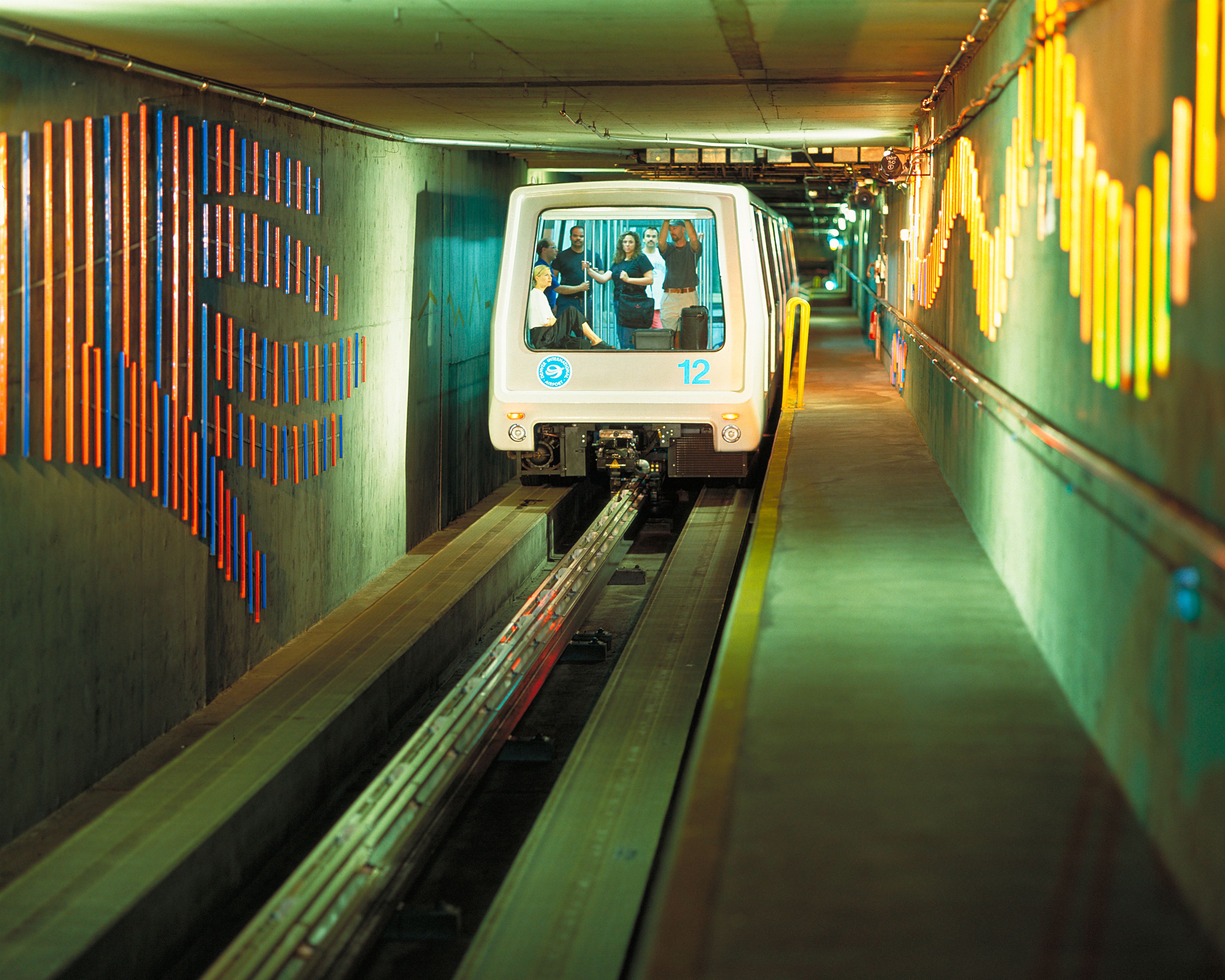 Photo: Denver International Airport
Have you traveled from DEN recently? Did you manage to find your way around easily? Let us know in the comments below.