To celebrate the 59th anniversary of the introduction into commercial service of the Boeing 727 with Eastern Air Lines on February 1, 1964, today we are going to take a look at the development of the Boeing 727 and why it became such a popular aircraft.
Following the introduction of the four-jet-engined Boeing 707 in 1958, airlines were looking for an aircraft that could serve smaller airports with shorter runways and fewer passengers.
Each airline had different requirements. American Airlines wanted a twin-engined powered plane for better fuel efficiency, while Eastern needed a plane with at least three engines so that it would meet the requirements for its big market in the Caribbean. At the time, twin-engine powered planes were limited to a maximum of 60 minutes of flying time to an airport where they could safely land.
United Airlines meanwhile needed an aircraft that it could operate from high altitude airports like its hub at Denver Stapleton Airport (DEN) in Colorado. Ultimately, all three airlines made compromises and asked Boeing to build a three-engine powered aircraft.
Paul Richter via Wikimedia Commons."" data-modal-id="single-image-modal" data-modal-container-id="single-image-modal-container" data-img-caption="""">
Boeing went with Pratt & Whitney engines
Similar in concept to the British-built Trident trijet, Boeing intended to power the 727 with three Allison AR963 turbofan engines, a built-under-license version of the Rolls-Royce RB163 Spey. At the time, Pratt & Whitney was actively looking for customers for its JT8D turbofan engine and convinced Eastern and United that it would be perfect for the plane Boeing was building for them.
Eastern's chairman of the board, Eddie Rickenbacker, told Boeing that he preferred the Pratt & Whitney offering over the Allison engine. Despite the Pratt & Whitney engine being much heavier than the Allison, Boeing reluctantly agreed to use it to power the new plane.
The Boeing 727 could operate without a ground power supply
The Boeing 727 was specially designed to operate out of small airports with short runways, like the 4,800-foot-long runway at Key West International Airport (EWY) in Florida. Also, because the plane would operate out of airports with very few facilities, Boeing gave it its own auxiliary power unit (APU). By incorporating this into the aircraft, the plane was able to run its air-conditioning and start the engines without the need for a ground-based power supply.
Richard Silagi via Wikimedia Commons."" data-modal-id="single-image-modal" data-modal-container-id="single-image-modal-container" data-img-caption="""">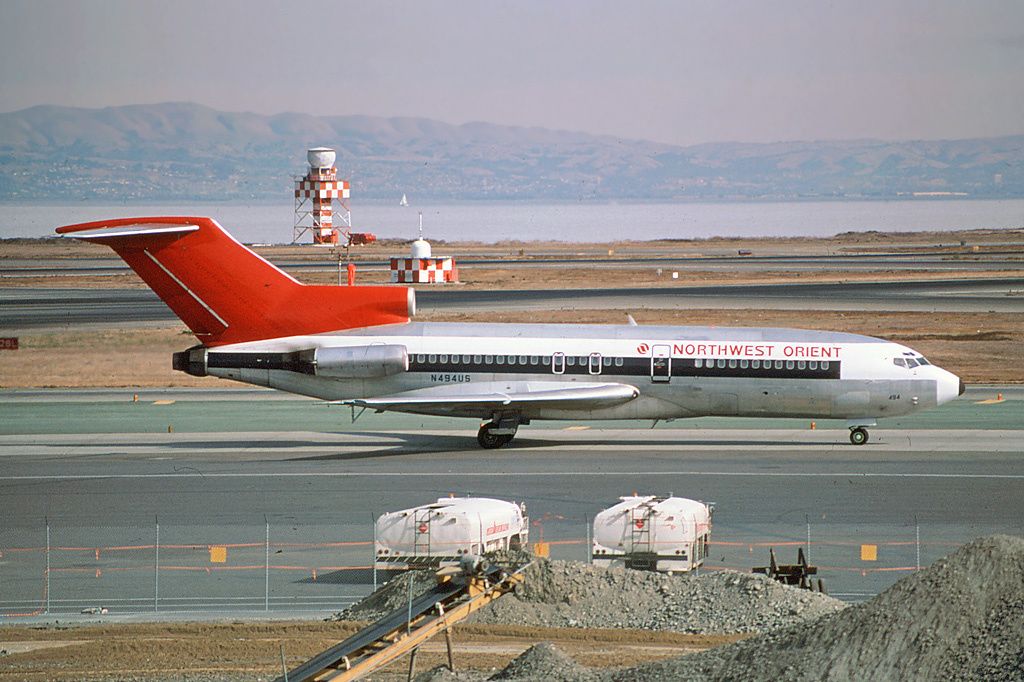 D.B. Cooper parachuted from the rear stairs of a Boeing 727
Another innovative feature of the Boeing 727 was its retractable staircase built into the aircraft's rear, which allowed passengers to get on and off the plane without needing movable stairs. This was a feature taken into account by D.B. Cooper. On November 24, 1971, on Northwest Orient Airlines Flight 305 between Portland, Oregon, and Seattle, Washington, Cooper told a flight attendant that he had a bomb. When the plane landed in Seattle, he demanded $200,000 in cash and four parachutes.
He then instructed the pilot to fly him to Mexico with a refueling stop in Reno, Nevada. Shortly after the aircraft took off from Seattle while flying over southwestern Washington, Cooper deployed the rear staircase and parachuted into the night. Another unique feature of the Boeing 727 was that it had a front wheel brake to help it stop quicker on short runways.
The Boeing 727 ended up being the only trijet airliner Boeing ever built and was a huge success not only in the United States but around the world. During its production run from 1962 until 1964, Boeing built 1,832 units of the 727.
Stock Code:

BA

Date Founded:

1916-07-15

CEO:

Dave Calhoun

Headquarters Location:

Chicago, USA

Key Product Lines:

Boeing 737, Boeing 747, Boeing 757, Boeing 767, Boeing 777, Boeing 787

Business Type:

Planemaker