The environmental discourse is becoming increasingly critical in the development agenda of every airline worldwide. A strategy that has already been proposed to reduce aviation-related CO2 emissions is the integration of air and rail services. A few months into its first year of operations, ITA Airways, the new Italian national carrier, has signed a Memorandum of Understanding (MoU) with the national rail services group, Ferrovie dello Stato (FS), to expand the offer of air & rail multimodal services progressively. Let's look closely at this critical development in the new Italian carrier's growth strategy.
ITA Airways and Ferrovie dello Stato toward greater integration of Air & Rail intermodality
ITA Airways is not the first airline, and undoubtedly not the last, to announce the integration of air & rail intermodality in its expansion strategy. However, the decision to leverage air & rail intermodality might prove revolutionary for the flag carrier of a country with unique socioeconomic and geographic characteristics like Italy.
What do we know so far? On February 3rd, ITA Airways and Ferrovie dello Stato Group (FS) signed a Memorandum of Understanding (MoU) to develop adequate air & rail services, setting on a path of commercial and operational growth based on the proposition of a multimodal mobility offer. Indeed, the memorandum translates into the possibility for ITA Airways and FS to purchase integrated air-rail tickets and to design combined loyalty programs. According to the airline, air & rail intermodality will be beneficial for both the leisure and business mix of traffic by offering a convenient "end-to-end" travel experience and the development of common digital platforms.
Photo: Vincenzo Pace I Simple Flying 
With the signing of the MoU, ITA Airways has demonstrated that air & rail intermodality will be a fundamental pillar of its growth strategy, based on progressively enhanced connectivity between the Italian territories, an essential aspect for an airline that has adopted a hub and spoke network strategy. Additionally, the partnership with Ferrovie dello Stato encases the three pillars of ITA Airways' 2021-2025 business plan, i.e., innovation, sustainability, and customer-centricity.
Italy: a valuable but complex market
The history of Alitalia, the former Italian national carrier, has taught an important lesson about Italy. The boot-shaped country in the heart of the Mediterranean sea is a highly-potential market for an airline, but indeed not an easy one to conquer and manage.
The Italian peninsula has often been defined as two contrasting countries within one. The main industrial activities and, thus, wealth are to be found in the North, in the area surrounding the Po valley, and with Milan being Italy's economic capital. The South, or Mezzogiorno, is a relatively poorer area, with annual per capita incomes less than half those of the North. Rome is the country's political center; therefore, strong traffic flows exist between the capital and Milan. However, the offer of efficient high-speed rail connections between the two cities has long undermined the profitability of the Milan-Rome route.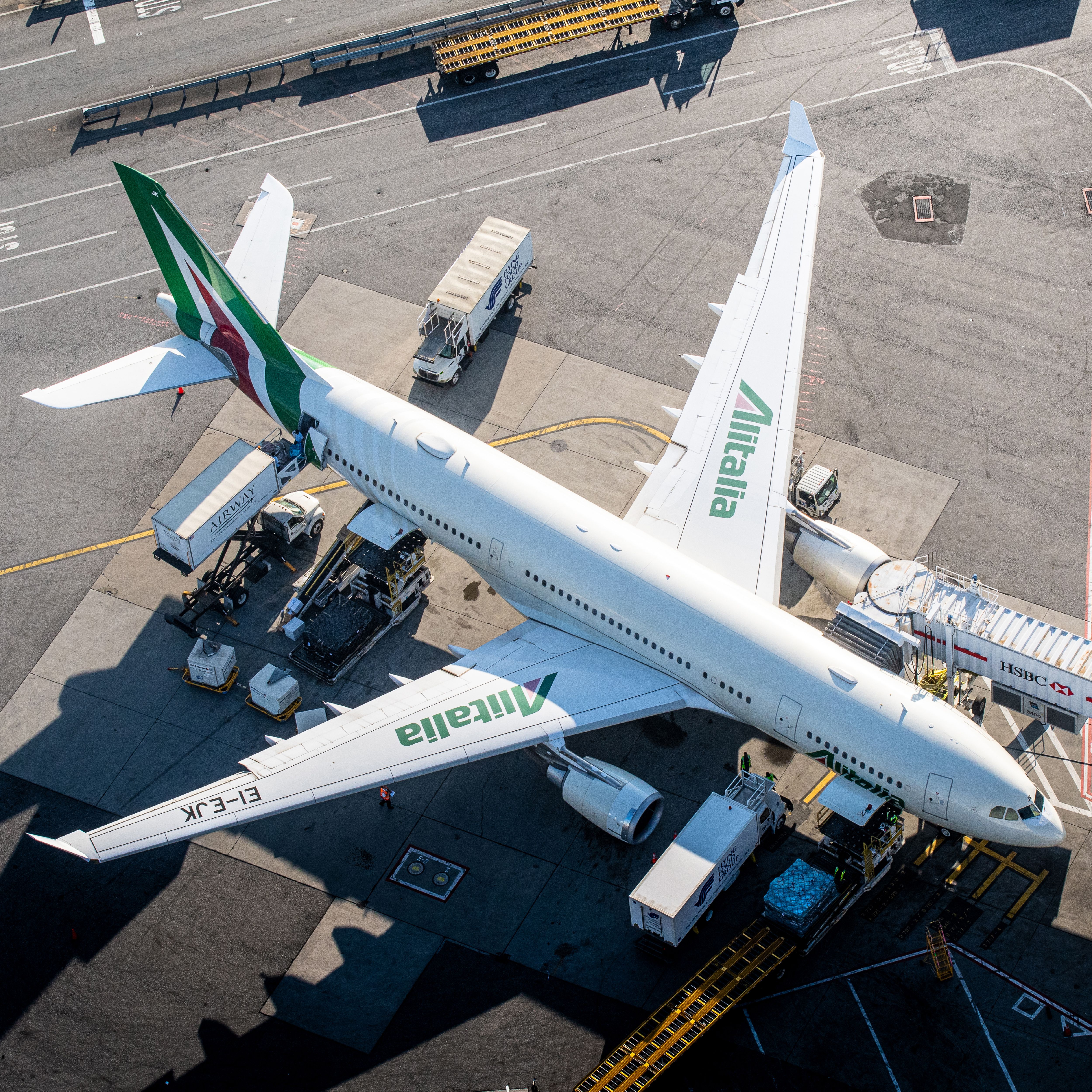 Photo: Vincenzo Pace I Simple Flying
Italy is a major touristic destination; however, the favored tourist spots are located mainly in the South, away from the economic and political centers of the country. Additionally, inbound leisure traffic is highly seasonal and price-elastic. On the other hand, the North is characterized by price-inelastic business demand for medium/long-haul flights. With a hub and spoke model focused on Rome as the hub for long-haul flights, this valuable North-originating demand is spilled to European competitors, which cater to the North-Italian business demand with a rich offer from their respective hubs.
Besides the socio-economic complexities of the Mediterranean country, its geographic composition also plays a role in making connectivity challenging to manage. Surrounded by the Mediterranean sea from three sides, and with the Apennines longitudinally dividing the country from the North to the South, efficient connectivity in Italy is hard to achieve.
Nonetheless, Italy counts on 21,010 km of railways, of which 1,467 km, or 7%, is dedicated to high-speed services. High-speed railways are listed in the table below. As one might notice, the offer of high-speed railways is efficient between Rome and the North of Italy. Consequently, a potential strategy ITA Airways could apply is to design combined air-rail tickets for long-haul passengers arriving in Rome Fiumicino (FCO) and continuing their journey northbound.
| | |
| --- | --- |
| High-speed railway | Length (km) |
| Milan – Bologna | 182 km |
| Bologna – Florence | 78.5 km |
| Florence – Rome | 254 km |
| Rome – Naples | 205 km |
| Naples – Salerno | 29 km |
| Turin – Milan | 125 km |
| Milan – Treviglio | 27 km |
| Treviglio – Brescia | 39.6 km |
| Verona – Vicenza | 51.2 km |
| Vicenza – Padova | 27.6 km |
| Padova – Venenzia | 25 km |
| Brescia – Verona | 73 km |
Indeed, a significant problem affecting ITA Airways is the intense competition it faces from low-cost carriers (LCCs), such as Ryanair and easyJet, in the domestic market. In Italy, and especially in the South, domestic demand is predominantly price-elastic, which means traffic is mainly redirected to those airlines offering the lowest fares. However, on average, ITA Airways fares in the domestic market are higher than those offered by low-cost competitors, notably because ITA Airways is a full-service carrier with a different cost structure. However, by providing air-rail intermodality, the young Italian flag carrier could reduce domestic capacity, thus avoiding the fare pressure exercised by budget airlines already holding the most significant domestic market share while increasing long-haul capacity from its hub in Rome. Efficient and rapid railway journeys will ensure connectivity to major Italian cities, especially in the North.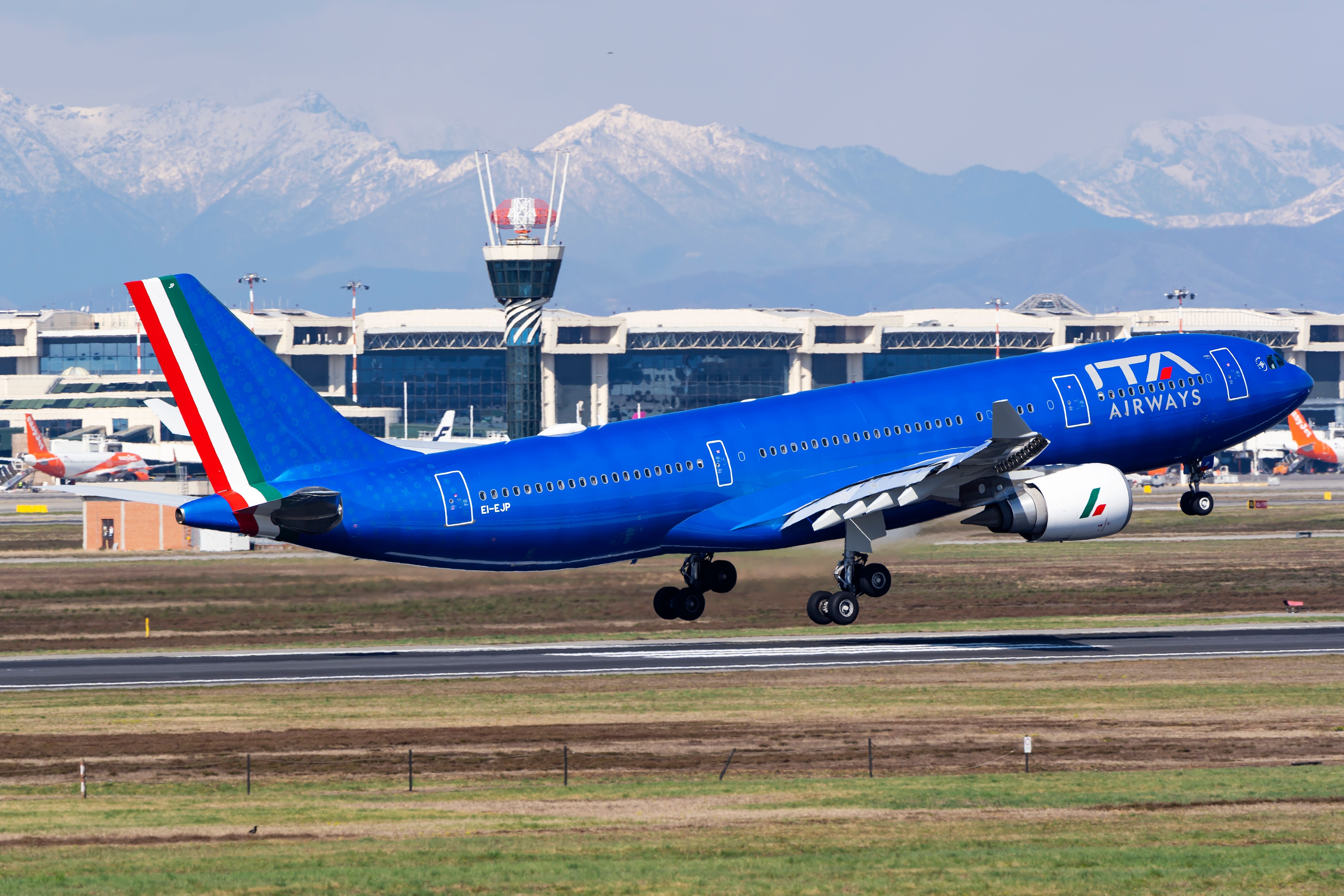 Photo: Davide Calabresi/Shutterstock
The complementarity of plane and train has already proved successful among passengers, who prefer a train ride on short distances because of the reduced waiting time, for instance, at the airport, and for the convenience of train stations, generally located in city centers. Additionally, replacing domestic flights with train rides will enable ITA Airways to make a significant step forward regarding its sustainability agenda. Indeed, high-speed trains have a significantly lower environmental impact when it comes to CO2 emissions, especially if compared to short-haul flights. Aircraft indeed emit the most CO2 emissions during the take-off and landing phases. Therefore, with a target average utilization rate of eight hours per day and an average flight time of one to two hours, short-haul jets perform far more take-offs and landings than long-haul aircraft. Consequently, reducing short-haul capacity by relying on air-rail intermodality and expanding its long-haul network will enable ITA Airways to further its environmentally responsible growth successfully.
How beneficial do you think air-rail intermodality will be for ITA Airways? Let us know by clicking on the comment button below!
IATA/ICAO Code:

AZ/ITY

Airline Type:

Full Service Carrier

Hub(s):

Rome Fiumicino Airport

Year Founded:

2020

Alliance:

SkyTeam

CEO:

Fabio Lazzerini

Country:

Italy