Norwegian has agreed to take delivery of six additional Boeing 737 MAX 8 aircraft on lease for the upcoming summer season. The new additions to the fleet will build on the airline's relationship with the type, which it currently operates alongside a sizeable Boeing 737-800 fleet.
More of the MAX
Oslo-based Norwegian Air Shuttle ("Norwegian") has announced that it will take on an additional six Boeing 737 MAX 8s as part of its preparations for the upcoming northern summer season. Announcing the deal today, Norweigian says that it has signed lease agreements with Air Lease Corporation for the six additional aircraft.
The six aircraft will join the airline well ahead of the commencement of the airline's 2023 summer operating plan, which will feature extensive scheduled and charter operations across Europe. It will also assist the company in ensuring that it has enough capacity in the coming months, as new aircraft delivery delays from Boeing continue to hamper the wider airline industry.
The six aircraft, each seating 189 passengers, come in addition to the three aircraft of the same type that Norwegian has already agreed to lease from ALC, one of which has already been delivered to the airline. According to Planespotters.net, The airline also operates a fleet of 68 Boeing 737-800s, each configured with 186 seats in a single-class configuration.
Announcing this latest expansion of the airline's fleet, Geir Karlsen, Norwegian's Chief Executive, said,
"The addition of these modern and fuel-efficient aircraft fits well with our fleet strategy. It will also help counteract delays from Boeing for other aircraft that were due to be delivered to Norwegian this spring."
Matching supply with demand
Norwegian, which has a current total fleet of 68 Boeing-built aircraft, previously said it would use the flexible lease agreements combined with a capacity reduction program over the winter months to ensure that it remained in a solid position to head into the spring and summer of 2023.
The airline reduced its winter flying program by approximately 25%, and in January, it operated 62 aircraft on its services on average. For the summer of 2023, Norwegian plans to increase its fleet to 85 aircraft, the company announced last October. Looking further ahead, in May 2022, the airline said that it plans to operate over 100 aircraft by May 2025.
The Boeing 737 MAX 8 is approximately 14% more fuel-efficient than previous-generation aircraft, contributing to Norwegian's ambitious target to reduce carbon emissions by 45% by 2030.
Photo: Tanhu / Shutterstock
Building on its relationship with the MAX
Norwegian is clearly planning its future around the 737 MAX 8. The airline ordered 50 new Boeing 737 MAX 8 aircraft in May 2022, with these twinjets expected to arrive in the fleet between 2025 and 2028. Their introduction will coincide with the scheduled lease expiration dates of older Boeing 737-800s currently operated by Norwegian.
The return of the MAX to Norwegian began in March 2022, having initially suspended services with the aircraft in March 2019 as part of the global grounding of the type. The airline operated 18 MAX 8s at one point, although these were returned to lessors as part of a restructuring plan following Norwegian's financial difficulties in 2021.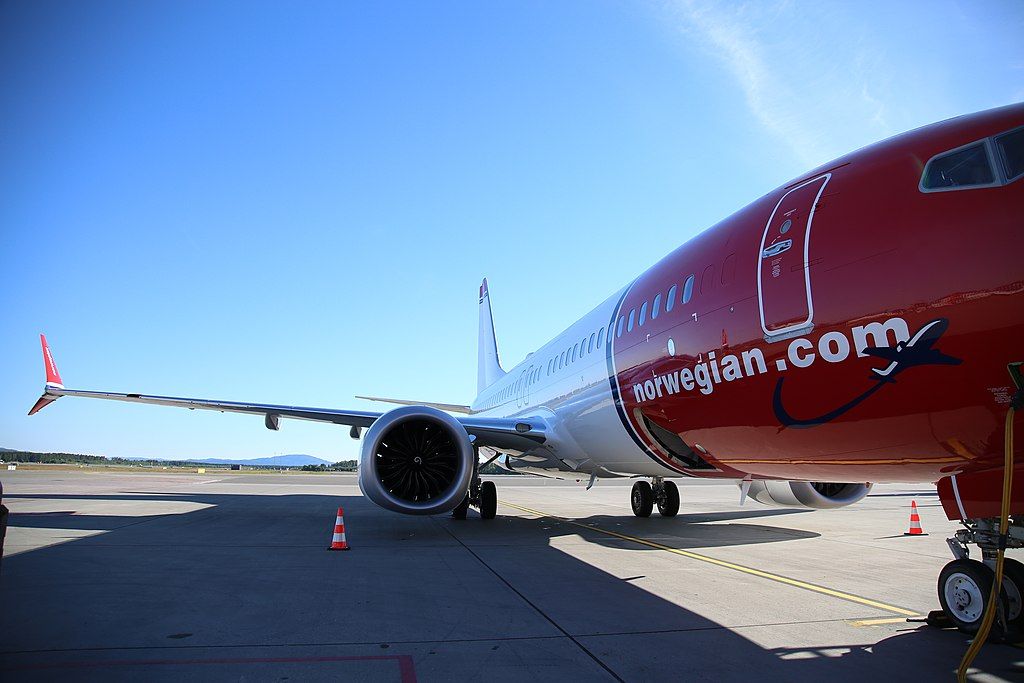 Photo: Norwegian 
Scope for expansion
Alongside its established plans for expansion over the next couple of years, Norwegian has been gifted something of an opportunity to fast-track its expansion plans following the demise of Norway's other low-cost, all Boeing 737 operator, Flyr, last week.
It may be no coincidence that the six Norwegian-registered Boeing 737 MAX 8s operated by Flyr were also leased from Air Lease Corporation, also in a 189 all-economy layout.
The sudden availability of these aircraft might have come at just the right time for Norwegian, which has been keen to add capacity to its fleet in the short term while dealing with delivery delays as it gears up for what is likely to be a busy summer ahead for the resurgent airline.
What do you think of Norwegian's decision to take on these six additional aircraft? Have you flown on a Norwegian 737 MAX 8? Let us know in the comments.
Source: Planespotters.net
IATA/ICAO Code:

DY/NOZ

Airline Type:

Low-Cost Carrier

Year Founded:

1993

CEO:

Geir Karlsen

Country:

Norway