But was the breakfast supposed to be a full meal in the first place?
A business class passenger flying with Japan Airlines has recounted their surprise after being served a vegan breakfast consisting of a banana and nothing else. The traveler had requested a Vegetarian Vegan Meal and was even served cutlery and a pair of chopsticks with the fruit.
Vegan passenger gets a single banana
The incident occurred on a Japan Airlines flight from Soekarno-Hatta International Airport (CGK) to Tokyo Narita Airport (NRT) on February 20th. Kris Chari posted his experience on aviation forum flyertalk under the username 'Kris_Chari' – the passenger fortunately saw the funny side of the story, claiming that the banana "one of the best" he's had in recent times.
It would perhaps be more understandable if the passenger had requested a vegan meal out of the blue and the airline was not prepared. However, Chari clarified that he did indeed pre-book a Vegetarian Vegan Meal (VGML) and confirmed this with the flight attendant before being served his banana.
Chari said,
"Before takeoff today my flight attendant confirmed that I ordered VGML and that my breakfast was a banana, by which I mistakenly assumed she meant that breakfast included a banana. When she served the banana after takeoff I thought it was just an underwhelming appetizer, but it was in fact the entire meal service! It was a really good banana—one of the best I've had recently—but it still seems more appropriate as a snack. Is catering out of CGK typically this underwhelming?"
Even more humorous was the crew's decision to provide Chari with cutlery and chopsticks with which to consume his banana. A look at Japan Airlines' special inflight meals page shows a picture of a typical vegan meal consisting of several plant-based items – as expected, passengers are able to order special meals prior to flying through the airline's website, or by contacting a JAL call center by phone.
Full breakfast or a snack?
As one commenter on flyertalk noted, Chari's flight out of CGK appears to be the early morning 06:35 rotation (JL720), as opposed to the late-night flight (JL726) departing at 21:35, which, according to Japan Airlines' website, does not serve up a breakfast. Checking out the regular business class menu for flight JL720 in February shows no mention of a breakfast service either, with travelers likely served a snack and refreshments before full lunch service a few hours later.
This may explain why the vegan "breakfast" was so underwhelming, as there was never meant to be a full breakfast in the first place. The passenger was eventually served a full lunch consisting of "barely seasoned spaghetti" – Simple Flying has reached out to Japan Airlines for comment on this story and will provide an update upon response.
Other questionable vegan meals
This isn't the first time a vegan has been served a questionable "meal" and it probably won't be the last. As reported in The Independent, a female Air Canada passenger was shocked to be served a single bottle of water after requesting a vegan meal – she was eventually offered a makeshift meal from leftover business class trays consisting of fruit and bread rolls.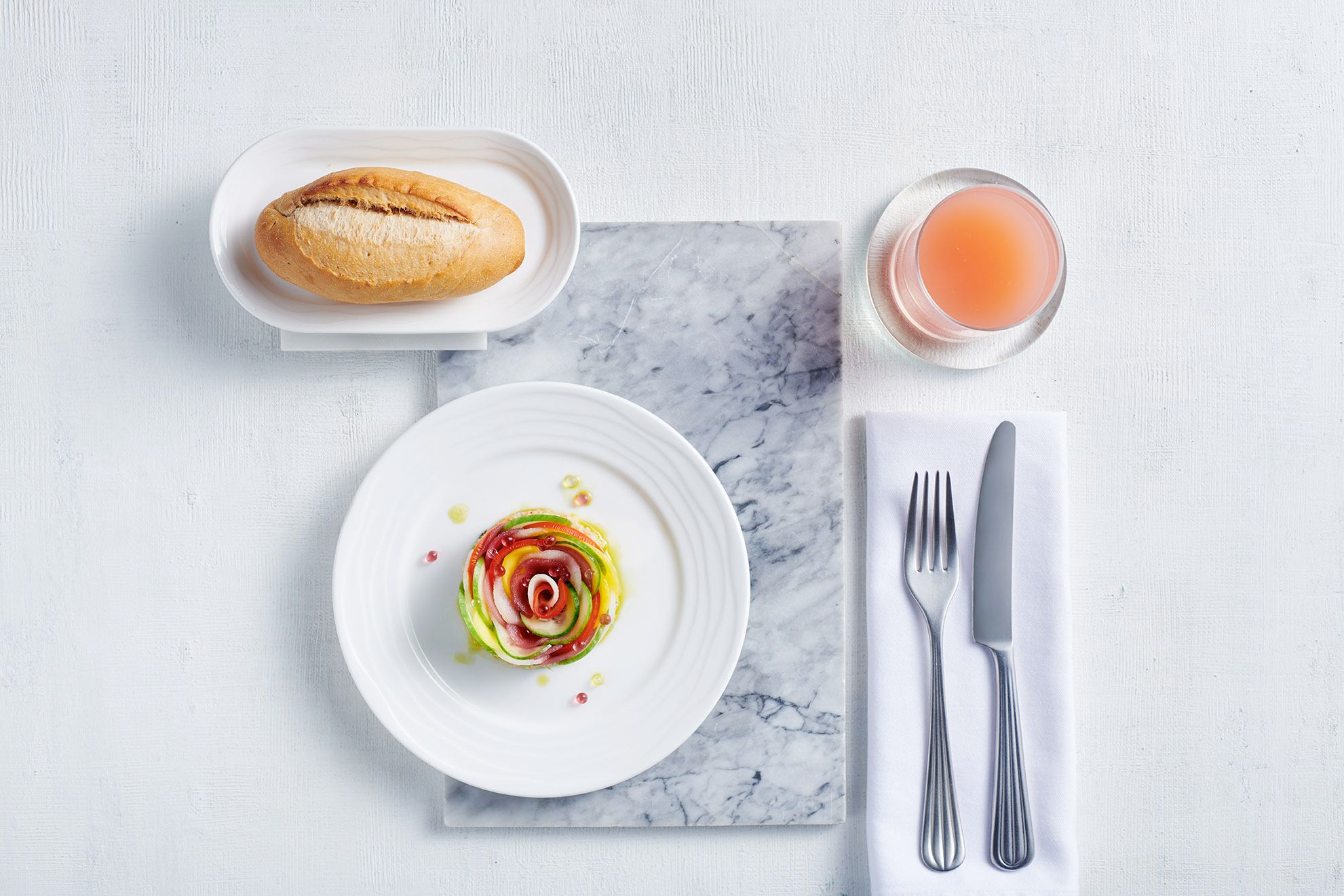 Photo: Emirates
In 2020, a British Airways passenger who had requested a vegan option was served a meal containing butter and cheese, both of which are animal-based.
Have you ever flown on Japan Airlines flight JL720 from Jakarta to Tokyo Narita? Can you remember whether you were served a proper breakfast or not? Let us know in the comments.
Source: flyertalk, The Independent
The metrics are improving at Japan Airlines, albeit off a very low base. Photo: Vincenzo Pace/Simple Flying

IATA/ICAO Code:

JL/JAL

Airline Type:

Full Service Carrier

Hub(s):

Tokyo Haneda Airport, Tokyo Narita Airport

Year Founded:

1951

Alliance:

oneworld

CEO:

Yuji Akasaka

Country:

Japan