Lynx Air will launch an inaugural flight from Calgary to Las Vegas later today, marking the start of its fourth US flight offering.
Lynx Air has just announced that it will be launching a new flight service to Las Vegas. The inaugural flight will take place later today. The ultra-low-cost carrier is offering reduced fares on the route for the first few days it is in service. It anticipates that the route will be very popular with leisure travelers, giving the flight service plenty of demand. This will be the airline's fourth US Route, and it anticipates that it will be its busiest.
New route
The new routes will connect Calgary International Airport (YYC) with Las Vegas's Harry Reid International Airport (LAS). The route will be operated on a Boeing 737 every Monday, Wednesday, Friday, and Sunday. The airline has chosen to run a promotional offer to boost ticket sales for the new service.
For the next few days, passengers can purchase tickets for 50% off. This only applies to the base cost of the ticket and does not affect any additional fees or charges, such as baggage fees. The sale starts today and ends Sunday. Uniquely, this offer is not only extended to passengers traveling to LAS, but it is also extended to all passengers flying between the US and Canada. To take advantage of this offer, passengers will need to use code FLYUSA when purchasing their tickets.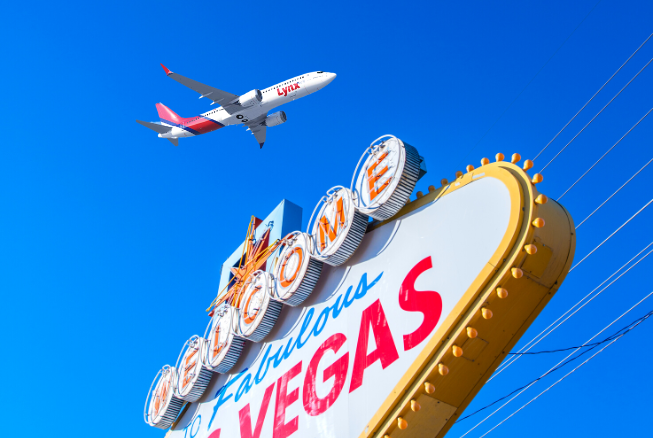 Photo: Lynx Air
The CEO of Lynx Air, Merren McArthur, shared the company's enthusiasm and excitement concerning the new route as it will provide Canadian travelers with an affordable connection to one of the largest tourist destinations in the US. McArthur stated,
"We are thrilled to offer a convenient and ultra-affordable option to travel between Las Vegas and Calgary. Whether you are flying to ski the beautiful Rockies or to visit your loved ones, Lynx will ensure a great flying experience at an ultra-affordable price."Lynx Air took to the Canadian skies for the first time just over ten months ago, and we are excited to expand across the border to the Entertainment Capital of the World. Las Vegas is a very popular holiday destination for Canadians, and it's no wonder! From vibrant nightlife and high-end shopping to tours of one of the Seven Wonders of the World, there is something for everyone in Vegas."
The Clark County Director of Aviation, Rosemary Vassiliadis, stated that the new flight service would provide an affordable, convenient travel option for Canadian travelers saying,
"We are so excited to welcome Lynx Air to Harry Reid International Airport,"It is no secret that Las Vegas is a top destination for Canadian travelers, and this new service from Calgary will make it that much easier for more visitors to experience all that this incredible city has to offer."
Southern expansion
Since entering the US market earlier this year, Lynx Air has followed its expansion plans outlined this past fall by adding all four US routes it said it would. With this latest route addition, the airline currently operates flights to LAS, Orlando International Airport (MCO), Phoenix Sky Harbor Airport (PHX), and Los Angeles International Airport (LAX).
Photo: Lynx Air
The airline operates flights from YYC to PHX and LAX three times per week. Both of these routes are flown on Tuesdays, Thursdays, and Saturdays. It operates its Toronto Pearson Airport (YYZ) to MCO flights four times per week, with flights every Monday, Wednesday, Friday, and Sunday. While these are the only US routes the airline currently operates, it does plan to expand its flight offerings to the US throughout the coming years.
What do you think of this new route? Let us know in the comments below.
The record-breaking flight departed from McCarran Field in Las Vegas on December 4, 1958. Photo: Getty Images

IATA/ICAO Code:

LAS/KLAS

Country:

United States

Passenger Count :

39,754,366 (2021)

Runways :

1L/19R – 2,740m (8,989ft) |1R/19L – 2,978m (9,770ft) |8L/26R – 4,424m (14,514ft) |8R/26L – 3,208m (10,524ft)

Terminals:

Terminal 1 |Terminal 3