Cathay Pacific, unsurprisingly, has its headquarters at Hong Kong International Airport. The scale of these is surprising, however. The airline has built "Cathay Pacific City" as one of the largest corporate facilities in Asia.
Building Cathay City
Cathay Pacific opened its new headquarters in 1988 – the same year that the new Hong Kong International Airport was inaugurated. It was built on four hectares of reclaimed land to the southeast of the main airport development.
According to Dragages Hong Kong, one of the construction companies involved in the project, the development totaled 145,500 square meters of floor area. According to Cathay Pacific, the total cost of development was $4.9 billion Hong Kong Dollars ($624 million USD).
Nxn 0405 chl via Wikimedia"" data-modal-id="single-image-modal" data-modal-container-id="single-image-modal-container" data-img-caption="""">
As you would expect from the naming, Cathay City is not just a single headquarters building. There are several buildings for different uses, including a main building that is 23 stories tall.
Multiple buildings and facilities
Cathay City acts as the corporate headquarters, the flight operations center, and the base for all crew to assemble and prepare for flights.
The huge complex houses offices, auditorium space, flight operations center, crew operations center, a hotel for airline staff, and a large training center.
The training center has a full mockup of the Airbus A330 interior, as well as several different full cabin mockups for the different aircraft and cabins. This allows cabin crew to train and practice cabin service. There are also safety training facilities for emergency and cabin evacuation training.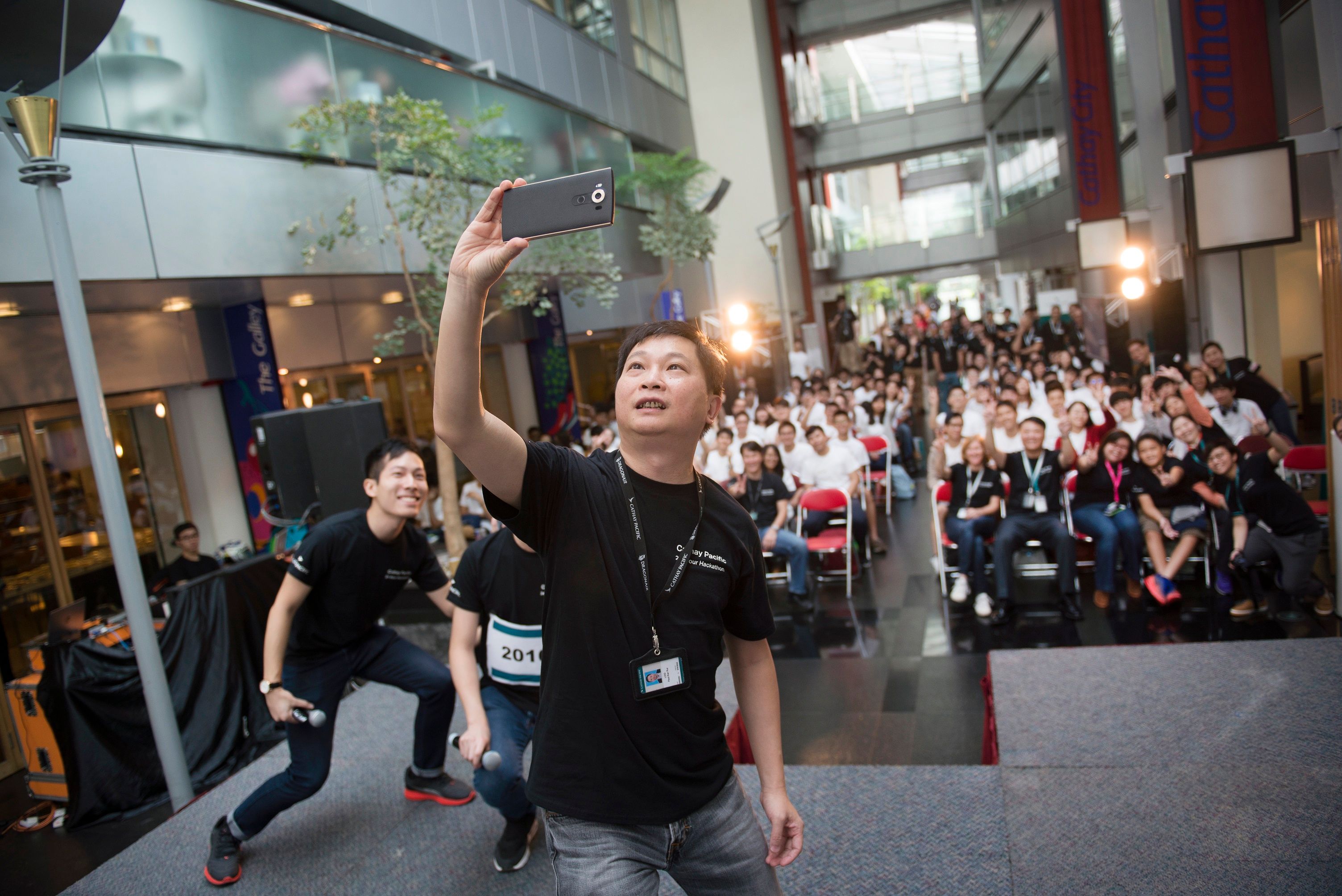 Photo: Cathay Pacific
One of the focusses is catering to airline staff (both operational and flying) around the clock. Cathay City has accommodation for crew, catering, laundry facilities, a bank, shops, hair salon, and even a full gym including basketballs courts for staff.
For a fascinating tour around some of the facilities of Cathay City, take a look at this video from Luxury Fred. The views from the high floors of the hotel are particularly incredible!
An early DC-3 celebrates the airlines history
Fittingly, there is also an aircraft. Located at the main front entrance to Cathay City is an ex-Cathay Pacific Douglas DC-3 aircraft. This is not the famous first aircraft Betsy that the airline was founded with (she is preserved and displayed at the Hong Kong Science Museum), but also one of the airline's first aircraft.
u305du3089u307fu307f via Wikimedia"" data-modal-id="single-image-modal" data-modal-container-id="single-image-modal-container" data-img-caption="""">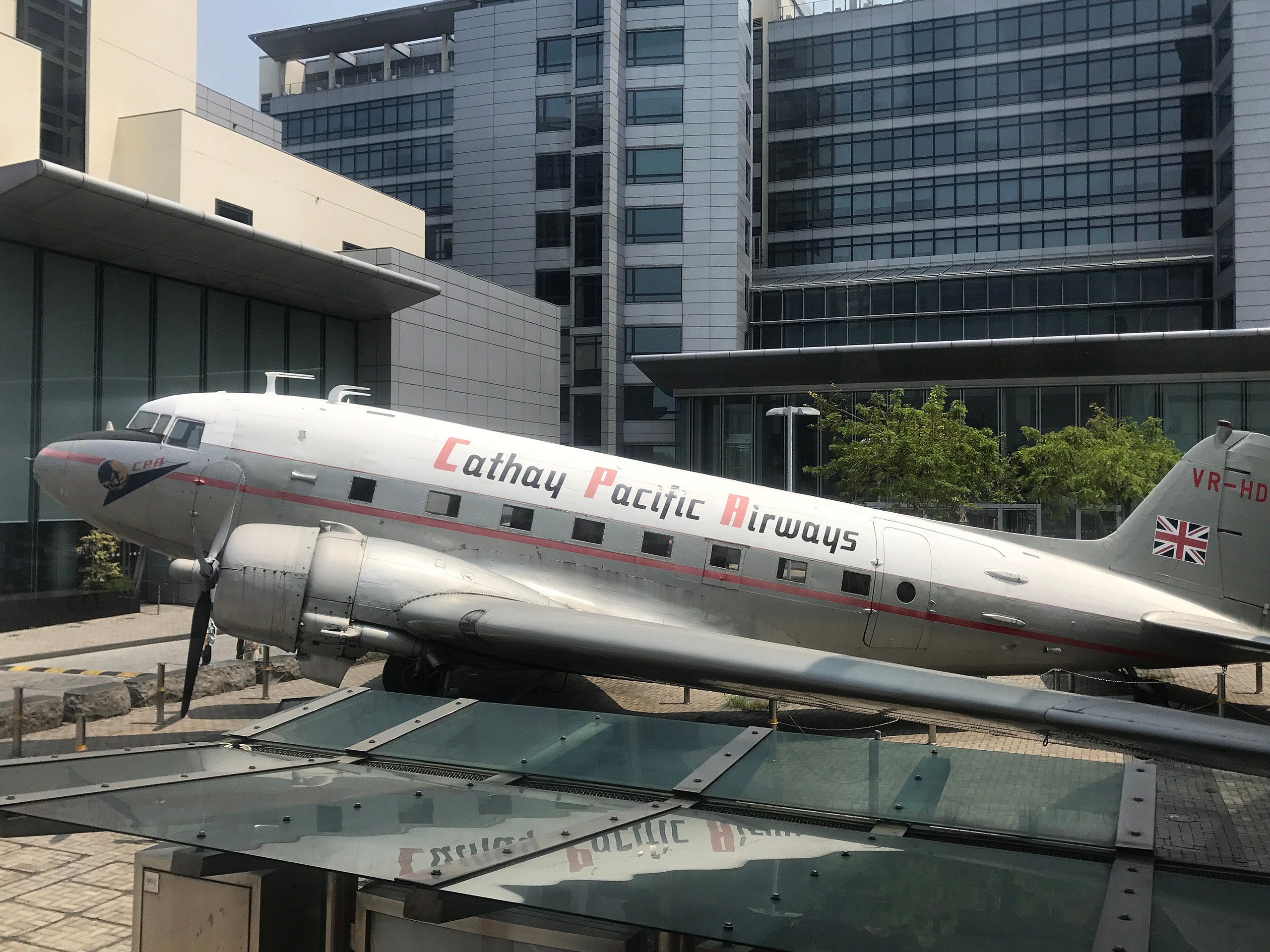 Betsy entered service in January 1946, originally flying from Shanghai. The airline (and its one aircraft) moved to Hong Kong in September of that year. Two more DC-3s – including VR-HDA now at Cathay City – joined the fleet by the end of the year.
British Airways and Waterside
Cathay Pacific is not the only airline to purpose-build a large centralized headquarters. British Airways built Waterside as a new build dedicated headquarters, close to its base at Terminal 5 at London Heathrow. This serves similar functions to Cathay City, but is not as extensive.
The £200 million facility also opened in 1998. Its future, though, is uncertain. British Airways announced in 2021 it was considering the sale of Waterside, following much-reduced usage during the pandemic and after. Whatever happens, the complex is due to be demolished if the airport's third runway construction goes ahead.
Have you visited Cathay City in Hong Kong? What do you think of the buildings and the facilities? Feel free to discuss in the comments section.
Source: Dragages Hong Kong
Cathay Pacific remains one of the world's most poorly affected airlines by COVID-19. Photo: Vincenzo Pace | Simple Flying

IATA/ICAO Code:

CX/CPA

Airline Type:

Full Service Carrier

Hub(s):

Hong Kong International Airport

Year Founded:

1946

Alliance:

oneworld

CEO:

Augustus Tang

Country:

China (Special Administrative Region)