Jet engines have thousands of parts installed individually or as assemblies into various modules. Modern jet engines comprise several major modules that differ in components and functionalities. The incoming air passes through the fan, compression, and turbine modules before exiting through the exhaust. Thrust is produced due to the high-speed air exiting the engine, propelling the aircraft forward.
Major modules
Modern jet engines are assembled into modular sections, mainly the fan and intermediate module, core module, high-pressure turbine module, low-pressure turbine module, and accessory drive module. Essential components fall into two distinct categories; rotating parts and stationary parts. Rotating parts are generally located in the modules where large forces are generated. Compression, turbine, and accessory modules are examples of critical rotating components.
A high-bypass-ratio widebody engine can have between 30,000 and 50,000 individual parts. A typical Boeing 747 engine (a General Electric CF6-80C2) comprises upwards of 40,000 parts. These include nearly 2,000 unique parts (categorized as numeric or alphanumeric part numbers). Unlike large parts, most smaller parts are installed in multiple quantities.
It is noteworthy that special-mission engines, such as military engines, may have more parts than their commercial counterparts. For example, the CF6-80 engine used in military aircraft consists of two hydro-mechanical units (HMUs), compared to one on the commercial version. Moreover, numerous additional sensors and gauges may be installed on special-purpose engines.
Rotating and stationary parts
In the compression sections (fan and core modules), a series of compression stages consists of hundreds of rotating blades and stationary vanes. The rotating and stationary components are installed in pairs to condition the airflow through the compressor. A similar combination of rotating blades and stationary vanes is installed in the turbine section.
High-temperature air from the combustor transfers energy to the turbines, which drive the fan and compressor. Large engines can have over 5,000 individual blades and vanes across multiple sections.
The engine's size does not necessarily determine the number of parts it can contain. Narrowbody and widebody engines do not necessarily differ in the number of parts. However, newer more-modern engines tend to have lesser parts than older engines. This is primarily due to advanced technology metal alloys that have greater stiffness and tensile strength.
For example, the GE90 (powering the Boeing 777) comprises 22 blades, the GEnx (powering the Boeing 787 and 747-8) holds 18, and the largest of the three, the GE9X (for Boeing 777X – not in service yet), has only 16 blades.
Parts during overhauls
Rotating parts are subject to greater forces and receive more wear and tear than stationary parts. Constant rotational movements mean those parts wear out faster than others. During a complete overhaul, the engine is almost completely dismantled into piece-parts.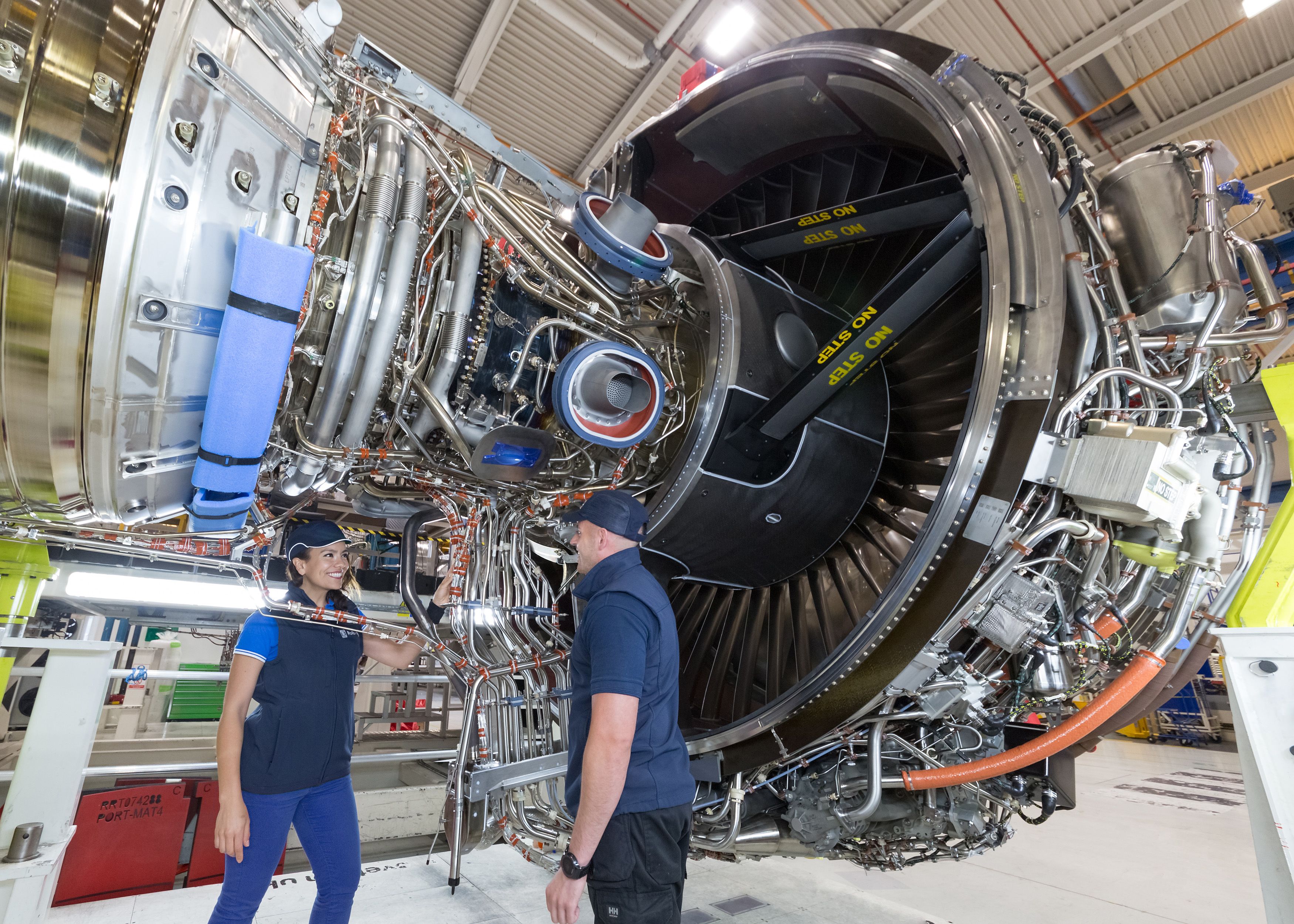 Photo: Rolls Royce
After cleaning and non-destructive testing (NDT), each part is individually inspected by certified inspectors. Based on the tolerances in the engine manual, inspected parts may require additional repairs, are rejected (scrap), or are deemed serviceable to go back on the engine. Notably, the required maintenance work scope may limit the engine disassembly into modular sections instead of piece parts.
Having a large number of parts and complex machinery, the engine maintenance process can become very extensive. A complete overhaul may put the engine for up to 180 days in the shop. A typical widebody engine overhaul may cost the operator upwards of $8 million.
What do you think about the number of parts installed on jet engines? Tell us in the comments section.