On March 24th, a Singapore Airlines Boeing 747-400 freighter flying from Singapore Changi to Shanghai Pudong had to divert to Hong Kong International due to a fire indication in the aircraft's main cabin.
Incident details
The incident involves a Boeing 747-400F registered 9V-SFN. Performing flight SQ7858, the aircraft was flying from Singapore Changi airport (SIN) to Shanghai Pudong (PVG) with two crew.
According to The Aviation Herald, the Singapore Airlines freighter was en route at FL400 about 160nm south of Hong Kong when an indication appeared, signaling a fire in the aircraft's main cabin. With Shanghai Pudong still over 800NM (1,482km) away, the crew made the decision to divert to Hong Kong. The South China Morning Post notes that the fire alarm went off at 22:27 local time (10:27 EST).
FlightRadar24.com"" data-modal-id="single-image-modal" data-modal-container-id="single-image-modal-container" data-img-caption="""">
Approximately 30 minutes after the indication first appeared the crew decided to divert, and the 747 performed a safe landing on Hong Kong's runway 07L. Firefighters were dispatched to the aircraft. However, upon inspection, no fire or smoke was found, and the indication was identified as false.
The 747 remained in Hong Kong for 18 hours, before continuing onwards to the original destination of Shanghai.
Impact on Hong Kong's operations
The South China Morning Post also notes that the diversion of the freighter had an impact on some of Hong Kong International Airport's operations. Indeed, the unexpected arrival at HKG resulted in the temporary closure of runway 07L. This reportedly affected nine incoming flights as the closure took about 54 minutes, reopening at 23:06 local time. The affected flights were redirected to land on HKG's southern runway (07R).
Albert Koch via flickr"" data-modal-id="single-image-modal" data-modal-container-id="single-image-modal-container" data-img-caption="""">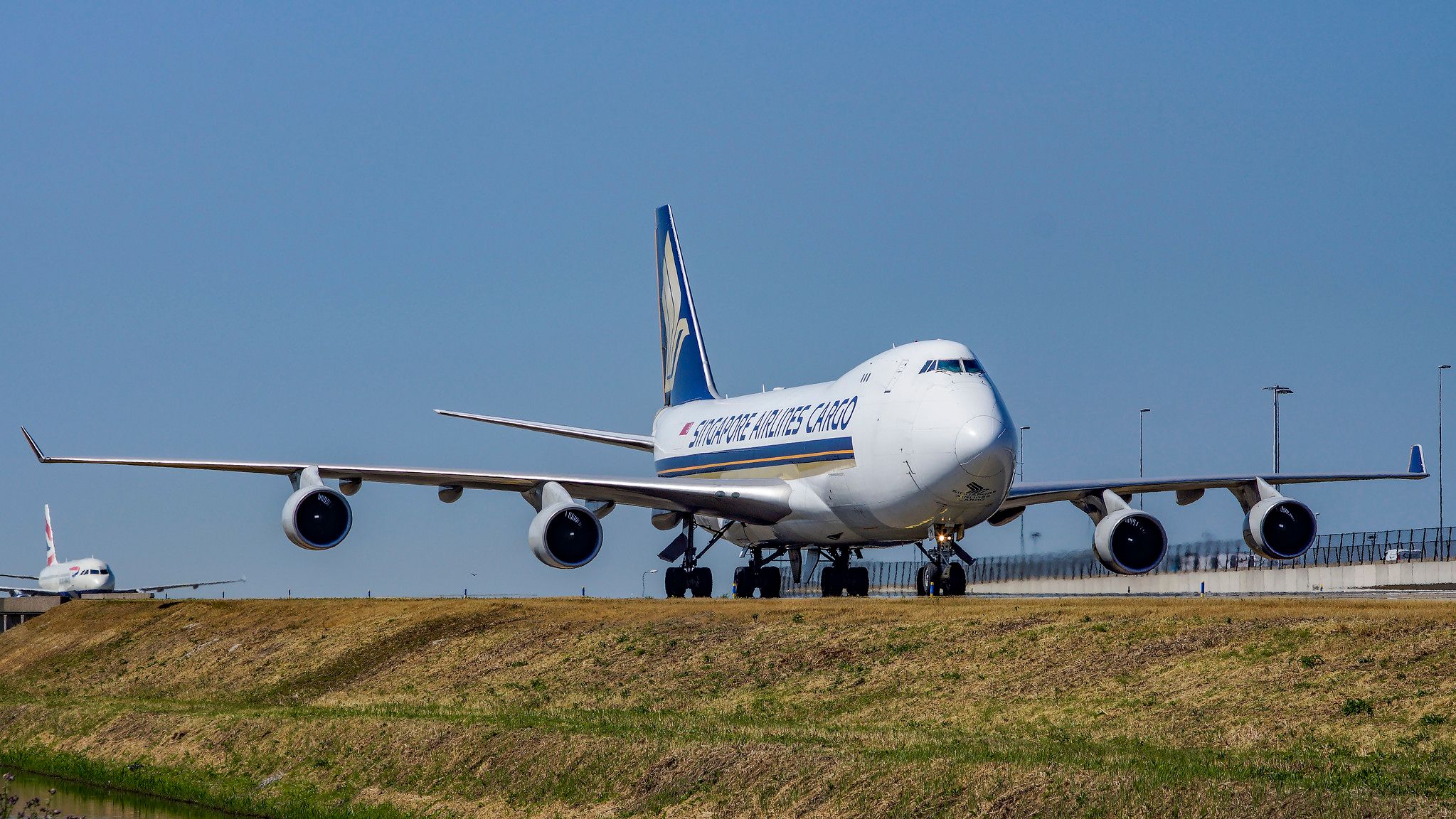 The airport currently has two runways, both 60 meters wide and 3,800 meters in length. This allows the facility to handle as many as 68 flights per hour at peak times of the day.
About the Singapore Airlines Cargo fleet
According to Planespotters.net, Singapore Airlines Cargo has a fleet of seven Boeing 747-400F freighters. Entering service with Singapore Airlines between 2000 and 2006, the jets now have an average age of approximately 19-and-a-half years.
Most of these aircraft have flown exclusively with Singapore Airlines Cargo. However, the aircraft registered 9V-SFI was leased out to China's Great Wall Airlines from 2008 to 2011. It was then leased to China Cargo Airlines from 2011 to 2015.
Singapore Airlines also operates two Boeing 777F freighters on behalf of DHL – a deal that began in 2022. The carrier also has a firm order for seven Airbus A350Fs. Deliveries of these aircraft are expected to begin in the fourth quarter of 2025.
What do you think of this incident? Share your thoughts by leaving a comment!
Sources: The Aviation Herald, Planespotters.net, FlightRadar24.com, South China Morning Post
IATA/ICAO Code:

SQ/SIA

Airline Type:

Full Service Carrier

Hub(s):

Singapore Changi Airport

Year Founded:

1972

Alliance:

Star Alliance

CEO:

Goh Choon Phong

Country:

Singapore