Welcome to my 80th weekly routes newsletter! Airlines in the Northern Hemisphere switched to summer schedules on March 26th, with hundreds of new routes launched and reintroduced. I've covered a very small selection of subjectively exciting routes, with more next week. Why not sign up and receive my newsletter in your email inbox every week?
United inaugurates Newark-Dubai
Despite the historic spat with Emirates, United has returned to Dubai. It launched a daily 777-200ER-operated service between Newark and Dubai on March 25th. The only US carrier serving the Middle East nation, it previously operated Washington Dulles-Dubai until January 2016.
UA164 leaves Newark at 21:40 and arrives in the Middle East at 19:05+1. UA163 departs at 01:55, returning at 08:45. It supplements Emirates' daily Dubai-Newark, which operates on a one-stop basis via Athens.
Photo: via United Airlines.
United's arrival time in Dubai (19:05) mirrors that of Emirates from North America, with the ~02:00 departure bank a growing period for US-bound flights. This is crucial: because of the new relationship between the pair, United says that passengers can connect from Newark over Dubai to 100+ destinations served by Emirates and flydubai.
Click here for Newark-Dubai flights.
Perth gets non-stop Manila flights
Located 3,211 miles (5,167 km) apart, Manila-Perth has never been served before – until now. Operated by Philippine Airlines' A321neos, the carrier was motivated by the 60,000+ people who flew between the two cities in 2019.
A good-sized P2P market, it was Perth's second-biggest unserved market in the Far East, behind only Phuket. Passengers can also connect over Manila to various cities throughout the Philippines and multiple destinations across Northeast Asia.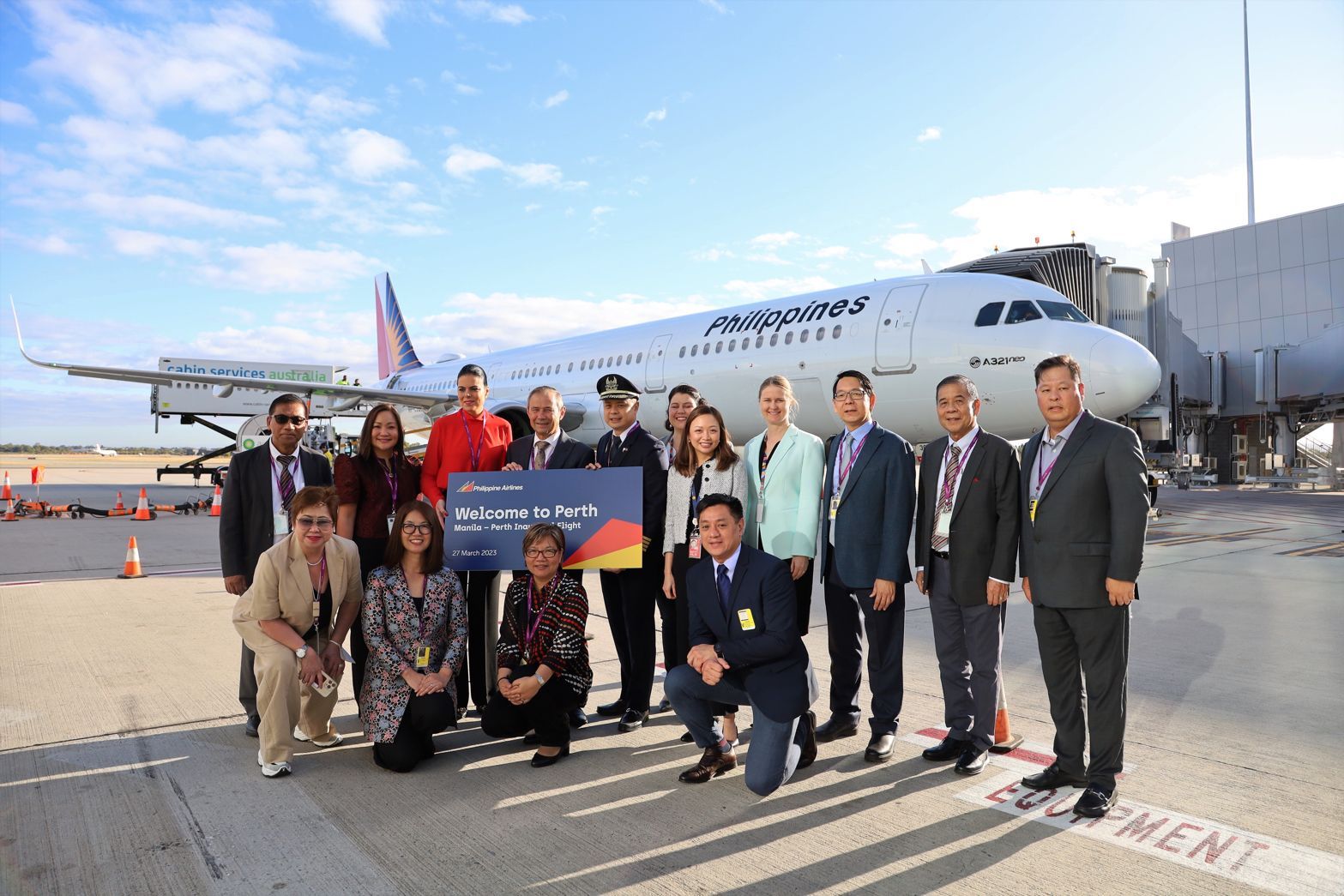 Photo: via Perth Airport.
Using a 168-seat, two-class A321neo, the first of Philippine Airlines' flights departed on March 27th. Operating on Mondays, Thursdays, and Saturdays, PR223 departs Manila at 00:15 and arrives in Western Australia at 07:15 local. PR224 leaves Perth at 08:30 and arrives back at 15:45.
Click here for Manila-Perth flights.
Norse Atlantic launches Paris-New York
With the changing aviation season, Norse Atlantic has inaugurated its next route: Paris CDG – a brand-new airport in its network – to New York JFK. Operating daily, it is Norse's fifth JFK route this summer, with Rome Fiumicino the next to commence.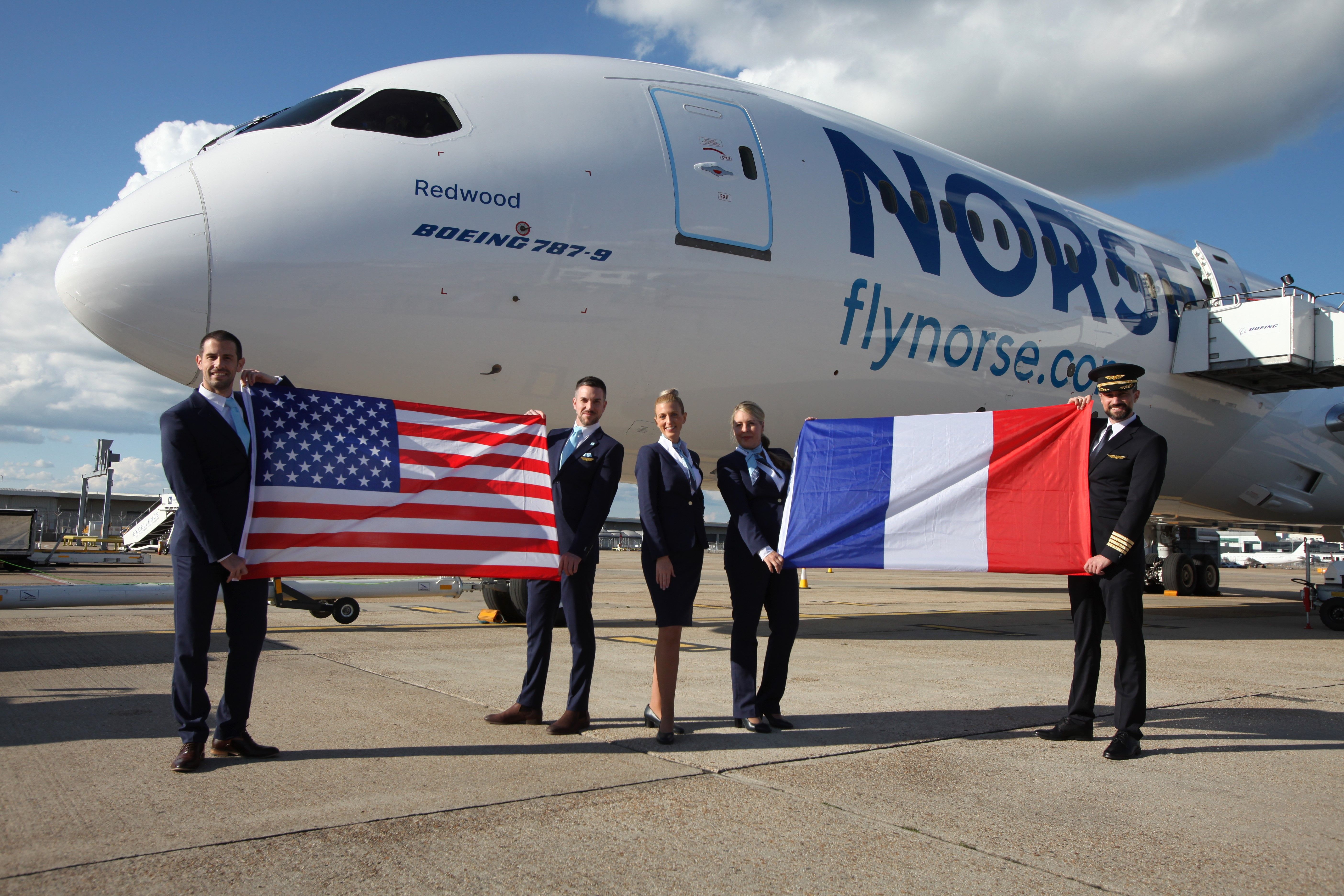 Photo: via Norse Atlantic.
Generally speaking, Norse, like Norwegian, targets large ('thick') point-to-point markets, in part because it has very little feed. Yet it achieved a SLF of just 61% or less in six of the nine months between June and February, with 50% in February.
Click here for Paris-New York flights.
Some 3,635 miles (5,849 km) apart, Norse is one of six operators on CDG-JFK this summer (including JetBlue, which starts in June). Between them, they have up to 12 daily flights. When CDG-Newark is added, there are up to 15 daily services with seven airlines. If Orly is included, there are a maximum of 17 daily with eight carriers.
Take off: Vistara to Mauritius
Vistara commenced Mumbai to Mauritius on March 26th. A 2,905-mile (4,675 km) airport pair, it was announced in mid-February, giving it little lead-in time. Vistara is the first Indian airline to operate it in 17 years, with Air India the last to do so in 2006.
Using three-class, 188-seat A321LRs, the route operates five weekly. It competes directly with Air Mauritius' year-round, six-weekly A330neo service.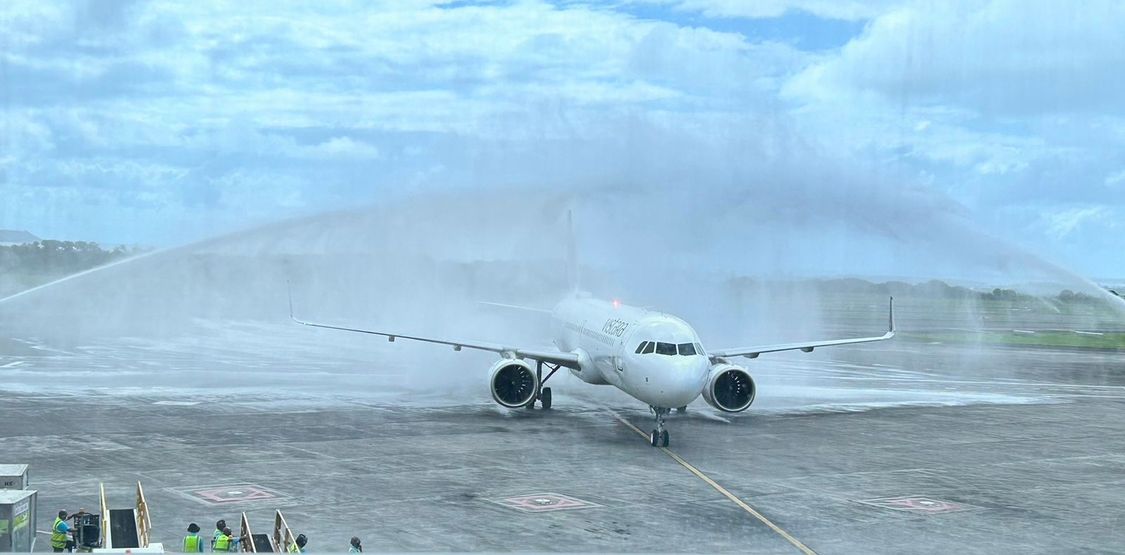 Photo: via Vistara.
Approximately 119,000 roundtrip passengers flew between Mumbai and Mauritius in 2019. Pre-pandemic, Mumbai was Mauritius's biggest market in Asia. The market seems to primarily revolve around Indian tourists to Mauritius and medical travel from Mauritius.
Click here for Mumbai-Mauritius flights.
Back: long-haul from Connecticut
Hartford again has non-stop flights to Europe. It is thanks to Aer Lingus, whose Dublin service recommenced on March 26th. It originally operated between 2016 and 2020.
Running daily using the 184-seat A321LR (notice how commonplace the type is now), EI131 leaves Ireland at 14:30 and arrives in Connecticut at 16:35. Returning, EI132 departs at 18:00 and arrives home at 05:15+1. This enables connectivity to/from multiple UK and continental Europe airports.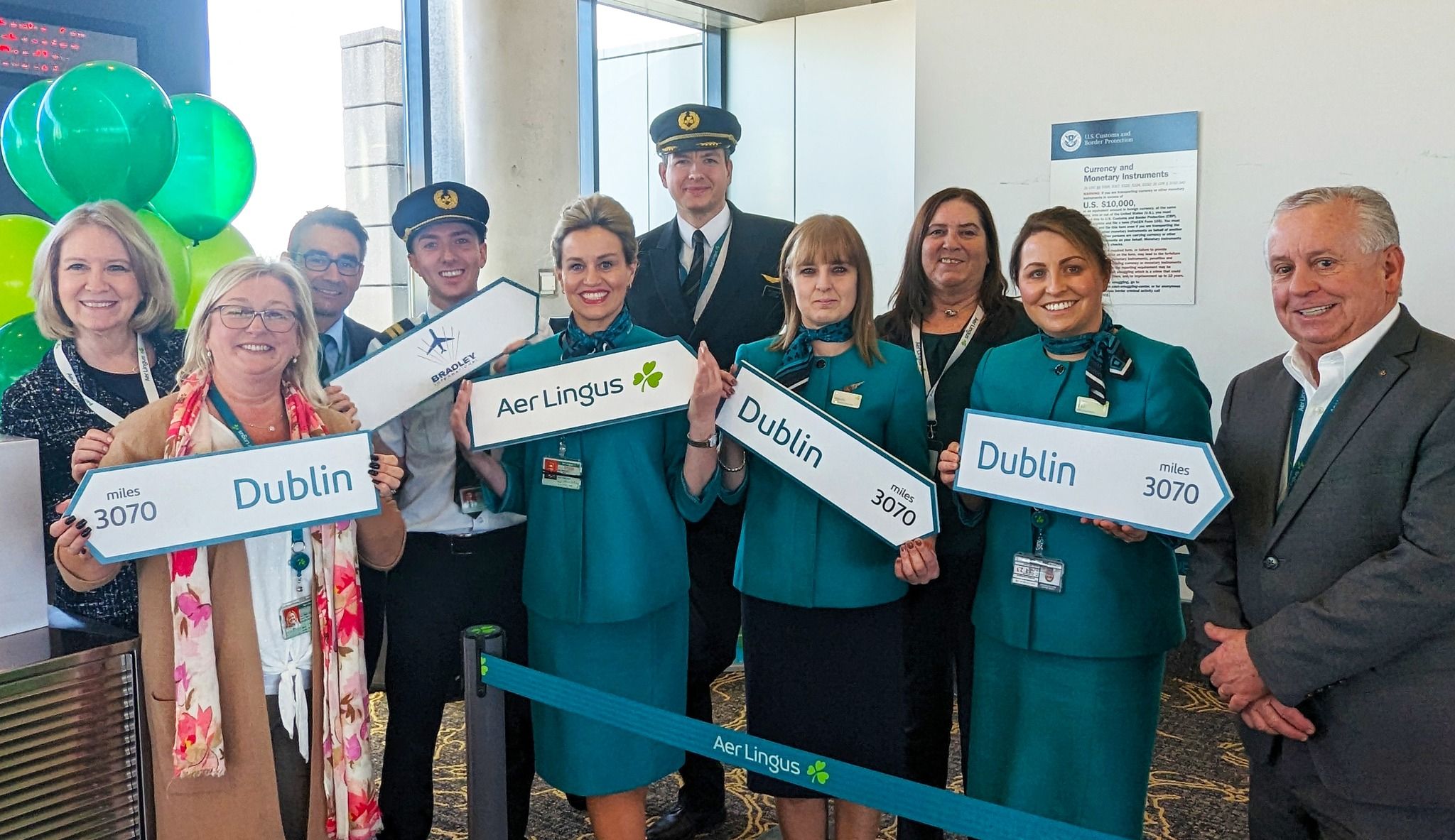 Photo: via Bradley International Airport.
In the past 15 years, Hartford has had Europe service by Northwest (to Amsterdam, feeding partner KLM), Norwegian (Edinburgh), and Aer Lingus (Dublin). Curiously, London hasn't been served, despite being Hartford's largest European market.
Click here for Hartford-Dublin flights.
Ryanair celebrates 25 years in Pisa
Long the main gateway to Tuscany, Ryanair has served Pisa for 25 years. OK, it is not a new route commemoration, but it is a huge milestone, I've flown there numerous times, and the photo is great.
Ryanair has just over 1.4 million departing seats for sale this summer from Pisa. That is its highest volume ever, making the airport its 28th most-served network-wide.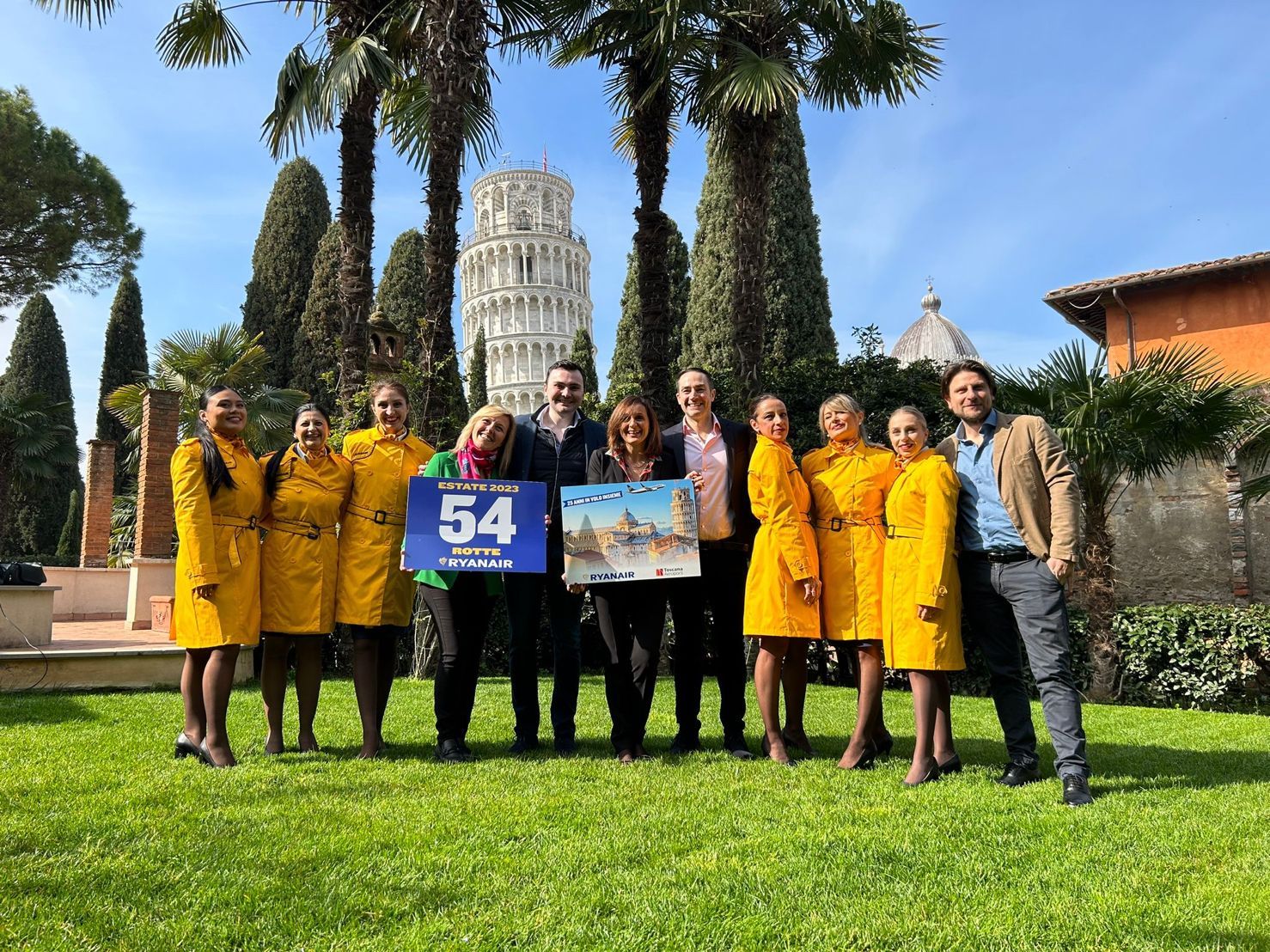 Photo: via Ryanair.
Ryanair has 66% of Pisa's capacity this summer, with flights by based and non-based aircraft. It has 54 Pisa routes encompassing 20 countries. With nine routes, it serves more destinations in Italy than anywhere else, followed by Spain (eight), UK (six), and Greece (six). London Stansted is its most-served Pisa route.
Click here for London-Pisa flights.
That's it for the 80th edition of my routes newsletter. Sign up to get something like this in your inbox each week.