Having previously been served until 2016, Istanbul is again part of Wizz Air's network. The ULCC has introduced routes from London Luton and London Gatwick to Istanbul Airport, with Budapest starting on March 31st and Iasi on April 4th.
The launch from Luton means the Bedfordshire airport has Istanbul passenger flights after defunct Atlasjet ceased it in 2016. Wizz Air's entry contributes to London-Istanbul having up to 24 daily flights this summer, as discussed later in the article.
Wizz Air starts Istanbul
On March 28th, Wizz Air launched London Luton and London Gatwick to Istanbul Airport (IST) – the main airport in the enormous city. Both are served daily. It is the fifth operator between the two cities, joining AnadoluJet, British Airways, Pegasus, and Turkish Airlines. Four London airports (Heathrow, Gatwick, Luton, Stansted) are now served – the highest number since 2016.
Click here for London-Istanbul flights.
Photo: London Gatwick Airport.
On March 31st, it'll introduce a daily flight from Budapest to Istanbul, joining Turkish Airlines and Pegasus. On April 4th, it'll start three-weekly flights from Iasi, the first time the Romanian city has been served from Istanbul since TAROM ended it in 2016.
Analysis of Wizz Air's Istanbul schedules shows that timings often vary per day. Surprisingly, it has up to a 1h 45m (!) turnaround in Turkey. For example, on Mondays, W95729 arrives in Istanbul from Gatwick at 16:15, but W95730 doesn't leave until 18:00. It changes to a much more normal 35 minutes in June, although that is very quick at such a big and busy airport. Let's hope its punctuality doesn't suffer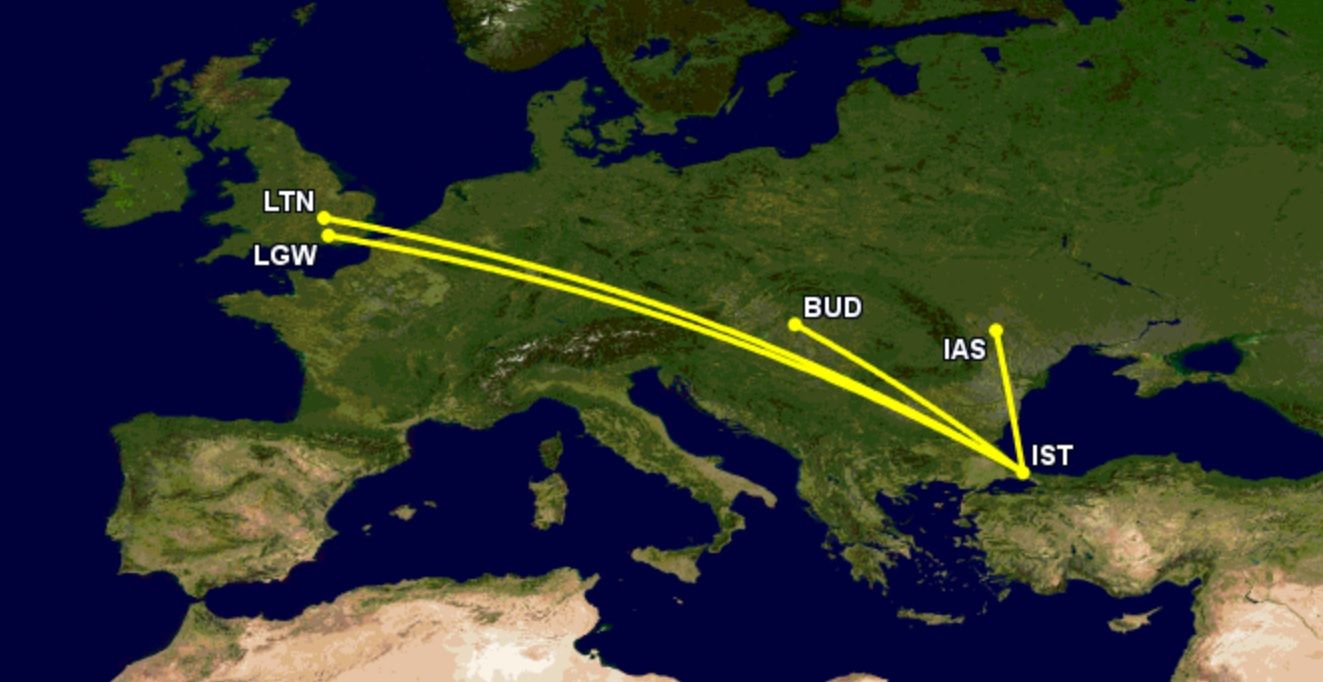 Image: GCMap.
Istanbul Airport, not Sabiha Gökçen
While Istanbul Airport has higher fees and charges than Sabiha Gökçen (SAW), on the Asian side of the Bosporus, it benefits from greater slot availability and the ability to grow. It is very keen to attract more (U)LCCs, presumably attractively discounting and incentivizing to achieve this. easyJet is set to begin Manchester soon.
For Wizz Air, serving Istanbul Airport also provides a point of difference versus well-established Turkish carriers Pegasus and AnadoluJet, which serve Sabiha Gökçen from Stansted. It also means that its prices appear even more attractive versus BA and Turkish Airlines, which serve the primary airport as well.
London-Istanbul
In 2019, booking data shows London-Istanbul had around 980,000 roundtrip point-to-point passengers (i.e., only traveling between the two cities). Spread across the whole year, there were an average of 1,343 passengers daily each way.
Stay aware: Sign up for my weekly new routes newsletter.
Up to 24 daily London flights
Cirium data says London has an average of 20 daily Istanbul flights this summer, but it varies widely. On particular days, there are a maximum of 24 (April 2nd, 23rd, and 30th, along with May 7th and 14th).
On May 14th, for example, all of these are bookable:
Turkish Airlines: seven daily Heathrow-Istanbul Airport flights, triple daily Gatwick-Istanbul Airport
Pegasus: five daily Stansted-Sabiha Gökçen
British Airways: four daily Heathrow-Istanbul Airport
AnadoluJet: triple daily Stansted-Sabiha Gökçen
Wizz Air: daily Luton-Istanbul Airport, daily Gatwick-Istanbul Airport
What do you make of it all? Let us know in the comments.