In an intriguing development, Red Way plans to launch Lincoln, Nebraska, flights later this summer. They'll be public charters. Influenced by financial incentives, as is normal, there are seven initial routes: Atlanta, Austin, Dallas, Las Vegas, Minneapolis, Nashville, and Orlando.
With Red Way as the sales agent (a 'virtual airline'), Miami-based Global Crossing Airlines (GlobalX) will operate the flights using Airbus A320s – with many seats to fill. Although it is unlikely to happen, it has said it may even use A321s – even more seats to fill.
June 8th: take off day
Its initial network is shown in the following map and summarized in the following table. Its first revenue-generating flights are on June 8th, barely two months away – very little lead time.
On that first day, XX1011 will leave Lincoln at 08:00 and arrive in Orlando at 11:50 local. Returning, XX1012 will depart at 12:50 and arrive back at 14:55. At 17:30, XX1017 will take off to Las Vegas, with XX1018 returning at 23:55.
What Red Way plans
While none of the seven routes will have direct competition, three have been served before. Delta couldn't make Lincoln work even with the enormous power of its Atlanta and Minneapolis hubs, while Allegiant – famous for serving smaller places – pulled out 14 years ago.
| Lincoln to… | Dates (for now) | Weekly flights | Red Way's lowest one-way base fare | 2019 P2P* roundtrip passengers | Comments |
| --- | --- | --- | --- | --- | --- |
| Atlanta | Jun 16th | 2; 3 from Sep | $69 | 10,200 | Served by Delta until 2020 |
| Austin | Jun 24th-Sep 6th | 2 | $59 | 3,500 | Never served before |
| Dallas Fort Worth | Jun 16th-Nov 3rd | 2; 3 from Sep | $59 | 3,600 | Never served before |
| Las Vegas | Jun 8th-Nov 2nd | 2 | $59 | 4,300 | Served by Allegiant until 2009 |
| Minneapolis | Jun 16th-Nov 3rd | 2; 3 from Sep | $49 | 21,800 | Served by Delta until 2022 |
| Nashville | Jun 24th-Sep 6th | 2 | $59 | 3,200 | Never served before |
| Orlando International | Jun 8th-Nov 2nd | 2 | $89 | 5,500 | Never served before |
| | | | | * Point-to-point. 2022 was heavily impacted, so 2019 was used instead | |
What they say
Red Way's management told FlightGlobal that,
"Through this [public charter] model, known as Part 380 operations, we can offer seasonal flexibility and keep the operations simple… We have a strong community focus and look forward to making an economic impact in Lincoln and the surrounding areas."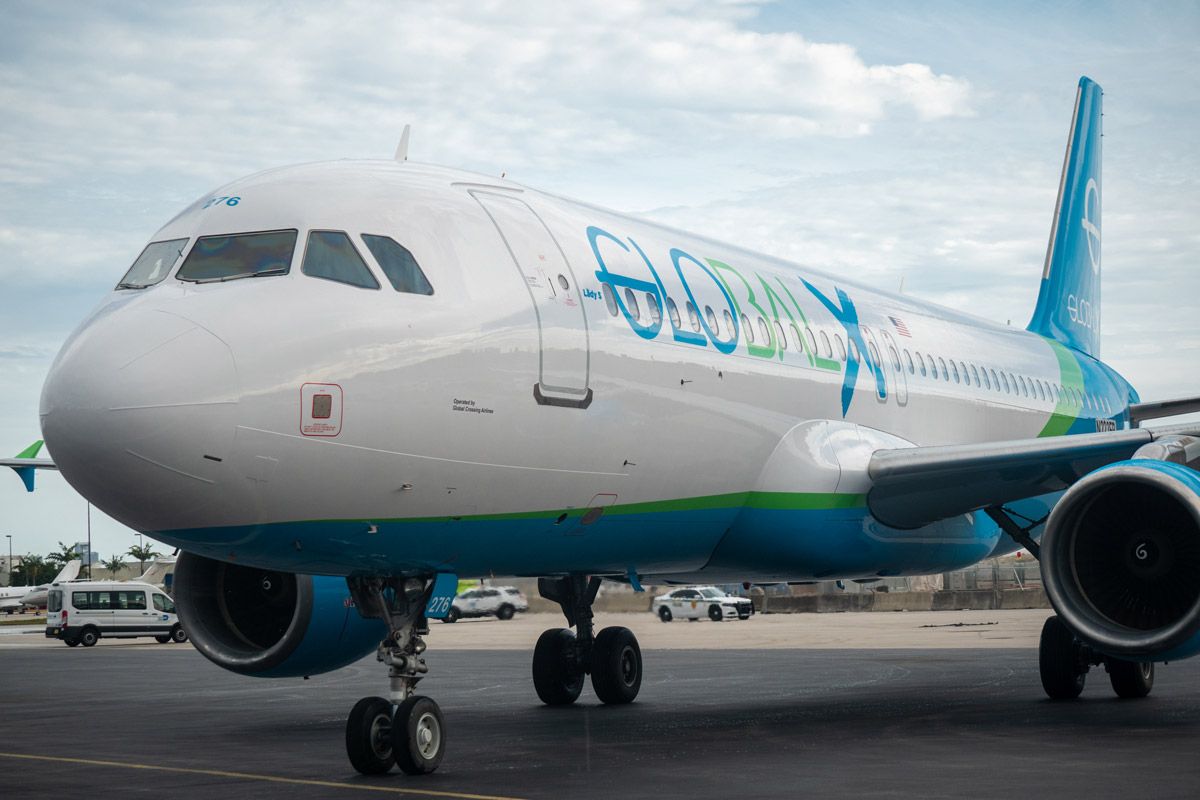 Photo: GlobalX.
David Haring, executive director of the Lincoln Airport Authority, said,
"[This] is not just a new chapter for our airport and our community, but is actually a tremendous opportunity for our state… [Previously, Lincoln's airline]… successes have been few and far between."
Fully unbundled
Like most other carriers, Red Way will enable passengers to pick and choose what they want and need. There are four fare families, as shown below: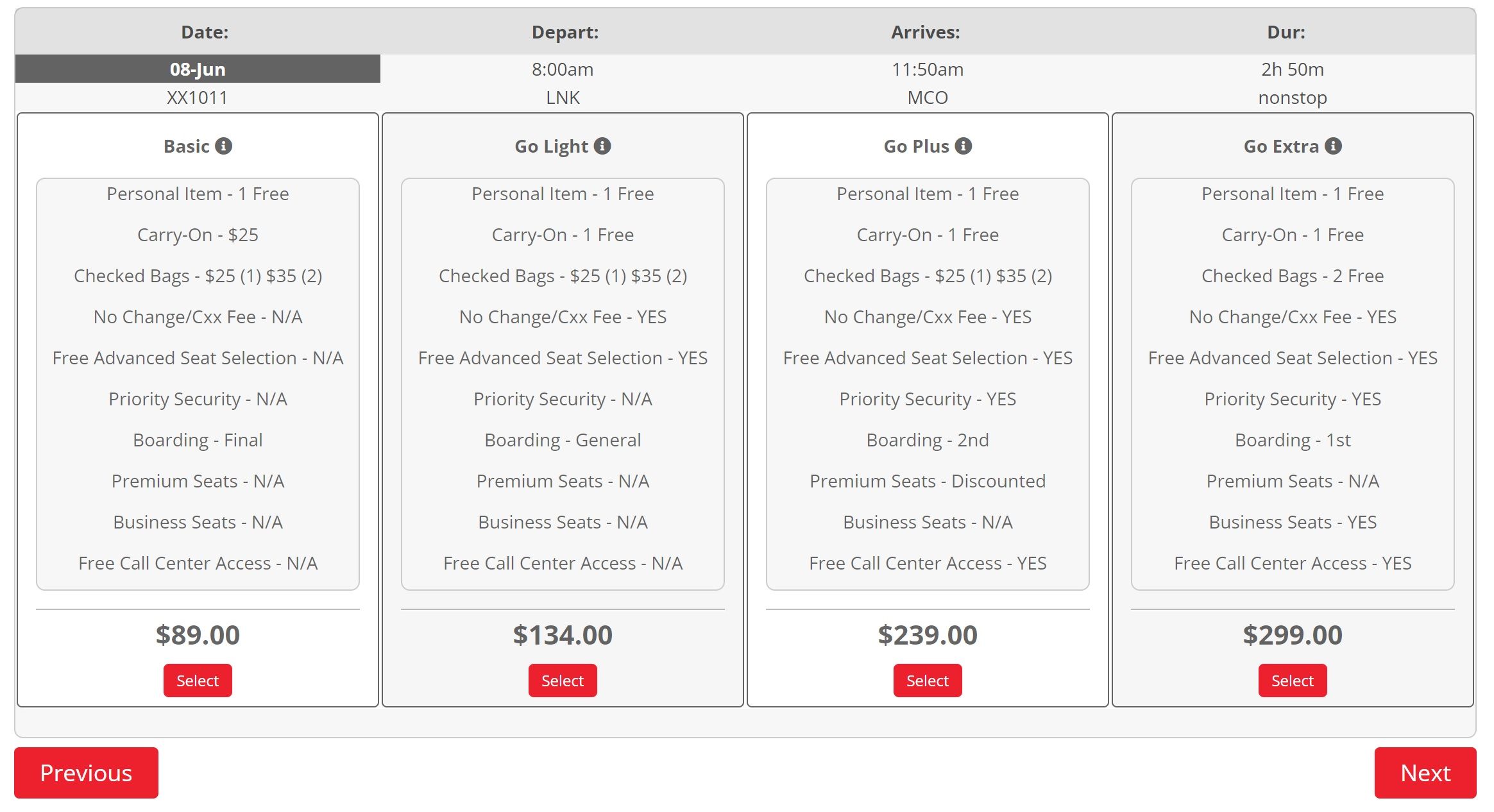 Image: Red Way.
'Basic' entitles you to a seat and one personal carry-on. You can't change your ticket (even for a fee), and you'll board last. Seat selection is available for free (middle at the back) to $50 ('extra leg window').
Notice that 'Go Plus' includes premium seats (discounted charge), and 'Go Extra' includes business seats. A pretend booking suggests this corresponds to the config of two A320s: N282GX and N283GX. I guess we'll have to wait and see.
What do you make of it all? Are you excited? Do you think it'll work? Let us know in the comments.
Source of quotes: FlightGlobal. As ever, 100% of the analysis and commentary by me.