European low-cost carrier Wizz Air has signed a Memorandum of Understanding (MOU) with Cepsa for the supply of sustainable aviation fuel (SAF) starting in 2025. Under the terms of the MOU, the airline will be able to SAF from Cepsa and utilize it on its routes across Spain.
More than a partnership
In November 2022, Seville Airport ran an initiative to promote SAF, and Wizz Air was among the airlines that participated.
During the week-long event, around 220 flights were operated using SAF produced by Cepsa at its La Rábida Energy Park in Huelva. This marked a significant milestone as it was the first time that an airport in Southern Europe had supplied SAF on this scale.
Photo: Karolis Kavolelis/Shutterstock.
Commenting on the partnership with Cepsa, Ian Malin, Executive Vice President and Group Chief Financial Officer at Wizz Air, said:
"We are excited to partner with Cepsa, a renowned energy company, to establish a SAF supply chain for Wizz Air in Spain. We are making biofuel a key element to maintaining our leadership in sustainability and exceeding our commitment to reducing carbon intensity by 25% by 2030."
Wizz Air offers a range of flights from various destinations across Europe and beyond to a selection of popular Spanish destinations. These destinations include Alicante, Barcelona El Prat, Bilbao, Castellon (Valencia), Fuerteventura (Canary Islands), Ibiza, Madrid, Malaga, Palma de Mallorca, Santander, Seville, Tenerife (Canary Islands), Valencia, and Zaragoza.
SAF strategy
As sustainability increasingly becomes a pressing concern for many airlines worldwide, Wizz Air has also recognized the need to address its carbon footprint. To this end, the airline has made a commitment to reducing its environmental impact through the implementation of a SAF strategy.
In a statement, the airline said it had secured agreements with suppliers to ensure that it can reduce its carbon emissions by 25% per passenger/km by 2030 and reach net zero by 2050.
In 2022, the airline achieved a significant milestone by reaching its lowest-ever annual carbon intensity, with 55.2 grams emitted per passenger/km. This represents a 15% reduction compared to the previous year. Wizz Air has achieved this by adding new Airbus A321neo aircraft to its fleet while phasing out older, less efficient models.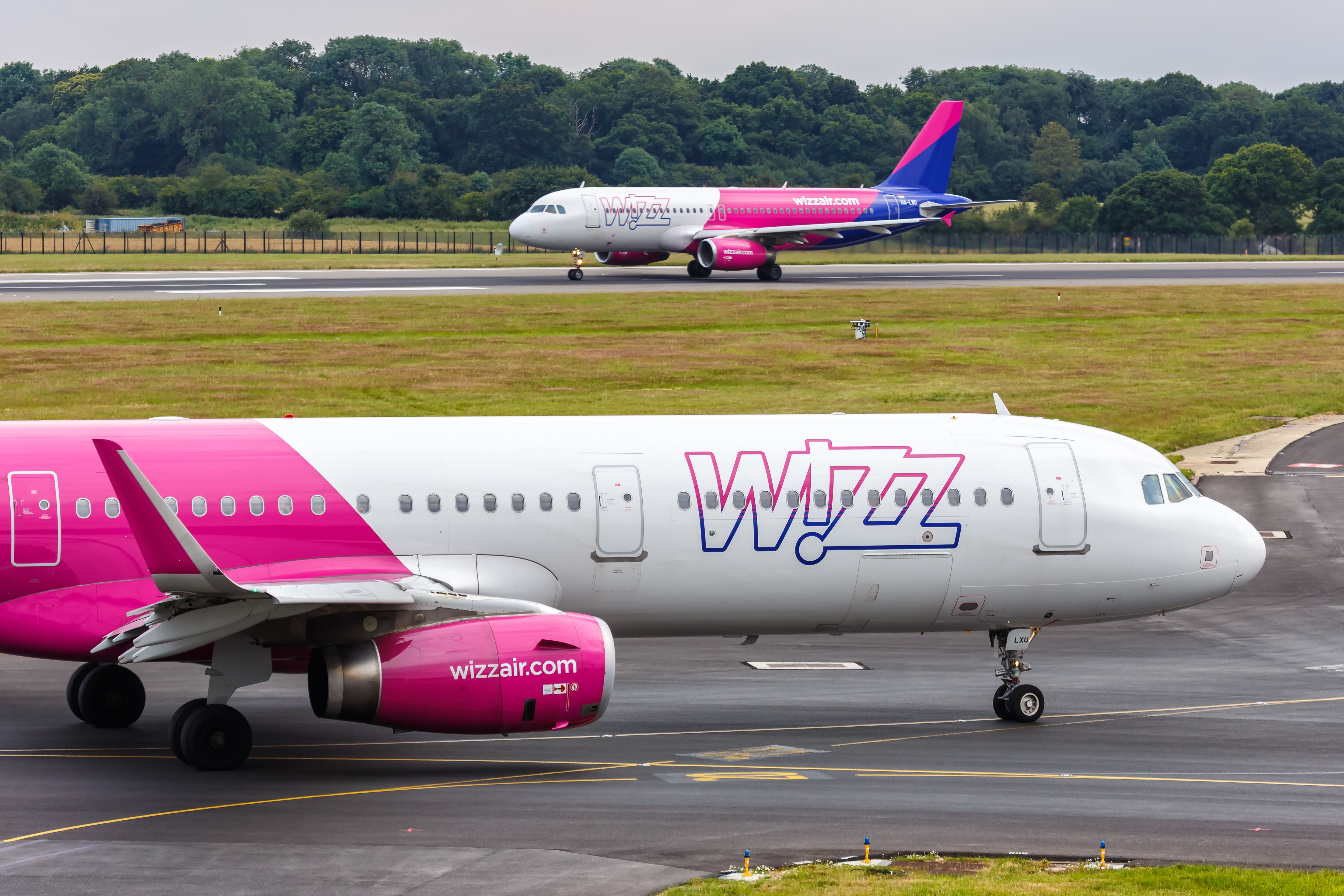 Photo: Markus Mainka/Shutterstock
Currently, the airline has 175 aircraft in its fleet at an average age of 4.5 years old, according to Planespotters.net data. The carrier's fleet includes 123 Airbus A321s, 51 Airbus A320s, and one Airbus A330 aircraft. It currently has 285 aircraft on order for its European operations, according to ch-aviation.com.
In a recent public announcement, Wizz Air's President Robert Carey said that the airline aims to expand its fleet to over 200 aircraft by the end of next year.
Sources: Planespotters.net, ch-aviation.com