RwandAir has added its third European destination: Paris CDG. Tagged with Brussels, the French capital is the next logical addition. It follows Brussels being de-linked from London Heathrow. It appears a way of making Brussels more sustainable, while Paris probably wouldn't have materialized unless it continued elsewhere.
RwandAir to Paris
Taking off on June 27th, it'll operate on Tuesdays, Thursdays, and Saturdays in both directions using the 274-seat Airbus A330-300. It is scheduled as follows, with all times local. Note that you can't book Paris-Brussels-Paris on Rwandair's website.
Kigali to Paris CDG: WB700, 00:50-09:30 (8h 40m block time)
Paris CDG to Brussels: WB700, 10:30-11:30 (1h)
Brussels to Paris CDG: WB701, 19:20-20:30 (1h 10m)
Paris CDG to Brussels: WB701, 21:30-06:00+1 (8h 30m)
Click here for Paris-Kigali flights.
Tiny point-to-point market, but…
There's no doubt about it. Based on point-to-point traffic, Kigali-Paris wouldn't be happening. Booking shows that only about 13,000 roundtrip passengers traveled between the two last year (2019: 14,000). In 2022, it had the equivalent of 19 passengers daily each way. Still, Paris was the largest unserved European market from Rwanda.
The small size of the P2P market means that it should be fairly easy to double that traffic (or more) from being non-stop and (hopefully) good promotions.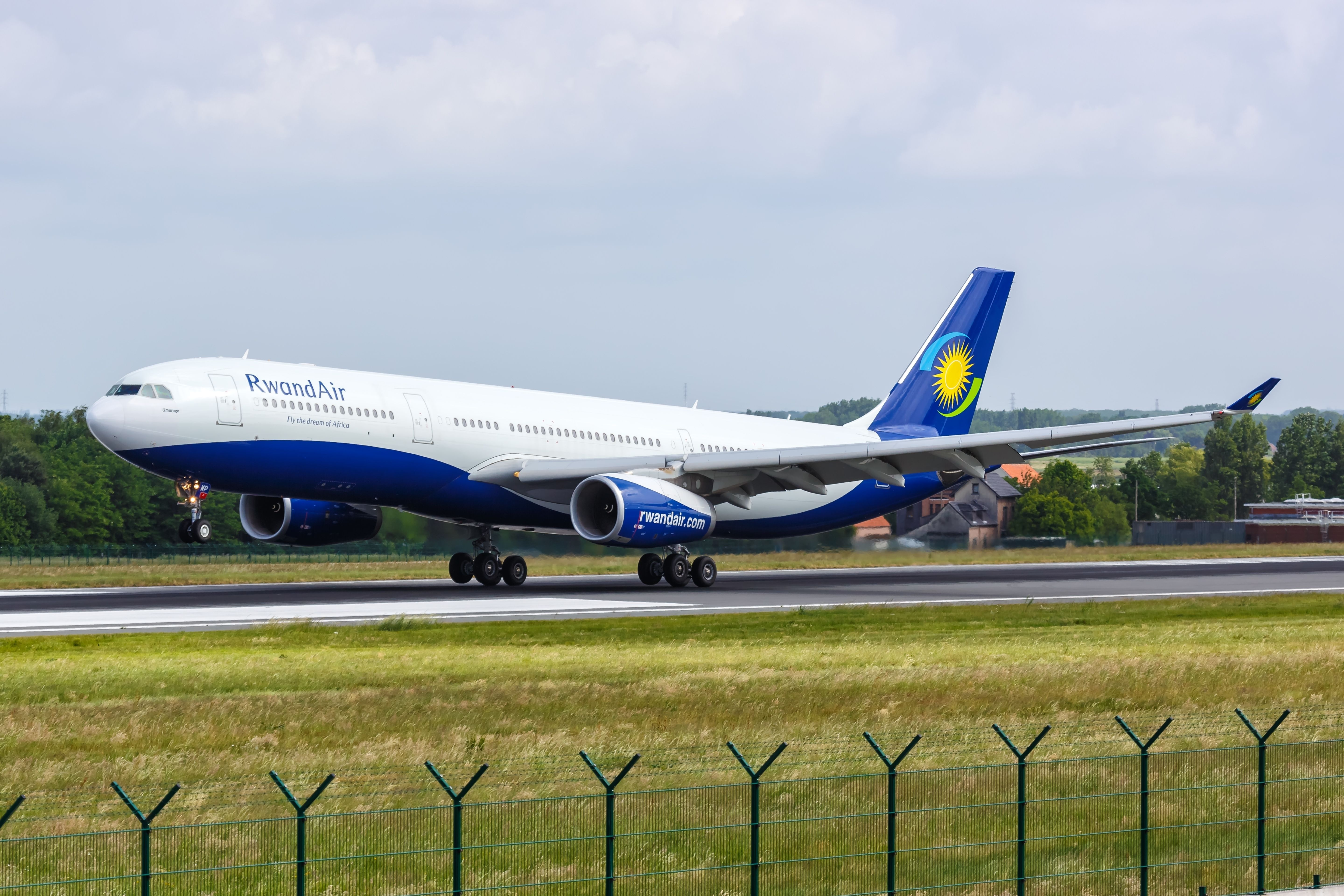 Photo: Markus Mainka I Shutterstock.
Naturally, Rwandair will primarily concentrate on transit passengers over its Kigali hub. Multiple destinations are reachable with a competitive 1h to 3.5-hour wait. These include Paris to/from Brazzaville, Cape Town, Douala, Entebbe, Harare, Johannesburg, Kinshasa (currently suspended by RwandAir), Libreville, Lusaka, Nairobi, and more.
Obviously, the Francophone markets, plus South Africa, will be the most important, size-wise, for RwandAir. In 2022, the 10 mentioned above had more than 600,000 Paris passengers (2022: 410,000+).
Click here for Paris-Douala flights.
The third European destination
Adding Paris means that RwandAir has a daily service to Europe. The three-weekly Kigali-Paris-Brussels service is supplemented by a four weekly Kigali-London Heathrow operation.
To maximize connectivity, London is, as you'd expect, timed similarly to RwandAir's continental European service. It leaves Kigali at 01:15 and arrives in the UK at 09:00. After more than half a day on the ground, it leaves for Africa at 21:20, returning at 07:00.
Anna Zvereva via Flickr."" data-modal-id="single-image-modal" data-modal-container-id="single-image-modal-container" data-img-caption="null">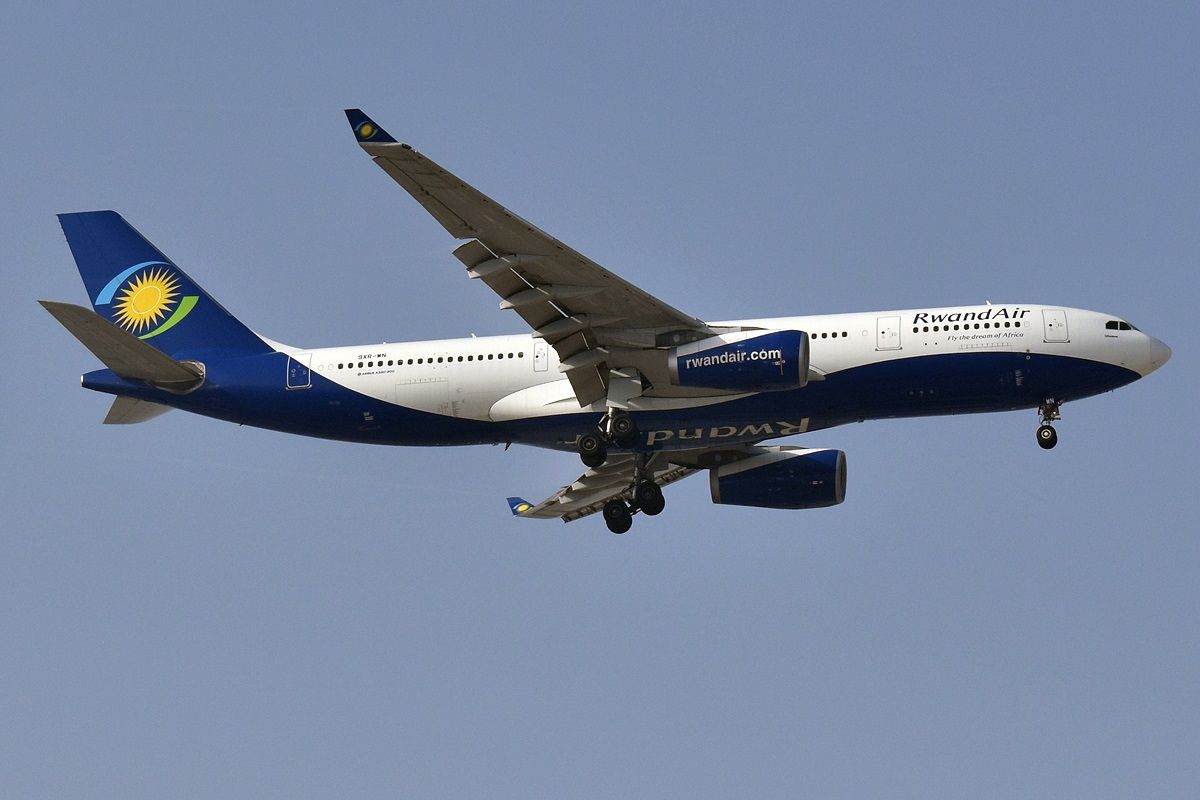 RwandAir to London
The latest UK CAA data is for January 2023. That month, RwandAir had 6,303 London passengers. With 8,844 seats for sale, it achieved a low load factor of just 71.3%.
Examining booking data indicates that about 900 passengers (14% of the total) simply traveled to/from Kigali, while about 5,400 (86%) transited Kigali. Lagos, Nigeria, was by far the most popular transit market. That month, relatively few people traveled to Cape Town, Johannesburg, Nairobi, and so on.
Stay aware: Sign up for my weekly new routes newsletter.
Flying Heathrow-Kigali-Lagos covers 6,038 miles (9,717 km) each way, against 3,101 miles (4,990 km) non-stop. Flying via Rwanda means passengers fly a considerable 2,937 more miles (4,726 more km) each way versus a non-stop. Clearly, they were driven by price.
What do you make of it all? Let us know in the comments.