Loganair has received approval from the Department for Transport to shift all of its London operations over to the capital's premier airport – Heathrow – after securing former Flybe slots from British Airways. The carrier's services from City of Derry and Dundee will move over to LHR from London Stansted and London City, respectively.
Loganair announced LHR switch
As expected, Scottish regional airline Loganair will increase its presence at London Heathrow Airport (LHR) by moving its flights based at two other London airports. The move comes after the airline agreed to a leasing deal for 30 weekly slots from British Airways, which previously leased the slots to now-defunct airline Flybe.
Photo: CWSFoto/Shutterstock
Loganair CEO Jonathan Hinkles commented,
"The move to Heathrow truly is a game changer for UK regional air services. Alongside excellent ground transport links into central London, the new range of global flight connections will bring new inward investment opportunities and tourism into the UK's regions, together with enabling travelers to use their local airport to fly worldwide for the first time."
The carrier's Stansted-City of Derry flights, operated by its Embraer E145 fleet, along with its ATR-42 Dundee-London City route, will pass over to Heathrow from May 6th. According to a filing, there will be 19 flights per week to City of Derry (LGY) and 11 flights per week to Dundee (DND), with operations based at Heathrow's Terminal 2.
Five Heathrow destinations
Loganair will serve a total of five destinations from LHR as of next month – City of Derry, Dundee, Isle of Man, Kirkwall and Sumburgh. Presently, the airline only serves the Isle of Man from Heathrow but will bolster its presence with the addition of Kirkwall and Sumburgh (both via Dundee) too.
Alan Wilson via Wikimedia"" data-modal-id="single-image-modal" data-modal-container-id="single-image-modal-container" data-img-caption="null">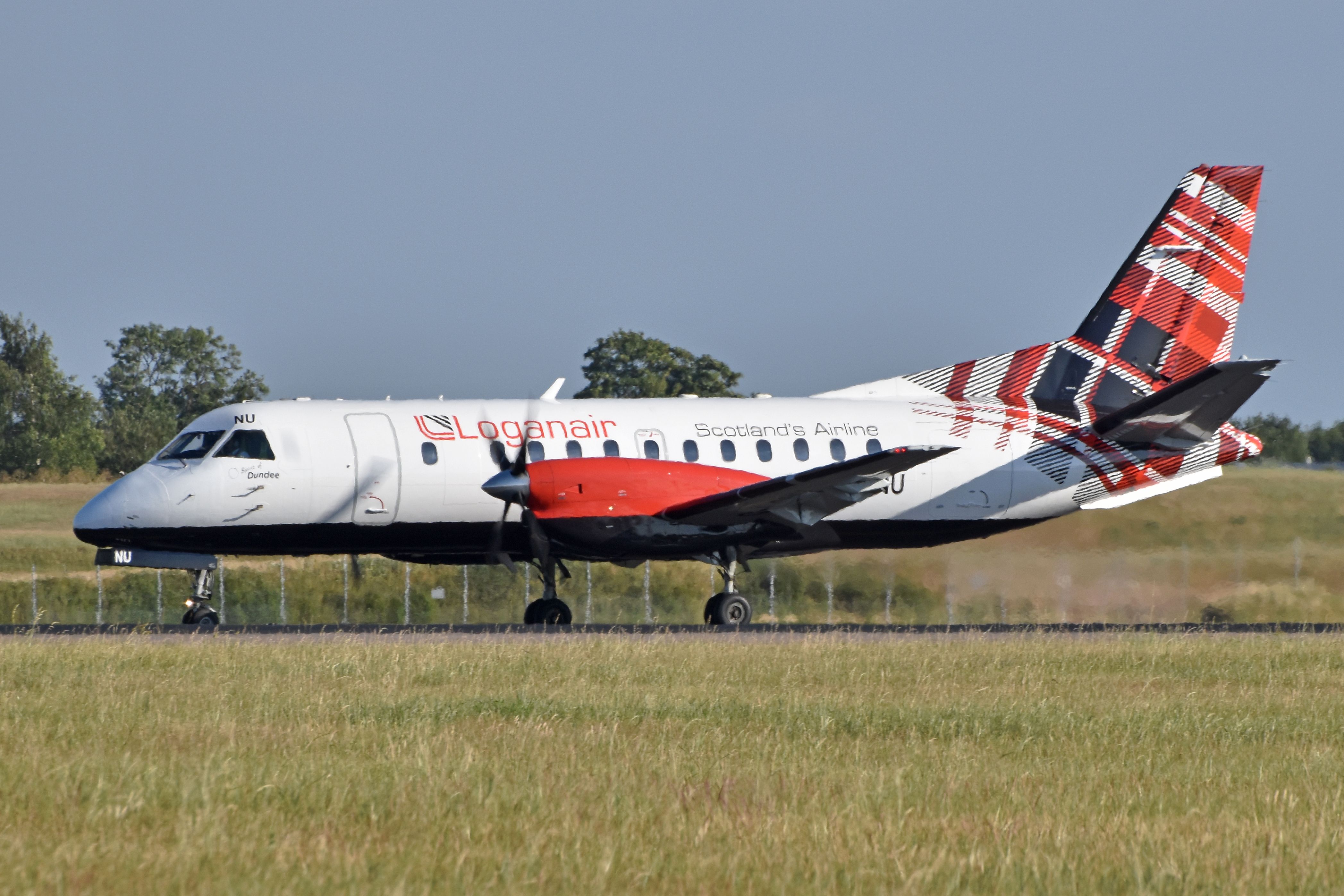 This will be the first-ever direct service between London Heathrow and City of Derry, while Dundee has not been directly connected to London's biggest airport for almost 40 years. The Derry route has benefited from another round of government funding after the UK's Department for Transport and the Department for the Economy in Northern Ireland (DfE) confirmed they would both contribute £1.1 million ($1.35 million) in subsidies until March 2024, keeping a vital air route open for another year.
Extended BA codeshare
Earlier this week, Loganair and British Airways announced the expansion of their codeshare agreement, which has benefited from the addition of 11 new routes. This means a total of 46 Loganair routes are now accessible to BA passengers – the additional codeshare routes are as follows:
Aberdeen to Newcastle
Belfast City to Dundee
Belfast City to Inverness
Isle of Man to Cornwall, Newquay
London Heathrow to Dundee
London Heathrow to Kirkwall, Orkney
London Heathrow to Sumburgh, Shetland
Southampton to Stornoway
Manchester to Sumburgh, Shetland
Manchester to Stornoway
Dublin to Inverness
Jonathan Hinkles celebrated the enhancement of "a cherished partnership and one which further consolidates our position as the go-to airline for connectivity across the United Kingdom."
Are you excited to see Loganair expand its presence at London Heathrow Airport (LHR)? How many times have you flown with the Scottish airline? Let us know in the comment section.
Source: ch-aviation
IATA/ICAO Code:

LHR-EGLL

Country:

United Kingdom

CEO:

John Holland-Kaye

Passenger Count :

19,392,178 (2021)

Runways :

09L/27R – 3,902m (12,802ft) |09R/27L – 3,660m (12,008ft)

Terminals:

Terminal 2 |Terminal 3 |Terminal 4 |Terminal 5