I was considering a trip to South Africa for the New Year and eventually settled on Virgin Atlantic for its great connections and my good experiences with the airline a few years ago.
Virgin Atlantic Business Class Review – Check-In Experience
Las Vegas Harry Reid International Airport sees precious few long-haul flights; Spirit and Sun Country rule the roost in Las Vegas. The check-in counters were deserted, and check-in was quick and painless. The agents were clearly not very familiar with Virgin Atlantic, but it all went smoothly. There were no real interactions necessary.
While not available in Las Vegas, London Heathrow Airport features dedicated Business Class/First-class security, which was a nice feature for a day when lines are enormous (like around the Christmas holiday).
Virgin Atlantic Business Class Review – Lounge Experience
There is no Premium lounge that easily avails itself to Virgin Atlantic in Las Vegas. The airline settled for 'The Lounge' entry, which is a bare-bone experience, and, given the frequent delays of the day, was simply overwhelmed.
At the opposite end of possible lounge experiences, the Virgin Atlantic Clubhouse in London is one of the best lounge experiences out there. I found both the breakfast/lunch and dinner spread to be excellent. In addition to the buffet spread, a long list of made-to-order dishes is available. While it can get crowded between 7 and 10 AM, it is perfect in the evening.
I found the staff to be exceptionally friendly and well-trained. I could easily make the Virgin Atlantic lounge a daily stop – that's how comfortable and 'Upper Class' I felt. It just seemed like someone who knows what they are doing designed and executed operations at the lounge. The area even features a mini gym, a pool hall, and a viewing deck.
Virgin Atlantic Business Class Review -Business Class Cabin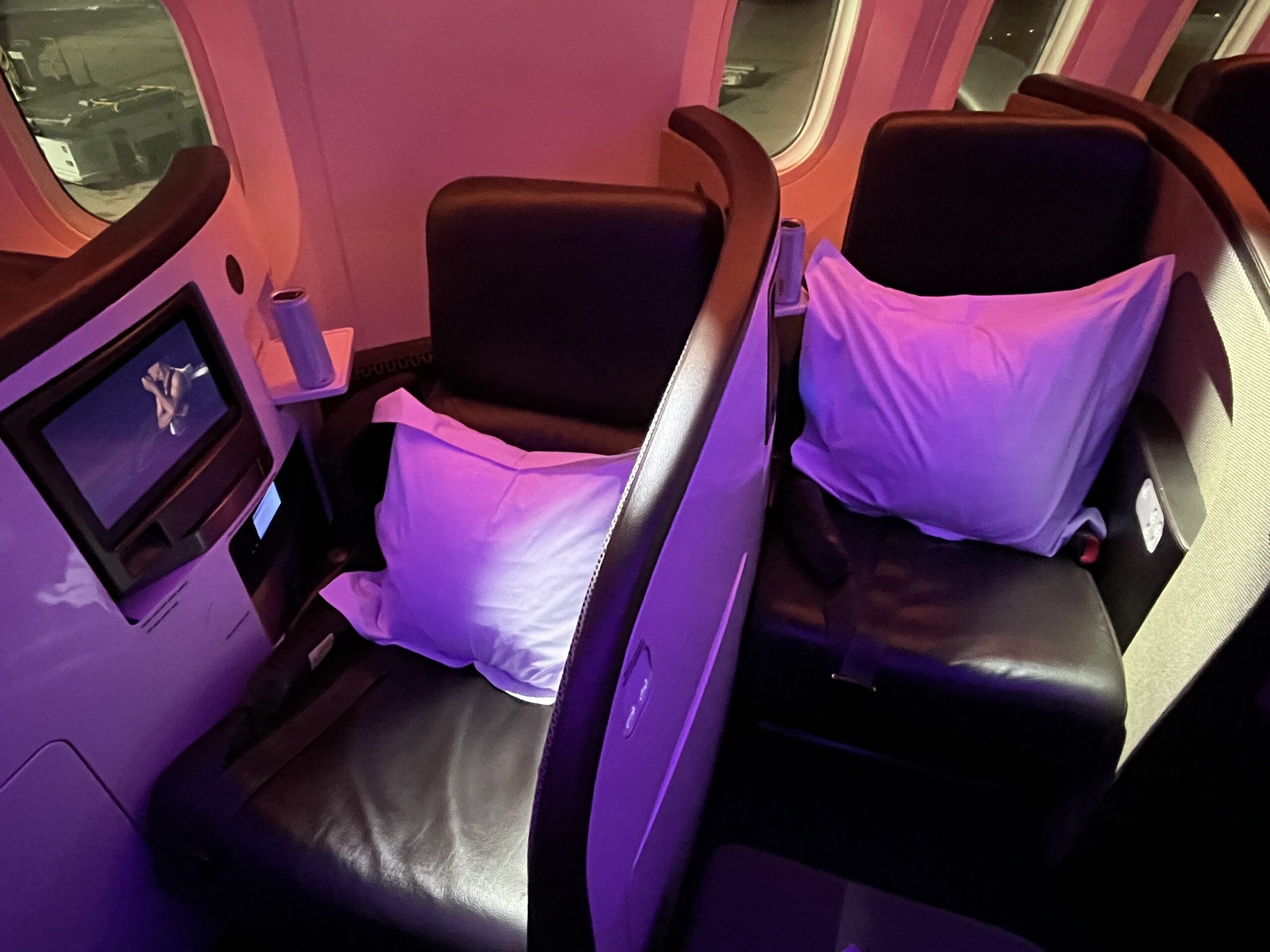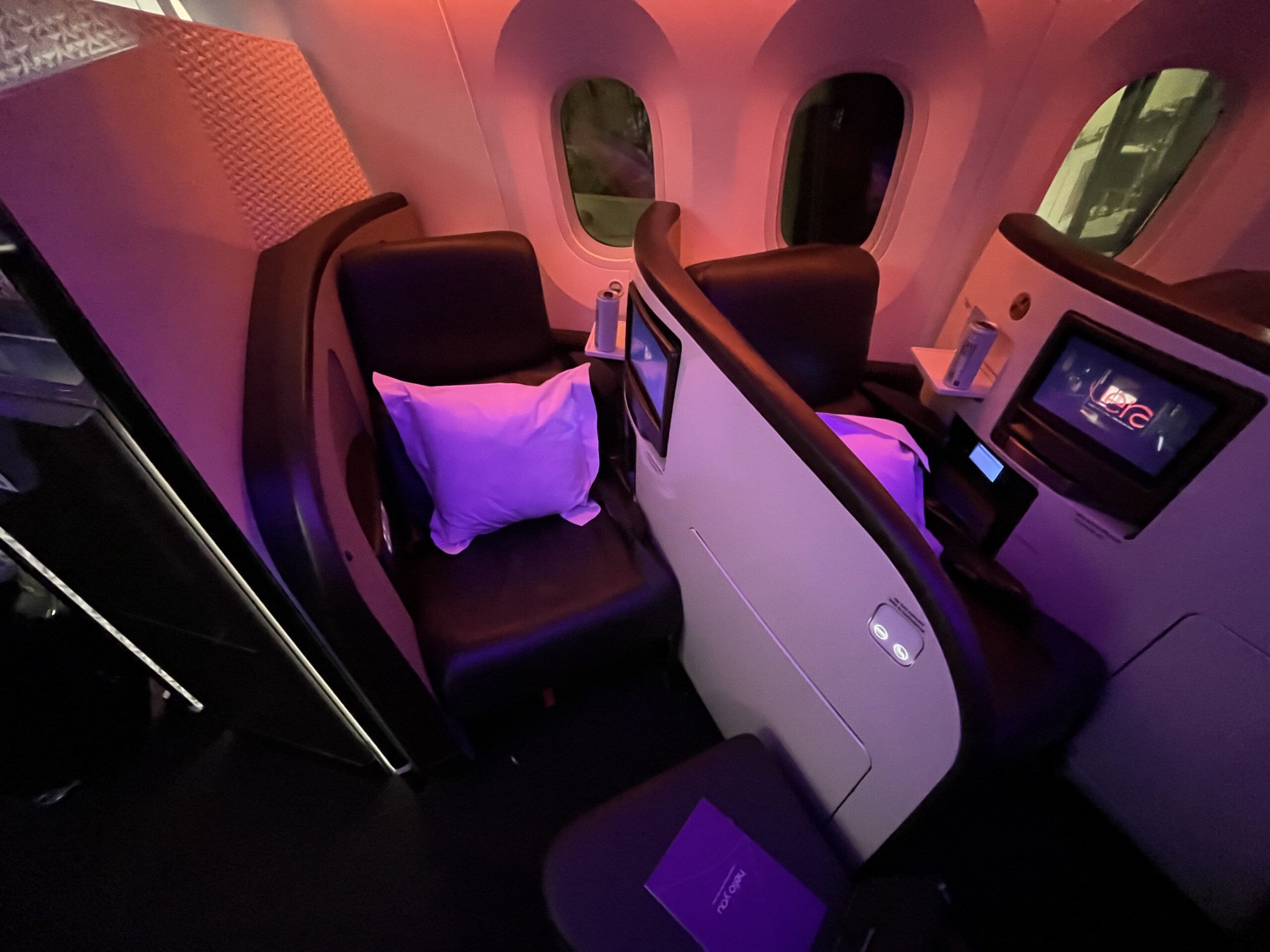 Virgin Atlantic's Business Class is easily the most crowded Business Class experience I know. There is no privacy, and seats are stacked closer than in your teenager's hostel room. To make matters worse, the floor is suspiciously uneven, and there is simply no light (unless it is bright outside). Yes, it looks great in the mood LED lights, but basically everyone just stumbles around hoping not to get pushed over by the person behind them. Both my flights were full to the last seat.
Virgin Atlantic Business Class Review – The Seats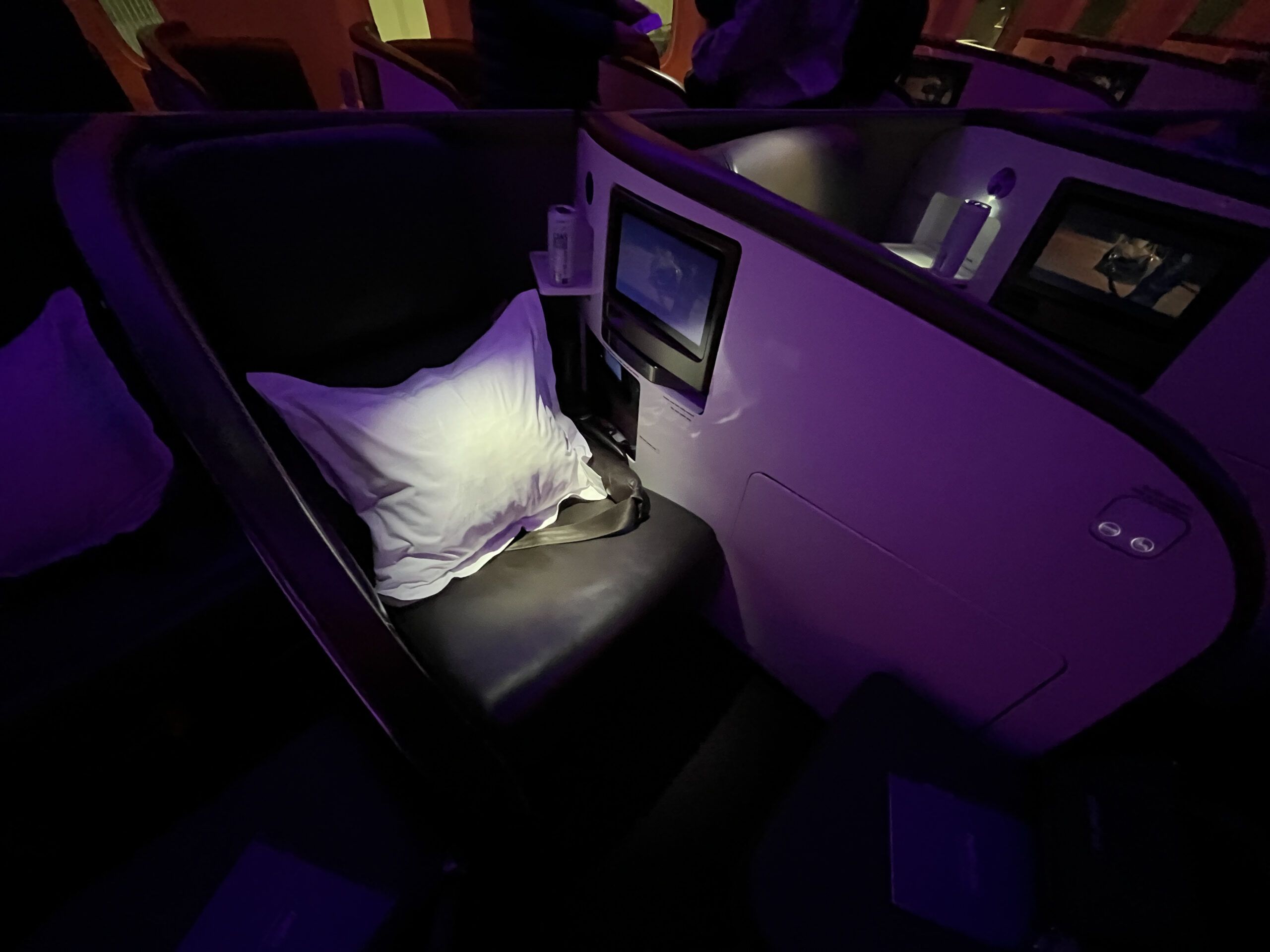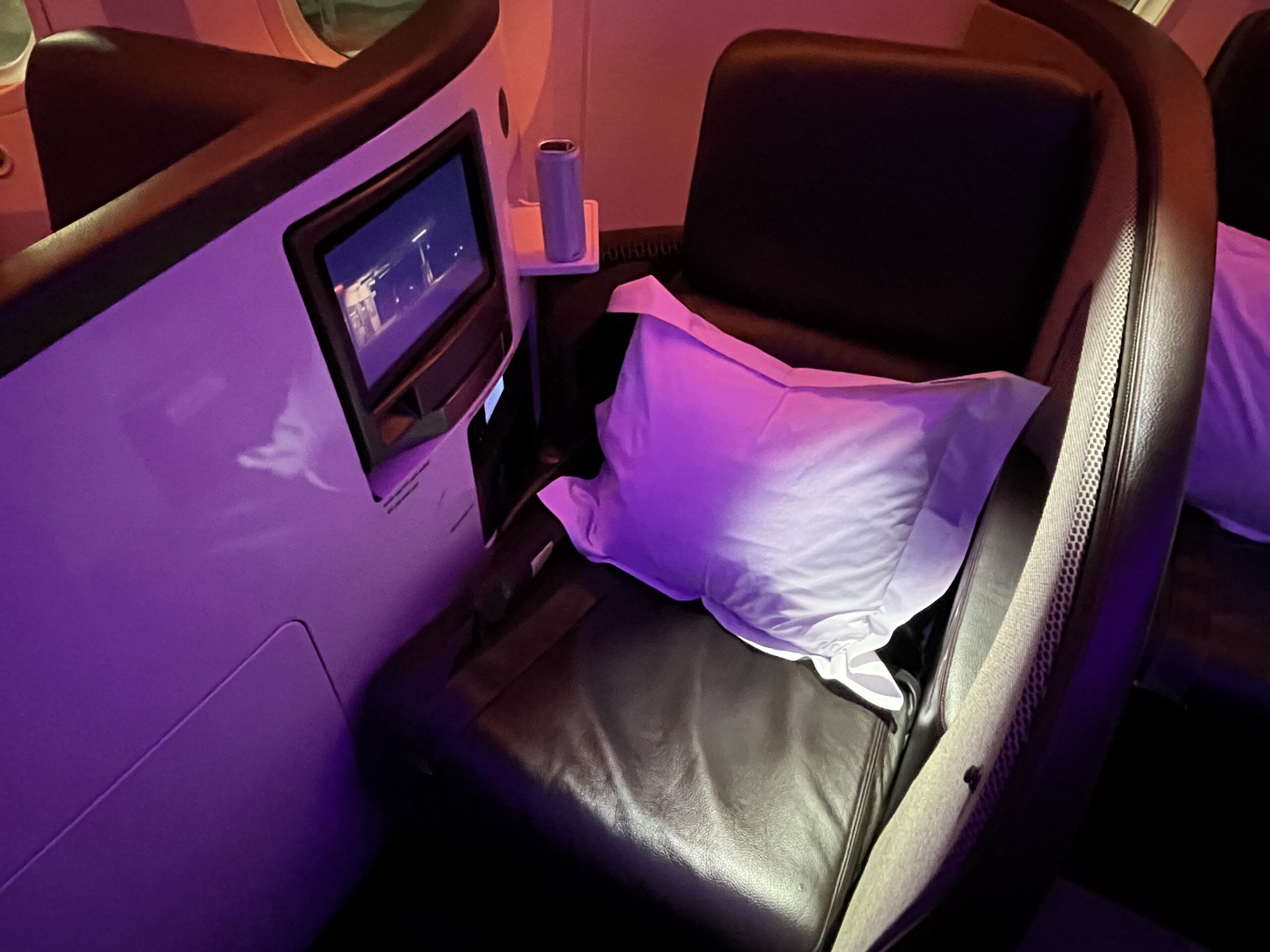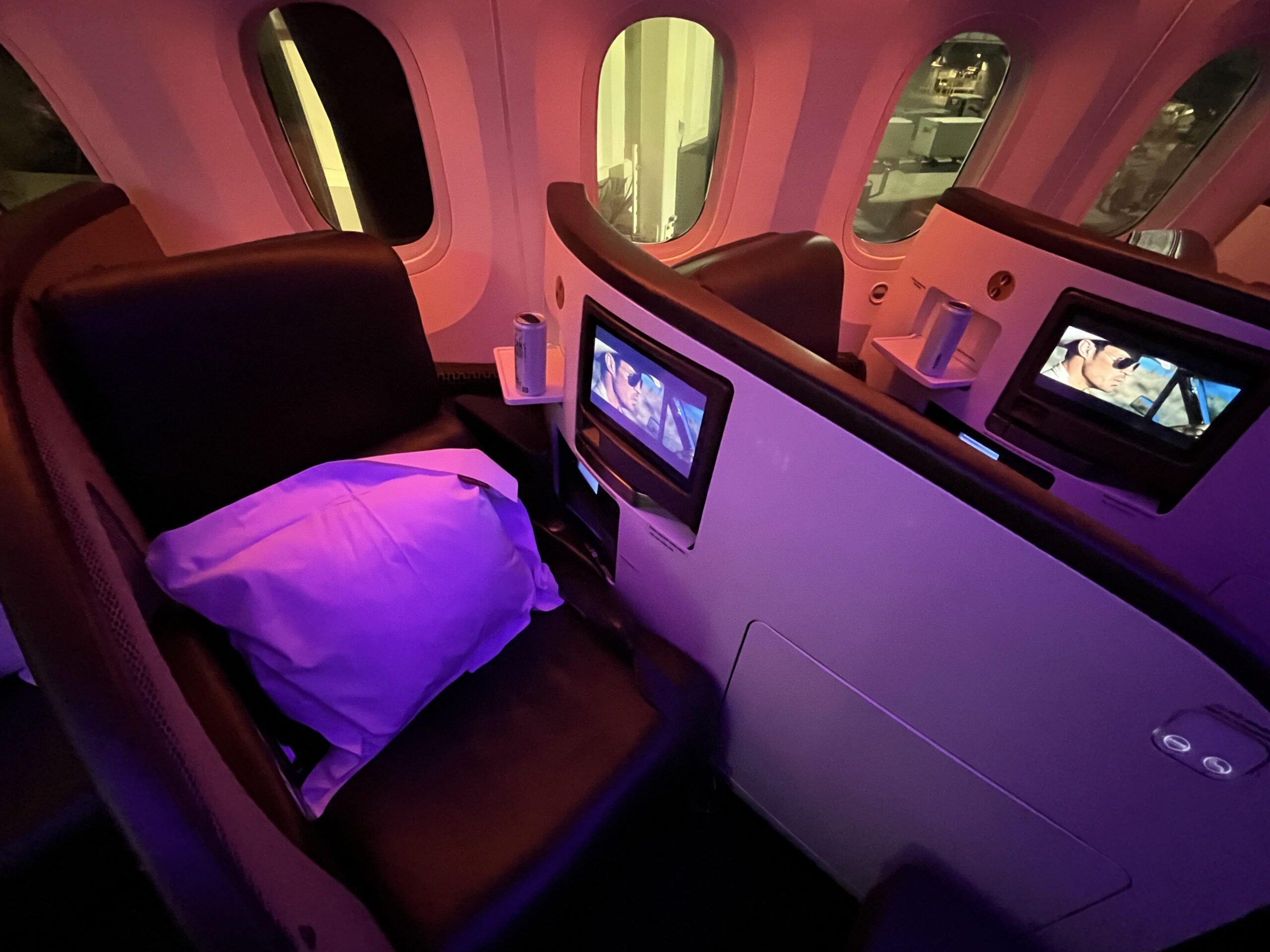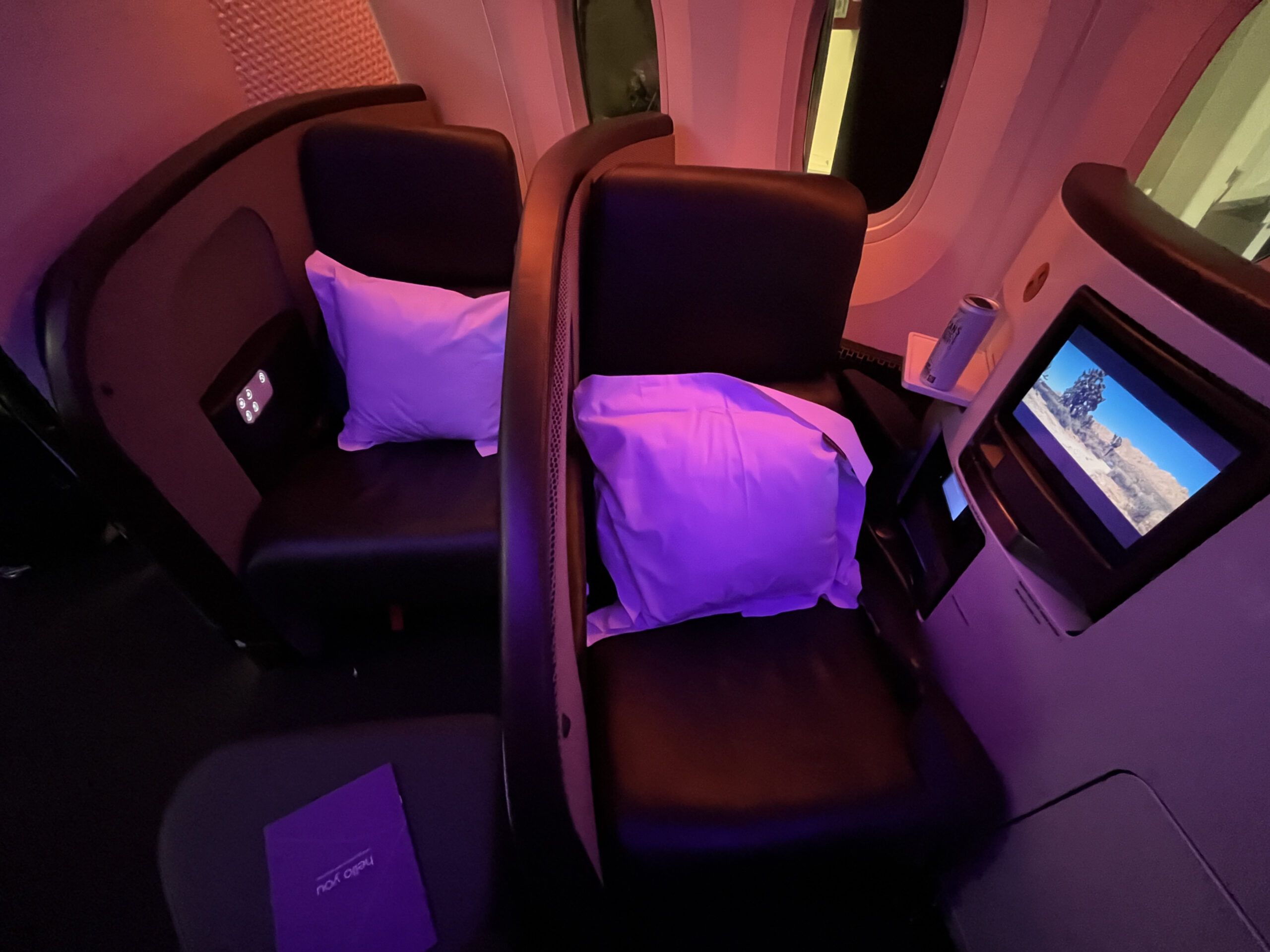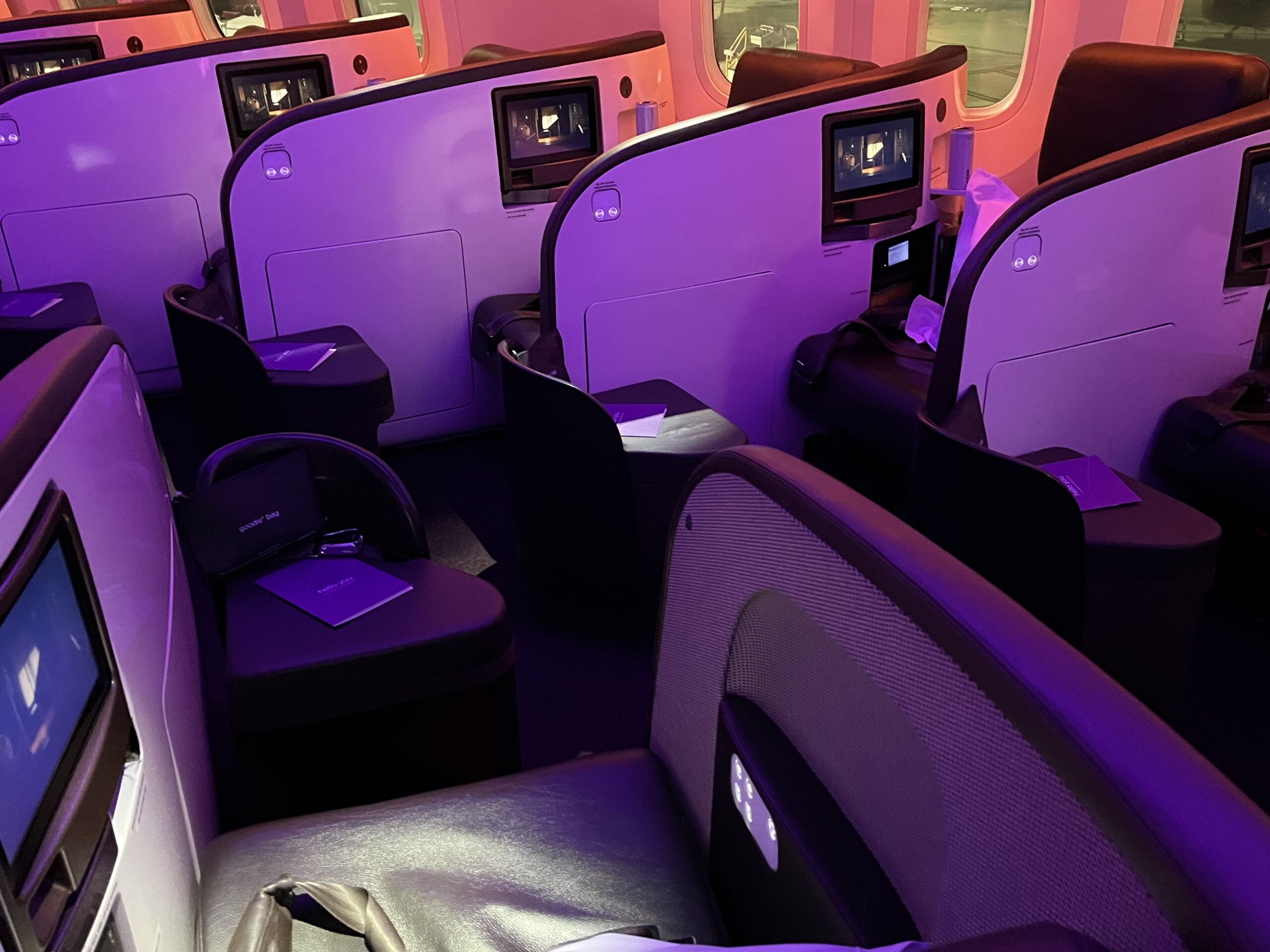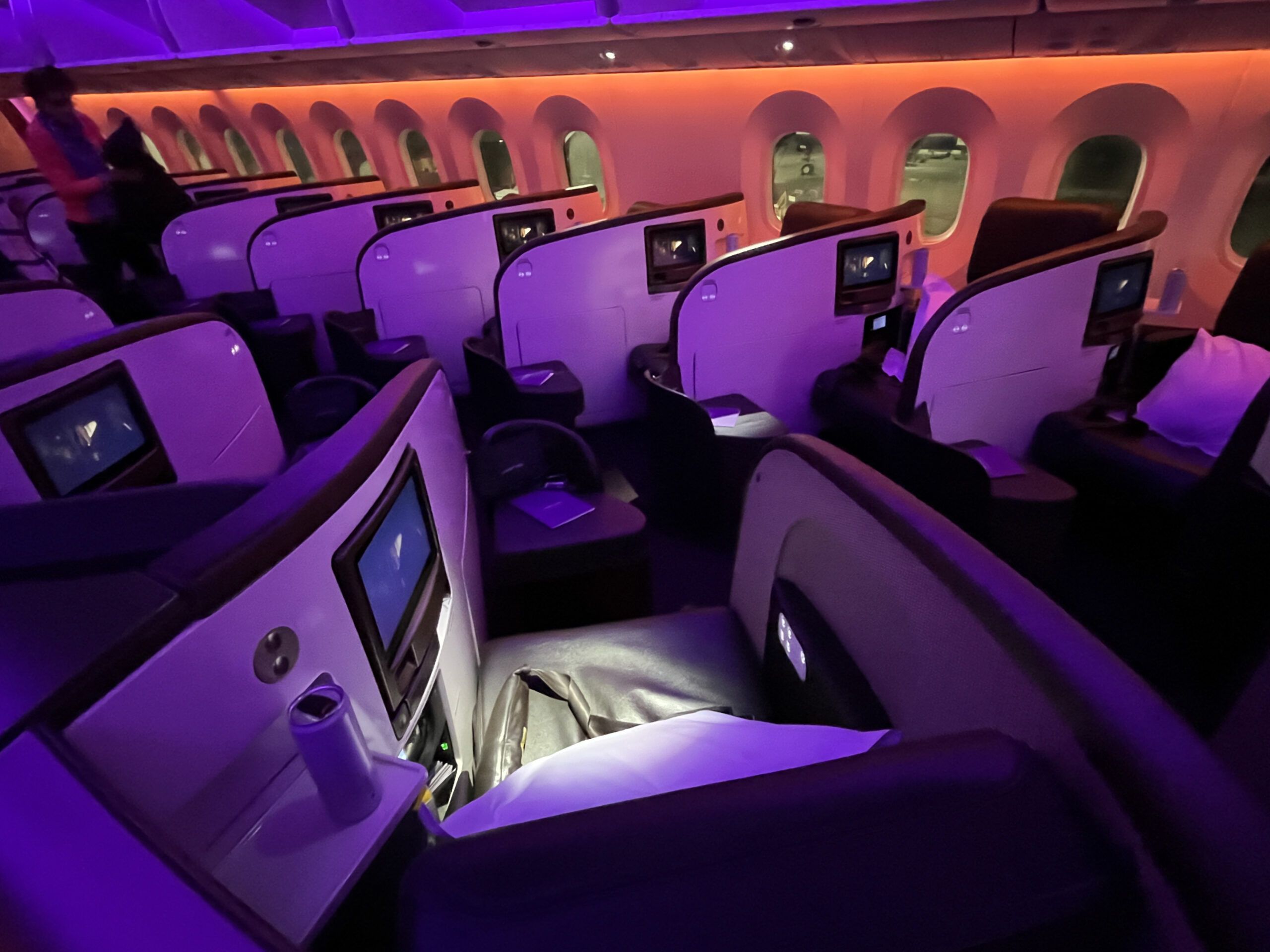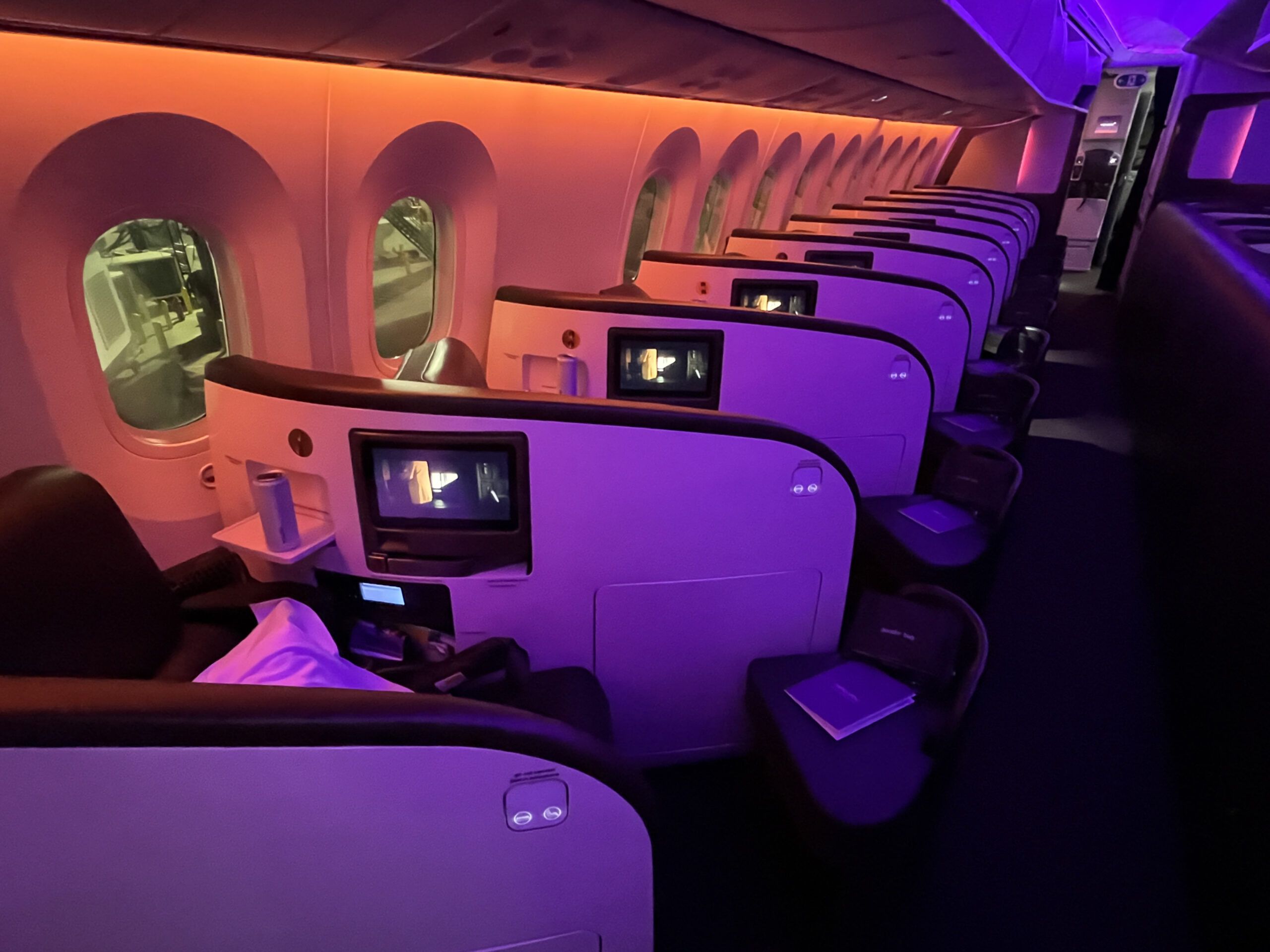 The 787 seats are a tight fit, and while it's great when you sit down, there is a bit of a curvature that makes you feel you can't sit straight. There is an ottoman, but no real storage (even for small things like a phone). I was a bit worried as the curvature was an issue for my last flight, and I felt like my back was torn after.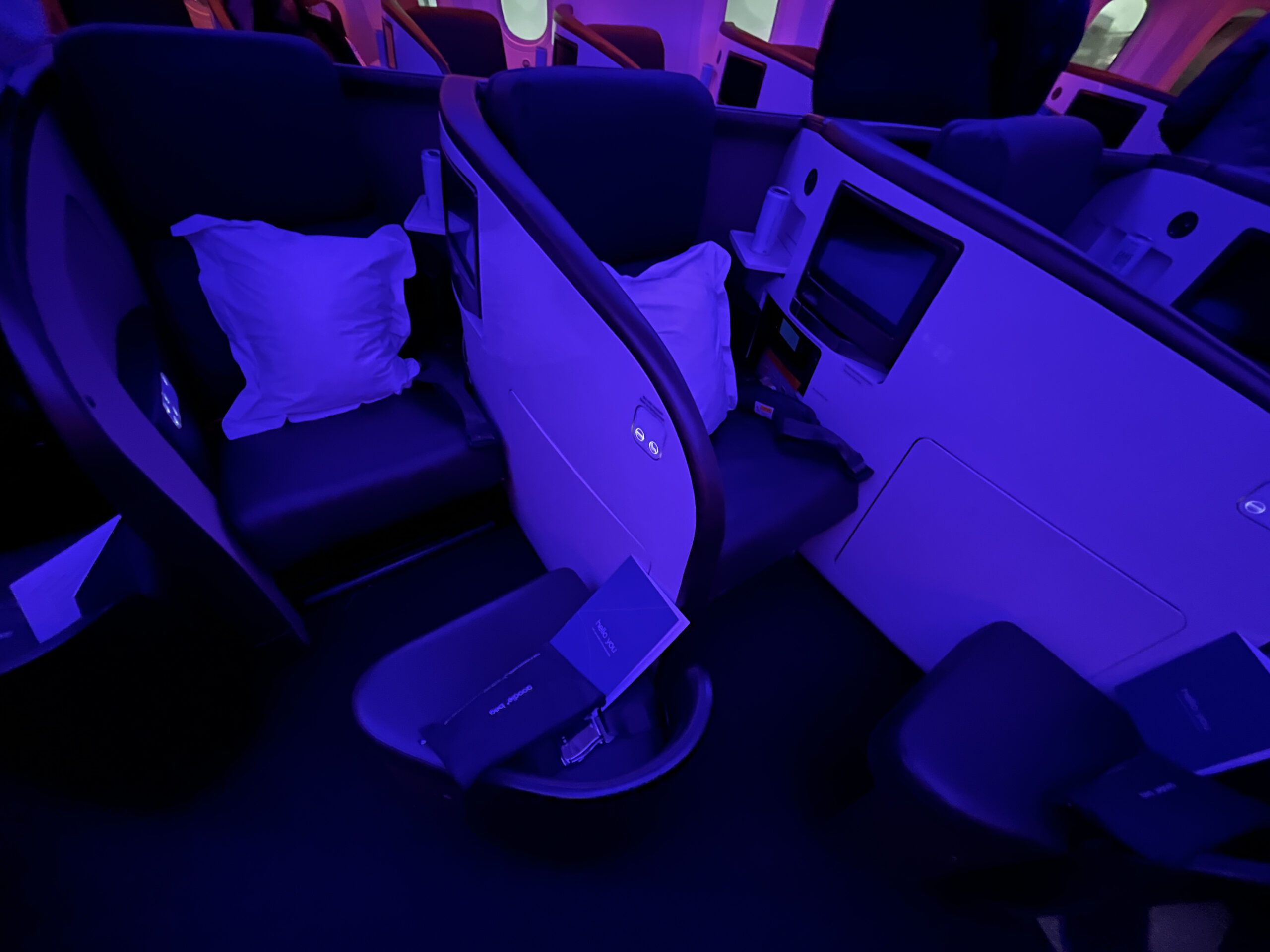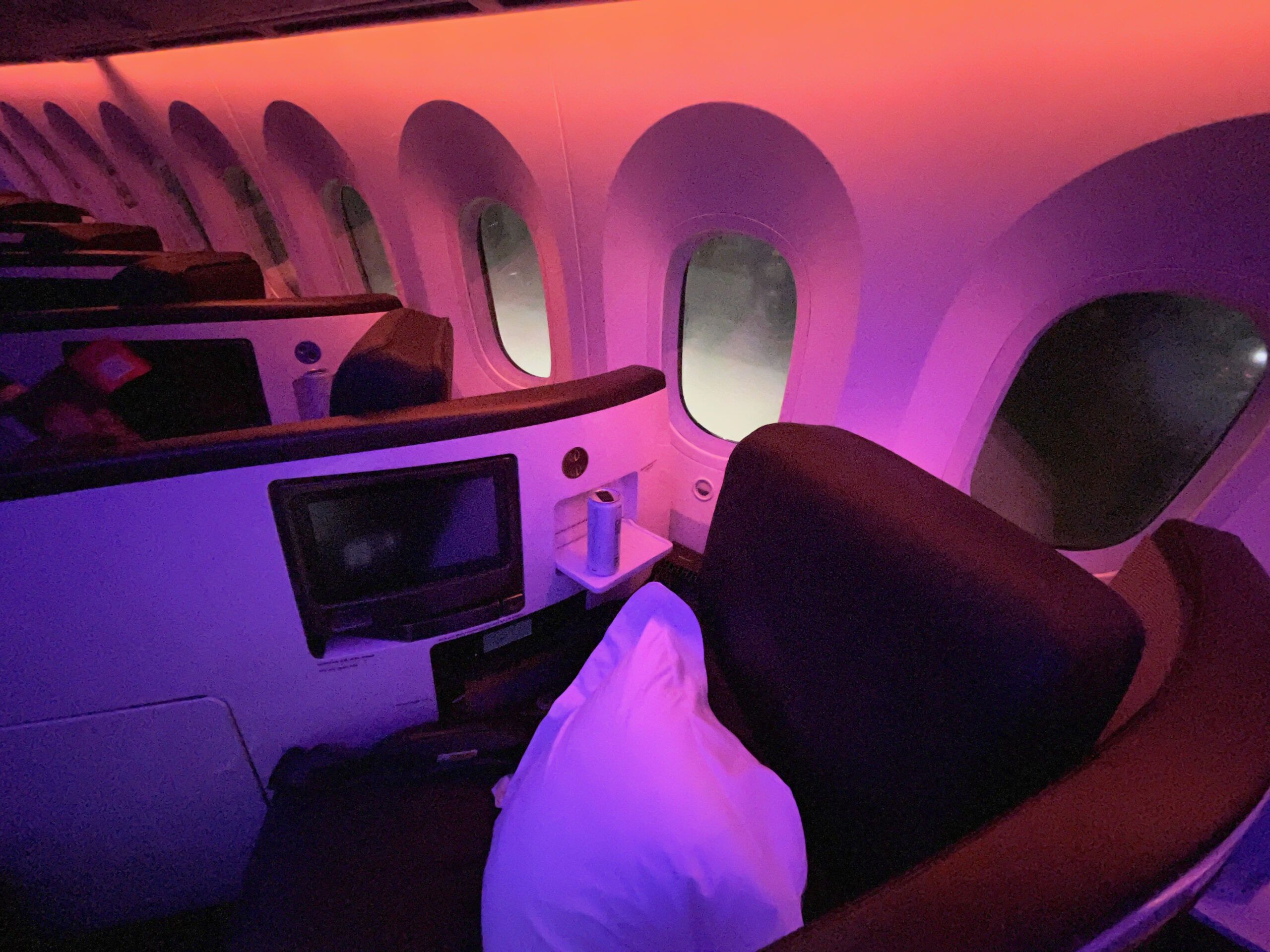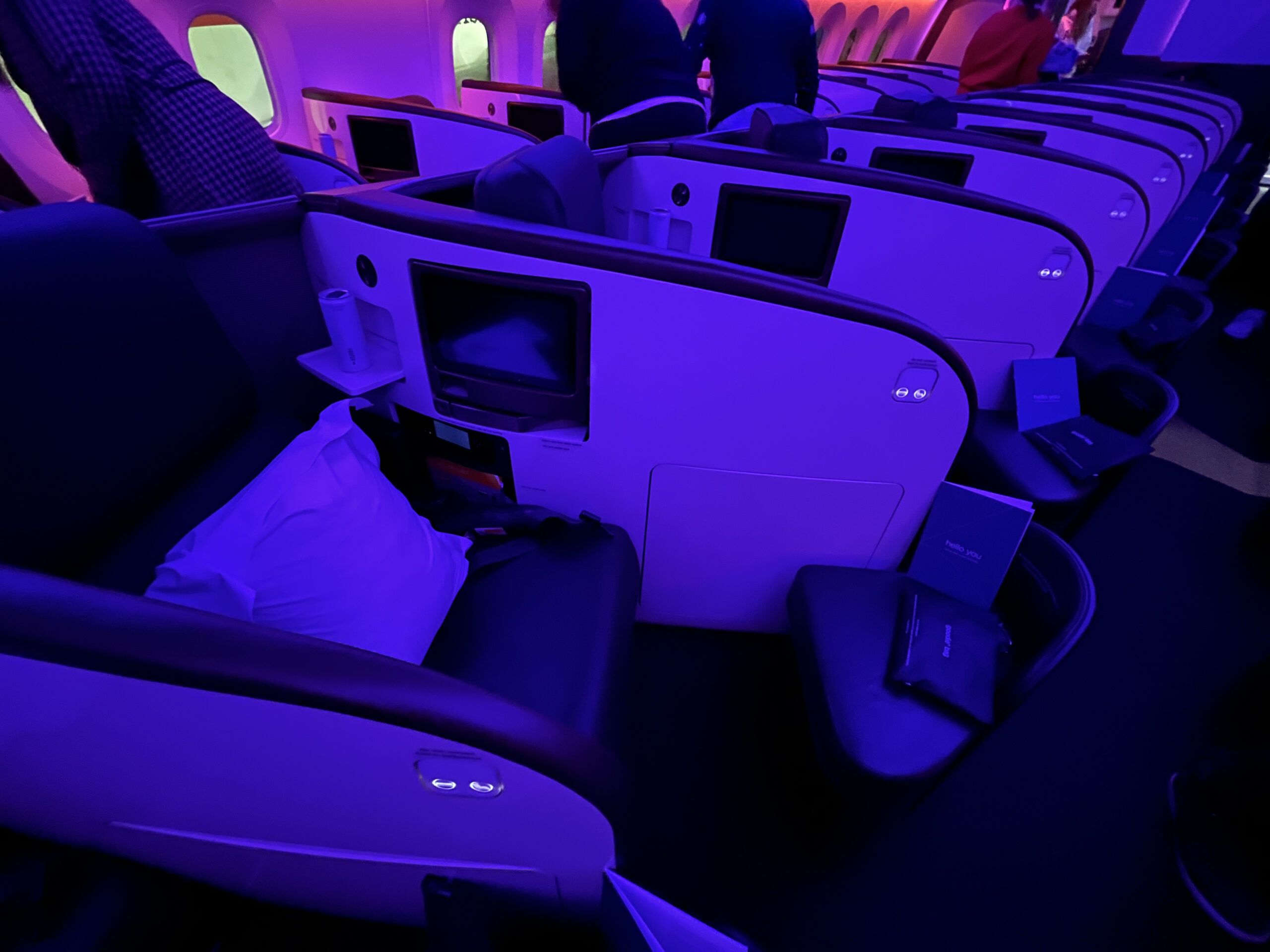 However, and that showed only right after takeoff for this overnight flight, the seats shine when transformed into a lie-flat bed. Think of the old Singapore Airlines Business/First Class seat. Flipping the mattress yourself is possible, but the flight attendants are more than eager to assist. Once transformed into a flatbed, it is easily one of my favorite beds in the sky.
There is a small mattress pad (not very useful), but you will also be provided with a big pillow and a huge, warm comforter. I was so eager to try this setup I made my bed before dinner (this only really works with the seats next to the window).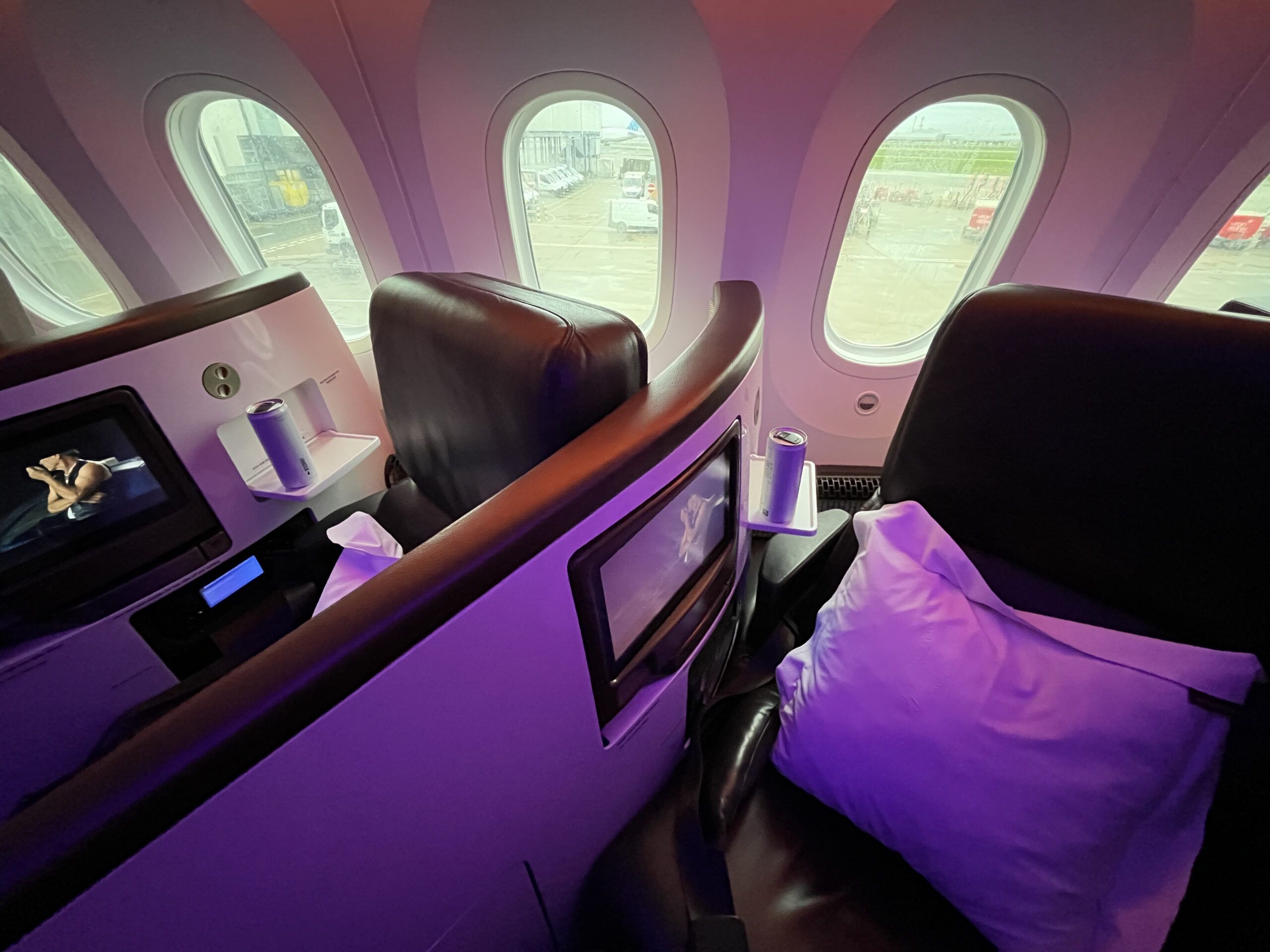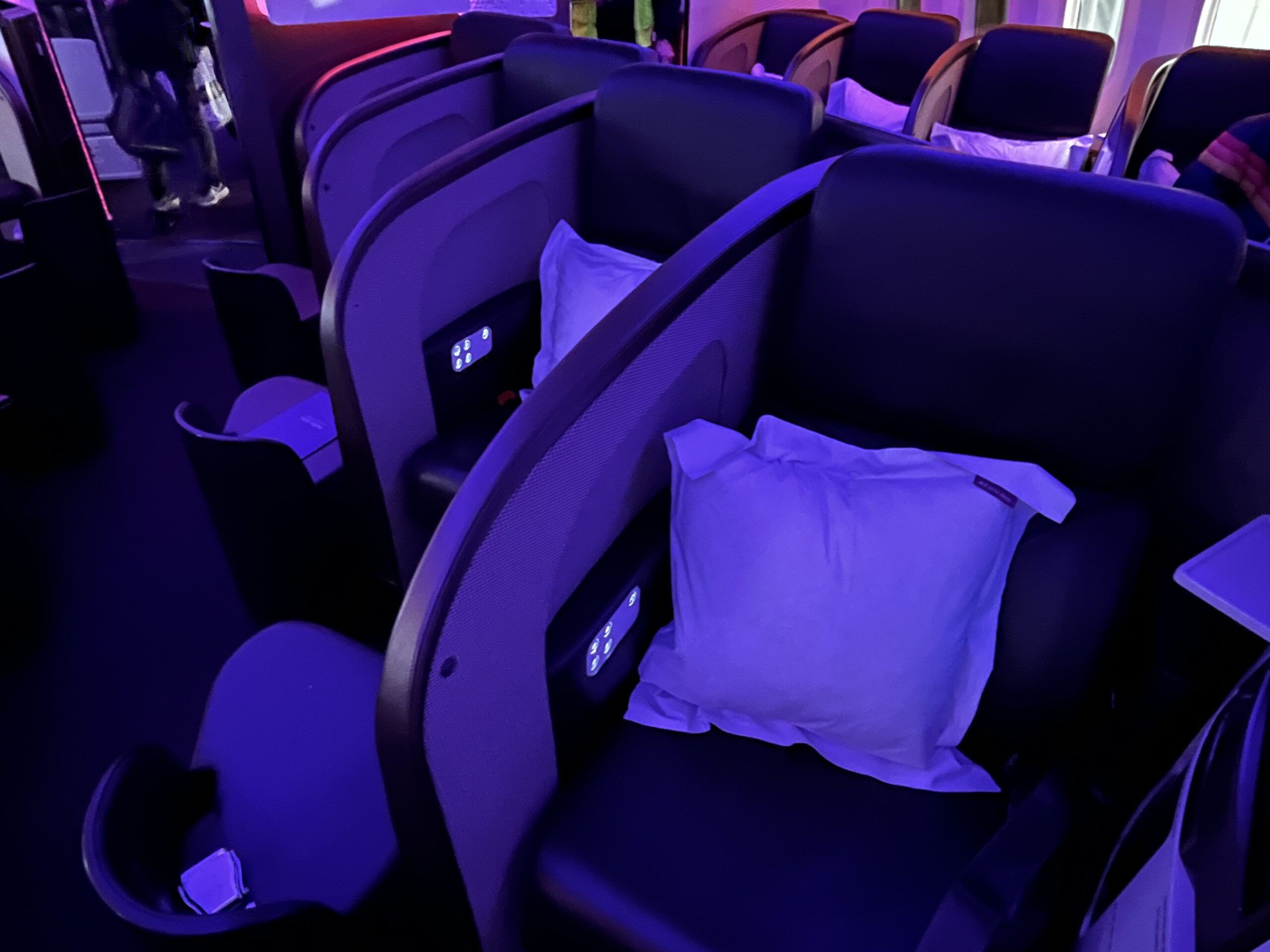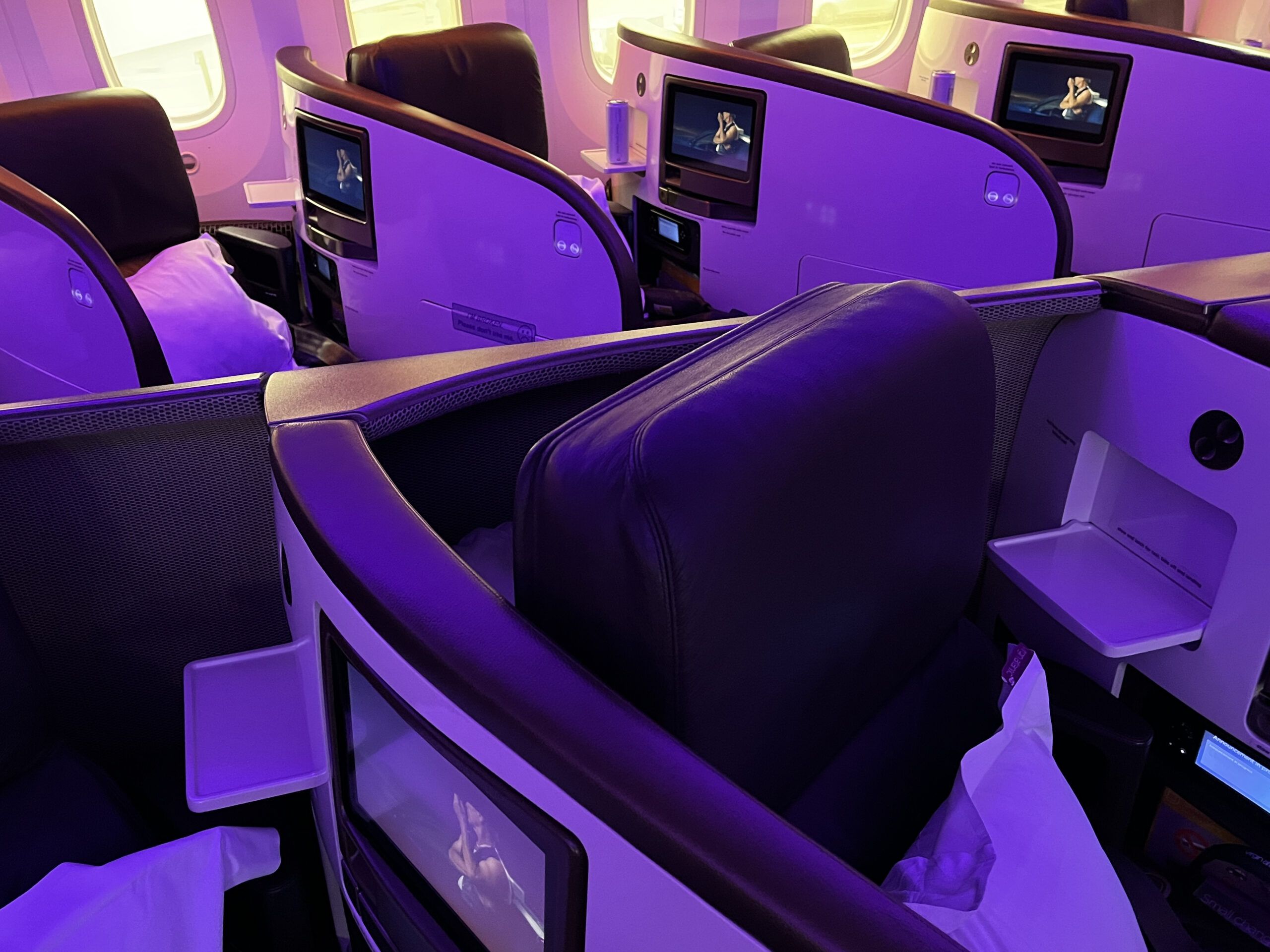 In general, the seats at the window are a better choice as they seem to offer a bit more space and also have no height restrictions. That's such an issue with many modern Business Class seats (looking at you, Qsuites) that your feet get boxed into a tiny space, and while you can stretch out, turning is impossible.
Not with the Virgin Atlantic seat – once transformed into a bed, you have full vertical clearance. You can use any yoga position and put up your feet until they touch the ceiling. Quite amazing!
Virgin Atlantic Business Class Review – Food and Drinks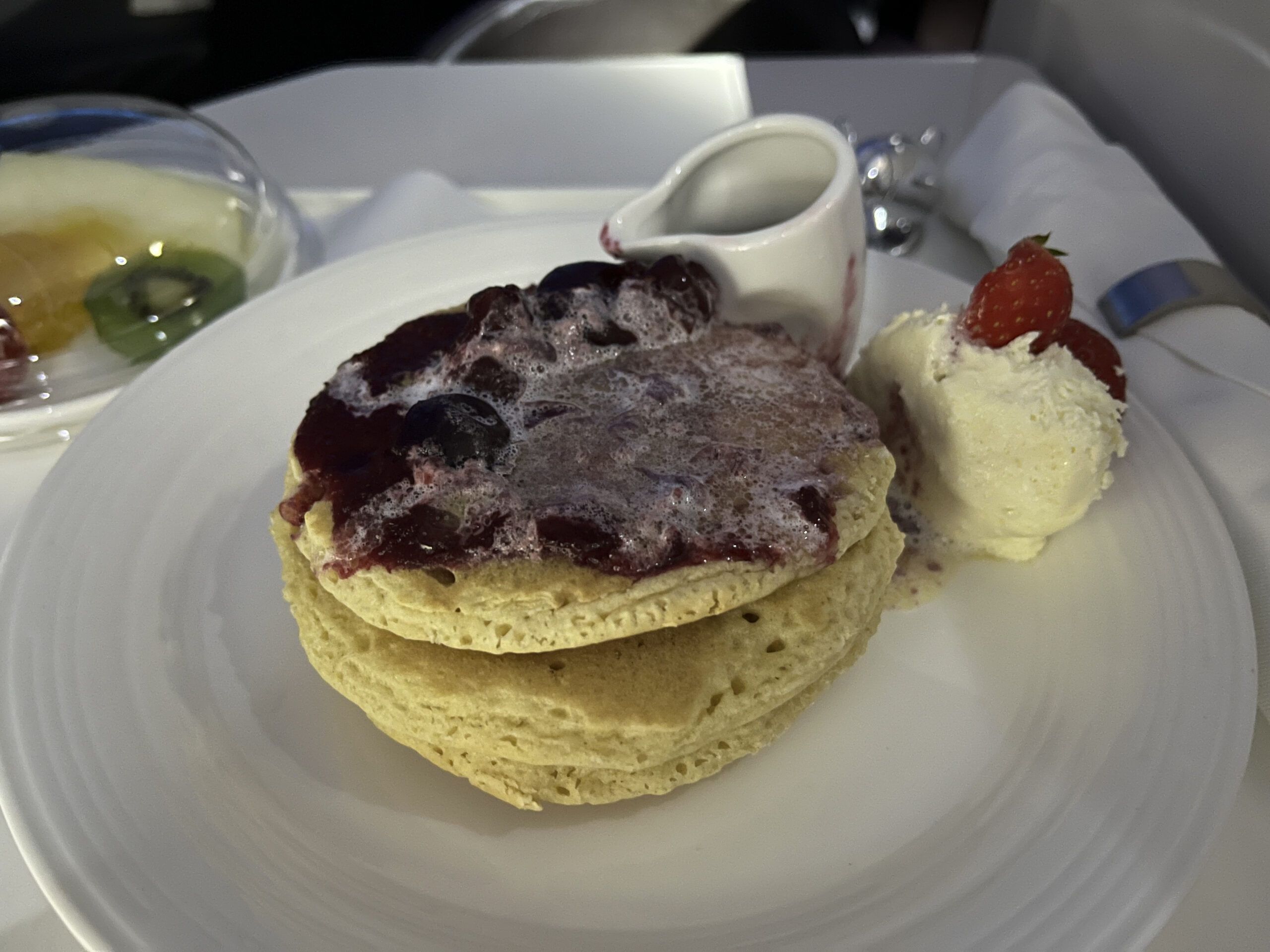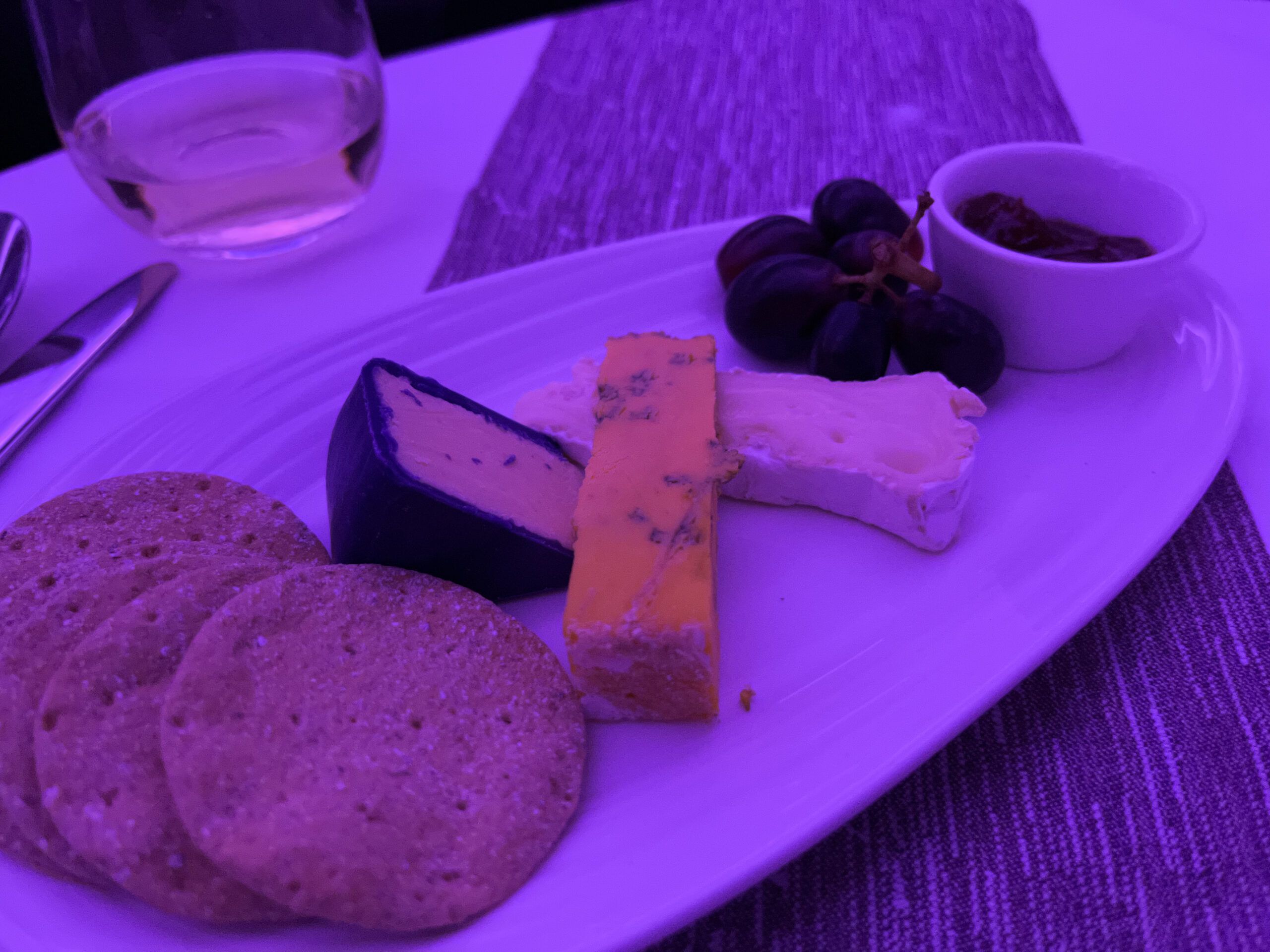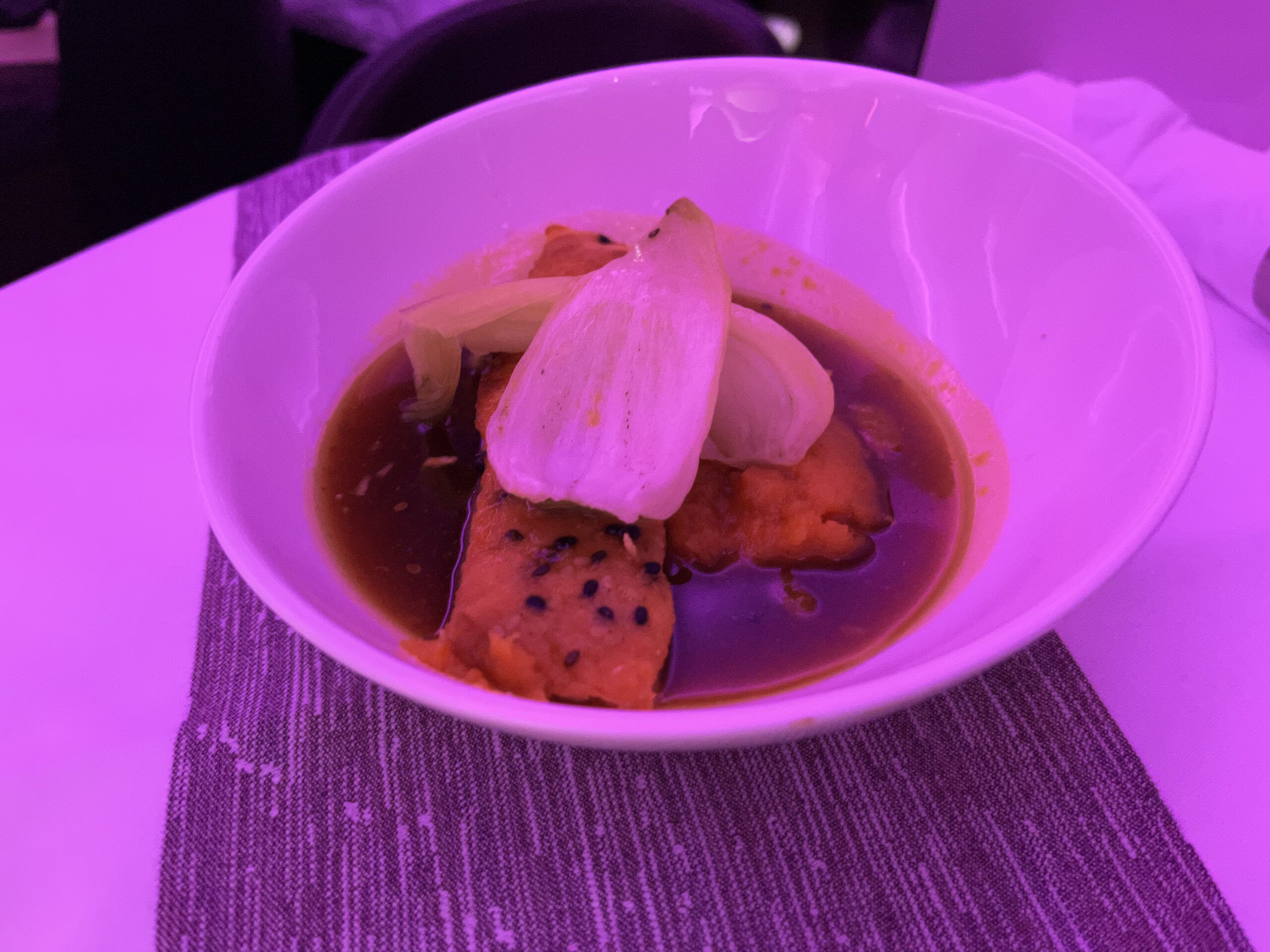 There is a reason Virgin Atlantic has put a huge bar at the end of the Business Class cabin. Premium liquor is one of the main arguments to fly 'Upper Class'. It definitely feels 'speakeasy' with a lot of different mixed drinks, exceptional wines, and plenty of options to choose from.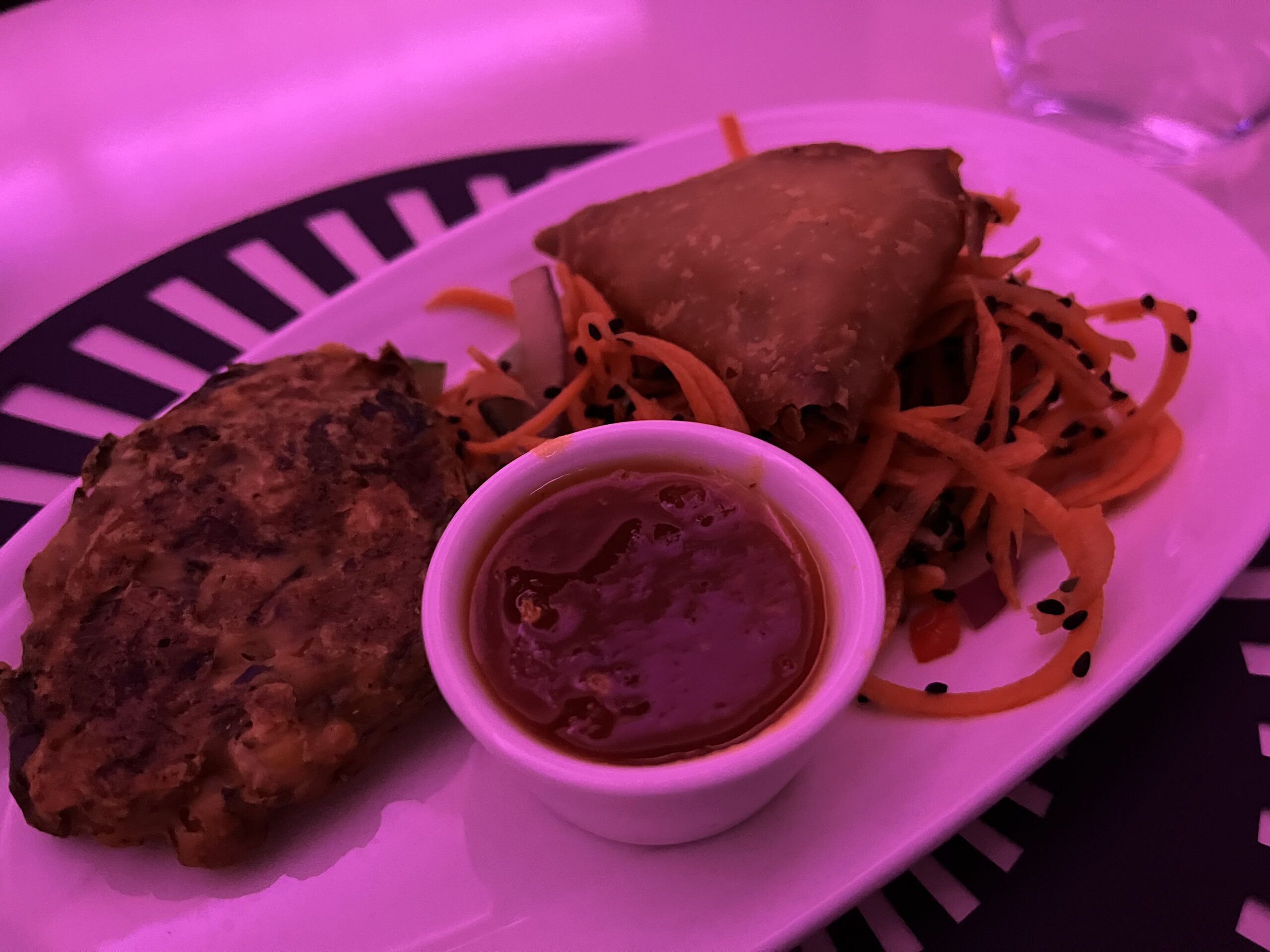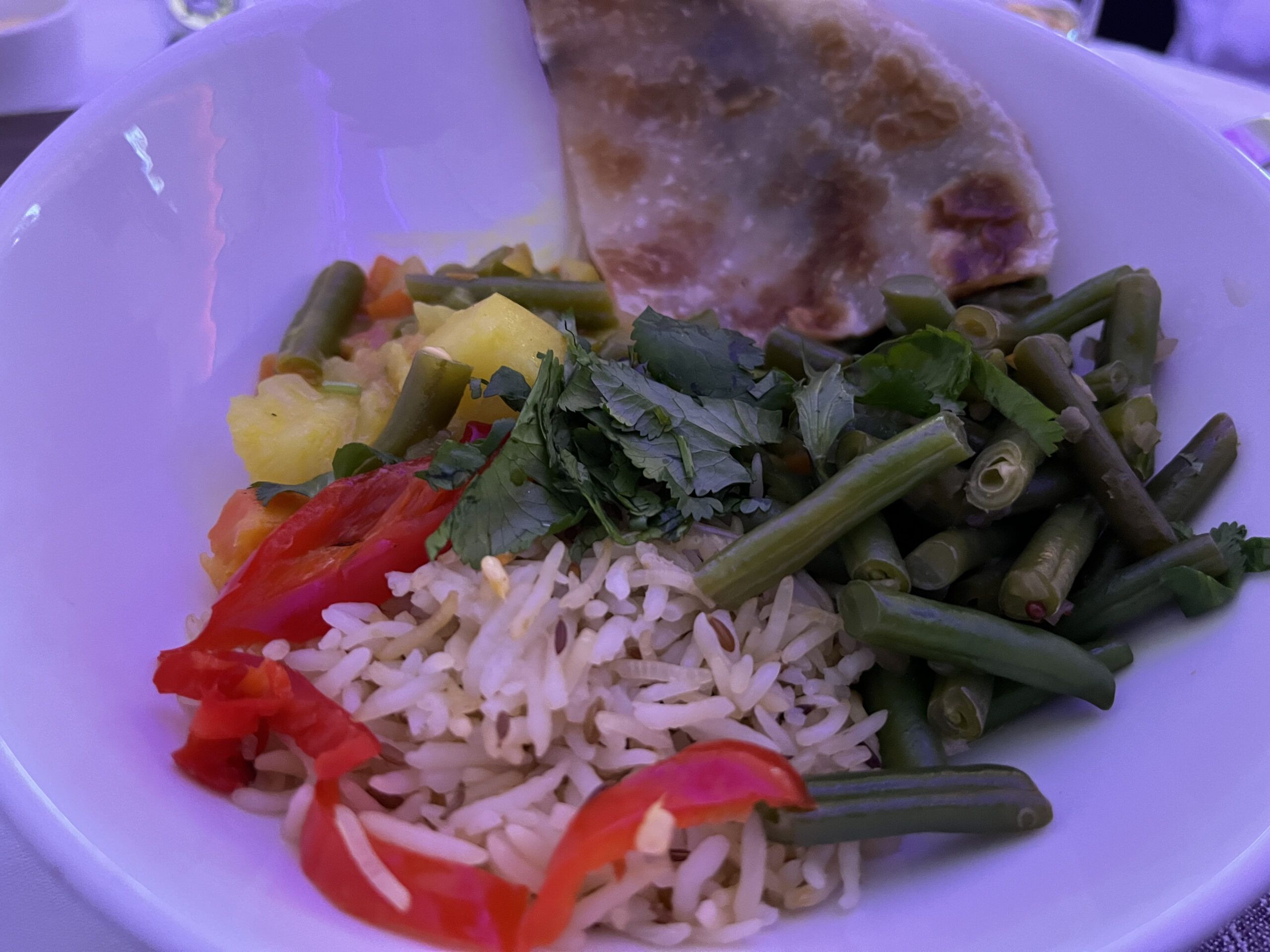 I also loved the catering from the US to London. As with other airlines (Lufthansa especially), catering from the US is often excellent, while the catering provided at the main hub is just ok. This was true for these flights as well. I was not hungry but still could not stop eating during my first flight, but much less so during flight number two.
Virgin Atlantic Business Class Review – Flight Attendants and Service
For my first flight to London, the flight attendant was simply outstanding – one of the best I have ever experienced. Witty, experienced, knowledgeable, and ready to serve. If you think of movies with the best British service – that's what my surprisingly young flight attendant incorporated with a smile and deep knowledge. I could not imagine anything better.
The second flight featured a much less friendly crew (who seemed to be jet-lagged and sleepy). They definitely provided the needed service but did so more robotically and absent.
Virgin Atlantic Business Class Review – Sleeping Experience
Despite the non-existent privacy and the full flight, it was eerily quiet, and I slept like a baby while we trundled over the Atlantic. In fact, I wished my first flight would have been a few hours longer.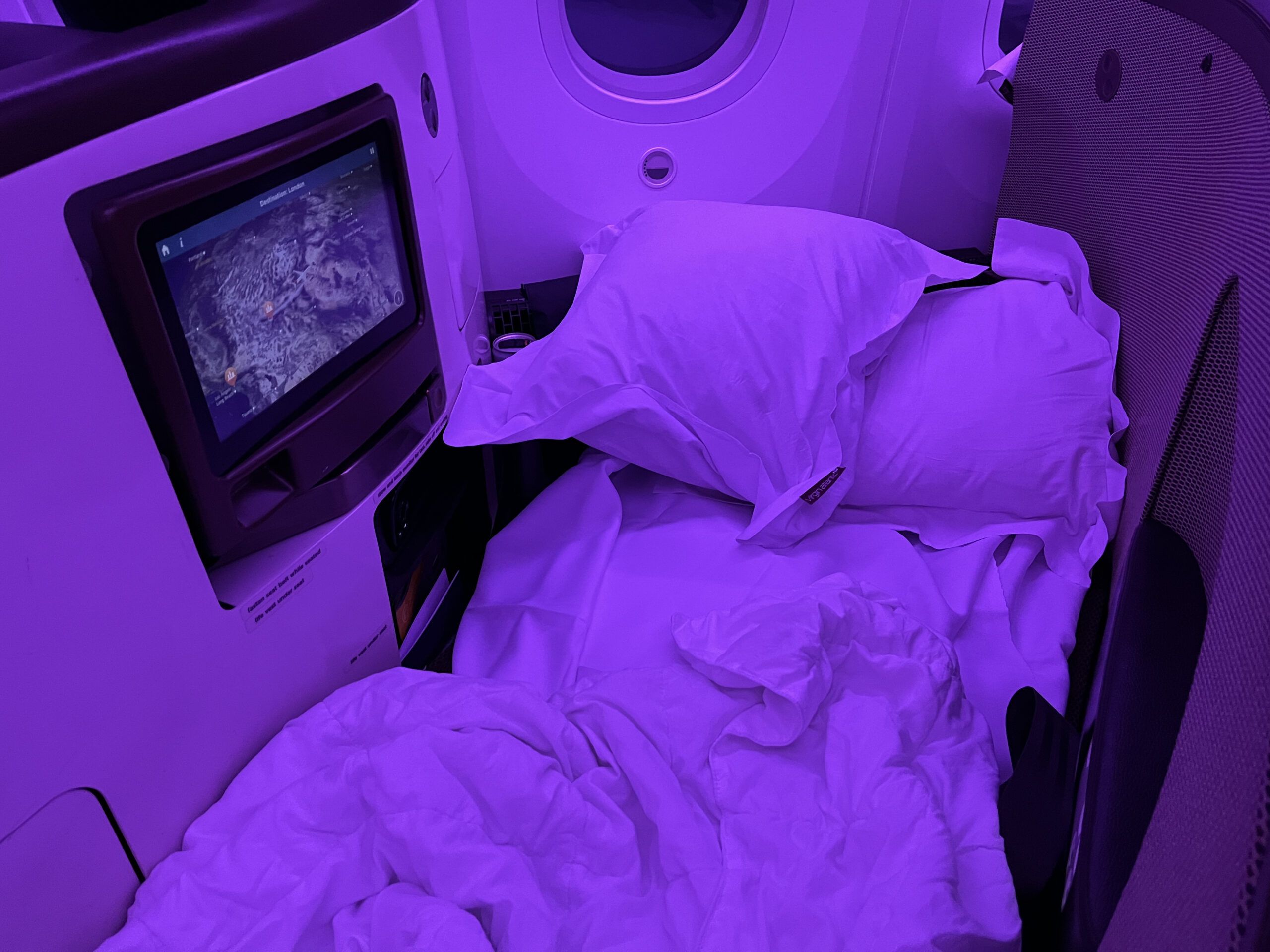 During flight number two, breakfast was served rather early, and my seatmates decided to start a big shuffle, and the noise and movement were a real issue for my sleep quality. It's made worse by the staggered design where someone's face is literally right next to your feet and vice versa. It's not ideal if everyone is on a different time zone, but great if everyone has the same body rhythm.
Virgin Atlantic Business Class Review – Conclusion
I was hesitant about this flight and a little skeptical. The Virgin Atlantic seat is not great for lounging, and the minimal privacy is a problem.
However, for the two overnight flights, I found the seat to be one of the best beds in the sky – easily in my Top 5. I also found the staff to be excellent and the catering superb.
I had a better experience with the flight from the US (the ground experience in Las Vegas is less than premium). It's the opposite for the flights from London, where the ground experience was exceptional, but the flight experience was a little less stellar than from US departing planes.
To my surprise, Virgin Atlantic has now become my favorite airline after these few flights. While Cathay Pacific and Qatar are still on the list, Virgin Atlantic has definitely wowed me.