Every year, carriers around the world seek to improve their premium cabins and one-up their competitors. Fortunately for travelers, the quality of food, sleep, and overall comfort possible at 35,000 feet in the sky has evolved. There's a selection of incredible premium products around, albeit generally at a hefty cost. But which airlines, or more specifically, which commercial aircraft, have the highest percentage of premium economy, business, and first class seats?
*As a note: With hundreds of carriers worldwide, many with a full fleet of hundreds of aircraft – and some types having multiple layouts, this short sampling of premium heavy planes is hardly exhaustive; there are undoubtedly other carriers from every region with an aircraft featuring many premium seats. If there's one that hits close to home for you not listed here that you'd like to mention in the comments, please do!
Emirates (Airbus A380)
This UAE flag carrier (of which there are two) is particularly notable for its fleet of well over 100 Airbus A380s, making them the largest operator of the superjumbo. The airline has four different versions: a two-class mid-range jet, three-class mid-range, three-class ultra-long range, and most remarkable, the four-class ultra-long range.
Unsurprisingly, as the four-class A380 features a premium economy section in front of the standard economy on the main deck, it is naturally more premium-heavy. The upper deck is similar to Emirates' other three-class airliners, with 14 first class suites and 76 business class seats, though the 56 premium economy seats make for a total of 146 premium seats out of 430, or 34%.
American Airlines (Airbus A321T)
Comparing the big three US carriers on transcontinental routes, some interesting options exist. For example, depending on origin and destination, Delta Air Lines might fly their Boeing 757-200 or A321neo coast to coast. Regardless if you board one of them with Delta One flatbed seats or the standard US domestic first class recliners, these are just 9% to 10% premium dense. United's offerings between SFO and EWR might have you on a comparable B757, or potentially a twin-aisle 777-200 or 787-9 with proper Polaris business and premium economy cabins for a solid 26% to 27% premium density.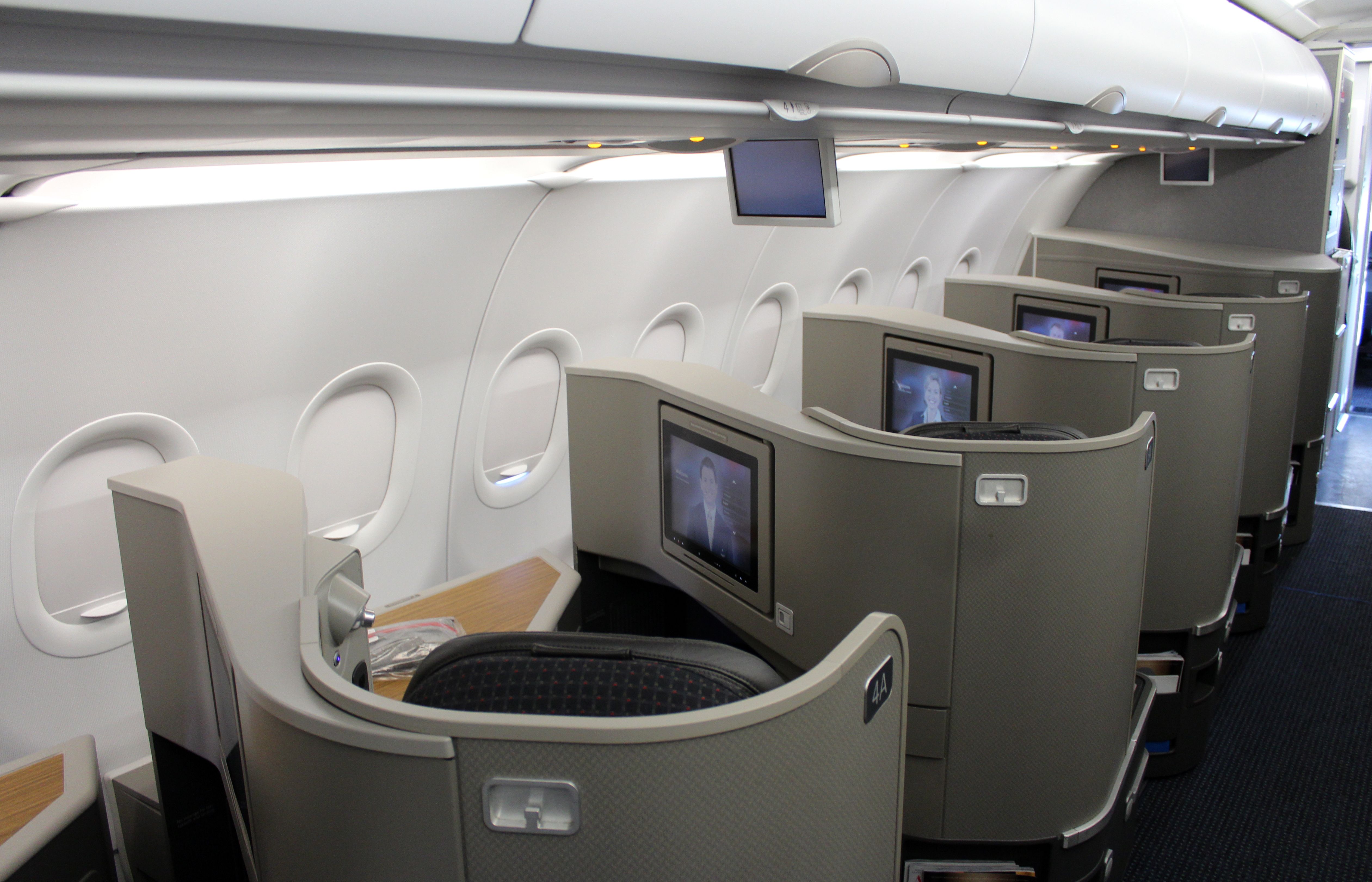 Photo: First Class Photography / Shutterstock.com
But outclassing even the big Boeing jets from United is American Airlines' premier Airbus A321 Transcontinental, bringing passengers between New York and the west coast. The first third of this single-aisle jet comprises ten flagship suites, five on each side. Following behind are 20 flatbed business seats for the middle section. And 72 economy seats (in fairness, half of these have a bit extra legroom but are not actual premium economy seats) make up the rear, in total facilitating 102 travelers. This makes for a 29.4% premium density, and on a small aircraft at that.
Singapore Airlines (Airbus A350-900ULR)
Of the Singaporean flag carrier's impressive Airbus A350 fleet, a few -900ULRs are particularly special, as many of you likely know. Used on some of their longest non-stop routes, such as the 18-hour journey between Singapore and New York, these 100% premium cabin aircraft have no economy option; you are limited to premium economy or business class.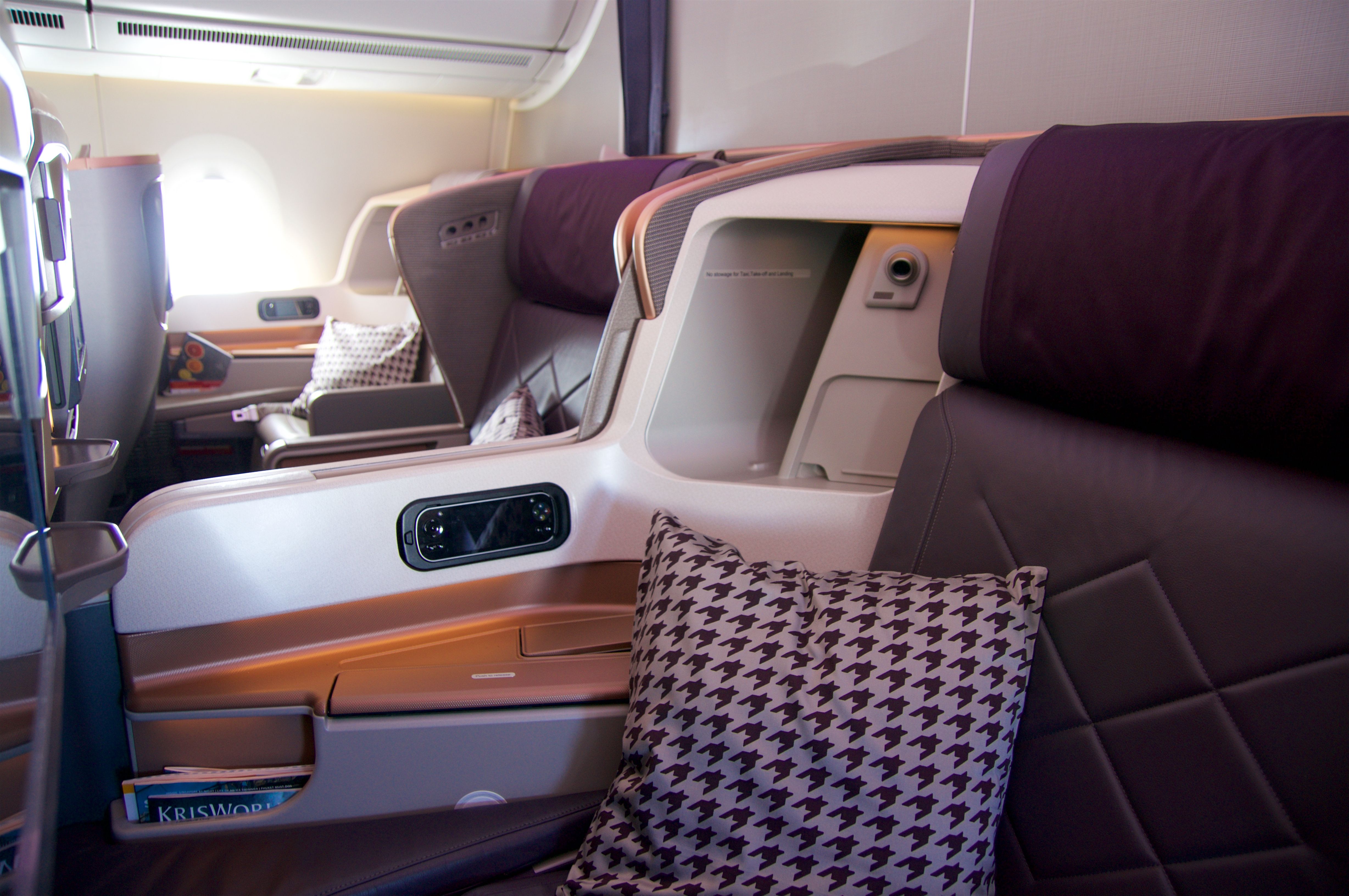 Photo: Christian Heinz / Shutterstock.com
Some of Singapore Airlines' A350-900s feature just 40 business seats and 263 economy class seats for a 13% premium density. Others may have 42 business class seats and a small 24-seat premium economy cabin, which, out of 253 total seats, is a fairly standard 26% premium density. Choice of aircraft will mainly depend on the route you take. The three-class A350 is comparable in this regard to Singapore's four-class A380, featuring six of their famous first class suites. Onboard the superjumbo you'll find 78 business class seats and 44 premium economy seats; out of 471 potential passengers, that's just about 27%.
La Compagnie (Airbus A321)
Again making this list with the Airbus A321 is a peculiar airline called La Compagnie. They used to fly two Boeing 757s but have since replaced them with two A321-200NX(LR)s, and they're both fitted with 2-2 configured lay flat business seats for a 100% premium, business-only density. With a capacity for up to 76 passengers, this carrier is known for its comfortable transatlantic services, with operations in New York (EWR), Milan (MXP), Nice (NCE), and Paris (ORY).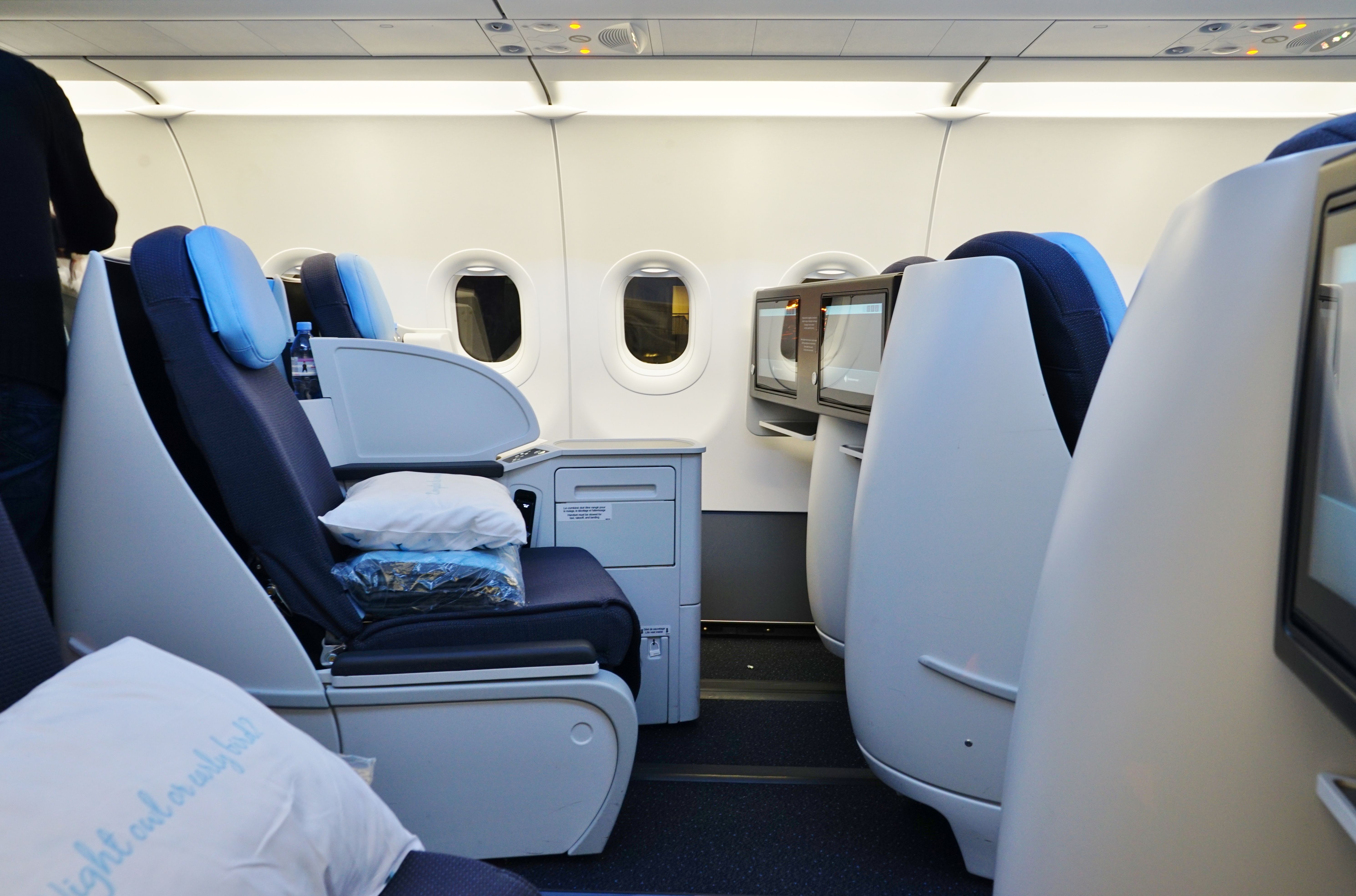 Photo; EQRoy / Shutterstock.com
Notable Mention: British Airways (Airbus A318)
While on the topic of 100% business-specific aircraft, as opposed to Singapore's mixed cabin all-premium A350s, it's hard not to talk about the now-retired British Airways Airbus A318' Baby Bus.' This single-aisle aircraft had a complete 2-2 business-only configuration for 32 lucky passengers flying between London and New York. One notable feature of the flight, rather than the aircraft, was a fuel stop in Shannon, Ireland (SNN), where passengers could briefly disembark and be processed for US immigration outside the country, saving potentially hours upon landing in New York.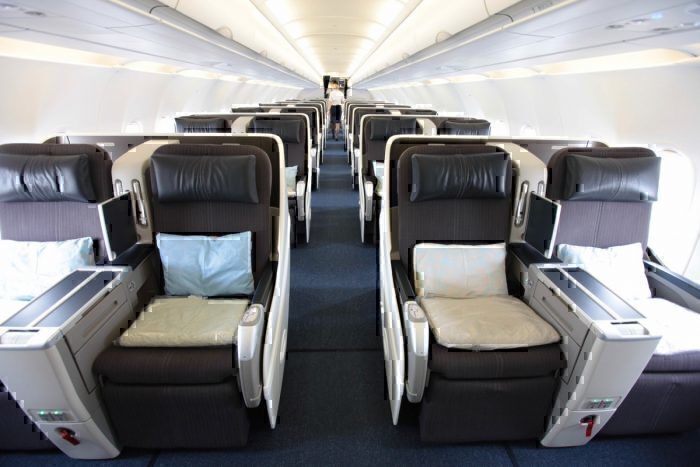 Photo: British Airways
Have you flown on any of these aircraft? Or, as mentioned in the beginning, do you have a particular premium-heavy aircraft to mention? Let us know in the comments below!
Sources: Emirates, SeatGuru, ch-aviation, La Compagnie, United Airlines