eVTOL (electric Vertical Take-Off and Landing) aircraft are a promising new technology for urban air mobility, with the potential to transform transportation by offering a fast, convenient, and eco-friendly alternative to traditional ground transportation.
As this revolutionary aircraft type continues to advance and gain popularity, there's a growing interest in what the cabins inside these futuristic flying machines will look like – let's take a glimpse at four concepts that are in the running for the prestigious Crystal Cabin Awards 2023.
eVTOL Mobility Concept by Eve Air Mobility
The Brazilian subsidiary of Embraer worked with Lisbon-based design firm, Almadesign, to create a passenger-centric cabin concept that comfortably accommodates four passengers and a pilot. The extra-wide entrance door and two folding seats, which can be configured to fit a wheelchair, offer maximum accessibility – promoting convenient and inclusive air travel.
What's unique about the Eve cabin is the next-level passenger experience that it offers, boasting a large screen on the ceiling that creates various moods for the different phases of flight, and multisensory features such as customized soundscapes and citric wood scents.
Additionally, the cabin is designed based on the core principle that the concept of eVTOLs are built upon: sustainability. The combination of rich materials and textures used in the cabin – including sustainable natural leather and wool, as well as recycled by-products from the footwear industry – promises a luxurious yet green experience each time passengers fly on Eve's eVTOL.
HT-01 Urban Air Mobility Cabin Concept by Hyundai Transys
Hyundai has long made a name for itself in the automotive industry, representing Korea on the global stage. Now, the company is venturing into the world of urban air mobility in the hopes of shaping the future of rideshare mobility.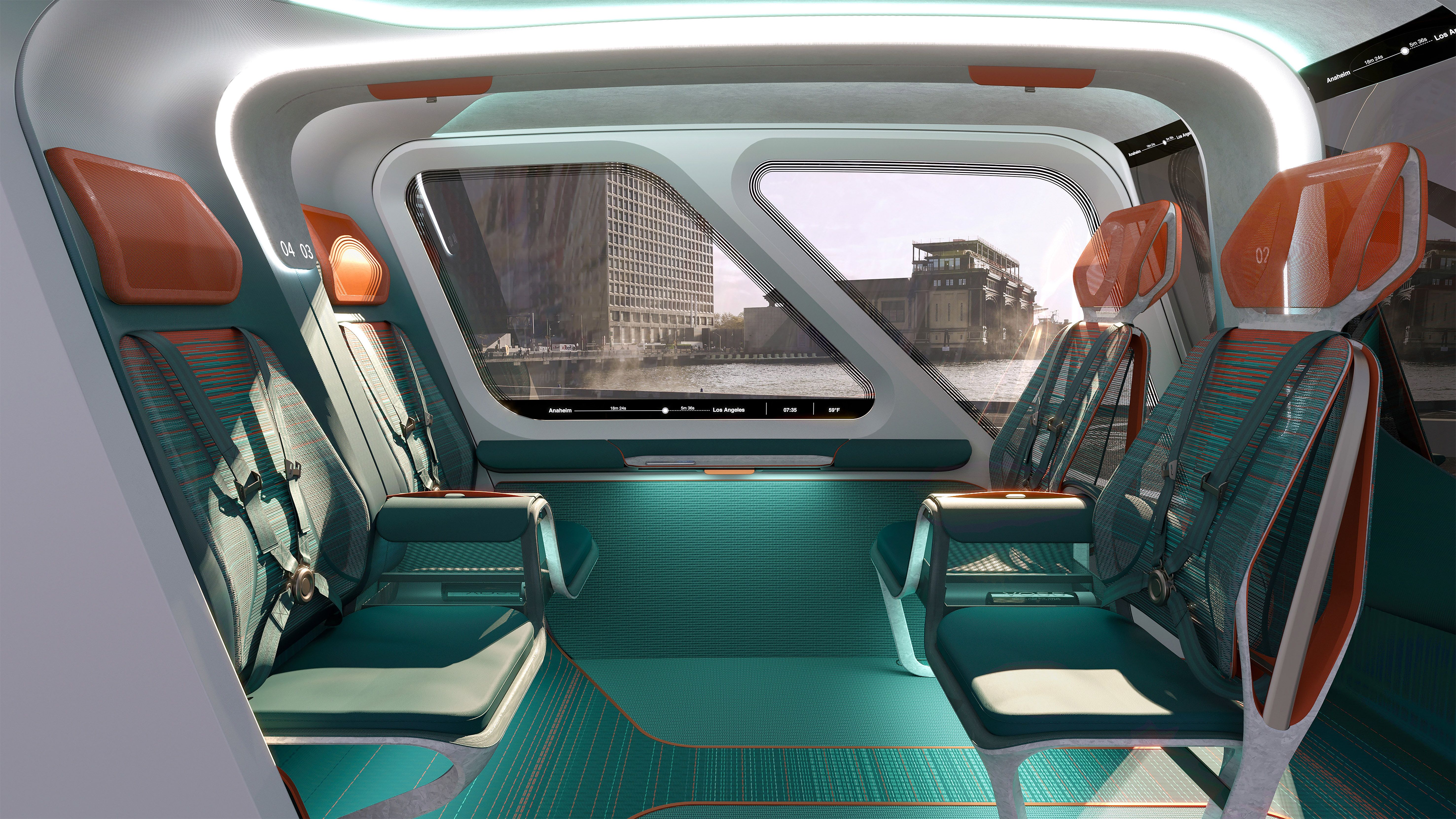 Photo: Hyundai Transys
The interior of HT-01 is designed to be smart, efficient, and adaptable. One striking feature is its ability to be instantly reconfigured, transforming from an open 4-seat social space into rows of seats separated by privacy screens, providing flexibility for individuals or business travelers.
For operators, this quick reconfiguration helps maximize capacity and reduces turnaround times. And the simple cabin layout allows for speedy cleaning and maintenance. For passengers, the HT-01 offers an exceptional experience, with large windows that provide unforgettable views as passengers jet over busy cityscapes.
The cabin is thoughtfully designed with lightweight and sustainable materials, creating a tranquil and calming environment that eliminates the stress of traditional ground-level public transport or car journeys.
Pioneer Edition by Lilium
Lilium is revolutionizing transportation by developing a sustainable and accessible mode of high-speed, regional air travel for both passengers and goods. Its bespoke aircraft, the Lilium Jet, is an all-electric vertical take-off and landing jet that uses proprietary Ducted Electric Vectored Thrust (DEVT) technology to provide style and performance that ensures versatility and scalability.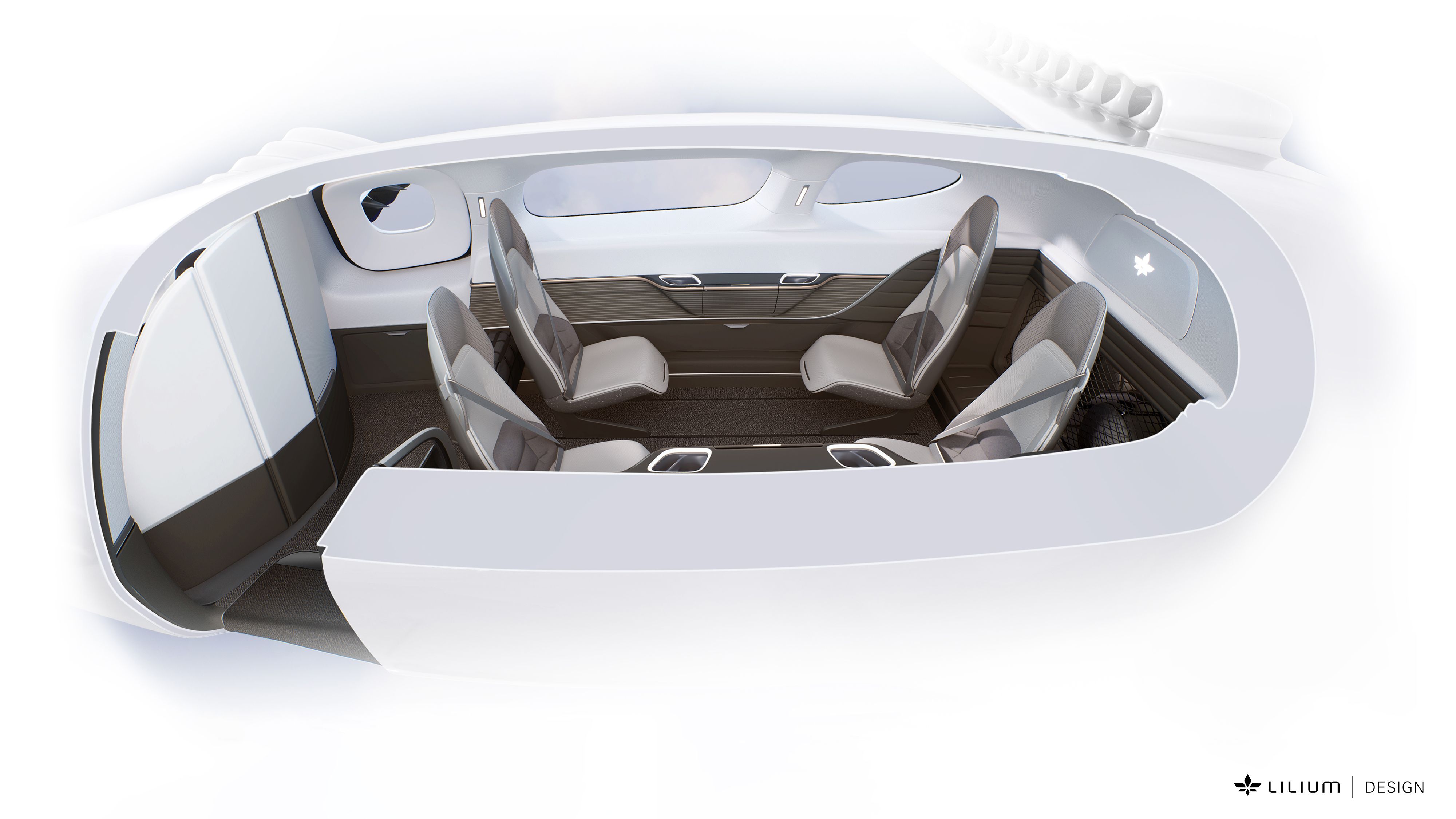 Photo: Lilium
Lilium's concept in the running for a Crystal Cabin Award is the Pioneer Edition, a limited edition (only 50 of its kind will be made available) variant of the Lilium Jet. It has a spacious cabin that comes in a premium four-passenger "club cabin" configuration, offering a luxurious and comfortable travel experience. The Pioneer Edition also has customizable options, such as sustainable fabrics and materials, to create a truly unique and exclusive aircraft.
Uplift Universal Travel Strategy by Supernal
Like Eve's eVTOL Mobility Concept, the Uplift by Supernal (Hyundai Motor Group's urban air mobility division) is designed with inclusivity and accessibility in mind. The eVTOL comes with a Universal Boarding Ramp – an autonomous passenger ramp with physical and digital wayfinding features for those with vision, hearing, and physical impairments – facilitating easy boarding from the vertiport into the cabin.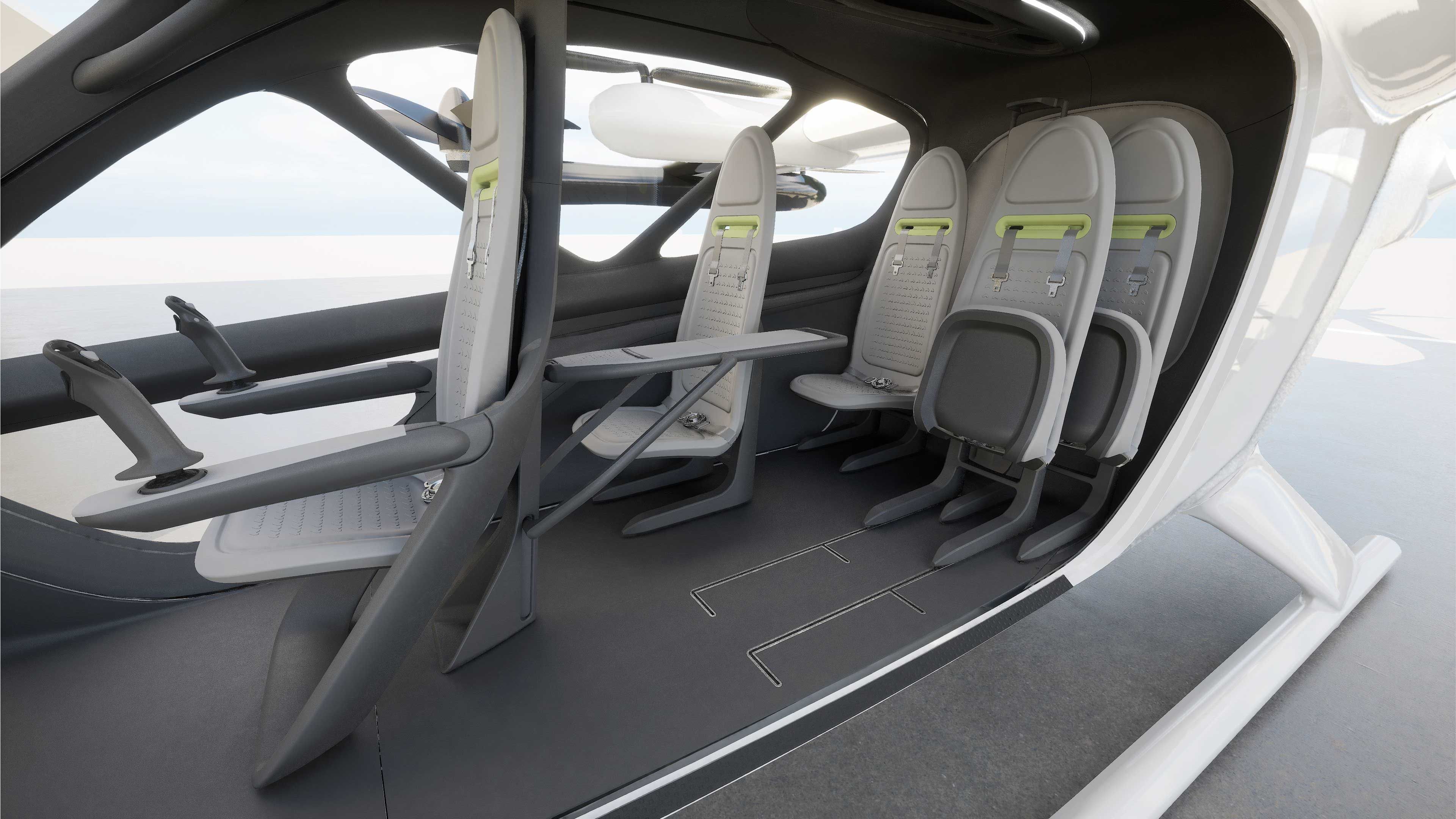 Photo: Supernal
The concept also accommodates the MultiModal Wheelchair, a power chair that eliminates the need for passengers to transfer from a typical wheelchair into the cabin seat, which can be logistically and physically taxing. Using the MultiModal Wheelchair, which can also be used on other forms of transport such as buses and trains, means there is no need for a separate storage area for conventional wheelchairs. Not only does this enhance the flight experience for differently-abled passengers, but it also increases operational efficiency.
To further enhance the travel experience for passengers who use wheelchairs, the Uplift has a Luggage Restraint System and foldable nesting seats that can retract and be reconfigured to accommodate the space needs of various passengers. These features allow operators to cater to multiple different market segments while achieving seamless turnarounds and operational efficiency.
In conclusion, cabins on eVTOL aircraft will be a significant departure from traditional aircraft cabins. Designed with safety, comfort, and sustainability in mind, they feature advanced entertainment systems and cutting-edge technology that provide passengers with a unique and exciting flying experience. While there's still much to explore in the realm of these futuristic flying machines, one thing is for sure – the cabins on eVTOL aircraft are set to be nothing short of amazing.
Sources: Crystal Cabin Awards, Eve Air Mobility, Hyundai Transys, Lilium Air Mobility