Two months ago, the Kingdom of Saudi Arabia formally announced the creation of two new carriers. One was Riyadh Air, and the other was Neom Airlines. Of these two new additions, Riyadh Air is prospected to pose a competitive challenge to other Middle Eastern carriers. But despite the threat, other airlines confidently welcome the new flag carrier.
Riyadh Air will be up against the legacy carriers
While working alongside current flag carrier Saudia, Riyadh Air is said to be based at King Khalid International Airport and will be poised to connect the Kingdom to more than 100 international destinations by 2030. These include connecting the Kingdom to more destinations in North America and South America, Europe, Asia, and Oceania, expanding into cities that Saudia was previously unable to reach.
Suppose such ambitions seem unlikely with just five years to go once Riyadh Air becomes operational in two years, the upcoming airline already has an order book to match. Wholly owned and backed by the Public Investment Fund, Riyadh Air, or rather Saudi Arabia, placed an order for a significant 39 Boeing 787-9 Dreamliners, with options for at least 33 more at a later date.
Photo: Public Investment Fund
With these aircraft in its initial fleet, Saudi Arabia has been confident that Riyadh Air will help the country on the map for tourism and holiday reasons. It will also be the reckoning force to be on par with existing Middle Eastern legacy carriers like Emirates, Gulf Air, Oman Air, Qatar Airways, and Etihad Airways.
Qatar Airways sends its best wishes
Although Riyadh Air might pose a credible threat to these carriers, they seem significantly unfazed. And interestingly, Qatar Airways and its Chief Executive Officer, Akbar Al Baker, instead spoke of his warmest regards and welcomed the new airline to join the industry during the Arabian Travel Market in Dubai on May 1st.
Highlighting his enthusiasm for the eventual launch of Riyadh Air, Al Baker explained that the industry has plenty of business available for everyone and anyone to join and compete for their market share. He even emphasized how a new carrier further evens out the playing field for all players involved, as he said:
"We are very excited about Riyadh Air, and we wish them all the best. Qatar Airways will cooperate and support them, because we feel that relationships matter, and there is a lot of business going around for everybody."
A piece of advice from Qatar Airways' chief
And in showing support, the airline head noted that there was no exact mimicking blueprint or proven cut-and-paste method for creating a new successful airline from a previous successful airline, in reference to former Etihad Airways Chief Executive Officer Tony Douglas becoming the new head for Riyadh Air.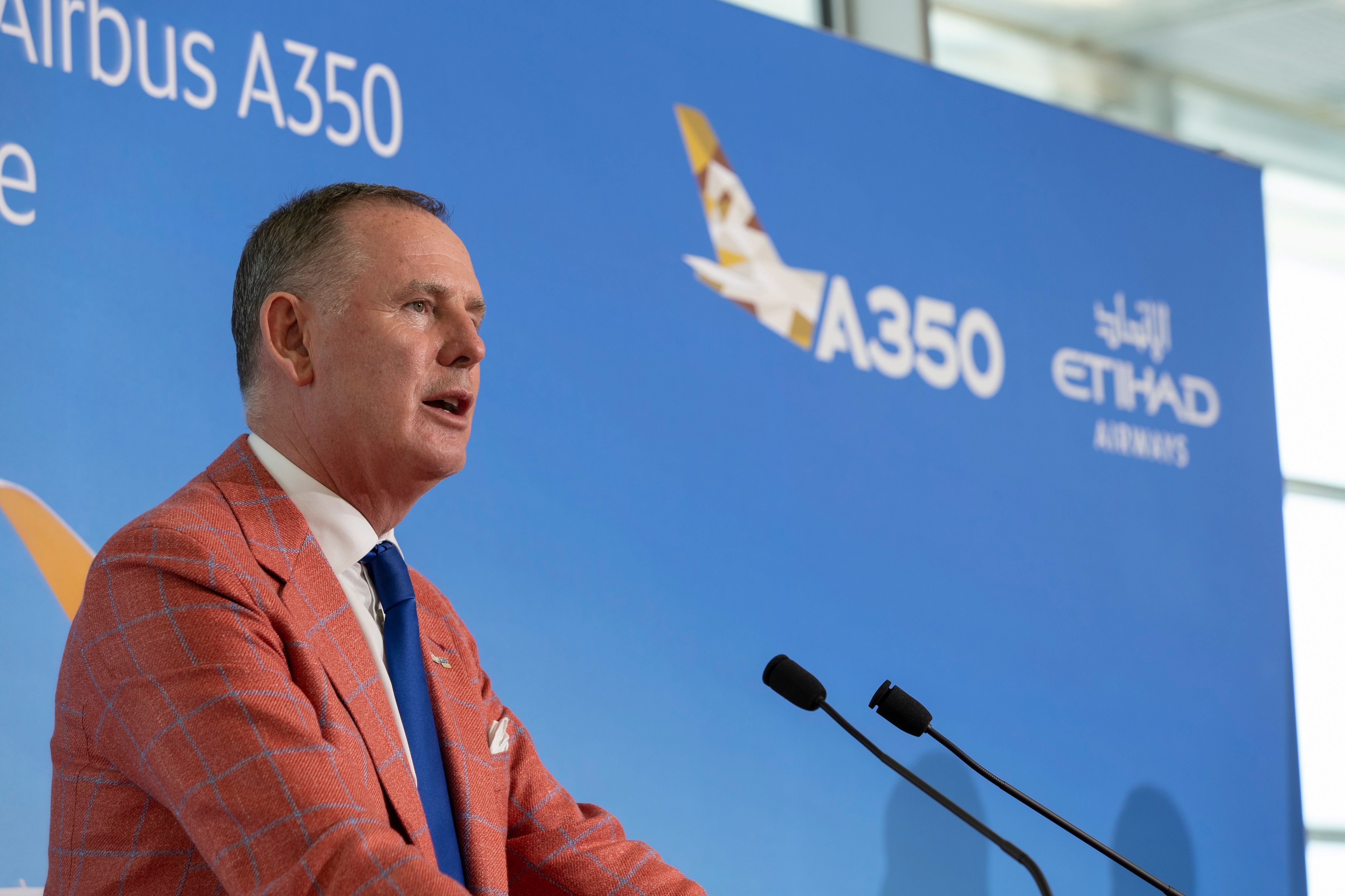 Photo: Etihad Airways
Al Baker referenced his struggles as an example; when he took Qatar Airways' reigns in 1997, his strategy was to grow the airline to 35 aircraft with 35 destinations. However, the Doha-based carrier was initially discounted due to the existence of Emirates and Gulf Air. And Riyadh Air could be in a similar position once it launches.
However, Al Baker advises that the eventual success of Riyadh Air and its ability to achieve current and future ambitions would be through solid leadership that has the right strategies to mold the airline properly. And considering how well Douglas guided Etihad through the pandemic, Al Baker is optimistic that he will do well by leading Riyadh Air too.
Bottom line
Albeit there are still two years to go before Riyadh Air emerges as an official player in the airline industry, Douglas has plenty of work cut out for him as he will be molding an airline from scratch. Will he and Riyadh Air successfully fly through their tied ambitions as planned, or will they also face a similar discounted situation as Al Baker initially did with Qatar Airways? Only time and market conditions will tell.
Source: Alarabiya News
Qatar Airways' Airbus A350-1000 has a capacity of 327 passengers. Photo: Vincenzo Pace | Simple Flying

IATA/ICAO Code:

QR/QTR

Airline Type:

Full Service Carrier

Hub(s):

Doha Hamad International Airport

Year Founded:

1993

Alliance:

oneworld

CEO:

Akbar Al Baker

Country:

Qatar