Global seating company RECARO recently announced record growth of nearly 55% last year after investments paid off alongside solid levels of international recruiting. And to ensure continued double-digit growth for the future years, the company has also further outlined a plan – significantly for its progressing aviation division, RECARO Aircraft Seating.
Five decades of RECARO Aircraft Seating
Besides a full year of historical growth, RECARO also celebrated the 50th anniversary of its aviation division last year. The milestone celebration included the production of almost 100,000 pax through distinct hand-manufacturing methods and the employment of more than 2,300 essential personnel the previous year.
RECARO Aircraft Seating also witnessed several major customer awards last year, including Etihad Airways selecting the division's best-selling CL3710, low-cost carrier IndiGo choosing the lightweight BL3710, and the Lufthansa Group placing an order for approximately 24,000 of the CL3710 and CL3810 seats.
Other examples also include the latest fully-equipped aircraft cabins for Spanish flag carrier Iberia, and Chinese flag carrier Air China, which provided passengers with award-winning seats in business class, premium economy, and economy class cabins. RECARO Aircraft Seating also launched its first-ever front-row monument that was built in-house with composite materials for Iberia.
Progressive plans for the future
After such a tremendous post-pandemic year gone by, RECARO is ready for its aviation division to expand even further to achieve much more this year and in future years to come. Besides maintaining a significant level of recruiting across its five international sites, RECARO Aircraft Seating expects the following changes;
Broadened expansion opportunities
A couple of years ago in 2021, the aviation division witnessed an expansion investment of approximately €50 million ($54.9 million) in its crash facility and flam lab. Then last year, another investment of about €5 million ($5.49 million) was given for a facility expansion at RECARO Aircraft Seating in China.
Likewise, approximately €4 million ($4.39 million) was injected for the facility expansion of RECARO Aircraft Seating in Germany. This year, the aviation division has already unveiled a new streamlined design for its Final Assembly Line, which will be the latest phase of its global 'space2grow' expansion strategy to invest in new building production spaces.
More than €4 million was invested in this project phase, which features an estimated 11,000 square meters of renovated space, approximately 350 meters of advanced conveyor technology for the seats, and about 60% of power savings through efficient LED lighting. There's even an expanded canteen and coffee lounge for the division's growing number of employees.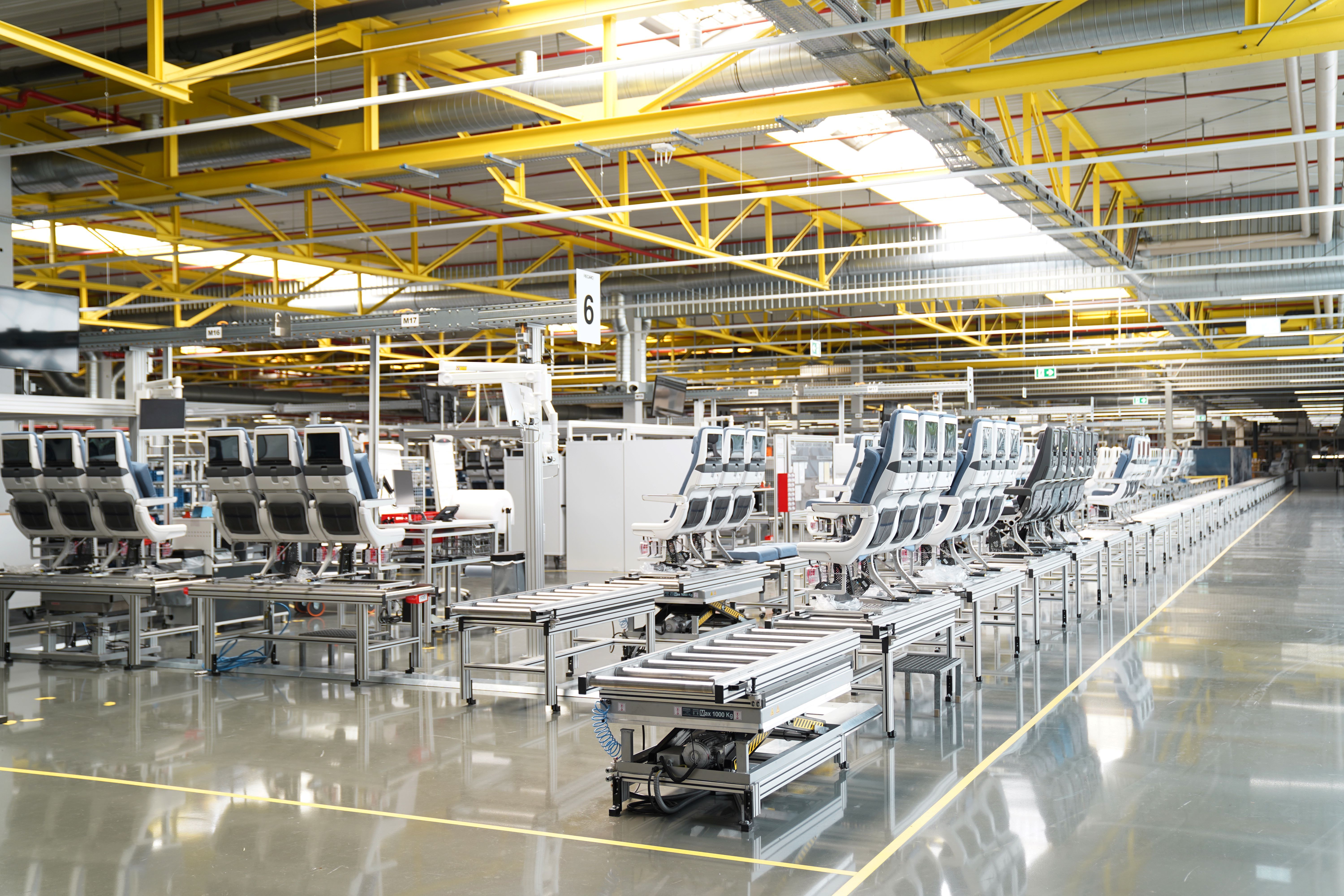 Photo: RECARO
More customer awards
Although RECARO Aircraft Seating snagged multiple customer awards last year, the aviation division is hungry to achieve more this year. And there certainly will be, with a sea of RECARO seats being fitted on numerous airlines and aircraft types this year, such as the SL3710 which took flight for the first time on a HK Express Airbus A321neo last month.
The Air France-KLM Group – specifically KLM, Transavia Airlines, and Transavia France- will receive their Airbus A320neos and A321neos fitted with RECARO BL3710 and SL3710 seats later this year, and these deliveries could also see the RECARO Aircraft Seating earning itself another customer award.
Bottom line
If there's one thing the previous year has shown, it is that RECARO managed to emerge pretty strongly from the pandemic with outstanding numbers and growing competencies. And it definitely seems that RECARO Aircraft Seating is poised for continued and even more significant growth this year with new facilities and customers.
Business Type:

Seat Maker

Date Founded:

1906-10-01

CEO:

Martin Putsch

Headquarters Location:

Stuttgart, Germany