Between March 1st and April 9th this year, there were a blossoming total of 34 days with air traffic control strikes significantly affecting European air transport. Although air travel in France was primarily impacted, a lesser extent also affected Germany. Albeit it is evident how strikes cause flight disruptions, such prolonged industrial action can also have a significant environmental footprint.
What's the extent of the strike's impact?
Before understanding how strikes can harm the environment, the full extent of this year's industrial action must first be examined.
Number of flights affected
In the first three months of this year, an average of 3,300 flights departed or landed in France each day, including an estimated 800 domestic flights. An estimated 3,700 flights also passed through French airspace within the same period. And with approximately 23,000 flights per day in Europe in general, an estimated 30% of daily European flights were likely impacted by the strikes in France.
Photo: Teal Sun | Shutterstock
Within this 30%, about 3% were domestic flights in France; 11% were international departures from and arrivals to France; 16% were overflights across France, and the remaining 70% were other flights. And overall, the 34 days of strikes this year likely impacted at least 237,000 flights to, from, or across France and Germany, further highlighting the severity of flights affected.
Cancelations and delays
Daily flight cancelation rates also increased by at least 37% compared to a typical operational day. And during the strike days in France, there were an average of 485 additional cancellations, of which 25% were overflights passing through French airspace.
Punctuality rates also decreased by about nine percentage points, with the delay increasing from 11 to 23 minutes on average. Flights arrived an average 17 minutes later than scheduled, about six minutes of additional delay time than on a typical day without industrial action.
Aircraft on the ground
With punctuality rates declining, it's evident that the en-route ATFM delay – when the EUROCONTROL Network Manager holds an operational aircraft on the ground because of a lack of air traffic control capacity along its route was four times higher compared to last year's industrial action period. The delay accounts for several contributing factors, but air traffic control disruptions accounted for the most, with 0.52 percentage points.
EUROCONTROL"" data-modal-id="single-image-modal" data-modal-container-id="single-image-modal-container" data-img-caption="null">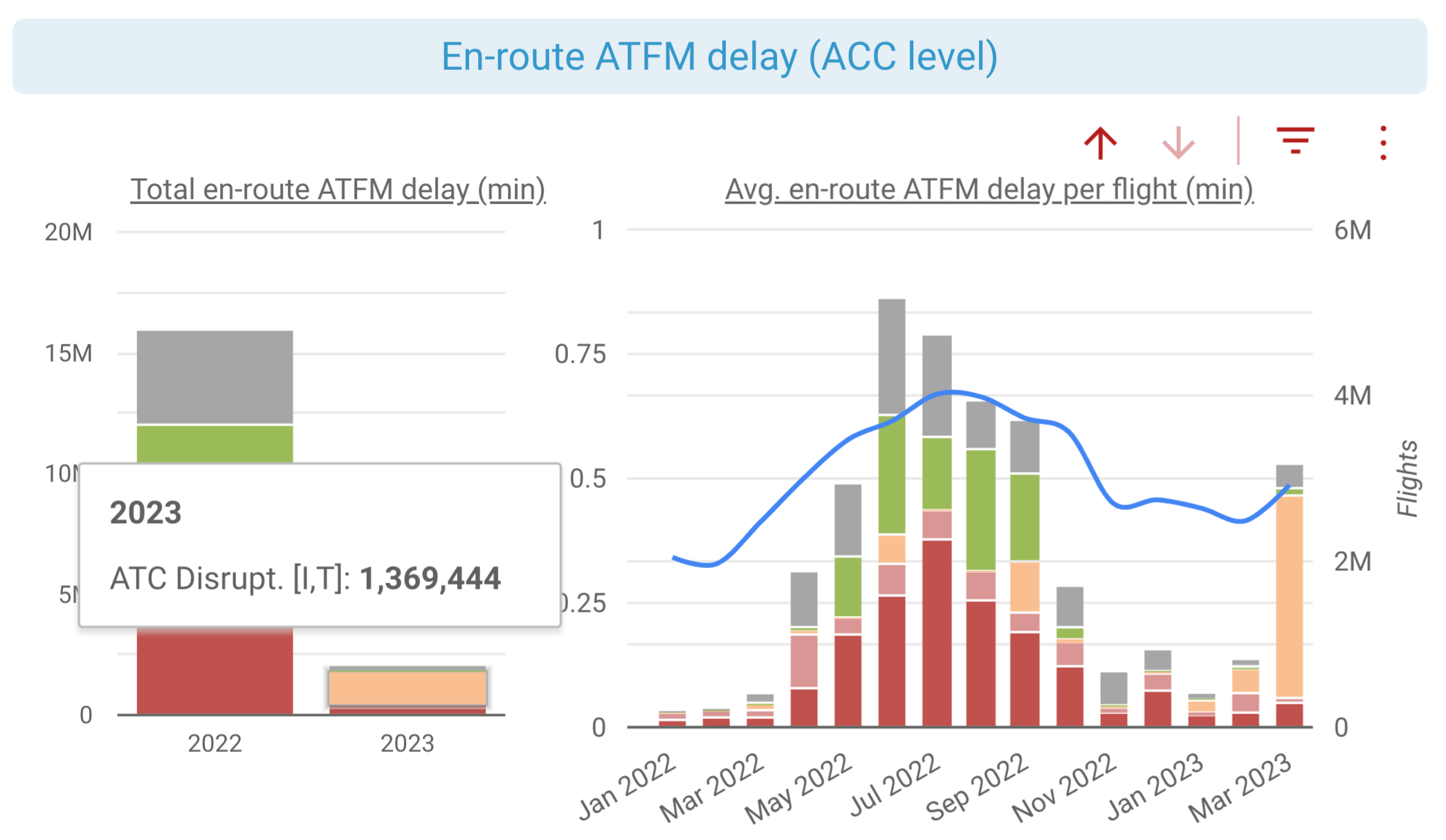 On the other hand, air traffic control capacity contributed 0.06 percentage points, and air traffic control staffing gave 0.01 percentage points. The remaining factors, such as weather, contributed 0.02 percentage points, and others, like airport or en-route disruptions, accounted for 0.06 percentage points.
What's the impact on the environment?
But with more flights being canceled and affected in general, how could the industrial action in France create a much more significant impact on the environment than if the strikes did not happen at all?
Additional kilometers flown
While cancelation rates were up, so were delay statistics as airlines had to reroute and fly further than their usual route to avoid French airspace. Between March 7th and April 9th, an estimated additional 96,000 kilometers were flown each strike day.
Another example was on March 12th, when approximately 40 flights had to extend their typical flight path flown on a non-strike day, March 5th, by at least 370 kilometers to avoid getting caught in the messy crosshairs of the French airspace.
Additional fuel burnt
With flight paths becoming that severely extended by thousands of kilometers daily, it is no surprise that with each strike day, airlines were burning an average additional 386 tons of fuel on top of what they would generally burn for the routes flown.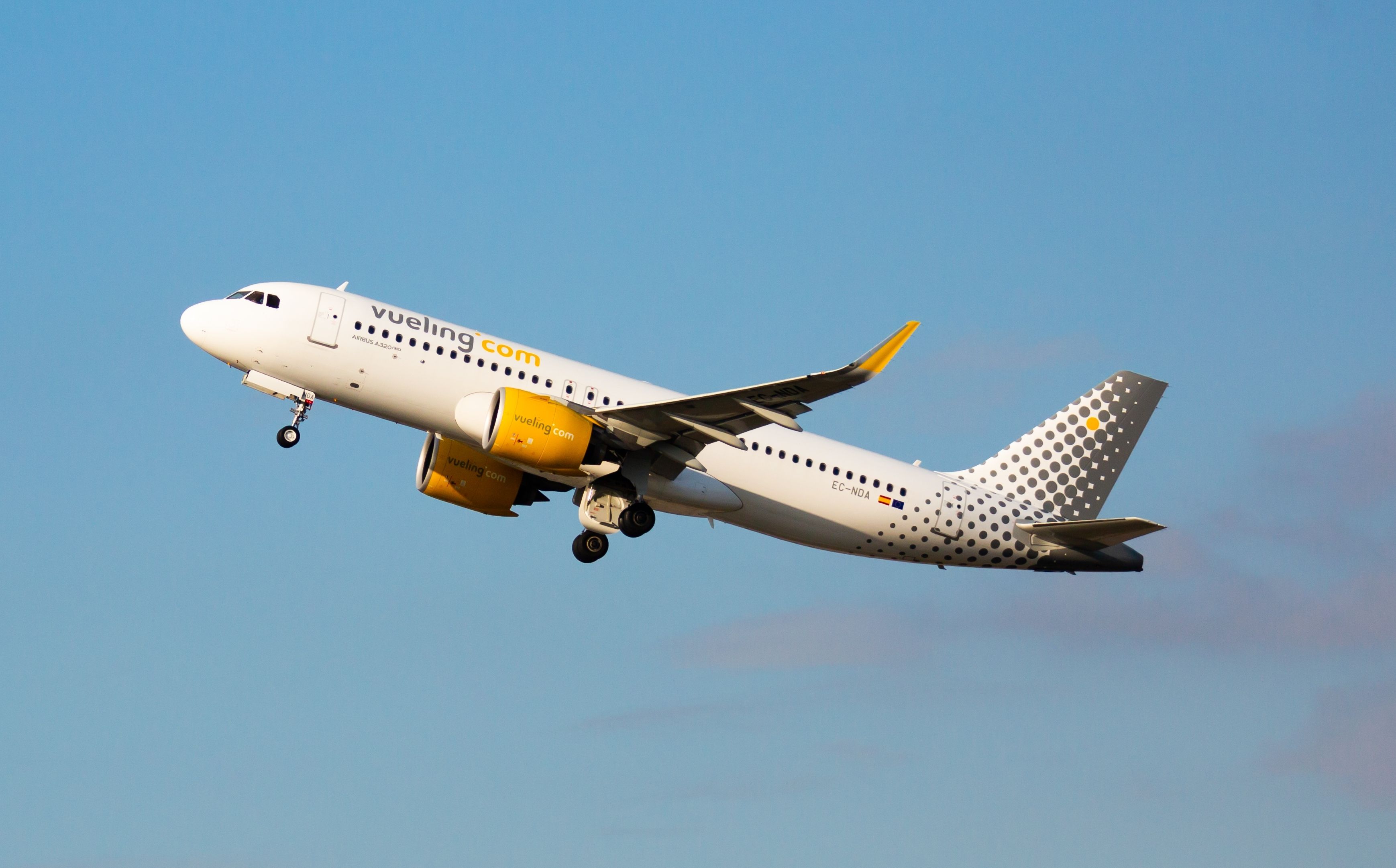 Photo: BearFotos | Shutterstock
The drastic added fuel burnt per day meant that airlines were also burning an average additional of more than 1,200 tons of carbon dioxide emissions. In other words, if the European air traffic control strikes had not happened, flight times and paths would be much shorter, and the emissions produced would be far lesser per day.
Bottom line
Besides the millions of unfortunate passengers affected by the European air traffic control strike, the impact on airlines and the harsher effect on the environment highlight how the disruption in a single country can radiate the related and even knock-off consequences on the European aviation industry as a whole.
Source: EUROCONTROL