While not many of us are as wealthy to peek inside at the interior of a luxurious private jet, Jet Aviation has kindly offered a never-seen-before preview of a custom interior for an Airbus ACJ319neo aircraft. Besides illuminating a feel of affluent comfort, the custom interior is unique for being entirely hand-crafted by the company itself.
A peculiar redelivery from Jet Aviation

Granting the preview of the custom interior comes as Jet Aviation announced today of having recently delivered a new interior for the Airbus ACJ319neo to an undisclosed customer. The private aircraft arrived at the company's headquarters in Basel last July and was finally redelivered eight months later in March.
Senior Director of Jet Aviation Design, Grischa Schmidt, celebrated the redelivery by saying:
"The customer requested a modern take on the art deco period, accented with beautiful detailing throughout the entire cabin. Each piece has been carefully considered to bring its own striking effect as part of one seamless whole. Throughout the entire process, the team has closely collaborated with engineering, production, and installation to ensure that even the most complex elements of the customer's vision have been brought beautifully to life."
Nobody does it quite like Jet Aviation

The custom interior was designed in-house and specifically hand-crafted and installed by Jet Aviation. It highlighted the contemporary art deco inspiration as per the undisclosed customer's request and was created through close collaboration between Jet Aviation Design, the customer, and the customer's interior architect, Colin Radcliffe.
Featuring a monochrome palette executed in dark woods and tiling that contrasted with beige and gold upholstery and finishes, the design is complemented by intricate details like a hand-made 'sunburst' marquetry in the bulkhead. The 'sunburst' has over 180 'sunrays' composed of four different veneers, two light and two dark separated with brass inlays.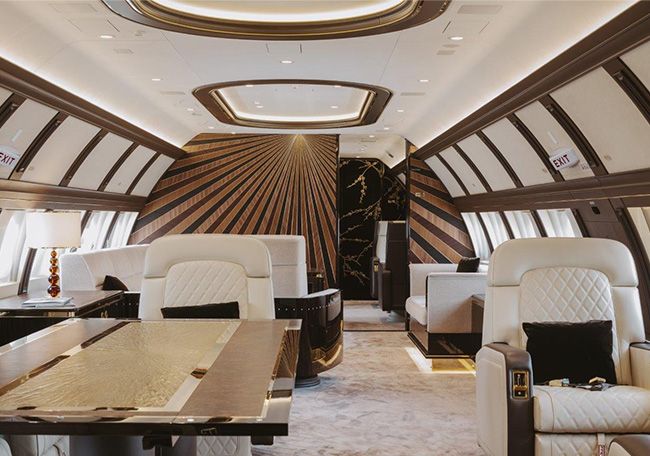 Photo: Jet Aviation
Each piece was individually placed and manipulated by professional, skilled hands to ensure the most seamless finish. Christoph Fondalinski, Vice President of Completions at Jet Aviation, said:
"Every interior we create is completely bespoke, hand-crafted by our team of some 200 skilled artisans in Basel. This particular design featured incredibly beautiful and complex detailing throughout, and these are paired with industry-leading engineering and innovation to optimize the sound and weight balance to exceed customer requirements and ensure the ultimate cabin experience in every aspect."
The custom interior also features a large living and dining space with uniquely crafted 'wingback' seating and sofa areas, alongside a separate office with specially sourced embroidered wall finishings. And finally, there's an ensuite bedroom with an attached bathroom dripped in golden black marble and beige onyx.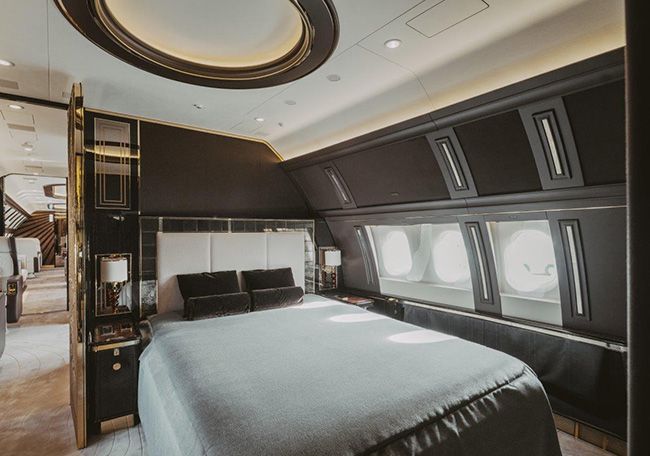 Photo: Jet Aviation
Bottom line

Since unveiling arguably the world's first bespoke private aircraft interior nearly five decades ago in the June 1977 Paris Airshow, Jet Aviation has crafted over 400 customer interiors that include plenty of narrow- and widebody Airbus ACJ and Boeing BBJ interiors.
Each interior ever crafted has been one-of-a-kind, a hand-made reflection of the customer's individual aesthetic or idea. And after seeing this latest customer interior on the Airbus ACJ319neo, it's no wonder how Jet Aviation remained the pioneers and innovator leading this niche industry today.
What do you think of the interior? Let us know in the comments below.



Stock Code:

AIR

Business Type:

Planemaker

Date Founded:

1970-12-18

CEO:

Guillaume Faury

Headquarters Location:

Toulouse, France

Key Product Lines:

Airbus A220, Airbus A320, Airbus A330, Airbus A340, Airbus A350, Airbus A380