May 14, 2023, marks the 26th anniversary of the founding of the Star Alliance. Before we focus on the major cooperation, It's essential to understand why airlines form alliances and how they help aid both airlines and passengers.
By forming a partnership with other airlines, it allows carriers to extend their flight network through codeshare agreements. Many alliances started this way but saw the cost-reduction benefit of sharing catering and computer operations. Added to this was shared ground handling of aircraft and check-in personnel.
Airlines also got together to share lounges eliminating the need for airlines to have their own lounges in every airport they operated out of. The alliances also allowed passengers to accrue air miles while flying on other alliance member airlines.
Early airline codesharing led to alliances
Airline alliances can trace their roots back to the 1930s when Pan American World Airways (Pan AM) agreed to codeshare flights in Latin America with Panair do Brasil. While airlines partnered with others in Africa, the next big step in forming an alliance occurred in 1989 when KLM agreed to codeshare with Northwest Airlines.
Seeing the benefits of partnering with other airlines, Air Canada, Lufthansa, SAS, Thai Airways International, and United Airlines formed the Star Alliance on May 14, 1997. With its headquarters in Frankfurt am Main, Germany, the Star Alliance is today the world's largest airline alliance, followed by the Skyteam and oneworld collaboration.
A brief history of the Star Alliance
Over the following years, Star Alliance has grown to embrace 26 airlines around the globe. Below we have mapped out a timeline of notable events in the Star Alliances' 26-year history.
1997
The Star Alliance was born in May by Air Canada, Lufthansa, SAS, Thai Airways International, and United Airlines. In September, the Brazilian national flag carrier Varig joined and was a member until its demise in 2007.
1999
In October 1999, All Nippon Airways (ANA), Ansett Australia, and Air New Zealand joined the alliance. Ansett Australia went out of business in September 2001.
2000
In 2000 the Star Alliance opened a business center in Frankfurt, Germany, and saw Austrian Airlines, Singapore Airlines, British Midlands, and Mexicana Airlines join the alliance. British Midland, which rebranded as BMI, ceased operations in October 2012. After 89 years, Mexicana Airlines went out of business on August 28, 2010.
2001
In August 2001, the Star Alliance opened its first lounge at Zurich Airport (ZRH).
Photo: LOT Polish Airlines.
2003
LOT Polish Airlines, Asiana, and Spanair join the Star Alliance. Spanair ended operations on January 27, 2012.
2004
US Airways, Blue 1, Adria, and Croatia Airlines joined the Star Alliance. Us Airways left Star Alliance when it was taken over by American Airlines in 2015. Finland's Blue 1 ceased operations in 2016, and Slovenia's Adria Airways ceased operations on September 30, 2019.
2006
SWISS and South African Airways joined the Star Alliance in 2006.
2007
Air China and Shanghai Airlines joined in 2007 and the alliance opened its first North American lounge at Los Angeles International Airport (LAX).
2008
In 2008 EgyptAir and Turkish Airlines joins, and the Star Alliance opens a new lounge at London Heathrow (LHR) Terminal 1.
2009
Continental Airlines and Brussels Airlines join the Star Alliance network. In 2010 Continental merged with United Airlines.
2010
Aegean Airlines and TAM joined the Star Alliance, but TAM left the alliance in 2014 when it became LATAM Brasil.
2011
Ethiopian Airlines joins the Star Alliance.
2012
Shenzhen Airlines, Avianca, and Copa Airlines join the Star Alliance network.
2013
Taiwan's EVA Air joins the network as the Star Alliance and a new lounge opens at Buenos Aires Ezeiza International Airport (EZE).
2014
Air India joins the Star Alliance which opens a new lounge at Heathrow Terminal 2.
2018
The year saw the opening of a Star Alliance Lounge at Rome Fiumicino Airport (FCO).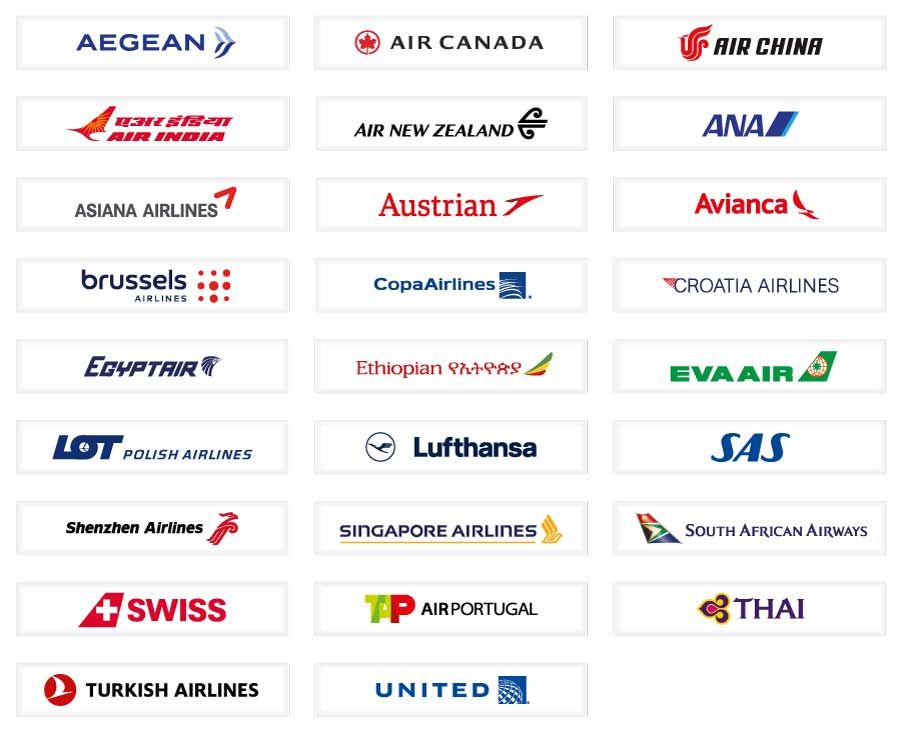 Image: Copa Airlines
The Star Alliance today
Over the years, Star Alliance has won numerous awards for being the best airline alliance and for its world-class airport lounges. Today Star Alliance has 26 member airlines that connect about 1,200 airports around the world.
Business Type:

Airline Alliance

Date Founded:

1997-05-14

CEO:

Jeffrey Goh

Headquarters Location:

Frankfurt, Germany

Airlines:

Aegean Airlines, Air Canada, Air China, Air India, Air New Zealand, All Nippon Airways, Asiana Airlines, Austrian Airlines, Avianca, Brussels Airlines, Copa Airlines, Croatia Airlines, Egyptair, Ethiopian Airlines, EVA Air, LOT Polish Airlines, Lufthansa, SAS, Shenzhen Airlines, Singapore Airlines, South African Airways, SWISS, TAP Air Portugal, Thai Airways, Turkish Airlines, United Airlines