A second Lufthansa Technik cabin design has been unveiled this week. The company today unveiled a first peek at the cabin it designed for government and military customers of Airbus Corporate Jets' take on the Airbus A220. This announcement comes shortly after Lufthansa Technik unveiled its VIP cabin concept for the Boeing Business Jet 777-9.
The ACJ TwoTwenty was first announced in 2020 to fill the business jet market gap. The design is based on Airbus' A220-100 and configured with additional fuel tanks to provide a range of up to 5,650 nautical miles (10,460 kilometers).
What is the new interior like?
Lufthansa Technik's latest cabin reveal is directed at military and government purchasers. The two groups require highly functional interiors, which must be customizable enough to support special projects aboard a reliable aircraft. One of the top examples of potential uses for this new design is in emergency medical transport.
Medical Evacuation (MedEvac) aircraft fulfill an indispensable role, and demand is exceptionally high. In its MedEvac configuration, the aircraft can fit up to eight stretchers for transporting lightly and moderately injured patients or two new-generation Patient Transport Units for intensive care patients. The aircraft can also use a combination of intensive care units and stretchers to best support the mission at hand.
Lufthansa Technik's interior will also offer a highly flexible space for conventional delegation transport. This design fits the ACJ TwoTwenty with a separate area for two passengers, conferencing capabilities for up to seven, and even sleeping for political dignitaries and VIPs. Wieland Timm, Head of Sales for Special Mission Aircraft at Lufthansa Technik, expressed their excitement at the reveal:
"With its cabin dimensions, the ACJ TwoTwenty represents an optimal platform for the most diverse manifestations of future government and special mission aircraft, at the price of significantly smaller and less flexible aircraft types.
"With our expertise both in the field of VIP completion but also in the field of special mission modifications, we are able to reflect even the high demands of governments or armed forces in this type of aircraft, and to do so highly individually. With this initial concept as a basis, we are therefore eager to start talking to the first potential customers very soon."
A standard configuration is set to include a large entourage area with twelve premium economy seats and 20 economy class seats. Up to 41 passengers can fly between the private and general access areas, significantly more than on competing business jets.
A highly customizable interior
The manufacturer opened a creative design space in Toulouse, allowing customers to imagine and design their own luxury interiors. The area features a fully scaled section of the ACJ TwoTwenty cabin and is augmented by virtual reality technology modeling.
Lufthansa Technik previously revealed several other concepts for the aircraft, including one with a recreation room and another featuring a vibrant design in collaboration with Toulouse-born painter Mr Colorful.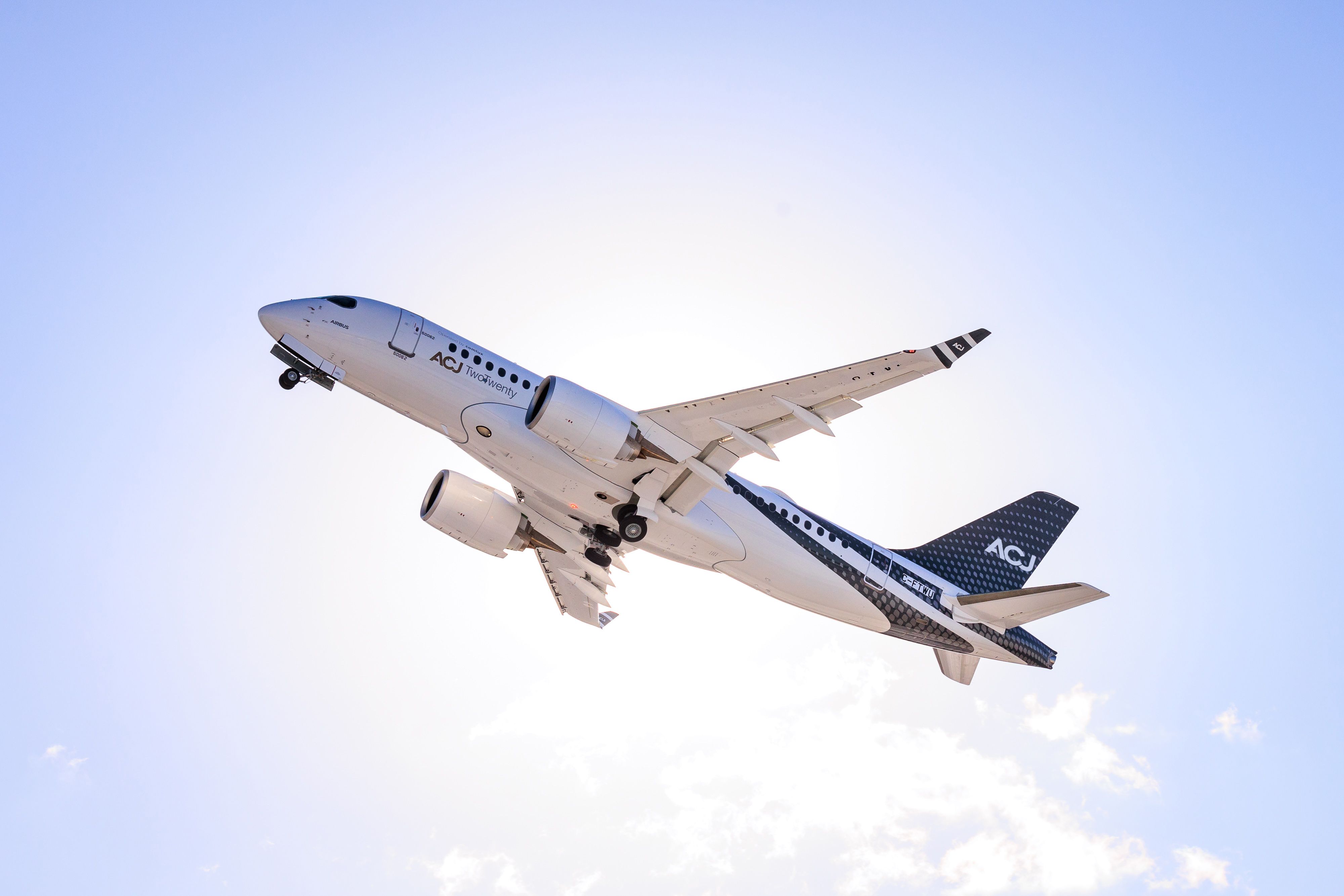 Photo: Airbus
In 2019, the company unveiled its "SkyRetreat," interior aimed at a much younger and private clientele. Individual cabins could be styled after a luxurious beach club or a yacht deck, and the concept featured an "observation lounge" to the cockpit.