Royal Air Maroc (RAM) has scheduled the Boeing 767-300ER to operate seven of its 10 weekly peak summer Casablanca-Brussels passenger flights. As the carrier only has one 767 (a freighter), it is unclear, as of May 24th, from which operator it will lease the equipment.
RAM: daily 767 to Brussels
According to Aeroroutes and confirmed in OAG/Cirium and RAM's website, the carrier will use a 767 to Brussels from June 24th to September 3rd. With 144 roundtrip flights, it will supplement RAM's mainstay, the 737-800, on the 1,356-mile (2,182 km) route.
Based on what RAM has submitted, Cirium data shows that a 236-seat 767 will be used, with 224 seats in economy and 12 in business. Assuming this is correct, the additional 77 seats versus the 737-800 and more intensive turnaround requirement has extended the turn time in Belgium from one hour (until July 23rd) to 1h 40m (from July 24th).
(Aircraft withdrawn and now with Omni Air.) Photo: Soos Jozsef I Shutterstock.
The peak schedule is as follows, with all times local:
Casablanca-Brussels: AT838, 09:35-13:50 (three weekly, 737); AT832, 13:00-17:15 (daily; 767)
Brussels-Casablanca: AT839, 14:50-17:15 (three weekly, 737); AT833; 18:55-21:20 (daily, 767)
Click here for Brussels-Casablanca flights.
767 to Saudi Arabia and the UAE too
Analysis of Cirium data shows that RAM also plans multiple Saudi Arabia flights using the 767, presumably for pilgrim traffic. Routes are Agadir, Casablanca, Fez, Oudja, and Rabat to Jeddah, along with Casablanca, Fez, Oujda, and Tangier to Medina. Most operate in June/July and will use EuroAtlantic's 309-seat CS-TST, a 20.6-year-old 767.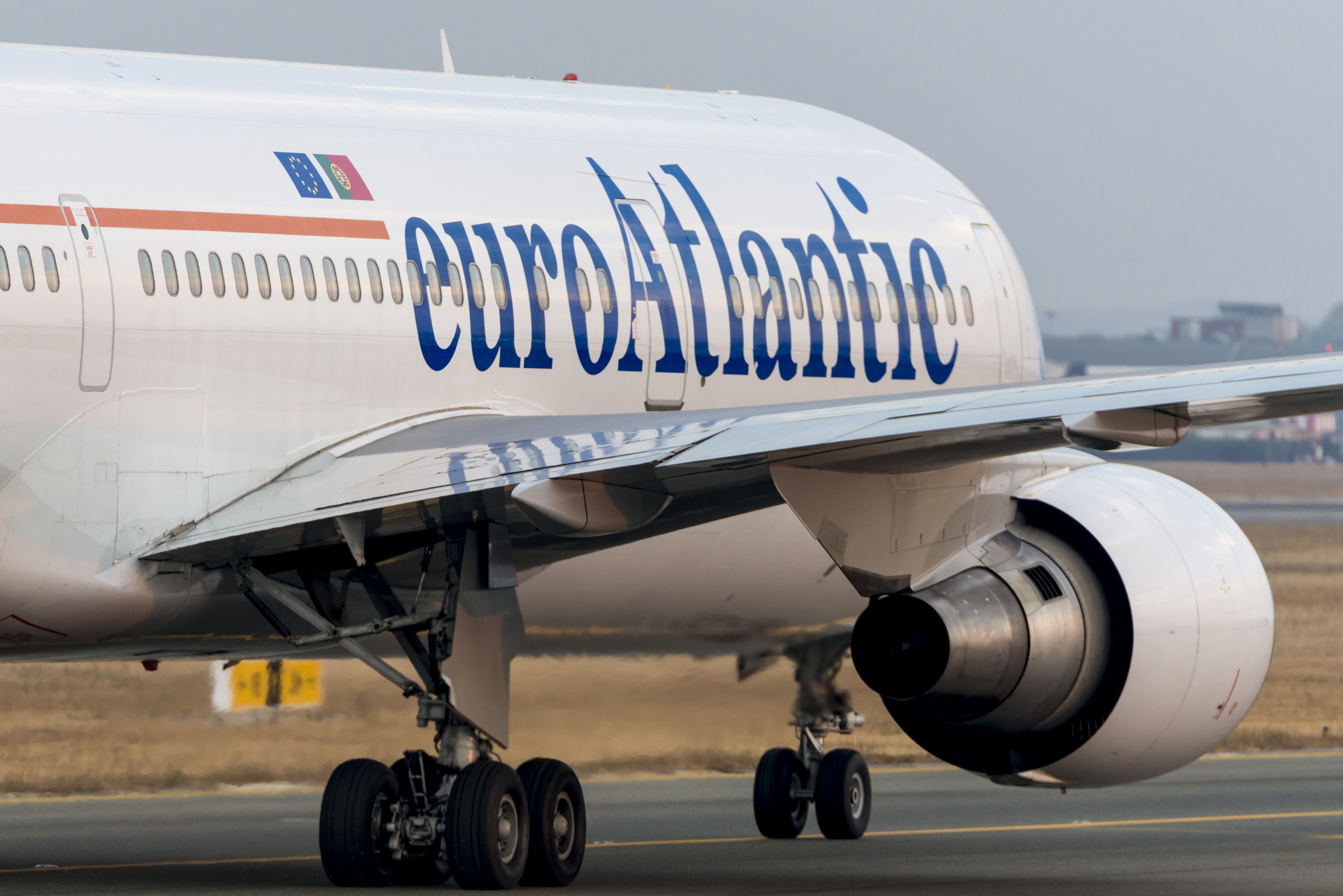 Photo: Roberto Chiartano I Shutterstock.
This does not shed light on Brussels or RAM's 767 winter plans. Cirium and OAG show that the carrier has filed a twice-weekly winter Casablanca-Medina service (four weekly at times), along with a twice-weekly Dubai service. A 236-seat 767 is listed, the same as for Brussels. EuroAtlantic does not have this config, so it is either an error or RAM will use a different operator.
The 767 on Casablanca-Dubai is scheduled from October 29th until March 29th but is not yet bookable. When added to RAM's existing three weekly Dubai service, which uses the 787-8, it seems that it is increasing Dubai to five weekly. I'm sure things will become clearer in the coming weeks.
Stay aware: Sign up for my weekly new routes newsletter.
Where do Brussels passengers go?
Analysis of RAM's booking data for pre-pandemic 2019 suggests that the greatest number of passengers were point-to-point: they only traveled between Brussels and Casablanca. Given the Moroccan diaspora, that should not be surprising.
More interesting, perhaps, is that an estimated 43,000 passengers transited RAM's Casablanca hub across wider Morocco and West and Central Africa. The carrier is, after all, structured for this market. Its most popular Brussels origins and destinations were Marrakech, Agadir, Conakry, Dakhla, Dakar, Oudja, Niamey, Abidjan, Banjul, and Nouakchott.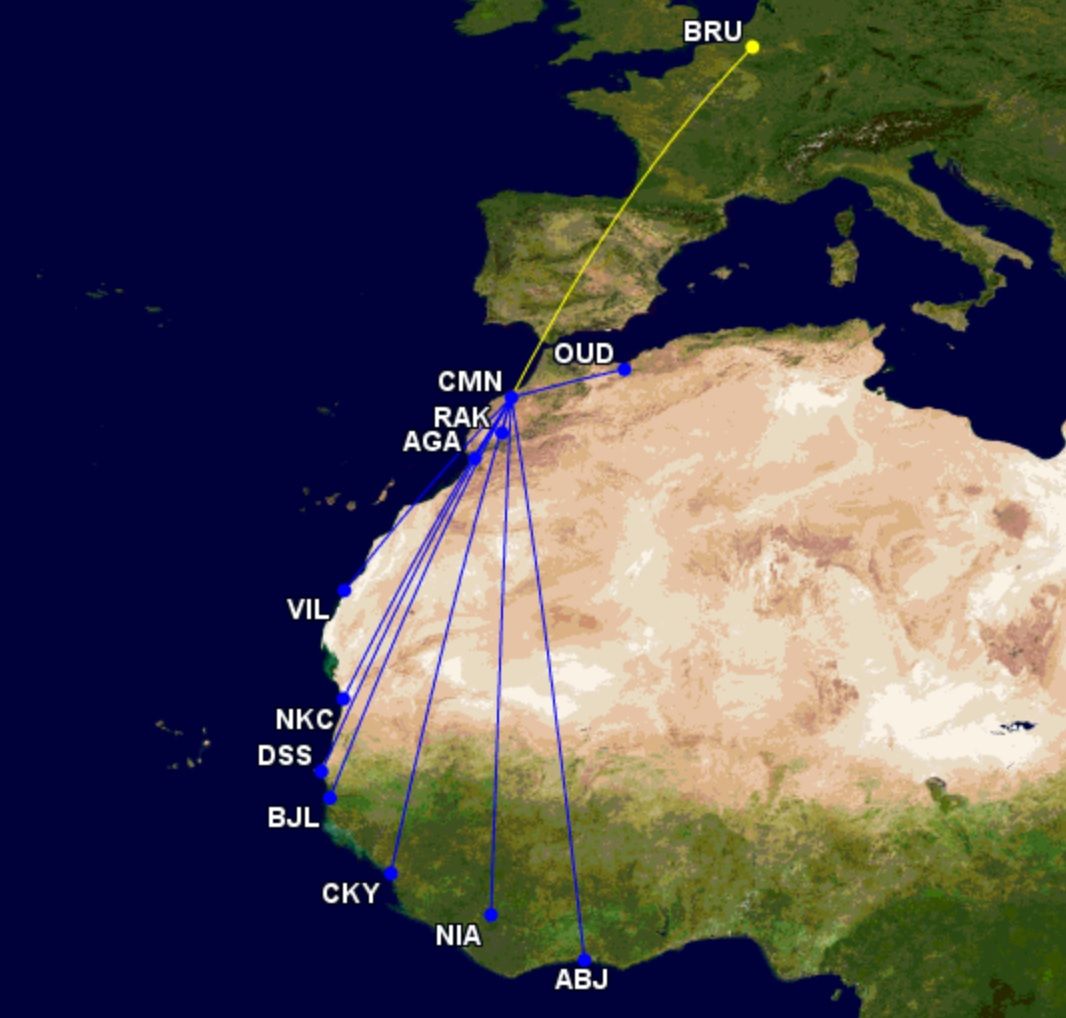 Image: GCMap.
Focusing on West and Central Africa, booking data shows it carried approximately 25,000 passengers to/from Brussels, about 7% of the total market across all airlines. Perhaps surprisingly, RAM was only the sixth-largest carrier in this market.
Did you fly any of RAM's now-retired 767s? If so, share your experience in the comments.
Source of addition: Aeroroutes. It is good for basic announcements and changes and should be read. As always, 100% of the commentary and analysis is by me.