Do twin-boom aircraft offer operational advantages over traditional airplane designs? You may be unaware of what twin-boom designs are and why some aircraft manufacturers have favored them for particular aircraft. Let us explore these points in our own "double-take" on the pros and cons of twin-boom aircraft.
Examples of twin-boom aircraft
Twin boom aircraft are designed with two structural components (booms) extending rearward from the main fuselage, with the empennage (tail assembly) located between them. This configuration provides stability and structural support for the tail surfaces. Several military and civilian aircraft have benefited from such design. Let's first take a look at notable military airplanes.
The Vickers Warwick was a British heavy bomber and transport aircraft during World War II. It had a twin-boom design, with the tail assembly mounted between the booms.
A World War II-era American fighter aircraft known for its distinctive twin-boom design was the North American P-38 Lightning. It was used in various roles, including as a fighter, bomber escort, and reconnaissance aircraft.
Of course, a classic example of twin-boom military aircraft was the de Havilland Mosquito. It was primarily constructed of wood, making it one of the fastest operational aircraft during World War II.
Alan Wilson via Wikimedia Commons."" data-modal-id="single-image-modal" data-modal-container-id="single-image-modal-container" data-img-caption="null">
While twin-boom configurations are commonly associated with military aircraft, there have been a few examples of civilian airplanes adopting this design. Here are some notable civilian twin-boom aircraft.
The Cessna 337 Skymaster is a light twin-engine aircraft with a push-pull configuration, with one engine in the nose and one at the rear, featuring separate booms. This twin-boom design provides enhanced safety and performance characteristics, including improved single-engine handling and reduced asymmetric thrust effects.
Famed engineer Burt Rutan is known for various unique aircraft designs, many of which feature twin booms. The Defiant and the Virgin Atlantic GlobalFlyer are some of the experimental aircraft designed by Rutan. The Defiant featured a push-pull engine configuration, with one engine in the nose and one at the rear, mounted in separate booms. This design was partially incorporated into the Adam A500 and Adam A700 business aircraft.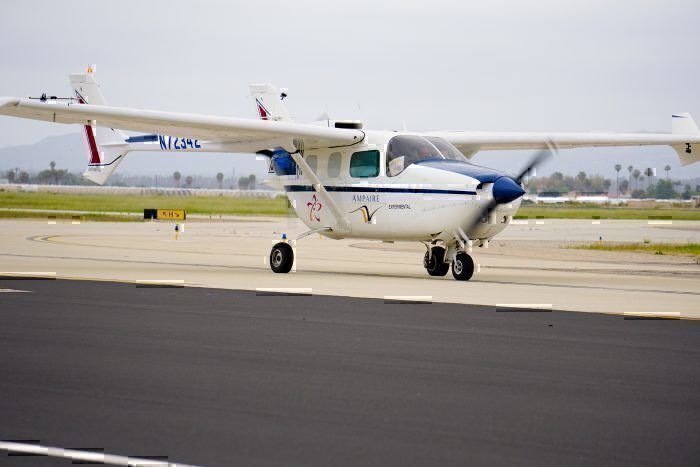 Photo: Ampaire
While these are a handful of examples, it is worth noting that twin-boom designs are relatively rare in the civilian aircraft domain. Due to aerodynamic efficiency, payload capacity, and passenger comfort, most civilian aircraft utilize more conventional configurations, such as high-wing, low-wing, or mid-wing designs.
What are the pros and cons?
Twin-boom aircraft designs offer both advantages and disadvantages. Let us start with the pros.
First, the twin-boom configuration provides inherent stability to the aircraft, particularly in pitch. The booms help distribute the forces generated by the tail surfaces, making controlling the aircraft during flight easier. The presence of two booms extending from the main fuselage provides structural support and rigidity to the empennage. This allows for efficient mounting of the tail assembly and helps reduce flexing or vibrations.
Accessibility is another byproduct of this type of design, as it allows easy access to components located in the tail section. This can simplify maintenance and repairs and facilitate equipment installation, such as sensors or antennas. The absence of a traditional tail section allows for flexibility in payload placement; by locating equipment, fuel, or other cargo between the booms, the aircraft's center of gravity can be adjusted, optimizing flight performance.
NASA"" data-modal-id="single-image-modal" data-modal-container-id="single-image-modal-container" data-img-caption="null">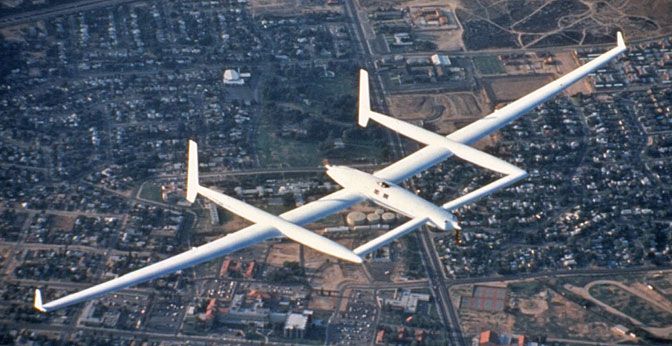 It's hard to find an airplane design that offers all the advantages without any drawbacks. There is always a give and take, and therefore, are some disadvantages to twin-boom designs.
The presence of two booms can increase aerodynamic drag, leading to slightly reduced performance compared to aircraft with a more streamlined design. This can result in increased fuel consumption or decreased top speed. Additional structural components also lead to increased weight. The placement of the tail assembly between the booms reduces the available space within the main fuselage. This can limit the cabin or cargo capacity, potentially impacting the aircraft's utility for specific applications.
Constructing the twin-boom structure requires additional engineering and manufacturing considerations. Ensuring proper alignment, balance, and integration of the booms with the main fuselage can be technically demanding and time-consuming. This also adds to the cost of engineering and production. Flight testing time may also be more extensive than with more traditional designs.
Are twin-boom aircraft designs superior? There are logical perspectives from both sides of the debate. However, one thing is clear: These aircraft are eye-catching and likely to keep appearing in the skies overhead.