After winning the UEFA Champions League, Manchester City is now the second English team, after Manchester United in 1999, to have won the treble. But before Manchester City can build on its triumph, it's time for the winners to leave Istanbul Airport and back home to Manchester Airport – and Etihad Airways will be ferrying them with style.
The 'Man City' Livery for Manchester City
In May 2009, Manchester City announced a partnership with Etihad Airways, and the club's stadium was renamed Etihad Stadium, forming the centerpiece of the Etihad Campus, which encompasses a large part of the Sport City site in East Manchester. With this long-standing partnership, it's evident that the Abu Dhabi-based carrier will fly the squad whenever possible.
But when said in style, it's primarily because Etihad Airways has one of its aircraft painted in a special livery to honor the prestigious cooperation, similar to what it did with an older and retired Airbus A330-200 until 2011. The current aircraft with the 'Manchester City FC' special livery is a Boeing 787-9 Dreamliner registered A6-BND, which sees the widebody painted in the club's distinctive sky blue color scheme.
Photo: RizkyBram727 | Shutterstock
Enroute to Manchester Airport
Despite the special livery, A6-BND has also been used for commercial passenger flight services – often operating from Abu Dhabi to long-haul destinations such as Vienna, Zurich, Brussels, Barcelona, Amsterdam, and Frankfurt. The widebody is also used to transport Manchester City whenever required, such as ferrying the club home after a historic win at the Champions League.
Operating as flight EY 8041, the aircraft departed from Istanbul Airport at approximately 14:35 today. And at this time of writing, it is cruising at 40,000 feet and less than 40 minutes from landing at Manchester Airport, with a scheduled arrival time of 16:40. This means that by the time of publication, EY 8041 would have landed, and Manchester City would have been safely brought back home.
Given the high-profile passengers onboard and the unique, eye-catching livery of the aircraft, it's no surprise that flight EY 8041 is standing at the podium as the most-tracked flight worldwide, with more than 3,690 people tracking the flight's live movements. The number will probably keep increasing as the flight will soon begin its approach to Manchester Airport.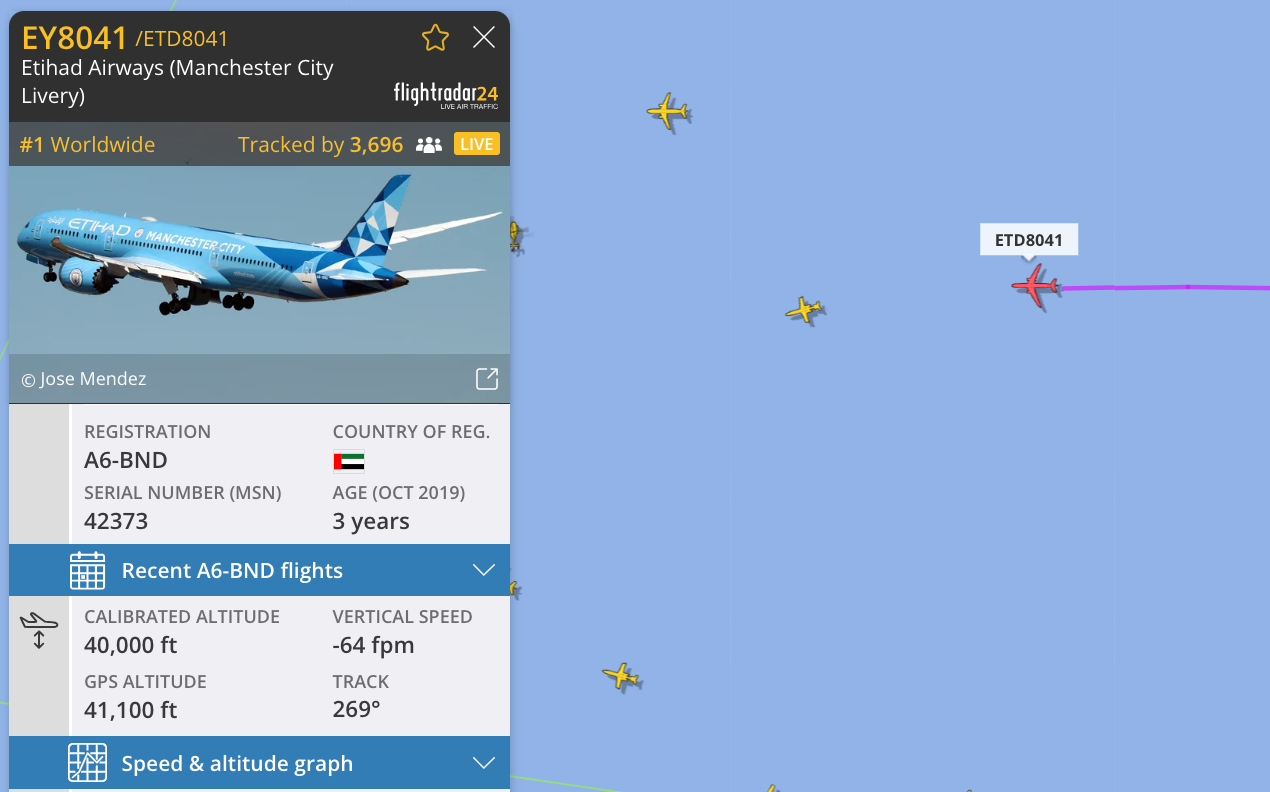 Photo: FlightRadar24.com
Back to commercial revenue flights
Once flight EY 8041 is completed, the job's not done for A6-BND. From Manchester Airport, the Boeing widebody will be welcoming standard revenue passengers onboard as it prepares to operate as flight EY 30. Scheduled to depart at 21:00, the aircraft will bring these passengers to Abu Dhabi International Airport and is expected to land home at approximately 07:00 the following day.
But after EY 30, there are currently no further scheduled flight deployments for A6-BND, so perhaps Etihad Airways might be giving its blue-painted aircraft a small break before continuing regular flight services to the many destinations it often flies to.
Were you also tracking flight EY 8041 earlier? Let us know in the comments below.
Etihad had been a significant investor in Alitalia in the years leading up to the first round of loans from the Italian government. Photo: Vincenzo Pace | Simple Flying

IATA/ICAO Code:

EY/ETD

Airline Type:

Full Service Carrier

Hub(s):

Abu Dhabi International Airport

Year Founded:

2003

CEO:

Tony Douglas

Country:

United Arab Emirates