Designed as medium to long-range aircraft to drop a devastating payload of armaments deep in an opponent's territory, strategic bombers play a significant role in militaries, especially those of the United States, China, and Russia. Featuring varying degrees of stealth, range, speed, and technological enhancements, modern types of such airplanes are the result of decades of progress and achievement from World War I through today. Three famous strategic bombers currently flying for the United States Air Force are the Boeing B-52 Stratofortress, Boeing B-1 Lancer, and the Northrop Grumman B-2 Spirit.
American Strategic Bombers
Considered the most combat-capable bomber in the fleet, the B-52 can carry up to 70,000 lb (32,000 kg) of weapons, flying at Mach 0.84. With its iconic eight engines, the Stratofortress has a combat range of approximately 8,800 miles (14,200 km), without air refueling, of course. Its faster counterpart, the B-1 Lancer, has been serving the USAF since 1985 and can carry up to 75,000 lb (34,000 kg) of weapons, but a slightly decreased range of 7,480 miles (12,000 km), again not counting refueling. Where the Lancer makes this up in performance is the ability to fly much faster, up to Mach 1.2 at sea level.
Balon Greyjoy via Wikimedia Commons"" data-modal-id="single-image-modal" data-modal-container-id="single-image-modal-container" data-img-caption="null">
One of the most easily identifiable aircraft by non-enthusiasts, the B-2 Spirit has an even lower unrefueled range of 6,900 miles (11,100 km) and a speed right in the middle at Mach 0.95 at sea level. Two internal bays carry an official payload of 40,000 lb (18,000 kg), though it's possible the aircraft could hold more. That said, the B-2 provides a platform to deliver a significant payload anywhere through previously impenetrable defenses; seeing how the new B-21 Raider compares will surely be interesting.
Chinese and Russian Counterparts
Across the Pacific Ocean, the People's Liberation Army's primary strategic bomber is the Xian H-6/轰-6. Developed from the Tupolev Tu-16, a couple hundred examples of the aircraft were produced for China's Air Force and Navy along with the Iraqi and Egyptian militaries (though they've since been retired). At just 3,700 miles (6,000 km), the H-6's range is significantly lower than its foreign counterparts, though it dates to the late 1950s and has a max speed of Mach 0.85, so it is reasonably quick. Its homegrown successor, the H-20, is currently under development, though details are scarce for now.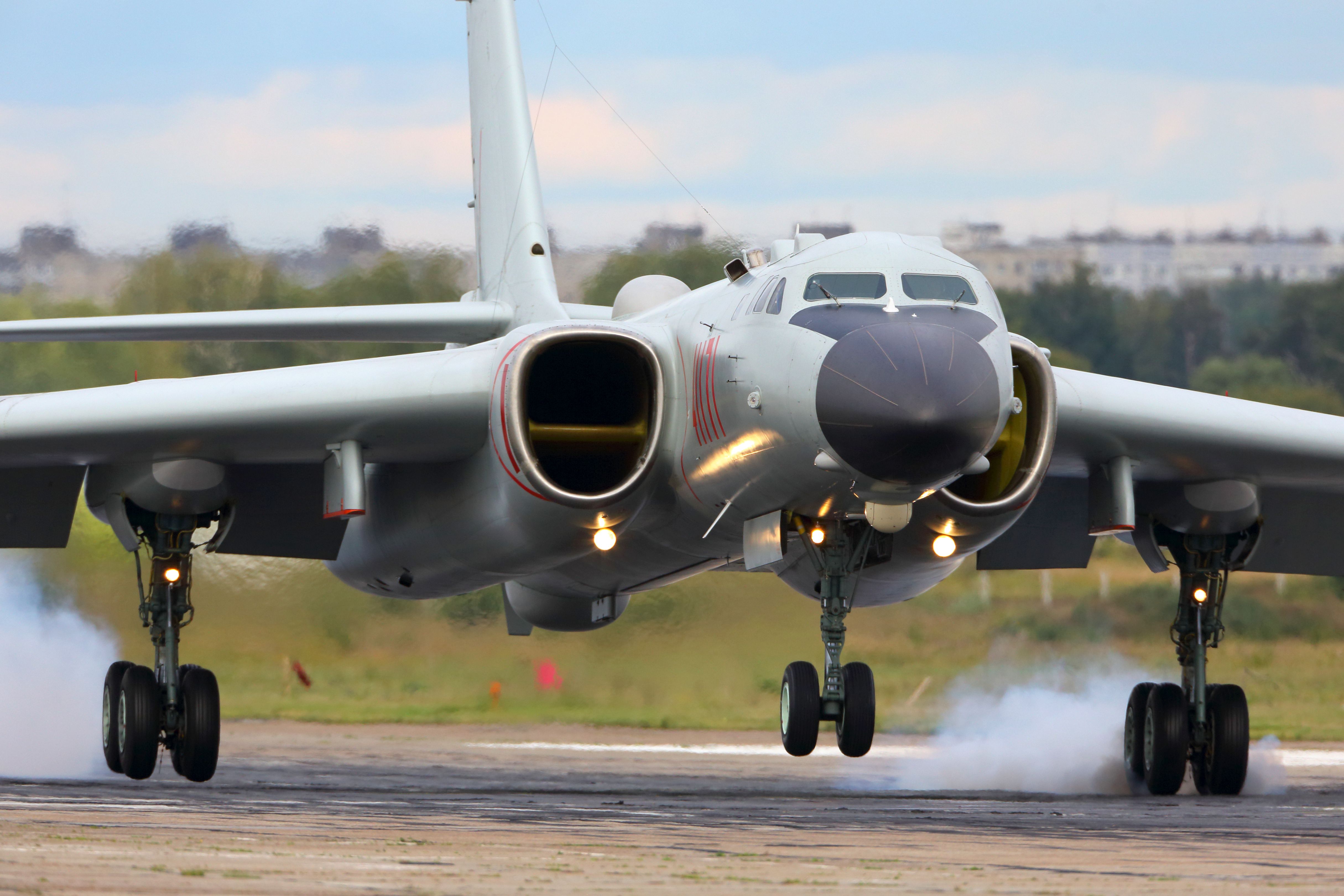 Photo: Fasttailwind / Shutterstock.com
Meanwhile, Russia has three Tupolev aircraft representing their strategic bomber fleet, from oldest to youngest, the Tu-95, Tu-22M, and Tu-160. First flying some 70 years ago, the Tu-95 is the only aircraft mentioned in this list to use turboprop engines. According to Airforce Technology, however, the Bear has an incredible max range of 9,300 miles (15,000 km) and can carry a payload of 33,000 lb (15,000 kg).
Next is the Tu-22M, known as "Backfire," a high-speed bomber that incorporated variable-geometry outer wing panels. Sources vary, though the Tu-22M's max speed is in the range of Mach 1.6 and 1.8, making it ridiculously fast in its class, even at a low level. This would be outdone, however, by the Tu-160, "Blackjack."
u0414u043cu0438u0442u0440u043e u0406u0433u043eu0440u043eu0432u0438u0447 u041au0430u043du0434u0438u0431u0430 via Wikimedia Commons"" data-modal-id="single-image-modal" data-modal-container-id="single-image-modal-container" data-img-caption="null">

Taking to the skies for the first time in the early 1980s, the Tu-160 would go on to set various records for its weight class. Some sources suggest its max speed is over Mach 2.0, yet its potential range nearly doubles that of the Tu-22M. According to Newsweek, the Tu-160 can hold at least 30,000 kg of weapons, so whether the mission requires speed, range, or devastation, the Blackjack appears to be fairly capable.
Here are the values in an easy-to-read format:
| | | | |
| --- | --- | --- | --- |
| Aircraft | Range (without refueling) | Max Speed (Mach) | Payload |
| Boeing B-52 Stratofortress | 8,800 miles (14,200 km) | 0.84 | 70,000 lb (32,000 kg) |
| Boeing B-1 Lancer | 7,480 miles (12,000 km) | 1.2 | 75,000 lb (34,000 kg) |
| Northrop Grumman B-2 Spirit | 6,900 miles (11,100 km) | 0.95 | 40,000 lb (18,000 kg) |
| Xian H-6 | 3,700 miles (6,000 km) | 0.85 | 20,000 lb (9,000 kg) |
| Tupolev Tu-95 "Bear" | 9,300 miles (15,000 km) | 0.77 | 33,000 lb (15,000 kg) |
| Tupolev Tu-22M "Backfire" | 4,200 miles (6,800 km) | 1.6~1.8 | 53,000 lb (24.000 kg) |
| Tupolev Tu-160 "Blackjack" | 7,600 miles (12,300 km) | 2.05 | 66,100 lb (30,000 kg) |
Sources: The US Air Force, Boeing, Northrop Grumman, Military Today, SCMP, European Security & Defence, Military Factory, Airforce Technology, Newsweek