Summary
Ryanair dominates the Europe-Africa market due to its focus on Morocco, benefiting from an open skies agreement, discounted fees, and its partnership with Moroccan authorities
While it is the largest Europe-Africa airline in terms of seats, it ranks second by flights and seventh by available seat miles/kilometers
The ULCC serves 10 Moroccan airports in July, with Marrakech being the most-served
If the whole of Africa is considered, Ryanair has more seats for sale from Europe than any other carrier. This is for one reason: North Africa. Despite the ULCC's pole position, it serves just one country in the vast continent (Morocco).
Its dominance results from Morocco's open skies with the EU, the willingness of Morocco's airports to discount fees and charges to incentivize new routes, speedy aircraft turnarounds, and the carrier's partnership with the country's authorities. Morocco's desire to expand has been a driving force. All are pretty unusual in Africa.
Ryanair: largest Europe-Africa airline
As you will appreciate, what is measured will somewhat dictate the results. Thus, while Ryanair leads by seats, it is not for flights (that is Royal Air Maroc, with Ryanair second) or available seat kilometers/miles (Air France is first; Ryanair seventh).
Analysis of Cirium data shows that Ryanair has 351,000 one-way seats between Europe and Africa in July 2023, with around 417 weekly flights (double for both ways). It provides one in every 11 seats in the transcontinental market.
(Taken in Morocco.) Photo: Andocs I Shutterstock.
While Ryanair is now first, it was second by seats in July 2022 (behind Air France) and fifth in 2019 (behind Royal Air Maroc, Air France, Air Algérie, and Turkish Airlines). Ryanair's rise is both from its own fast growth (Morocco seats have risen by 52% versus 2019) and the slow recoveries of most other carriers.
Stay aware: Sign up for my weekly new routes newsletter.
Ryanair flies to 10 Moroccan airports
Ryanair first served Morocco in late 2006 when the EU signed an open skies agreement with the country, opening access and enabling a significant expansion. Morocco is now Ryanair's 11th most-served country.
It serves 10 Moroccan airports. In order of seats for sale in July, Marrakech is first; it is a key tourist destination, a big city, and an important place for visiting friends and relatives demand. It is one of three airports in the country at which Ryanair stations aircraft/crew.
Fez is the second most-served (also a base), then Tangier, Agadir (base), Rabat, Nador, Tetouan, Oudja, Essaouira, and Ouarzazate. It has not served Casablanca and probably won't. (Wizz Air does).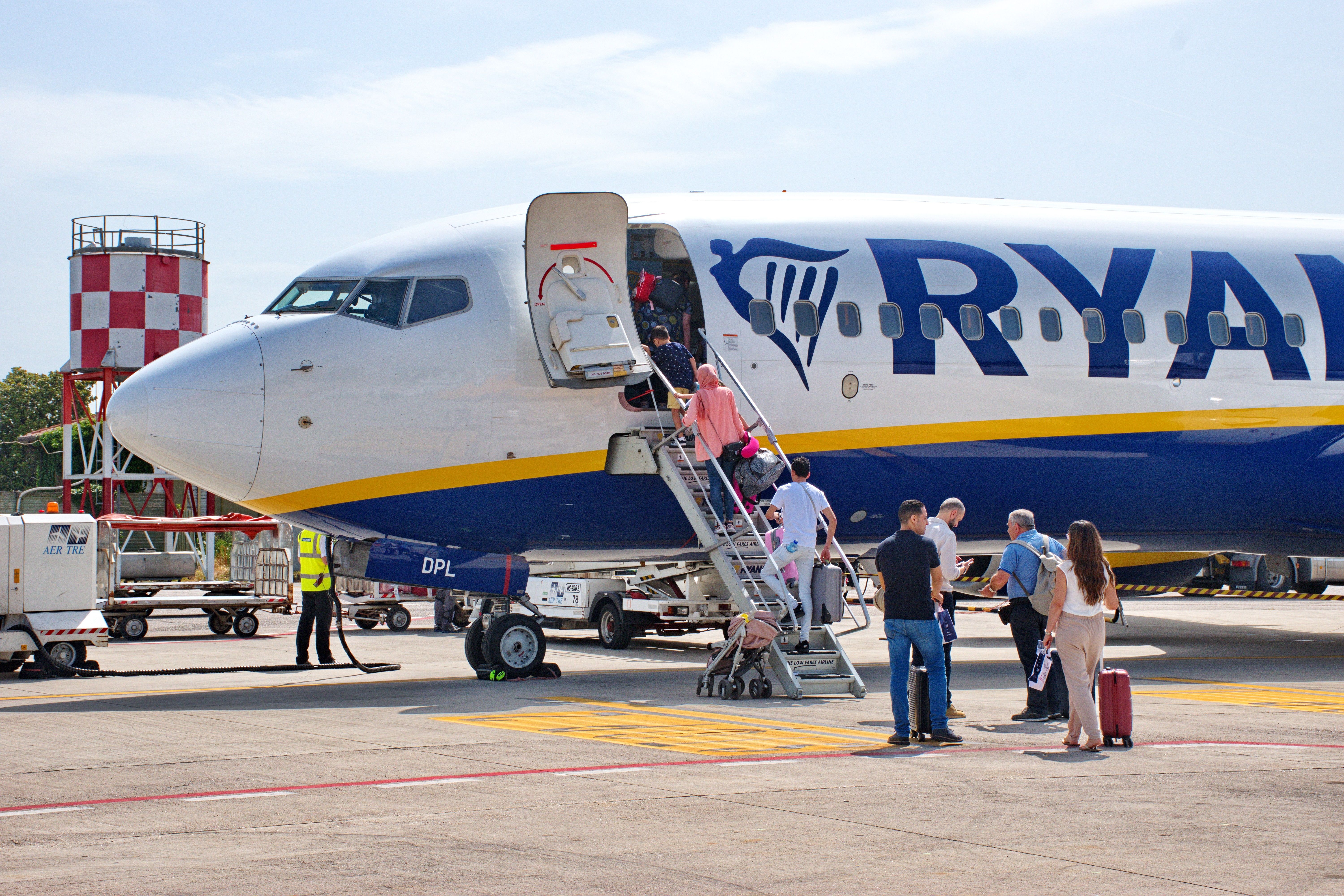 (Taken in Morocco.) Photo: vedrana2701 I Shutterstock.
Some 46 airports across Europe have Ryanair flights to Morocco. Naturally, France leads with 13 (including the likes of Tours and Vatry), then Spain with 11 and Italy with seven. All have substantial Moroccan diaspora and those of that heritage. The ULCC has more Morocco capacity from Malaga than any other airport.
137 routes: July 2023
Ryanair has 137 Morocco routes this month. Thanks to 11 weekly flights, Madrid-Marrakech, Madrid-Tangier, and London Stansted-Marrakech are neck-and-neck for having the most seats for sale.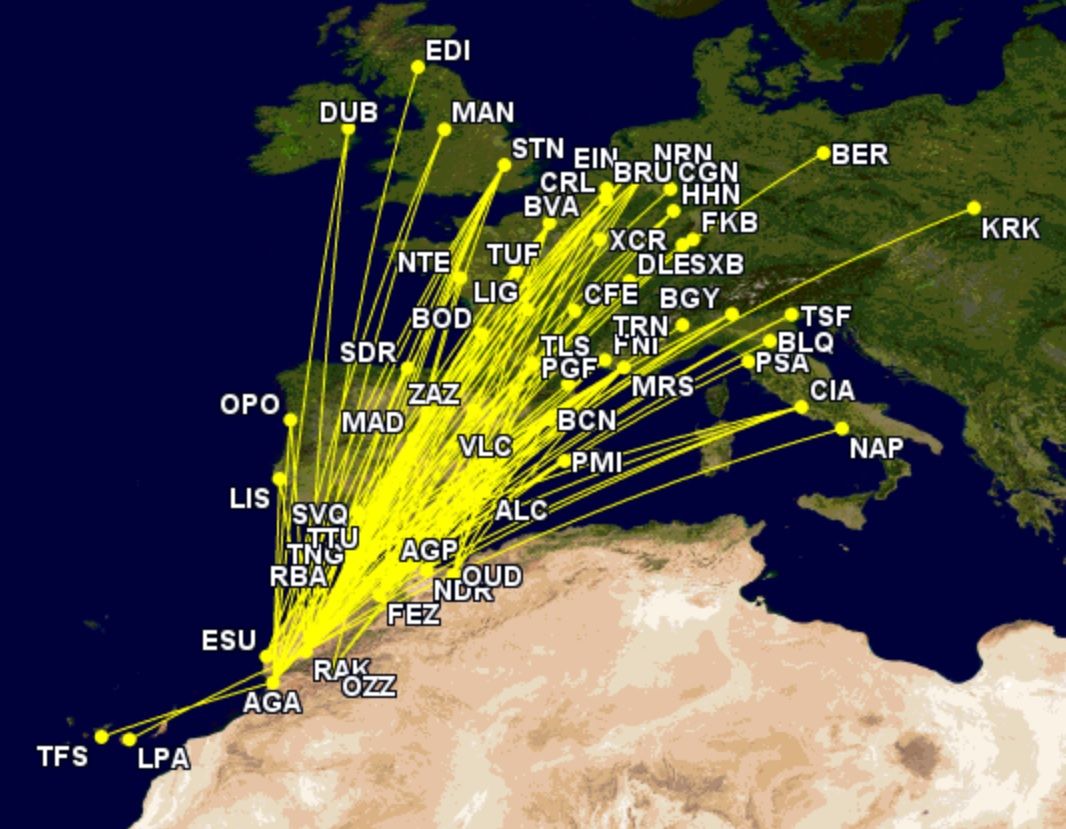 Image: GCMap.
Morocco's geographic nature is such that it gives rise to Ryanair's shortest routes, of which Malaga to Tetouan covers the least distance: just 88 miles (141 km) over the sea.
Served a surprisingly high six weekly in July, Flightradar24 shows that it often takes around 25 minutes, which is exciting for a transcontinental operation. It is even more different when it 'arrives before it takes off'. Thanks to a time zone change and the short duration, it often leaves Malaga at 13:15 and arrives in Africa at 13:00.
Where would you like Ryanair to fly in Morocco? Let us know in the comments.