Summary
One in every 25 domestic US scheduled jet flights is within 150 miles (241 km), involving 98 routes and 10 carriers
Alaska Airlines' Petersburg to Wrangell is the shortest; it uses the 737-700
United Express has the shortest regional jet route, which operates triangularly from Chicago O'Hare
The average jet-operated non-stop US domestic flight covers 799 miles (1,286 km) in August. But what about very short routes? Cirium data shows that there are nearly 24,000 covering no more than 150 miles (241 km) this month – a third more than all flights to, from, and within New Zealand.
The US' five shortest jet flights
They are shown on the following map and summarized by distance in the following table. They involve two intra-Alaska services and one interisland. They are so short that not even Denver-Colorado Springs features.
One measly mile out of the top five is United Express' triangular service, routing Houston Bush-Hattiesburg-Meridian-Houston Bush. Two miles too long to be included is JetBlue's Boston-Marthya's Vineyard.
The impact of Chicago O'Hare's congestion, size, and slots is clear to see in the max block time shown in the table, which includes flight time, taxi time at both ends, and time for short delays. Despite very similar distances, the O'Hare-Mikwaukee max is almost twice as high as Mason City to Fort Dodge.
The table
| Rank | Miles (km) | Route | Max block* | Airline | Jet flights** | Aircraft | Comments |
| --- | --- | --- | --- | --- | --- | --- | --- |
| 1 | 31 (50) | Petersburg to Wrangell | 26 mins | Alaska Airlines | Daily | 737-700 | |
| 2 | 41 (66) | Juneau to Gustavus | 36 mins | Alaska Airlines | Daily (see comment) | 737-700 | Seasonal; ends August 14th |
| 3 | 61 (97) | Mason City to Fort Dodge | 38 mins | United Express | Varies per direction | CRJ-200 | Operates triangularly. Not bookable in own right |
| 4 | 67 (108) | Chicago O'Hare to Milwaukee | 1h 13m | American Eagle, United Express | 70 weekly | American: CRJ-200, Embraer 170; United: CRJ-200, Embraer 175 | |
| 5 | 68 (109) | San Juan to St Thomas (see comment) | 44 mins | Frontier, JetBlue | 10 weekly | A320ceo, A320neo | Involve US territories and considered domestic |
| | | | * Either direction | | ** Each way, total all airlines. Some have n flights too | | |
United's shortest route
Covering just 61 miles (97 km), Mason City-Fort Dodge is United's shortest route in August. It is also the US' shortest regional jet service. It has replaced Delta Connection's Detroit-Escanaba-Iron Mountain-Minneapolis and vice-versa operation, which ran until earlier this year.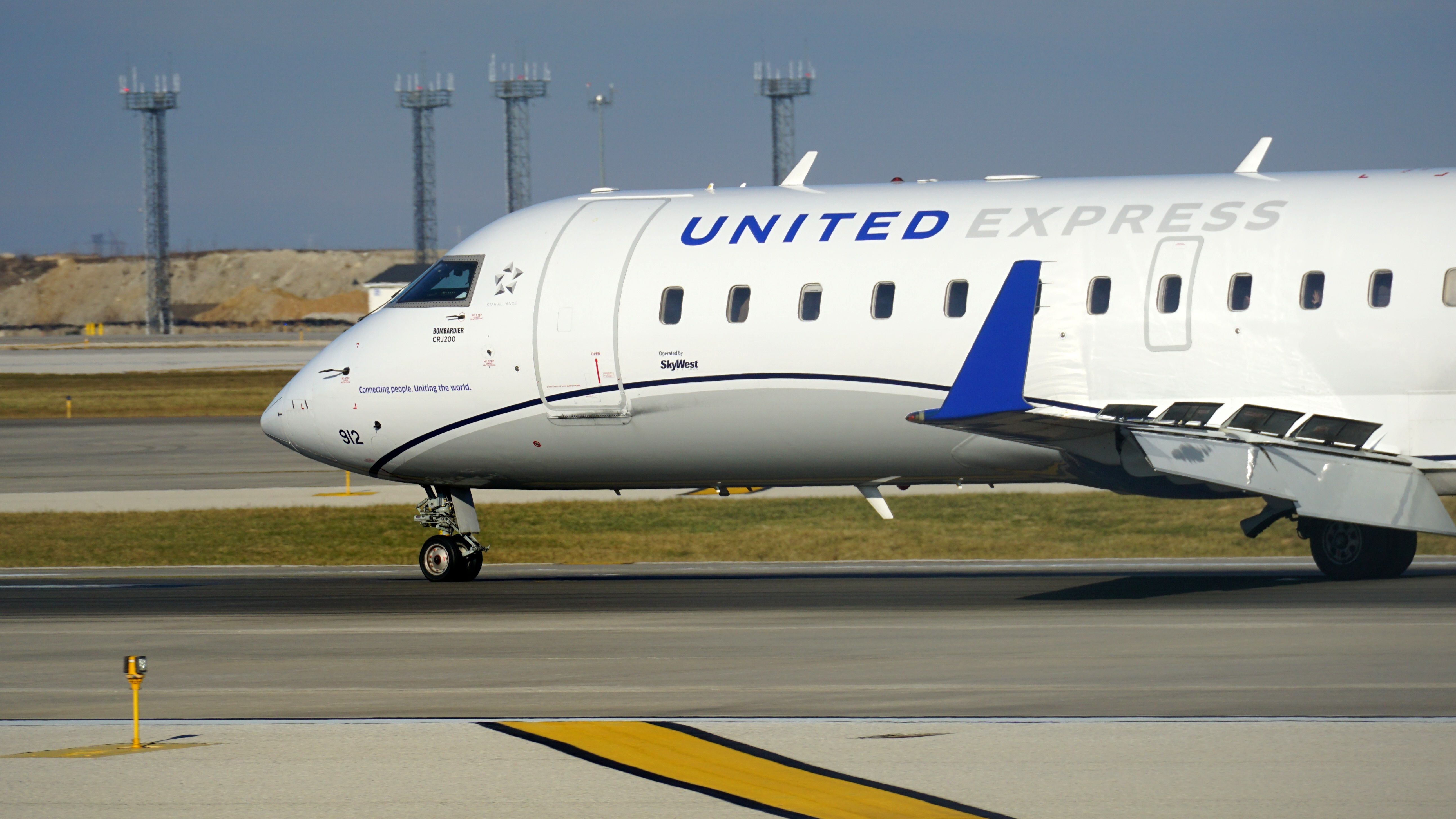 Photo: On The Run Photo I Shutterstock.
SkyWest serves the Iowa cities of Mason City and Fort Dodge on United Express' behalf. They route triangularly using 50-seat, single-class CRJ-200s (seen above and below).
12 weekly services
The 12 weekly flights are broken down in two. Operating five weekly is O'Hare-Mason City-Fort Dodge-O'Hare, which leaves Chicago at 07:33 and returns at 12:22. Flightradar24 shows that the shortest leg – which is not sold separately – typically takes between 17 and 23 minutes.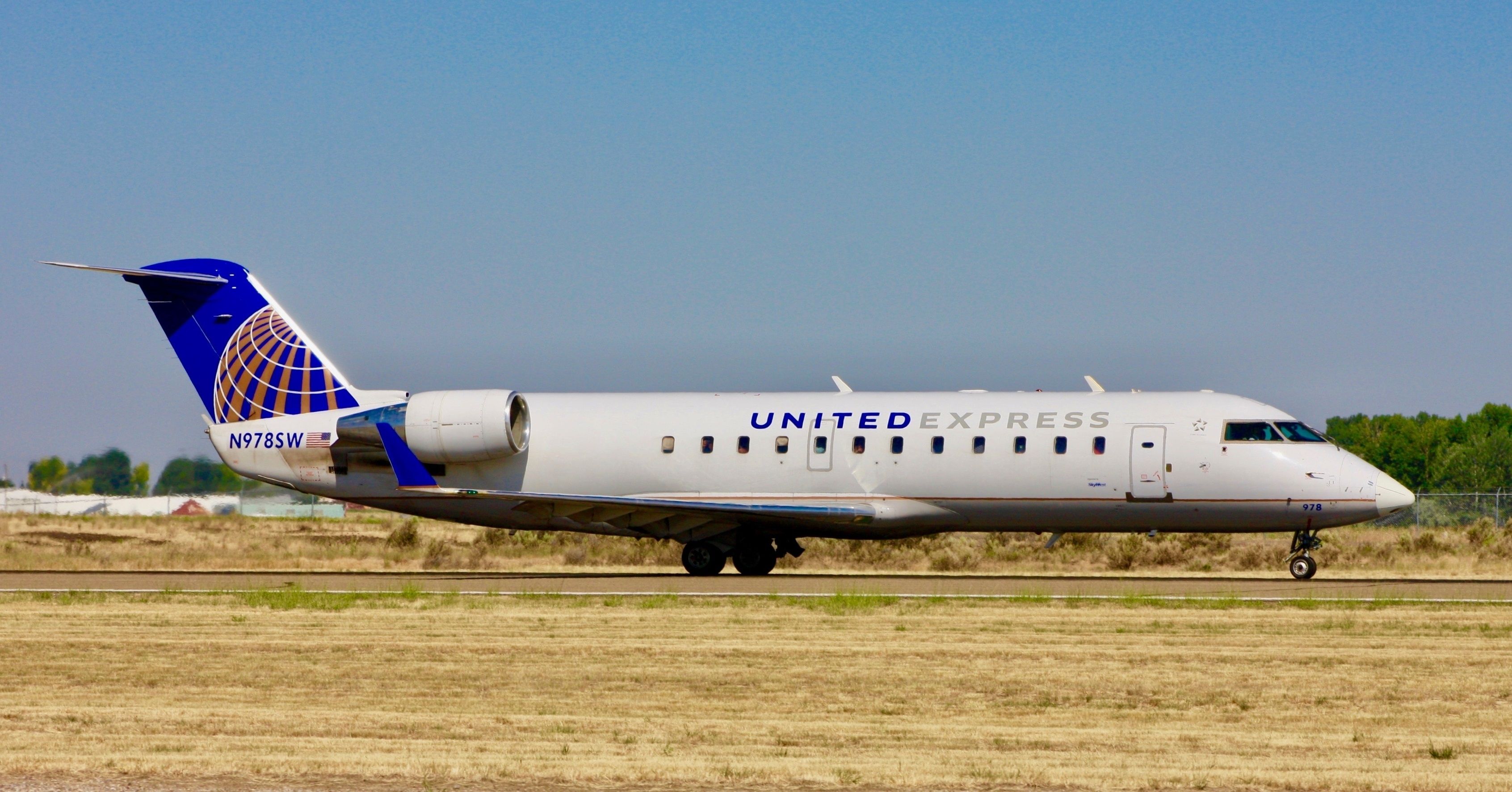 Supplementing this is an afternoon service, which routes the opposite way: O'Hare-Fort Dodge-Mason City-O'Hare. Running daily, it departs Chicago at 15:27 and returns at 20:19. Aircraft typically cruise at about 7,000 feet during the intra-Iowa sector.
It is an EAS route
Not surprisingly, SkyWest, for United Express, is financially subsidized by the Essential Air Service (EAS) scheme to serve the two cities. This is because no airline would otherwise operate to/from Chicago as it would probably not be profitable.
Stay aware: Sign up for my weekly new routes newsletter.
In exchange for 12 weekly services, it is provided with around $6 million a year, with the contract up for renewal in February 2024. Given the location of Mason City and Fort Dodge and the requirements of the EAS funding, operating on a triangular basis, rather than two entirely separate 'terminator' services, considerably lowers SkyWest's operating expenses.
Sources of information: OAG, Flightradar24, Google Flights, US DOT.